With the onset of the global economic crisis, more and more businesses are working to reduce bandwidth usage, address latency issues and privacy concerns associated with big data, to optimize their business. This is why the adoption of edge computing is hitting the IT industry like a tsunami.
A latest global edge computing market size report covering edge computing trends analysis by components, applications, industry verticals and segments. According to the report, by 2030, the global edge computing market is expected to reach USD 155.9 billion, with a compound annual growth rate (CAGR) of approximately 38.9% during the forecast period.
According to the report, market demand for edge computing infrastructure and Internet of Things (IoT) devices is expected to increase and renew the adoption of 5G across industries. Furthermore, the integration of artificial intelligence (AI) with edge computing environments is also expected to be on the rise during this forecast period.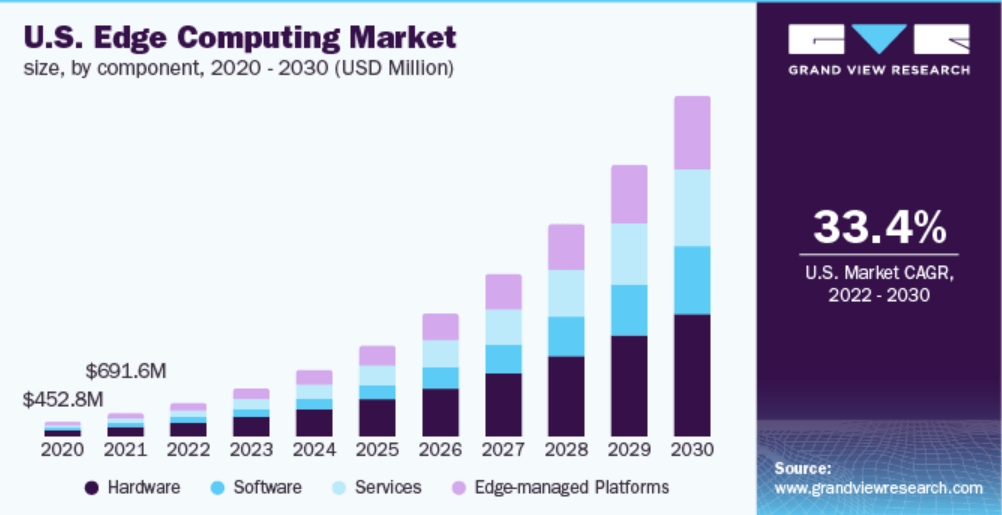 AI-powered devices are needed
According to the Global Edge Computing Market Report, one of the drivers of the global edge computing market is the demand for artificial intelligence-based devices. AI is key in effectively utilizing various endpoint devices such as cameras, sensors, smartphones, smart watches, and other IoT devices.
Supporting the above report is the State of Artificial Intelligence 2021 Report, which further adds that there will be an explosive growth of around 108% in global AI funding in 2021 due to the increasing integration of AI in edge devices.
Additionally, about 54 percent of organizations surveyed by McKinsey in 2021 agree that they are adopting AI to facilitate some critical computing functions. So, with all these numbers, it is undeniable that the global edge computing market will continue to soar.
Global telecommunications market adoption of 5G will grow
The global edge computing market report further states that telecom edge is expected to grow over the forecast period. The rapid adoption and implementation of 5G technology across many industries have contributed to the growth of the telecom edge. 5G promises better reliability and speed in handling the growing demand for big data creation and processing.
Preference for advanced connectivity technologies, including 5G and 6G, will continue to drive growth and investment in edge computing to approximately $166 billion, according to McKinsey's 2022 Technology Trends Outlook. With the implementation of 5G expected to take shape in edge computing devices during this period, it will become easier to address several issues, such as system lag in network connectivity and data processing.
Some of the areas where 5G applications will further drive the edge computing market include virtual reality (VR), autonomous vehicles, augmented reality (AR), and IoT devices and services.
Growing edge computing use cases
Another factor driving the growth of the global edge computing market is the increase in edge computing use cases. As edge computing use cases continue to grow, it is expected that more adoption of edge computing across different industries will suffice.
2022 Global Edge Computing Market Forecast explains, "Edge computing use cases have outpaced initial infrastructure deployments and are expected to fuel edge computing infrastructure and use case investments."
The report further states that "edge computing is expected to become more prevalent and move towards platform-centric solutions during the forecast period."
In 2021, the energy and utility segment captured a revenue share of over 15%. Smart grids, which rely on device edge infrastructure, will probably help the energy and utility sector's revenue grow. IoT applications in healthcare, the life sciences, and the edge are anticipated to grow rapidly in the foreseeable future.
The healthcare sector is being transformed by disruptive technological advances made possible by the Internet of Things (IoT) and edge computing. Patient data, software applications, diagnostic tools, and telemedicine programs help medical professionals treat patients more quickly and effectively.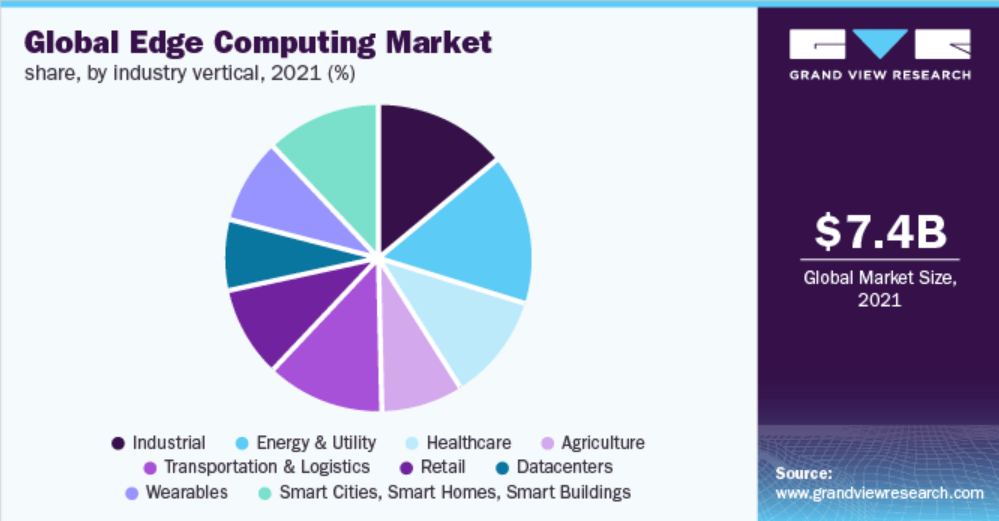 Key Businesses And Market Share Information
The major market players are concentrating on creating cutting-edge collaboration software to draw in a larger customer base and gain a competitive edge in the market. For instance, Asana, a provider of work management platforms, introduced Asana Flow in February 2022, a comprehensive set of tools that companies can use to create, manage, and improve their workflows.
During the anticipated period, the market's growth is anticipated to be aided by the rising number of such new offerings. The following are a few of the leading companies in the global edge computing market:
ABB
Amazon Web Services (AWS), Inc.
Aricent, Inc.
Atos
Cisco Systems, Inc.
General Electric Company
Hewlett Packard Enterprise Development
Honeywell International Inc.
Huawei Technologies Co., Ltd.
IBM Corporation
Intel Corporation
Microsoft Corporation
Rockwell Automation, Inc
SAP SE
Siemens AG
Key Highlights of the Edge Computing Market Report
During the forecast period, edge servers, which are the main hardware components of edge infrastructure, will experience unprecedented demand. This suggests that edge servers will be the main market driver during this period.
AR/VR usage will also increase due to advancements in 5G networks.
Edge data centers are expected to witness the highest CAGR forecast period. That's because there's a lot of reliance on edge data centers to solve connectivity issues and store and process data closer to devices.
The growth of the edge computing market will experience the highest prosperity in the Asia-Pacific region due to the early adoption of 5G.
Benefits of Edge Computing Gateways
The decrease in Internet bandwidth requirements described earlier is one of the edge computing technology's most important advantages. It is, therefore, a great option for places with spotty Internet access. Additionally, placing data processing facilities closer to the data source lowers the possibility of downtime brought on by faulty Internet connections.
The huge reduction in information processing delays is another important benefit of edge computing. There can never be more than one millisecond of delay because that is a key need for real-time operation. This is feasible if the data center and the end device are not more than 150 kilometers apart.
Edge computing gateway provides a little bit more security than centralized server storage because data is not kept close by on edge devices, which are nonetheless attackable. On numerous edge devices, data is fragmented, making attacks more challenging.
Price is one of the most crucial factors. In the beginning, edge computing may require an item of significant expenditure. However, this technique ultimately saves a lot of money because of the data processing model used (if properly implemented). While transfer and storage costs are constant, smaller, more potent edge devices are more powerful and computationally efficient.
Fast data processing is necessary due to the numerous IoT-related technologies' rapid advancement. Consider self-driving cars as an illustration. Delays are eliminated by in-vehicle data processing because at high speeds, even milliseconds count. Simply put, cars cannot afford to sit idle while data is processed. Therefore, it is necessary to analyze crucial data at the source.
Safety is a topic that should be discussed while we're talking about future automobiles. A vehicle of this kind does, after all, become an endpoint that needs to be adequately protected. By combining the advantages of cloud and edge computing, travelers may feel entirely safe.
DUSUN application
Dusun publishes Edge computing framework-equipped gateways of all kinds. In the data source area, these gateways would serve as the primary IoT solution. In other words, the gateways would receive all data from endpoint devices using various protocols first. Then, this edge computing gateway functions like a data center with various installed programs, enabling local data processing.
The ability of the gateways to filter data to some extent, preventing the upload of pointless messages to the cloud server to lessen the cloud server's computational load, may be more significant.
Thus, the key goal of Dusun—to provide an IoT solution that is simple to implement for everyone and facilitate the integration of IoT devices—can be accomplished.
Pick the most reliable version. Consider the DSGW-210, an IoT gateway with multiple protocols and edge computing capabilities.
It offers dependable connectivity for a variety of wireless Internet of Things devices. Because of its modular architecture, the gateway's many features can be customized to meet your specific requirements and be purchased off the shelf. Cellular, Bluetooth, Wi-Fi, Ethernet, USB, ZigBee, and Li battery backup are available options.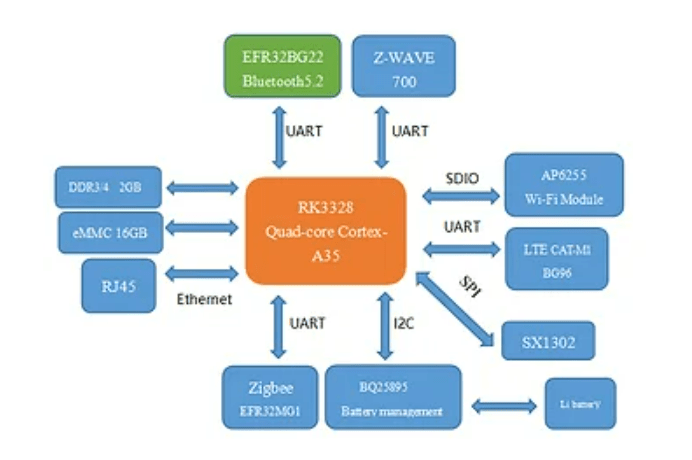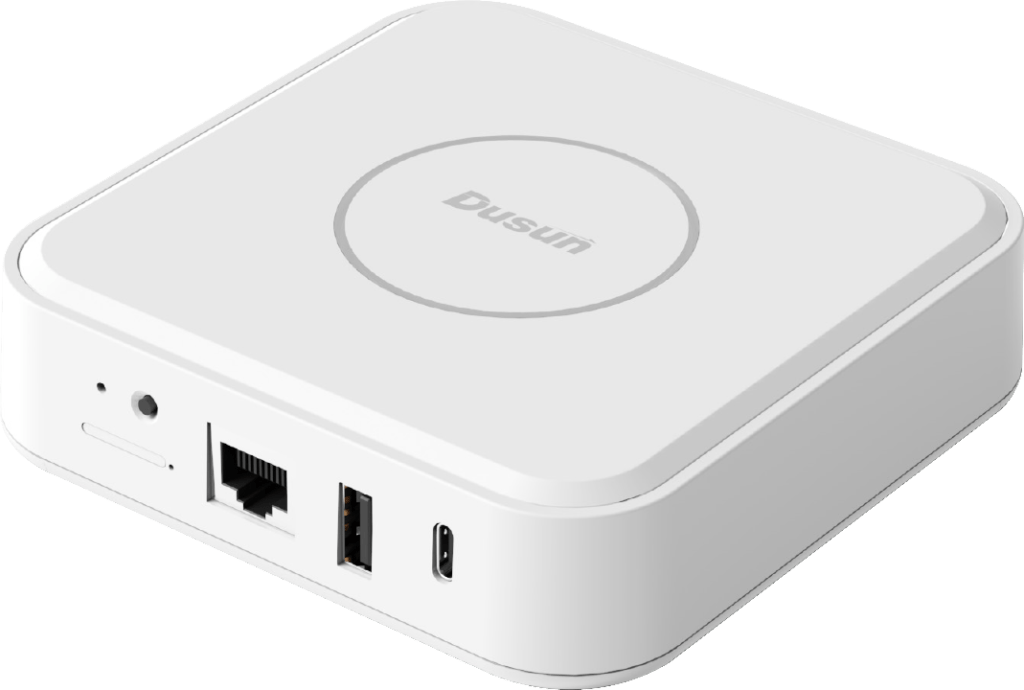 The gateway can function as the hub of the corresponding wireless network for a variety of IoT solutions in various implementation scenarios, thanks to all these embedded wireless modules operating at various frequencies. This type of co-processor hardware design may also result in more potent edge computing capabilities, which would improve remote cloud computing cooperation.
For better management of the subdevices, this edge computing gateway has already adapted to several popular local software platforms, including OpenHAB, Home Assistant, and Jeedom.
For instance, the edge computing gateways can come pre-installed with the most popular local management program HomeAssisant, allowing customers to DIY their IoT solutions in a simple manner with a robust GUI as soon as they receive them. Additionally, the gateway's entire compiling environment is open source, which will greatly help the customer's coding skills for independent development.