Overvew of DSGK-930 RK3328 Board
DSGK-930 rk3328 board is an industrial motherboard powered by the Rockchip 3288 CPU, offers a range of I/O interfaces including serial ports, USB ports, and Mini-PCIe. It provides support for Android, Linux, and Harmony OS, making it suitable for diverse application scenarios such as smart industry, smart factory, industrial control, industrial inspection, machine vision, and more.
This RK3328 motherboard excels in delivering a harmonious blend of performance and cost-effectiveness, facilitating the streamlining of the design process and driving product innovation forward.
Feature Summary of DSGK-930 RK3328 Board
Rockchip RK3288 CPU
1/2/4G Memory, 8/16/32G eMMC on board
6*COM, 6*USB, 1*GbE LAN, 2*Touch Panel header
Supports Dual display of HDMI, eDP and LVDS/eDP
Wi-Fi+BT Module on board, 1*Mini-PCIe (3G/4G)
3.5″", DC 12V Power Input
Wi-Fi IEEE 802.11 b/g/n, 2.4GHz, BT 3.0/4.0
Mechanical Design of DSGK-930 RK3328 Board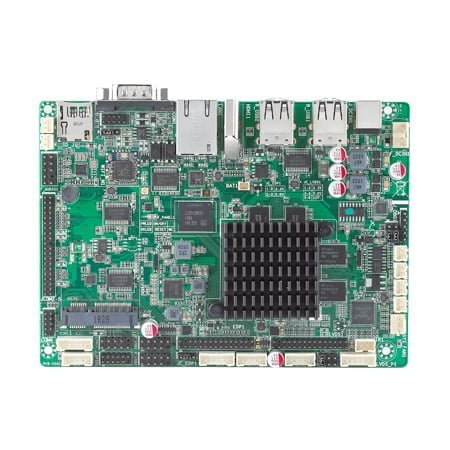 Interface of DSGK-930 RK3328 Board

Performance of DSGK-930 RK3328 Board
Wi-Fi Perofrmance
●IEEE Wireless LAN standard: IEEE802.11n; IEEE802.11g; IEEE802.11b
●Data Rate:
IEEE 802.11b Standard Mode:1,2,5.5,11Mbps
IEEE 802.11g Standard Mode:6,9,12,18,24,36,48,54 Mbps
IEEE 802.11n: MCS0~MCS7 @ HT20/ 2.4GHz band
●Sensitivity:
HT40 MCS7: -70dBm@10% PER(MCS7) /2.4GHz band
HT20 MCS7 :-71dBm@10% PER(MCS7) /2.4GHz band
●Transmit Power:
IEEE 802.11n: 16dBm @HT20/40 MCS7 /2.4GHzband
IEEE 802.11g: 16dBm @54MHz
IEEE 802.11b: 18dBm@11MHz
●Wireless Security: WPA/WPA2, WEP, TKIP, and AES
●Working mode: Bridge, Gateway, AP Client
●Range: 50 meters minimum, open field
●Transmit Power:17dBm
●Highest Transmission Rate: 300Mbps
●Frequency offset: +/- 50KHZ
●Frequency Range (MHz): 2412.0~2483.5
●Low Frequency (MHz):2400
●High Frequency (MHz):2483.5
●E.i.r.p (Equivalent Isotopically Radiated power) (mW)<100mW
●Bandwidth (MHz):20MHz/40MHz
●Modulation: BPSK/QPSK, FHSSCCK/DSSS, 64QAM/OFDM

BLE Performance
●TX Power: 19.5dBm
●Range: 150 meters minimum, open filed
●Receiving Sensibility: [email protected]%BER
●Frequency offset: +/-20KHZ
●Frequency Range (MHz):2401.0~2483.5
●Low Frequency (MHz):2400
●High Frequency (MHz):2483.5
●E.i.r.p (Equivalent Isotopically Radiated power) (mW)<10mW
●Bandwidth (MHz):2MHz
●Modulation: GFSK
Specification of DSGK-930 RK3328 Board
General
CPU
ARM Rockchip® RK3288, Quad-Core Cortex-A17, up to 1.8GHz
Memory
DDR3-1333, 1/2/4GB, on board
Storage
1*eMMC 8/16/32G, 1*TF Card
Expansion Interface
1*Mini-PCIe (3G supported)
System
Android, Linux
I/O Interface
Ethernet
1*Realtek® 1Gbps PCIe Ethernet Controller (PHY), RJ45
1*Realtek® Wifi+BT module on board
(Wifi IEEE 802.11 b/g/n, 2.4GHz, BT 3.0/4.0)
Serial
5*RS232, 1*RS232/RS485
USB
6*USB 2.0
Audio
Everest® CODEC ES8316, with MIC/Line-out and Amplifier
GPIO
8*Programmable GPIO
Feature Interface
2*Touch Panel Header (only with USB signal),
1*Infrared Pin Header
Display
Display Interface
1*HDMI: max resolution up to 4096*2160@60Hz
1*eDP: max resolution up to 4096*2160@30Hz
1*LVDS/eDP: LVDS, Dual Channel 24 bit, max resolution up to 1920*1080@60Hz eDP, max resolution up to 4096*2160@30Hz
Multiple Display
Dual
Mechanical & Environment
Dimension
146*105mm
Power Input
DC 12V
Temperature
Operation: 0℃~60℃, Storage: -25℃~75℃
Relative Humidity
Operation: 10%~90%, Storage: 5%~95%, non-condensing