Product Name: Cellular Blood Pressure Monitor
Model Name: DSBP-020
1. Introduction of Cellular Blood Pressure Monitor
The DSBP-020 wrist BP monitor is based on the 4G technology and more discrete for readings anywhere you go. With advanced accuracy, this BP monitor measures 5 times more data points for consistent and precise readings.
The easy one-touch operation also detects irregular heartbeats, stores up to 60 groups, and includes a wide-range D-ring cuff.
1.2 Product Feature Summary
Wearable design for Blood Pressure and PR
Easy to read the measurement data with big screen
Integrated 4G technology
Irregular Heartbeat Detection
78mm x 92mm Blue LCD display with white backlight
Two users/accounts, each account 60 groups data storage
2. Mechanical Requirement of Cellular Blood Pressure Monitor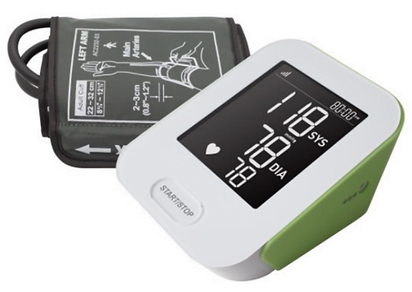 3. Specifications of Cellular Blood Pressure Monitor
Category
Specifications
Protocol
4G(CAT-M1)
Weight
385g
Power Supply
Battery-powered mode: 6VDC 4×AA-size alkaline batteries AC adaptor powered mode: 6V 1A
(Can be supplied by AC adaptor model UE08WCP-060100SPA !)
Display Model
Digital LCD V.A.78*92mm
Measurement Range
Rated cuff pressure: 0kPa - 40kPa (0mmHg~300mmHg)
Measurement pressure: 5.3kPa-30.7kPa (40mmHg-230mmHg)
Pulse value: (40-199) beat/minute
Accuracy
5℃-40℃within±0.4kPa(3mmHg); Pulse value: ±5%
Measurement Perimeter of the upper arm
About 22cm~32cm or 22cm~42cm
Memory Capacity
2 users*60
External Dimensions
Approx.120*160*69mm
Degree of protection
Type BF applied part
Protection against ingress of water
IP21
Size(mm)
130MM(L) x 55MM(W) x 30MM(H)
Certification
CE, FDA
4. User Manual of Cellular Blood Pressure Monitor
1. Tie the cuff on your upper arm, then position the tube off-center toward the inner side of arm in line with the little finger. Or position the artery mark Φ over the main artery(on the inside of your arm)
Note: Locate the main artery by pressing with 2 fingers approximately 2 cm above the bend of your elbow on the inside of your left arm. Identify where the pulse can be felt the strongest. This is your main artery.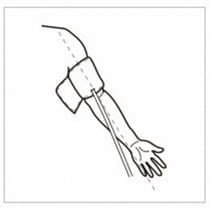 2. The cuff should be snug but not too tight. You should be able to insert one finger between the cuff and your arm.
3. Sit comfortably with your tested arm resting on a flat surface.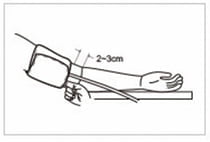 4. Patients with Hypertension: The middle of the cuff should be at the level of the right atrium of the heart; Before starting measurement, please sit comfortably with legs uncrossed, feel flat on the floor, back and arm supported.
Rest for 5 minutes before measuring.
Wait at least 3 minutes between measurements. This allows your blood circulation to recover.
The patient must relax as much as possible and do not talk during the measurement procedure.
For a meaningful comparison, try to measure under similar conditions. For example, take daily measurement at approximately the same time, on the same wrist, or as directed by a physician.