1. Introduction of DSBC-060 BLE Sensor Beacon
DSBC-060 is a Bluetooth beacon sensor with BLE positioning function, as well as environmental temperature and humidity detection, and reserved air pressure sensing. It is suitable for outdoor with IP 67 protection.  A red LED lamp and a button switch (low power setting, pairing setting) are equipped.
Refrigerated storage and transportation

Archives

Experimental (test) rooms

Workshop

Museums

Pharmaceutical environment

Fresh transport
High accuracy and stability.

Built-in highly sensitive temperature and humidity sensor SHTC3 (Sensirion).

Built-in highly performance air pressure sensor BME280(BOSCH), it's only for the model DSBC-150-4.

Can be set normal storage temperature and humidity data interval and alarm storage temperature and humidity data interval.

Can update version by OTA.

Can support eddystone and ibeacon.

Support local low voltage alarm.
2. Appearance of DSBC-060 Bluetooth Beacon Sensor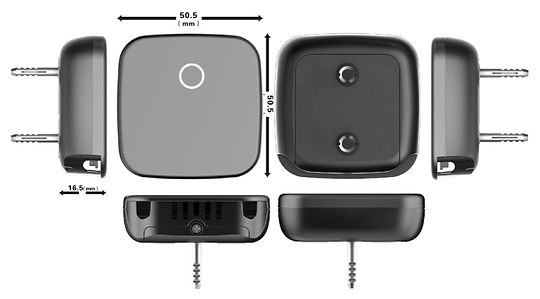 Feature


Model
Bluetooth 5.0
Bluetooth 5.2
Beacon
Zigbee 3.0
Long range
T&H detect
Air pressure
DSBC-060-1
●
●
●
●
DSBC-060-2
●
●
DSBC-060-3
●
iBeacon
●
DSBC-060-4
●
●
●
●
Remark: (1) Can be designed as a standard iBeacon, Eddystone protocol, can also meet the needs of broadcast package customization
3. Specification of DSBC-060 BLE Beacon Sensor
Protocol
Built-in PA
Performance
Zigbee 3.0
Yes
● TX Power: 17.5dBm
● Range: 200 meters minimum, open filed
● Receiving Sensibility: -94dBm
Bluetooth 5.2
No
● Main IC: nRF52820
● TX power: 8dBm,adjustable
● Communication rate:
125kbps (long-range)
1Mbps(not long-range)
● Transmission distance:
100~200 meters (open area, and long-range protocol)
50~100 meters (open area , and not long-range protocol)
Sensor Type
Sensor IC
Performance
Temperature &humidity
SHTC3
● Detect temperature range: -30℃~ +65℃
● Temperature accuracy: ±0.3°C (0~65°C) ,±1°C (-40~0°C)
● Detect humidity range: 0 ~100%RH
● Humidity accuracy: ±3% (20~80%RH) ,±5%(0~20%RH,80~100%RH)
Temperature &humidity&air pressure
BME280
● Detect temperature range: -30℃~ +65℃
● Temperature accuracy: ±1.5°C (0~65°C) ,±2°C (-40~0°C)
● Detect humidity range: 0 ~100%RH
● Humidity accuracy: ±4% (20~80%RH) ,±6%(0~20%RH,80~100%RH)
● Detect air pressure range: 300~1100 hPa
● Air pressure accuracy:±2hPa(0~65°C) ,±2.5hPa(-40~0°C)
Item
Performance
Electronic
● Working voltage: 2.2~3.6VDC

● Average power consumption: <100uA

● Built-in battery : CR2477 ,950mAh

● Battery life: 2~3 years (Depends on the mode of operation)

● IP protection: IP67

● RTC: Not support

● Certification: CE FCC