According to FrançoisBourguignon and MaurizioBussolo's research [1], around 45% of the world's population has been directly attached to agricultural occupation. In addition, a very large proportion is also associated indirectly with this field. If you are one of those or planning to become one, this reading will get you a head start. You can use the latest IoT technological advancements to enhance your agricultural skills.
The recent advancements and future generation agriculture trends not only enhance the agricultural yield but also contribute to Sustainable Development Goals (SDGs). These smart agricultural trends include improved soil preparation, smart irrigation systems, innovative approaches to crop inspection, smart fertilizer systems, and multi-cropping practices. Does it sound too complex to you? Fright not, because I will tell you how you can use them all with simple and easily available LoRaWAN 4G gateways. So, let's get started!
2. Smart agriculture
Smart agriculture and smart farming are the terms that describe the usage of modern tools and technologies along with traditional procedures. The purpose is to enhance the quality of your product and the overall yield of your field. You can use several sensors, internet-connected devices, location-based systems, smart agricultural robots, machine learning (ML), and Artificial Intelligence (AI) tools. Additionally, these tools also help you in the optimal use of human labor.
2.1. The definition and context
The concept of smart agriculture is primarily focused on providing the agricultural industry with the infrastructure to use advanced technology. It includes the internet of things (IoT), ML, AI, Big data, and cloud architecture. We can broadly categorize the use of the whole smart agriculture industry into three categories.
Tracking
Monitoring
Automating
A similar context is used interchangeably with precision agriculture. Computer software manages smart farms and fields based on the data acquired by sensors.
You will find the smart farming discussion everywhere because the global population is expanding at a rapid rate and a higher yield is in demand. The efficient use of natural resources, modern technology, and smart methodologies is the key element to achieving these goals.
2.2. Smart farming technologies
Any technology that can help you to improve your agricultural experience can fall under this category but I am going to guide you about a few things that will give you a kickstart in smart agriculture.
2.2.1. Types of Sensors used in Smart Field
Electronic
Optical
Electro-chemical
Mechanical
2.2.2. Critical Parameters to monitor Smart Agriculture
Temperature
Humidity
Fluid level
Sunlight
Rainfall
Gases in Air
Wind – Speed and direction
Soil – pH, nutrients, compaction, and moisture
Location – Field, machinery, storage, security, and livestock.
2.2.3. Technologies Required to Deploy Sensors and Systems in Smart Farming
Internet of Things (IoT)
Artificial Intelligence
Communication protocols
Software platforms
Actuators for autonomous operation
Drones and robots
2.3. Goals of smart agriculture
2.4. Advantages of smart techniques
With intelligent farms, the sky is the limit for you but here are some of the key benefits that you will get if you go smart.
Increase the quantity of your product.
Enhanced quality.
Reduced cost.
Waste reduction.
Regulated monitoring and control.
Identification of crop anomalies.
Livestock health care.
Automation of daily agricultural activities.
2.5. Major challenges in the deployment of smart farm
There are certain challenges associated with smart agriculture concepts, their deployment, and continuous utilization.
People always tend to resist change. Early adoption of the latest IoT devices equipped and agriculture sensors have always been a point of concern.
Infrastructure requirements including smart grids, network systems, and cellular towers are not available everywhere. It also requires continuous internet connectivity in remote areas. The facility is not readily available in developing countries.
2.6. Agriculture 4.0 – The future of smart farming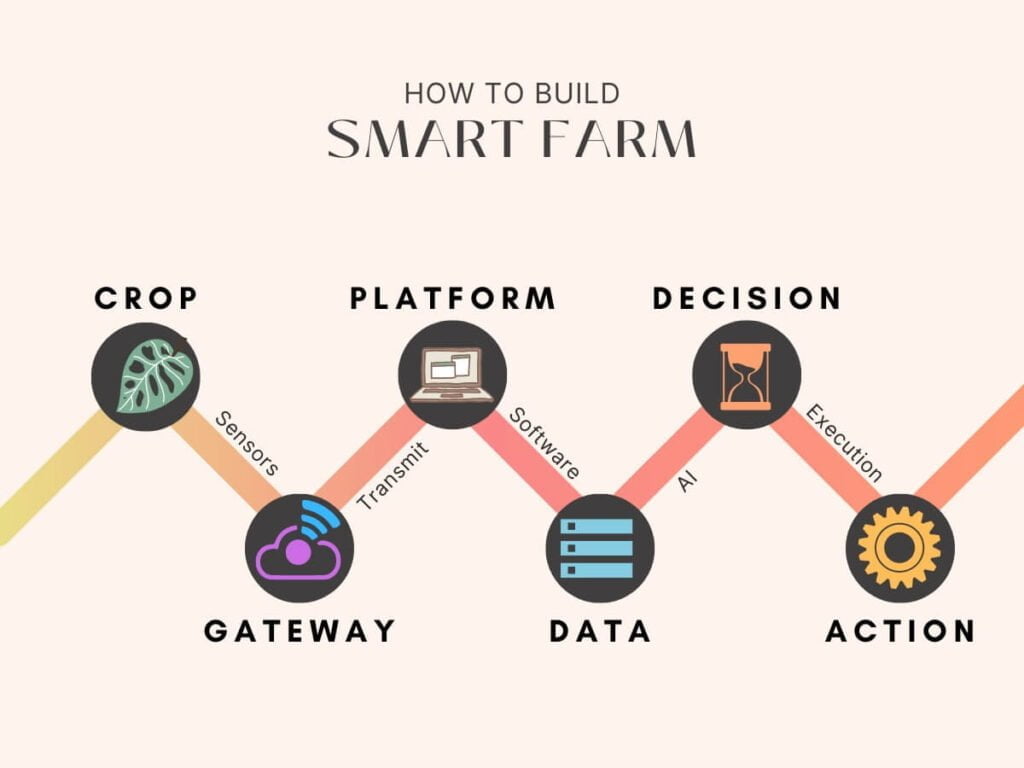 Agriculture 4.0 isn't just a term; it is a need of the hour and global objective. Here farming meets technology to achieve food targets and climate goals. This agricultural revolution will no longer require water, fertilizers, and pesticides uniformly across entire fields. AI and ML-based models will help the farmers will use the minimum quantities required in very specific target areas.
The latest trends and technologies are taking over traditional methods at a rapid speed. According to AgFunder [3], AgriTech was among the hottest options for investment. In 2021, Venture capitalists invested $51.7 billion into agrifood technologies; posting 85% growth as compared to 2020.
Furthermore, many service providers and mobile operators are updating their infrastructure to bring network resources on the edge. Technologies like small cells, massive MIMO, Edge computing, IoT, and 5G have enabled us to realize the concept of the next agricultural revolution.
3. LoraWAN
3.1. What is the LoraWAN Technology?
LoRa, (derived from Long Range), is a technology to transmit radio signals over a long area range. LoRaWAN is the standard protocol for Wide Area Networks (WAN) communications using the LoRa method. An IoT network comes into existence when this protocol communicates between several sensors across the field. LoRaWAN is a suitable choice because of its capability to communicate at long ranges with very minimal power consumption.
3.2. Role of LoRaWAN in Smart agricultural revolution.
So far, we have built a narrative that smart agriculture is a collection of multiple sensors connected over a suitable network protocol. You are already familiar with the fact that it is not practically viable to connect hundreds of sensors to electricity across many hectares of land. You have to use battery-powered devices. When you have a limited supply of definitely need to optimize its usage too. Here comes the LoRa gateway as a savior. It consumes such low power that your battery-powered sensors could work for up to ten years without battery replacement. Furthermore, the low bandwidth communication of LoRaWAN makes it a great choice for practical deployments that transmits regularly. Let's say you are deploying an autonomous irrigation system and you need to monitor the soil moisture at different locations across your field. In this application, you don't need to check the moisture every second or every minute. You just take the data periodically, on daily basis perhaps, and control the irrigation process accordingly. A simple example is LoRa based soil moisture sensor system designed here [2].
4. The opportunities to make your smart farm using LoRaWAN.
Here I will show you the practical options to deploy smart agriculture techniques to manage your farms and field efficiently. Your agricultural land spans a wide area and you want to monitor that to take decisive actions at critical times. Manually, it is a time-consuming job and it requires a lot of human effort. Thus, the smart move is to use sensors, IoT, and LoRaWAN gateway to remotely monitor an extensive range of pivotal factors.
4.1. Cattle Management
If you are unable to efficiently manage your livestock then you should move on to some smart solutions. There are many ready-to-use devices available on market. Numerous companies provide comprehensive solutions ranging from cattle tracking to health monitoring.
4.1.1. Tracking
Now you can track, locate and secure your cattle with a GPS collar. The GPS cattle collar sends out a signal intermittently to your livestock administration dashboard [4]. Set up geofences to get the notification alerts if your cattle move out of a designated area.
4.1.2. Health monitoring
Healthier cows provide improved quality and quantity of milk and meat, eventually increasing your earnings. LoRa-based IoT hardware solutions offer a bio-capsule [5]; a device implants itself in a cow's ruminant stomach. This device continuously transmits the data to the central dashboard or application software. You can monitor the data yourself or use AI-powered tools to detect the irregularities in crucial body parameters of cattle. You can identify the beginning of the disease, and forecast the delivery of calves.
4.1.3. Autonomous feed
Sometimes livestock needs a specific diet for some time. Based on the data provided by the health monitoring system, you can put your cattle on a strict diet or you might add some nutrients to their regular food.
4.2. Soil Monitoring
Soil is not consistent all around the field. Depending upon the weather conditions and soil composition, it holds moisture differently in various areas. You should monitor soil parameters for efficient use of water resources and to improve overall yield.
4.2.1. Temperature
As a farmer, you feel when your plants are unable to breathe. The relative humidity is the key factor behind this. If you keep track of soil temperature along with other essential aspects, you can take prompt action to save your plants. Soil temperature affects ventilation, availability of soil moisture contents, and plant nutrients. Besides, temperature data will also indicate the requirement for irrigation.
4.2.2. Moisture
A true smart farm is incomplete without a LoRaWAN-based low-cost, wireless, and remote system to get real-time insights into the soil moisture conditions of your field. Take prompt actions, manually or autonomously, according to the moisture conditions and crop requirements.
4.2.3. Electrical Conductivity
Another key parameter is soil electrical conductivity which measures the amount of soil salinity. Soil conductivity also helps you to estimate the required quantity of soil herbicides and to forecast the crop yield. If you are irrigating the soil water containing high levels of dissolved salts, it will result in soil salinity. After some time the crop yield will reduce significantly.
4.2.4. Soil pH
It is vital to check the pH of the soil frequently to have healthy crops. Acidic soils having a pH of 4.0 – 5.0 are harmful to your crop. It indicates the higher concentrations of toxic contents for plants including soluble aluminum, iron, and manganese. Maintain a pH range of approximately 6 to 7 to provide ideal growing conditions.
4.3. Environment Monitoring
In any agricultural field, the environment plays a decisive role in the output result. Monitoring the environmental factor should be checked in the list while developing your smart farm. Let us explore some of the significant parameters that you can monitor using LoRaWAN.
4.3.1. Temperature
Whether your smart farm is indoor or outdoor, ambient temperature monitoring is vital for crops. Particularly the crops that are vulnerable to temperature changes even for some time, e.g., wheat. The temperature data will help you to take appropriate available measures to keep your crop less affected by the harsh temperature conditions.
4.3.2. Humidity
Hot and tropical conditions might not be fruitful for your crop. Humidity promotes bacterial growth causing plants to die and crops to fail in achieving the targeted yield. Also, pests thrive the most in humid conditions. Hence, Humidity monitoring is necessary for you to estimate water losses and the requirement of irrigation.
4.3.3. Wind
Suitable wind speed and direction can improve the environment of your farm. Any change in wind behaviors can have a positive or negative impact on your crop. A well-informed rancher can take timely decisions to mitigate issues.
You can get real-time wind data through Robust and highly responsive wind sensors. These sensors measure the wind speed and direction across your whole field. The data is very useful in accurate crop spraying, efficient drone flying, and taking preventive measures to inhibit fruit shedding.
4.3.4. Rain
The whole world is eying how to grow more using fewer water resources. The optimal use, based on the availability of rainwater, is one of the easiest solutions. Do not irrigate now if the last rain was enough for a few more days.
All you have to do is to irrigate your farm intelligently. Deploy rain gauges in your smart agricultural field to control the utilization of water resources according to the weather conditions.
4.4. Autonomous Irrigation
If you are observing all the essential parameters of your smart agriculture field, it is the perfect time to add smart irrigation to remotely control your water usage. You can integrate smart water with your system without any additional exhaustive cabling.
Autonomous irrigation systems (AIS) are based the on analysis of data collected through the monitoring sensors including pressure, flow, soil moisture, humidity, and temperature.
5. Your Smart Farm
After implementation of the whole system, you maximize yield across several different soil types along with optimization of human labor and other input resources. You may also deploy a customized solution for a wide variety of crops including wheat, rice, berries, nuts, and cotton.
Our goal, while developing this solution, was to create the highest quality and most reliable smart agriculture networking in the field. To achieve this, we have used low-powered sensor units for data collection and LoRaWAN technology for data transmission.
Next Topic: Climate-smart agriculture (CSA)
References
[1] https://www.sciencedirect.com/science/article/abs/pii/B9780444595683000213
[2] https://how2electronics.com/iot-lora-based-smart-agriculture-remote-monitoring-system/
[3] https://agfunder.com/research/2022-agfunder-agrifoodtech-investment-report/
[4] https://smartertechnologies.com/smarter-products/gps-cattle-collar/
[5] https://www.semtech.com/company/press/semtech-and-sk-telecom-leverage-lora-technology-to-monitor-cattle-health