Quick View of DSGW-014 LoRaWAN Gateway Outdoor
DSGW-014 LoRaWAN gateway outdoor employs high-performance PX30K quad-core processor and Semtech SX1302 LoRaWAN chip to design powerful industrial IoT gateways. It supports LoRaWAN in global frequency, BLE 5.2, Wi-Fi 2.4G, 4G LTE Cat1/Cat M1, and Ethernet protocols. Meanwhile, satellite positioning through GPS,GLONASS,Galileo and QZSS are supported as well. You can see it has 5 antennas in total, including 2 4G LTE antennas, 1 GPS antenna, 1 LoRaWAN antenna, and 1 Wi-Fi 2.4G antenna.
DSGW-014 outdoor LoRaWAN gateway has a IP66 waterproof enclosure made of high strength aluminum alloy. It can operate in wide temperature range from -20℃ to 65℃, able to work in demanding environment, regardless of harsh weathers, extended temperatures or high humidity through the seasons. It has PoE power supply and is designed for flat /pole/hoop-mounting, easily be installed as part of an existing telecommunications tower, individual stand or wall mount.
DSGW-014 LoRaWAN Outdoor Gateway has built-in integration with LNS (LoRaWAN network server)like Chirpstack, AWS IoT Core, LORIOT, and Things Stack,etc., easy for users to directly put it into the use and save deployment time. For perfectly applicated for remote monitoring and maintenance in industrial automation, it support OTA for remote upgrading.
Reasons to Require DSGW-014 LoRaWAN Gateway Outdoor
When implementing remote monitoring and control duties, such as fisheries ship location tracking or outdoor operation in hazardous environments, businesses must find secure, scalable, and cost-effective IoT solutions to ensure personnel safety and acceptable maintenance costs.
The durable waterproof casing of the LoRaWAN LTE 4G gateway ensures normal operation in complicated geographical and meteorological environments such as oceans, deserts, and the wild. LoRaWAN LTE gateways with GPS capabilities allow managers to track the real-time location of outside employees and activate security alarms as needed. LoRaWAN Cellular Gateway is ideal for offloading gateway traffic with high mobility and data speeds equivalent to Wi-Fi.
LoRaWAN operates over a range of approximately 5-10km and sends small amounts of data at irregular intervals, making it ideal for battery-powered devices in remote areas. This reduces the risks of deployment ROI if batteries in remote devices do not last as long as expected, or the chosen network does not support the real-time communication required for mission-critical applications. Meanwhile, LoRaWAN works in the unlicensed ISM (industrial, scientific, and medical) band, which requires relatively low deployment costs compared to deploying multiple Wi-Fi routers in resource-constrained places.
LoRaWAN 4G gateway with 64-bit CPU processor supports strong multi-thread computing and can run real-time operating system. It can collect data from up to 10 miles away using strong LoRaWAN rasio wave, route data, and sync to the cloud using LTE 4G/Wi-Fi/Ethernet for distant IoT use cases.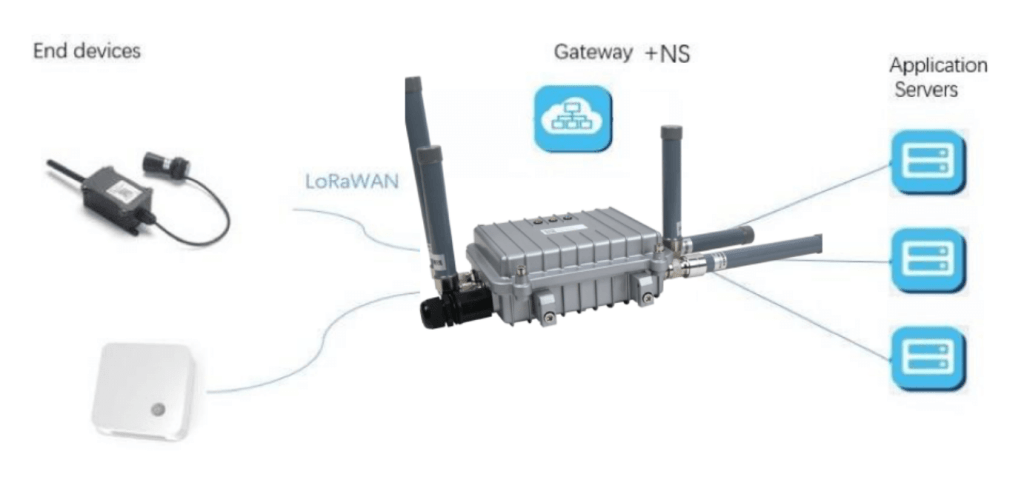 Features of DSGW-014 LoRaWAN Gateway Outdoor
Multiple Backhaul

Connectivities
Capturing data from end LoRa devices and sends it to the cloud via Wi-Fi 2.4G, 4G LTE and Ethernet
Multi-Protocol

LoRaWAN Gateway
Coming with Wi-Fi 2.4G, BLE 5.2, LoRaWAN, and GPS
Waterproof(IP66)

and Robust Aluminum Enclosure
Features all-around IP66 Rating for protection from water and dust ingress, ideal for the harsh environments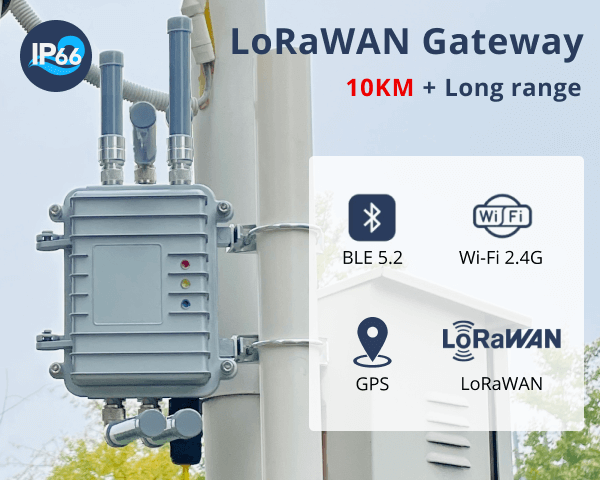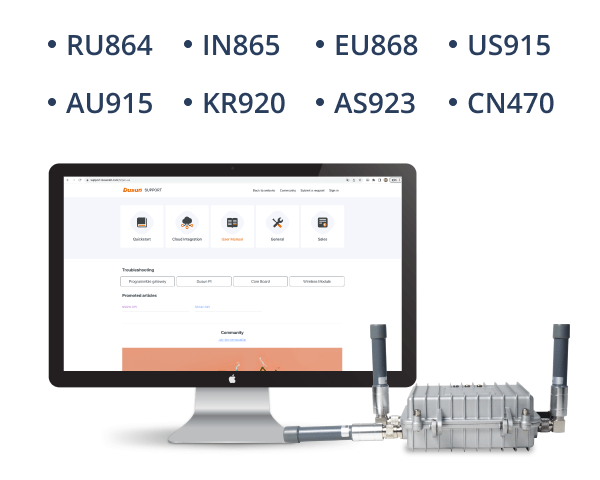 Supporting receiving data from 8 end-devices simultaneously and supporting up to 1000 end-devices
Global
LoRaWAN Frequency

Plans
LoRa Frequency band support: RU864, IN865, EU868, US915, AU915, KR920, AS923, CN470
Hardware Overview of DSGW-014 LoRaWAN Gateway Outdoor
Dimensions and Package of DSGW-014 LoRaWAN Gateway Outdoor
Parameter of DSGW-014 LoRaWAN Gateway Outdoor
CPU
Quad-core Cortex A35
System
Debian11
RAM
2GB
eMMC
32GB
Network Interface
• 1 * 10/100 Mbps WAN/LAN variable port
• Supports CAT-5/CAT-5E for data transmission
• Supports POE (voltage range 44-57V)
Indicator LEDs (RGB)
1). Power 2). Network 3)LTE
Installation
Flat, Ceiling
Antenna
2 * LTE, 1 * GPS, 1 * LoRa, 1 * Wi-Fi 2.4G
Hardware Encryption
ATECC608B
Operating Temperature
-20℃~65℃
Storage Temperature
-40℃~85℃
Operating humidity
10%~90%
IP rating
IP66
Use Cases of DSGW-014 LoRaWAN Gateway Outdoor
Development Resources of DSGW-014 LoRaWAN Gateway Outdoor
Model List of DSGW-014 LoRaWAN Gateway Outdoor
Category A (In Stock)
Model
Hardware
Software
·LoRaWAN ·BLE
·Wi-Fi ·GPS
NS Embedded
NS cloud
DDR
eMMC
LTE
TTN
Chirpstack
Chirpstack
AWS IoT
Core
LORIOT
ThingsStack
DSGW-014-2-F
2GB
32GB
●
●
●
Category C (Built by Order, MOQ: 500)
Model
Hardware
Software
·LoRaWAN ·BLE
·Wi-Fi ·GPS
NS Embedded
NS cloud
DDR
eMMC
LTE
TTN
Chirpstack
Chirpstack
AWS IoT
Core
LORIOT
ThingsStack
DSGW-014-1-F
2GB
32GB
●
●
DSGW-014-1-L
1GB
16GB
●
●
●
●
DSGW-014-2-L
1GB
16GB
●
●
●
●
●
Region List
| Type | Region | Frequecy(MHZ) |
| --- | --- | --- |
| -CN | China | CN470 |
| -EU | Europe | EU868 |
| -US | North America | US915 |
| -AS | Asia | AS923 |
| -AU | Australia | AU915 |
| -KR | Korea | KR920 |
| -IN | India | IN865 |
| -RU | Russia | RU864 |