Downlink Options: Bluetooth 5.2/ZigBee3.0/Z-Wave/LoRaWAN CLASS A/B/C standard/Matter&Thread/Wireless M-Bus/Wireless Sub-GHz
Uplink Options: Wi-Fi(IEEE802.11ac, IEEE802.11a, IEEE802.11n, IEEE802.11g, IEEE 802.11b), 4G LTE (CAT M1/CAT1/CAT4), wired Ethernet (RJ45)
Modular Architecture: a diversity of customized connectivity, you can remove the useless modules during the mass production;
Quad-core RK3328 CPU: support running application locally and process data
Different Memory Configurations to Choose: RAM (up to 2GB); eMMC (up to 32GB); SD Card Slot(Up to128GB); Error Correction Code Memory Available
Multiple OS support: Linux compatible and pre-installed the Debian OS. If you need other OS like Ubuntu,we can modify it for you;
One WAN/LAN variable network port, SIM Card
Power Supply: 5V USB type-c power supply, Backup Li-battery
OEM Support: customize logo and enclosure, but with extra fees and min. quantity.
Main chip
RK3328
CPU
Quad-core Cortex A53
System
Linux Debian 9
RAM
Up to 2GB
eMMC
Up to 32GB
SD card
Up to128GB
Power Supply
USB Type-C 5V/3A
Reset button
The reset button is a hole button, After pressing the reset button for more than 5
seconds, the Locator will be restored to the factorysettings.
Switch
On/Off power
Network Interface
WAN/LAN variable.
USB
USB2.0
SIM card
Micro SIM card
Multiple Backhaul Connectivities
Capturing data from end devices and sending it to the cloud via Wi-Fi 2.4G/5G, and Ethernet.
Built-in both Zigbee 3.0 module and Z-Wave Module. In addition to these, it also supports custom protocols integration such as BLE 5.0, LTE CAT1, LTECatM1, LTECAT4, Wi-Fi 2.4/5G,LoRaWAN and Matter&Thread.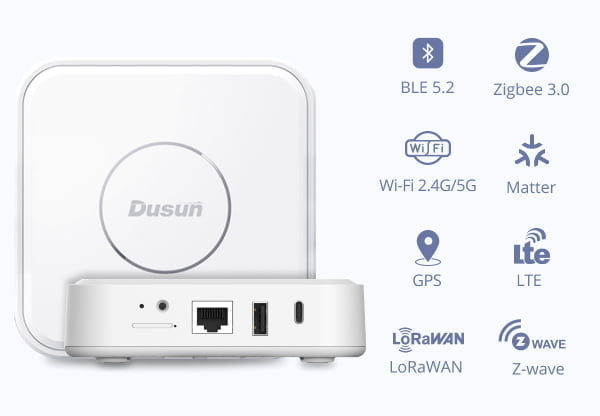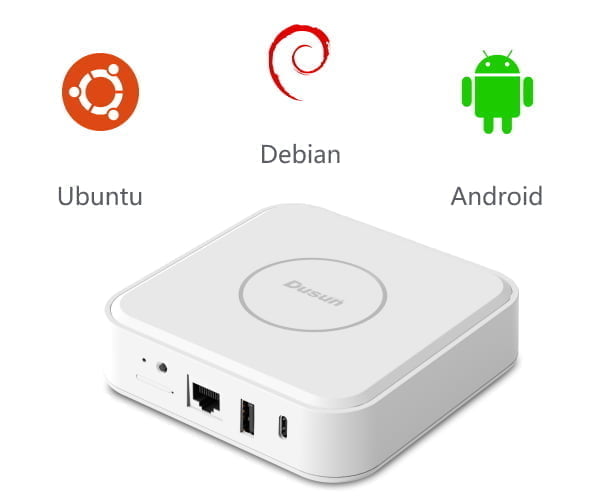 Supporting Multiple Operation System(OS)
Offers powerful hardware architectures for running Ubuntu, Debian, Android etc.
Our Gateway includes a comprehensive set of resources and services that enable the IoT Gateway developer to build custom firmware from the bottom layer of the hardware. It provides a highly secure, common platform for the IoT Gateway Developers while cutting costs and time-to-market.
Carrier-certified for immediate deployments and meets a comprehensive range of regulatory and industry standards worldwide. Accelerating your product development and get to market faster.
Each wireless module is designed based on the modular design, So the Gateway can be customized by removing unnecessary connectors and features to reduce cost.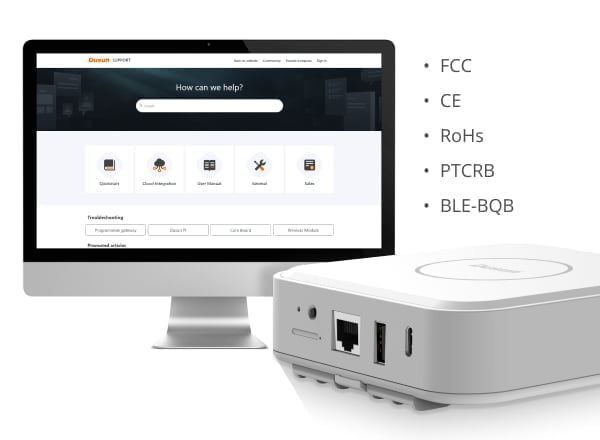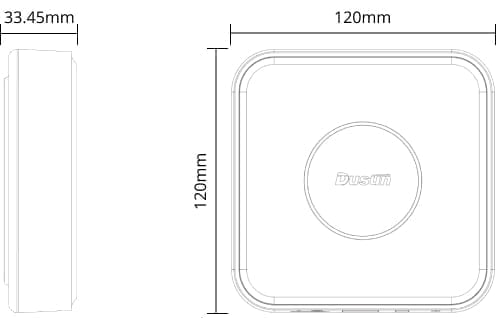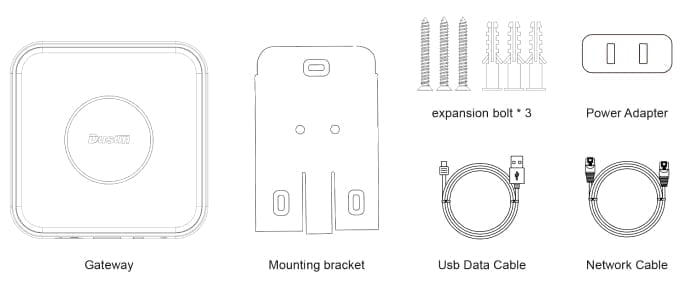 Optional Model for the
mass production
| Mode | Wi-Fi 2.4G/5G | Bluetooth5.2 | Zigbee3.0 | Z-Wave | Lora | LTE CatM1 | LTE Cat1 | Li battery | Matter &Thread | LTECat 4 | GPS | ECC | Wireless M-bus/sub-g |
| --- | --- | --- | --- | --- | --- | --- | --- | --- | --- | --- | --- | --- | --- |
| DSGW-210-X-1 | ● | ● | ● | ● | | ● | | ● | | | | | |
| DSGW-210-X-2 | ● | ● | | | | ● | | | | | | | |
| DSGW-210-X-3 | | | | | | ● | | | | | | | |
| DSGW-210-X-4 | ● | ● | | | ● | | | | | ● | ● | | |
| DSGW-210-X-5 | ● | ● | ● | | | | | | | | | | |
| DSGW-210-X-6 | ● | ● | | | ● | | | ● | | | | | |
| DSGW-210-X-7 | | ● | | | ● | | | ● | | | | | |
| DSGW-210-X-8 | ● | ● | | | | | | ● | | | | | |
| DSGW-210-X-9 | ● | | ● | | | ● | | | ● | | | | |
| DSGW-210-X-10 | ● | ● | | | | | | | | | | | |
| DSGW-210-X-11 | ● | ● | | | | | ● | | | | | | |
| DSGW-210-X-12 | ● | | ● | ● | | | | ● | | | | | |
| DSGW-210-X-13 | ● | | ● | ● | | | | | | | | | |
| DSGW-210-X-14 | ● | ● | | | | | | | | ● | | | |
| DSGW-210-X-15 | ● | ● | | ● | | | | | | | | | |
| DSGW-210-X-16 | ● | ● | ● | ● | | ● | | ● | | | | | |
| DSGW-210-X-17 | | ● | ● | | | | | ● | | | | | |
| DSGW-210-F-18 | | | ● | ● | | | | | | | | | |
| DSGW-210-F-19 | ● | | | | ● | ● | | ● | | | | | |
| DSGW-210-F-20 | ● | ● | | | | ● | | ● | | | | | |
| DSGW-210-X-21 | ● | ● | | | | | ● | | | | | ● | |
| DSGW-210-X-22 | ● | | ● | | | | | | | | | | |
| DSGW-210-X-23 | ● | | | ● | | | | | | | | | |
| DSGW-210-B-24 | ● | ● | ● | ● | | ● | | ● | | | | | |
| DSGW-210-X-25 | ● | ● | | | | | | | | | | | ● |
| DSGW-210-B-26 | ● | ● | ● | ● | | | | ● | | ● | | | |
| DSGW-210-MQDC | ● | ● | ● | ● | ● | ● | | | | | | | |
| DSGW-210-D-27 | ● | | ● | ● | | | ● | ● | | | | | |
| DSGW-210-D-28 | ● | | ● | ● | ● | | ● | ● | | | | | |
| DSGW-210-E-29 | ● | | | | | | ● | | | | | | ● |
| DSGW-210-F-30 | ● | ● | ● | | | | | ● | | | | | |
| DSGW-210-B-13 | ● | | ● | ● | | | | | | | | | |
| DSGW-210-B-1 | ● | ● | ● | ● | | ● | | ● | | | | | |
| DSGW-210-D-13 | ● | | ● | ● | | | | | | | | | |
| DSGW-210-D-1 | ● | ● | ● | ● | | ● | | ● | | | | | |
NOTE: [1] represents EFR32MG21F768. [2] represents EFR32MG21F768
| Configuration | RAM | eMMC |
| --- | --- | --- |
| -A | 1GB | 8GB |
| -B | 2GB | 8GB |
| -C | 1GB | 16GB |
| -D | 2GB | 16GB |
| -E | 512MB | 4GB |
| -F | 2GB | 32GB |
For Sample only Product (
DSGW-210-F-1
) available
| Mode | Wi-Fi 2.4G/5G | Bluetooth5.2 | Zigbee3.0 | Z-Wave | Lora | LTE CatM1 | LTE Cat1 | Li battery | Matter &Thread | LTECat 4 | GPS | ECC | Wireless M-bus/sub-g |
| --- | --- | --- | --- | --- | --- | --- | --- | --- | --- | --- | --- | --- | --- |
| DSGW-210-F-1 | ● | ● | ● | ● | | | ● | ● | | | | | |
MOQ (Minimum Order Quantity) for Logo Customization is $ 20K