Overview of DSGW-210 Smart Gateway
Smart Gateway
DSGW-210 smart gateway is a one-stop IoT gateway device solution including hardware, cloud and application integration services, as well as a development platform to empower manufacturers, brands, and solution integrators. This professional-grade gateway solution allow users to add, reset, and control multiple devices on only one hub.
Remote Control
DSGW-210 smart gateway offers remote monitoring and management features, empowering users to manage device from anywhere in the world. Multiple wireless and wired backhaul options including dual-band Wi-Fi, 4G LTE CatM1, Cat1, Cat4, and 10/100 Mbps Ethernet to transmit data to the remote cloud platforms.
Multiple Models
DSGW-210 smart gateway has multiple models to select, with different protocol choices, Li battery options, GPS functions, ECC hardware encryption, as well as RAM and eMMC for selection. Some are in stock and lead time will be 1-2 weeks, we suggest you to choose  Category A for fast delivery and demonstration.
Ready-to-use Apps
DSGW-210 is also a handy smart gateway with a wide range of compatible applications, including but not limited to Home Assistant, OpenHAB, Node RED, Thingsboard, Jeedom, etc. We have a tutorial on how to install these application, or you can ask for support at our online forum. We have a 24/7 FAE team to handle your issues if necessary.
Features of DSGW-210 Smart Gateway
Wired and Wireless Backhaul Connectivities
Via versatile Wi-Fi, 4G LTE, and Ethernet options, the smart gateway capture data from devices and transmit it to the cloud for advanced analytics.
Wi-Fi 2.4G/5G, Bluetooth 5.2, Zigbee 3.0, Z-Wave, LoRaWAN, Matter & Thread, M-Bus/Sub-G… Custom protocols integration supported.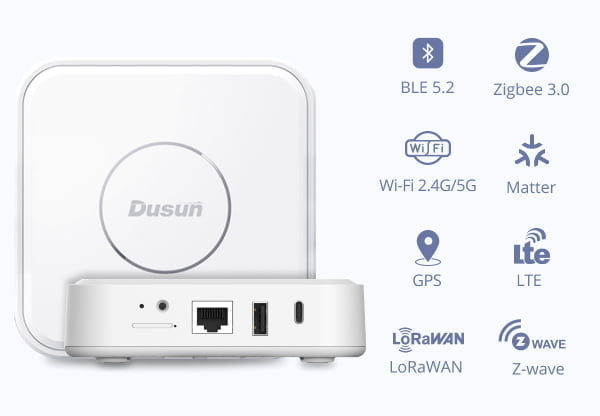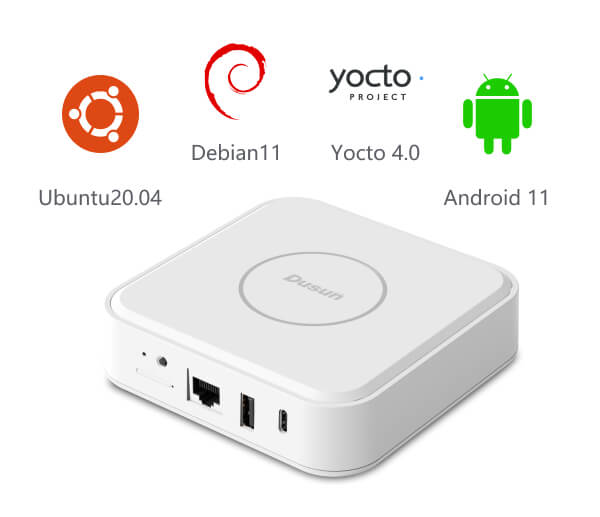 Multiple Operating Systems
Whether you're a developer, a business professional, or an enthusiast, the smart gateway has Debian 11, Ubuntu 20.04, Android 11, Yotco 4.0 OSs to suit your needs. 
Comprehensive Development Files
SDK, firmware packaging, quick start guide, programming landuage sample code, burning tools, docker, APIs … the smart gateway enables a robust and developer-friendly environment.
The smart gateway has completed pre-certification, which means you can benefit from accelerated time-to -market by saving time on extensive testing and validation work.
The smart gateway incorporate the modular design, allowing users to easily add, remove, or replace separate components. This may help save costs.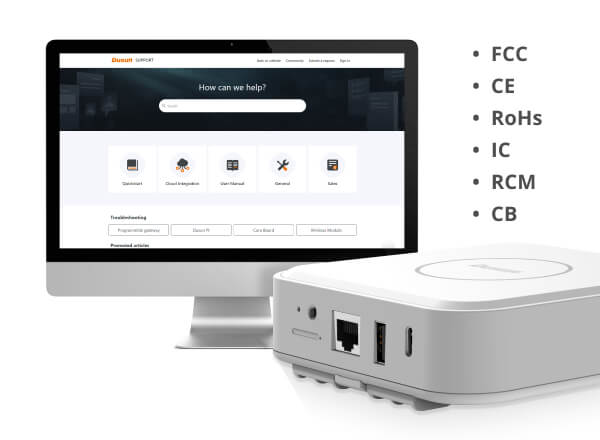 Inner Board & Packaging Info of DSGW-210 Smart Gateway
Parameters of DSGW-210 Smart Gateway
| | |
| --- | --- |
| CPU | RK3328 Quad-core Cortex A53 |
| System | Debian 11,Ubuntu 20.04, Android11,Yocto4.0 |
| RAM | Up to 2GB |
| eMMC | Up to 32GB |
| SD card | Up to 128GB |
| Power Supply | USB Type-C 5V/3A |
| Reset | Factory reset button. To reset the Gateway to its original factory settings, press and hold it for more than 10 seconds |
| Switch | On/Off power |
| Network Interface | 1 * WAN/LAN variable |
| USB | 1 * USB2.0 |
| SIM | 1 * Micro SIM card slot |
| SD | 1 * SD slot |
| Indicator LEDs(RGB) | 1). Power & battery LED 2). Wireless LED 3)LTE indicator |
| Antenna | Zigbee/BLE PCB Antenna, Z-Wave/Wi-Fi FPC Antenna |
| Li Battery | 5000mAH |
| Installation method | Flat, Ceiling, Wall Mounting |
| RTC | Real-Time Clock operated from an onboard battery |
| Hardware encryption | ECC608B |
| Operating Temperature | -10℃~60℃ |
| Storage Temperature | -40℃~65℃ |
| Operating humidity | 10%~90% |
| IP rating | IP22 |
Applications and Cases of DSGW-210 Smart Gateway
Developer Resources of DSGW-210 Smart Gateway
Model List of DSGW-210 Smart Gateway
Category B (Built by Order)
Category C (Built by Order , MOQ: 500 )
| Feature | Wi-Fi 2.4G/5G | Bluetooth 5.2 | Zigbee 3.0 | Z-Wave | LoRa | LTE CatM1 | LTE Cat1 | Li Battery | Matter & Thread | LTE Cat4 | GPS | ECC | M-Bus/Sub-G |
| --- | --- | --- | --- | --- | --- | --- | --- | --- | --- | --- | --- | --- | --- |
| DSGW-210-X-1 | ● | ● | ● | ● | | ● | | ● | | | | | |
| DSGW-210-X-2 | ● | ● | | | | ● | | | | | | | |
| DSGW-210-X-3 | | | | | | ● | | | | | | | |
| DSGW-210-X-4 | ● | ● | | | ● | | | | | ● | ● | | |
| DSGW-210-X-5 | ● | ● | ● | | | | | | | | | | |
| DSGW-210-X-6 | ● | ● | | | ● | | | ● | | | | | |
| DSGW-210-X-7 | | ● | | | ● | | | ● | | | | | |
| DSGW-210-X-8 | ● | ● | | | | | | ● | | | | | |
| DSGW-210-X-9 | ● | | ● | | | ● | | | ● | | | | |
| DSGW-210-X-10 | ● | ● | | | | | | | | | | | |
| DSGW-210-X-11 | ● | ● | | | | | ● | | | | | | |
| DSGW-210-X-12 | ● | | ● | ● | | | | ● | | | | | |
| DSGW-210-X-13 | ● | | ● | ● | | | | | | | | | |
| DSGW-210-X-14 | ● | ● | | | | | | | | ● | | | |
| DSGW-210-X-15 | ● | ● | ● | ● | | | | | | | | | |
| DSGW-210-X-16 | ● | ● | ● | ● | | ● | | ● | | | | | |
| DSGW-210-X-17 | | ● | ● | | | | | ● | | | | | |
| DSGW-210-X-18 | | | ● | ● | | | | | | | | | |
| DSGW-210-X-19 | ● | | | | ● | ● | | ● | | | | | |
| DSGW-210-X-20 | ● | ● | | | | ● | | ● | | | | | |
| DSGW-210-X-21 | ● | ● | | | | | ● | | | | | ● | |
| DSGW-210-X-22 | ● | | ● | | | | | | | | | | |
| DSGW-210-X-23 | ● | | | ● | | | | | | | | | |
| DSGW-210-X-24 | ● | ● | ● | ● | | ● | | ● | | | | | |
| DSGW-210-X-25 | ● | ● | | | | | | | | | | | ● |
| DSGW-210-X-26 | ● | ● | ● | ● | | | | ● | | ● | | | |
| DSGW-210-X-27 | ● | | ● | ● | | | ● | ● | | | | | |
| DSGW-210-X-28 | ● | | ● | ● | ● | | ● | ● | | | | | |
| DSGW-210-X-29 | ● | | | | | | ● | | | | | | ● |
| DSGW-210-X-30 | ● | ● | ● | | | | | ● | | | | | |
| DSGW-210-X-31 | ● | ● | | | ● | | | | | | ● | | |
| DSGW-210-X-32 | ● | ● | | | ● | ● | | | | | ● | | |
| Configuration | RAM | eMMC |
| --- | --- | --- |
| -A | 1GB | 8GB |
| -B | 2GB | 8GB |
| -D | 2GB | 16GB |
| -F | 2GB | 32GB |