The integration of multiple systems, appliances, and gadgets into a house is a key component of IoT-based smart home solutions that aim to create a connected and intelligent living space. These solutions make use of IoT technology, in which gadgets have sensors, connection, and the capacity to talk to one another and share data with the cloud. 
Devices like thermostats, lighting, security cameras, door locks, appliances, and entertainment systems may all be connected to and remotely managed through a single hub or smartphone app in an IoT-based smart home. By managing and automating many areas of their house, homeowners may improve convenience, energy efficiency, comfort, and security.
Automation and data-driven insights are also made possible by IoT-based smart home systems. For instance, households may find potential for energy savings and build automated processes to improve energy consumption by evaluating their energy usage habits. The user experience is further improved by integration with voice assistants like Google Assistant and Amazon Alexa, which enable voice commands for managing various devices and getting information.
A business devoted to modernizing home automation and smart living is one of Dusun IoT's clients. They provide a variety of goods and services aimed at transforming your home into a smart, connected home thanks to their expertise in cutting-edge technology. Homeowners are able to easily manage and control their living environment thanks to the extensive smart home systems that they offer.
The business is dedicated to convenience, security, and energy efficiency, from boosting home security through video cameras and smart locks to reducing energy usage with climate control and energy management solutions. To offer a customized and immersive smart home experience, their products also seamlessly integrate smart devices, lighting management, and audio-visual integration.
Find out how DusunIoT's smart IoT gateways, devices, and expert engineering services help customers bring IoT smart apartment solutions to life.
IoT smart apartment solution challenge
Some challenges are often encountered during the construction of smart apartment solutions, and as a mature solution provider, Dusun IoT can help solve various difficulties.
Interoperability of IoT protocols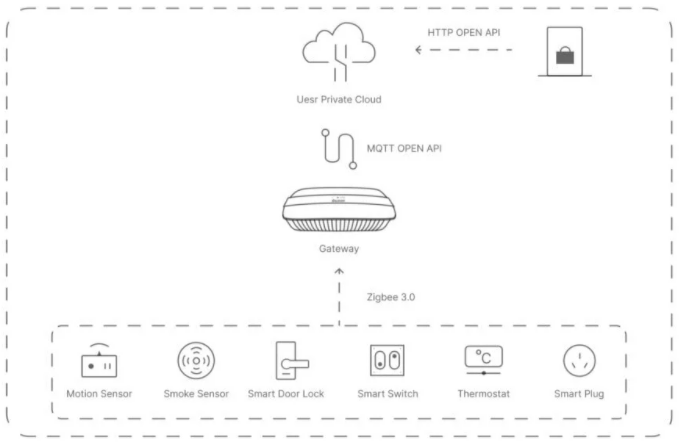 Interoperability challenges in the field of smart apartments refer to the difficulty of seamlessly integrating and communicating between IoT devices that use different communication protocols and standards. IoT devices often use different communication protocols (e.g., Zigbee, Z-Wave, Wi-Fi) and may not seamlessly communicate with each other. This can hinder the ability of solution providers to create a cohesive and interconnected smart apartment ecosystem.
Every communication protocol has its own set of specs, needs, and complexities. To support all protocols in a single gateway, substantial technical skills and resources would be required to design and maintain the appropriate hardware and software components. It would need dealiingmng with many communication methods, data formats, security mechanisms, and device-specific functions, making implementation and ensuring compatibility across all protocols difficult.
Simultaneously, distinct protocols may run on different frequencies, have different power needs, or use different modulation methods. To serve the varied range of communication requirements, accommodating all protocols inside a single gateway would involve substantial hardware capabilities and resources, resulting in a bigger, more sophisticated, and costlier device.
In addition, communication protocols are frequently established by a variety of companies or consortiums, and it is possible that these protocols are related to proprietary technology or intellectual property. In order to integrate numerous protocols into a single gateway, you would need to secure licenses or rights from each of the respective protocol owners, which is a procedure that may be difficult and time-consuming.
As a multi-protocol gateway, the Dusun DSGW-210 gateway may significantly contribute to solving the interoperability problem. The Dusun DSGW-210 gateway gives solution providers flexibility and scalability because to its compatibility for different protocols.
They are able to integrate devices that adhere to several protocols into the ecosystem of smart apartments, providing more options and vendor compatibility. The gateway's scalability makes sure that when the smart apartment's device count rises, it can handle and effectively manage the growing network.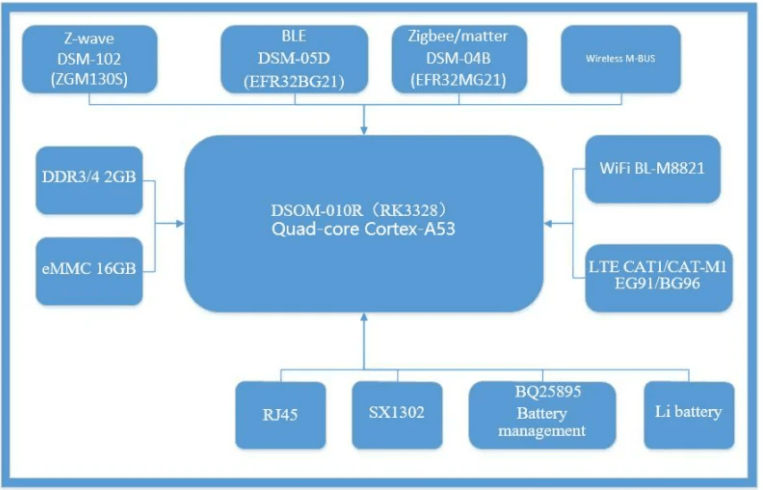 Solution providers may get around interoperability issues in the smart apartment space by using the Dusun DSGW-210 gateway. By converting between several protocols, offering centralized control, and facilitating effective device administration, the gateway serves as a communication bridge.
Due to the ability to effortlessly connect and interoperate devices from many manufacturers, solution providers may build an ecosystem for smart apartments where inhabitants can enjoy an integrated smart living environment.
Computing power of the IoT gateway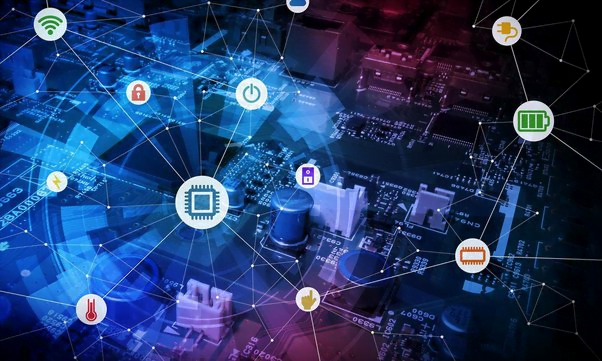 There can be significant difficulties with using a gateway's computational capability in a smart apartment system. To manage data processing, protocol translations, security algorithms, and other computing activities, smart apartment gateways need to have enough processing power.
The processing power of the gateway must be adequate to manage the expanding workload as the number of devices and operational complexity rise. Inadequate processing power can result in lag times, a loss of responsiveness, and poor performance.
Real-time processing is essential in some circumstances for prompt actions and reactions within the ecosystem of smart apartments. For instance, immediate processing may be necessary to guarantee prompt warnings or actions in response to security-related events or automated triggers. The gateway needs to be able to meet real-time processing demands without experiencing delays or latency problems.
For the smart apartment system to effectively handle data management and analysis, robust processing power is required. This enables quick and precise decision-making. In order to properly use encryption techniques and manage the computational burden involved with upholding secure communication channels, sufficient computer power is also necessary.
The RK3328 processor-powered Dusun DSGW-210 gateway is built to handle the computational demands of smart apartment systems. The DSGW-210's cutting-edge hardware characteristics provide dependable and effective performance. It has a quad-core ARM Cortex-A53 CPU, which offers significant processing capability for handling complicated jobs and data-intensive processes within the ecosystem of smart apartments.
The gateway has 2GB of RAM and 16GB of eMMC storage, providing enough memory and storage space for effective data management, easy multitasking, and the storing of firmware, configurations, and other crucial data. The DSGW-210 gateway's ability to connect is one of its strongest points; it supports a number of communication protocols, including Zigbee, Z-Wave, Wi-Fi, and Bluetooth.
With such extensive protocol compatibility, a large variety of smart gadgets frequently found in smart residences may be seamlessly integrated and interoperable.
The Dusun DSGW-210 gateway's hardware-based security features and strong encryption algorithms provide secure communication routes and safeguard critical data within the ecosystem of smart apartments. Its processing capability is tuned to carry out encryption and decryption operations quickly and with dependable performance.
Dusun IoT smart apartment solution
Dusun IoT, as a smart apartment hardware provider, offers a solution that provides tenants with a home that is connected with and responds to their lifestyle.
Perfectly work with smart apartment devices
A smart thermostat enables apartment dwellers to remotely manage their flat's temperature. Through a communication technology, such as Wi-Fi or Zigbee, it connects to the IoT gateway. The gateway delivers instructions to the smart thermostat after receiving them from the user's smartphone or a central control system. It allows for scheduling, energy-saving features, and real-time temperature adjustments, which improves the apartment's comfort and energy efficiency.
Smart Lights
Smart lighting systems provide automation, remote control, and energy-saving features. Smart switches and connected lamps connect to the IoT gateway via Wi-Fi or Zigbee protocols. Lights may be turned on or off, their brightness can be changed, and lighting routines can be established. It provides practical control and energy management choices while transmitting the instructions to the relevant lighting equipment.
Smart security cameras
These cameras assist in keeping an eye on and securing the unit. They commonly use Ethernet or Wi-Fi to connect to the IoT gateway. The gateway gets video feeds from the cameras and has the ability to send warnings or notifications to the resident's smartphone or a centralized security system. It enhances the apartment's total security and surveillance capabilities by allowing remote access, video recording, and integration with other security equipment.
Smart locks
These provide remote access control and keyless entry. They utilize protocols like Zigbee or Z-Wave to talk to the IoT gateway. A smartphone app or a centralized control system can send commands to the gateway to lock or open the entrance. Residents can effortlessly manage access to their unit and keep track of entrance records since it transmits the orders to the smart lock.
Smart Appliances
Wi-Fi or other protocols may be used to link smart appliances, such as refrigerators, washing machines, and ovens, to the IoT gateway. The appliances provide status updates and orders to the gateway, which allows for remote management, scheduling, and energy monitoring. It can make it easier to integrate other devices, such as by sending alerts when a cycle of washing is finished or modifying the refrigerator's temperature controls.
Environmental Sensors
Environmental sensors that monitor and maintain a healthy living environment include humidity, air quality, and water leak sensors. Through protocols like Zigbee or Z-Wave, these sensors connect with the IoT gateway. Data from the smart sensors is received via the gateway, allowing for real-time monitoring and alarms. It can start doing tasks depending on sensor data, including altering ventilation or issuing alerts in the event of a water leak.
Integrated robust RK3288 chip
The strong RK3328 chip is used in the Dusun DSGW-210 IoT gateway. The RK3328 is equipped with a quad-core ARM Cortex-A53 CPU, which provides ample processing capability for tackling complicated jobs and data-intensive processes inside the smart apartment ecosystem. The RK3328 includes powerful multimedia processing capabilities, including as 4K video decoding and playback.
This capability is particularly useful in smart apartment installations including media streaming, video surveillance, or entertainment systems. It enables the processing and distribution of high-quality multimedia material to different apartment-connected devices.
The RK3328 CPU was created with energy conservation in mind. It uses power-saving approaches to improve performance while reducing power usage. In order to cut energy expenditures, improve device battery life, and contribute to overall environmental sustainability, energy efficiency is critical in smart apartment solutions.
The RK3328 provides an advantageous mix of performance and cost, allowing enabling the development of inexpensive and accessible smart residential devices and systems without sacrificing performance or functionality.
Pre-installing Debian
Dusun IoT preinstalls Debian on DSGW-210 based on the demands of the customer, simplifying the deployment procedure. By starting with a ready-to-use Debian-based system, the solution provider may save time and effort by avoiding the requirement to install and configure the operating system from scratch. Solution providers may benefit from the Debian community's frequent security updates and vulnerability patches by using a pre-installed Debian system.
Pre-installing Debian provides a highly configurable and adaptable gateway platform to solution vendors. They may modify and tailor the system to their individual needs, selecting the essential software components and maximizing the gateway's performance. Because of this customization and flexibility, solution providers may design bespoke smart apartment solutions that meet their specific demands and preferences.
Benefits of Integrating IoT with Smart Apartments
Energy Savings
IoT integration enables smart dwellings to control energy more effectively. Based on occupancy, preferences, and environmental factors, connected devices can monitor and optimize energy use. Smart lighting systems may automatically switch off lights in vacant rooms, while smart thermostats can change temperature settings based on occupants' presence. These energy-saving features aid in lowering energy use and electricity costs.
Upgraded Security
The security of smart apartments is improved by IoT integration. To enable thorough monitoring and surveillance, smart locks, security cameras, and sensors may be networked. On their iPhones, residents may get real-time warnings for any shady behavior or security breaches. Smartphone apps that interface with access control systems enable households to remotely manage and provide temporary access to guests or service providers.
Better Monitoring
IoT devices provide smart residences access to safety features and monitoring capabilities. IoT technology may be used to link smoke alarms, carbon monoxide sensors, and water leak monitors, delivering alerts and early warnings. A safer living environment is ensured by the ability of residents to remotely monitor and manage these safety gadgets.
Conclusion
The core functions and advantages of the apartment IoT platform are multi-faceted. It can not only integrate and manage various smart devices in a unified manner, improve the operating efficiency and reliability of the devices, but also enable privatized deployment to ensure data security and privacy. Intelligent analysis predicts and prevents business risks.
These functions and advantages can help apartment operators to better manage apartments, improve operational efficiency and customer satisfaction.
Dusun IoT provides high performance IoT gateway, IoT solution and development services. If you need to build an IoT smart apartment or smart home, Dusun IoT's strong engineer team will provide you with one-to-one customized services. Please don't hesitate to contact us via the side form or chat.