Some challenges are often encountered during the construction of smart apartment solutions, such as the multiple protocol interoperability and the reliability to function normally under various anomalous circumstances.
Dusun IoT provides high-performance IoT gateway devices and unique customized service to help a smart home solution brand expand its product line and accomplish personalized needs of its BMS solution customers. Continue to read and know how Dusun IoT made the brand's project progress very well and received wide acclaim.
Background and Requirement
| | |
| --- | --- |
| Customer | a smart home solution provider |
| Country/Region | Hungary |
| Application | Smart Home Automation |
| Project Scale | 2000+ IoT gateway OEM |
| Products | DSGW-210 IoT gateway |
Mainly for Home Energy Monitoring
This smart home solution provider is committed to delivering a comprehensive smart home automation solution that not only keeps users informed about their energy usage but also helps them take timely measures to reduce energy waste.
To achieve this goal, the company is searching for smart IoT gateways that can seamlessly integrate with various smart home appliances available in the market. This device will enable users to monitor real-time power consumption and take automated actions or control their appliances remotely via a mobile app.
How to connect and manage various wireless smart devices with different protocols?
With the rapid development of IoT technology, there are more and more smart devices that improve people's quality of life. However, there are various IoT protocols utilized in different wireless smart devices, such as ZigBee, Z-Wave, LoRa, and others.
Consequently, the most significant challenge in setting up a smart home solution is finding a smart home gateway that can connect smart devices with different IoT protocols for unified management.
How to ensure the normal operation of the device under various abnormal conditions?
From time to time, various unpredictable problems occur, such as network errors or power outages, which may affect the normal operation of the smart home automation system or even cause the entire system to stop working.
A set of robust hardware devices that can operate against many abnormal conditions is a prerequisite for a 7/24 smart home system.
Quick & Easy Connection + Local Linkage & Data Storage
Robust Hardware Performance
DSGW-210 IoT gateway hardware has powerful performance in data processing, transmission and local storage. It adopts a quad-core ARM Cortex-A53 CPU and has 2GB RAM, 32GB ROM, and 128GB SD card to deal with complicated and data-intensive processes, and provide dependable and effective performance.
Multiple Wireless Protocols
Besides, DSGW-210 offers flexible wireless connection and linkage solutions. It supports Bluetooth 5.2, Zigbee 3.0, and Z-Wave simultaneously, making it easy to connect with a variety of wireless IoT peripherals with the minimal code development.
Pre-certification
In addition, DSGW-210 has passed various reliability tests and successfully obtained serveral professional certifications, including FCC, CE, RoHS, IC, RCM and CB, which can greatly reduce the customer's project development risk and shorten the R&D cycle.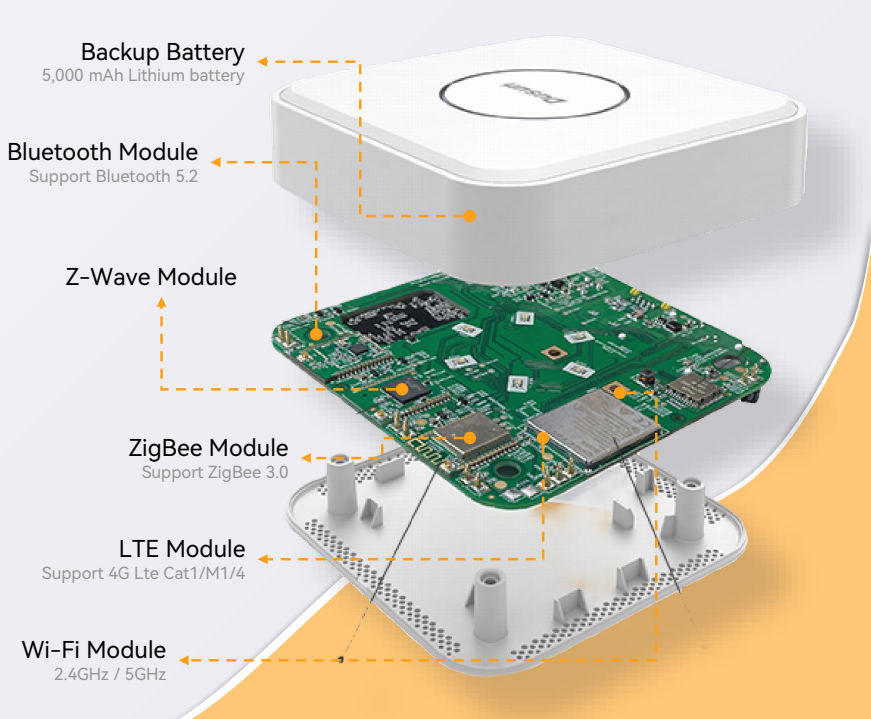 How Does DSGW-210 Works in Home Energy Monitoring?
The integration of multiple systems, appliances, and gadgets into a house is a key component of IoT-based home energy monitoring system that aim to create a connected and intelligent living space. Home electrical devices like thermostats, smart meters, smart switch, dimmers may all be connected to and remotely managed through a universal Zigbee hub or smartphone app in an IoT-based smart home. By managing and automating many areas of their house, homeowners may improve convenience, energy efficiency, comfort, and security.
IoT integration enables smart dwellings to control energy more effectively. Smart lighting systems may automatically switch off lights in vacant rooms, while smart thermostats can change temperature settings based on occupant' presence. These energy-saving features aid in lowering energy use and electricity costs.


Reliable Home Energy Monitoring
Abundant backup mechanisms to ensure that the system can still work properly even in many abnormal conditions.
Support LAN + Wi-Fi + 4G simultaneously, and able to switch automatically to work against network failure.
With built-in rechargeable lithium battery, gateway device could still work for a while in case of power outage.
The data can be stored locally even if all channels are disconnected, and will be transferred to the cloud as soon as the gateway is reconnected to the Internet.
The logic program settings are stored locally and support the triggering of linkage solutions even if the network and main power supply are interrupted at the same time.
Dusun IoT not only provides ready-made development materials (SDK, QSG, tools, etc.), but also high-quality real-time technical support helps this smart home solution provider successfully connect and manage more than 90% of smart wireless devices with minimal code management.
Finally, Our customer purchased more than 2,000 edge computing IoT gateways and considered them as core component of its smart home application solution, which has been promoted and sold in Hungary and Europe and plays a major role in improving energy efficiency and add new vitality to environmental protection.