Leveraging DusunIoT's Bluetooth gateways and beacons, our partner successfully implemented a comprehensive IoT Bluetooth-based employee attendance and tracking management solution at construction sites in German, which simplifies employee timesheets and enhances workflow, providing managers and supervisors more time to concentrate on project insights and boosting worker efficiency, performance, and productivity.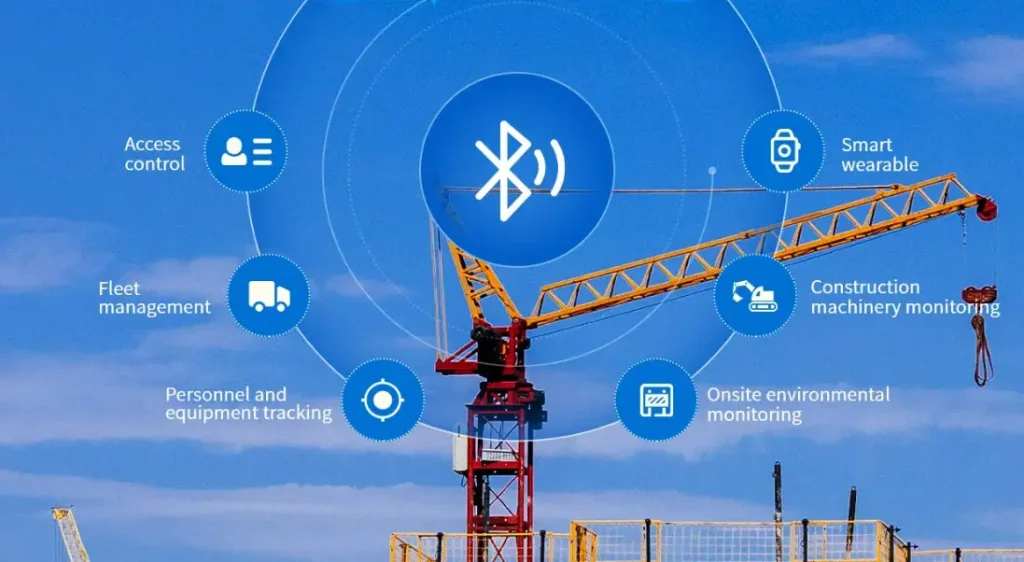 Background
The partner offers indoor and outdoor locating and tracking solutions for various applications including construction sites, factories, hospitals and so on.
People locating and real-time activity
Improve security and safety system
IoT-enabled real-time locating system in construction
Employee indoor locating system for manufacturing
Tracking patients and staff in hospitals
Personnel tracking and time attendance systems
In this case, they are looking for Bluetooth gateways and beacons with their software to implement their solutions at construction sites.
Monitor staff time and attendance in real-time
Improve personnel safety with alerts
IoT-enabled real-time locating system in construction
Monitor employee count in sensitive areas
Track workers, contractors and visitors
System monitors employee hours spent at the site
BLE beacons and gateways are used in the attendance and tracking management solution at construction sites. Beacons (Keyfobs beacons or ID badge beacons) are assigned to personnel for such tracking applications. At construction sites, multiple Bluetooth gateways are set up, and different gateways offer precise facility location points. When a person wearing a beacon is spotted within a 3 to 10 meter range of a Bluetooth gateway, the gateway will instantly begin collecting beacon signals and send it to the cloud. Thanks to consistent updates from Beacons and IoT gateways. Using tracking system software, you may track, find, keep an eye on, and send the appropriate authorities enhanced notifications with security updates by SMS or email.
Let's further read how DusunIoT has enabled the partner to realize the whole locating and tracking solution at construction sites in German with our smart BLE gateways, Beacons & professional engineering services.
Challenges
The construction business is challenging for many reasons, including worker safety and unexpected cost overruns. Companies in this industry are continually seeking ways to improve operations, and IoT offers a new source of solutions. When implementing the locating and tracking solution at construction sites, some challenges should be overcome.
RTLS Technology Challenge
RTLS technology relies on wireless signals to track the location of items, which can be affected by interference from other devices or physical obstacles.
Many different wireless standards are used in an RTLS and each has its pros and cons, including Passive RFID, Active RFID, Infrared (IR), Wi-Fi positioning service (WPS), Bluetooth, Ultrasound, Ultra-wideband (UWB), Cellular, and so on.
It is important to choose the right RTLS system and positioning technology for attendance and tracking management solutions at construction sites to ensure accuracy.
IoT Connectivity Challenges at Construction Sites
An IoT-connected construction site would enhance every worker's safety and productivity. Moreover, construction companies could take advantage of real-time field reporting by connecting and tracking materials, equipment, and, most importantly, workers at the construction site.
As the areas where construction sites are located don't always have developed infrastructure, wired internet connectivity might not be available or may have limited capacity. Cellular and Wi-Fi networks are the standard connection that construction sites rely on for IoT Gateway to send the real-time tracking and locating data. Meanwhile, the gateway should support a SIM slot so that the construction site can use a multi-carrier SIM card on the other hand, enabling connected IoT gateway to be managed from anywhere in the world, at any time, and they aren't limited to a single carrier. Because the construction business is dynamic. The location is constantly changing with each new object and therefore the whole infrastructure needs to be easily adaptable to the next project.
Tracking Ranges, Scalability & Frequency Challenges
Different requirements dictate more specific use cases for tracking and locating solutions. Every customer at the construction site wants specific information, whether the solution can provide accuracy, coverage, or frequency of data collection.
For accuracy: Customers typically want information that pinpoints their exact location to within a few centimeters or 1-3 meters of accuracy, or that is zone/location-based. The customer's value or importance of the location information will determine how this criterion is applied.
For coverage: In terms of size and area to be monitored, the area covered for positioning an object in an office building, a manufacturing or industrial facility, or any indoor or outdoor regions, differs substantially.
For frequency: It depends on a number of factors. For instance, if the asset is a relatively static item in a warehouse, you won't need a very frequent update frequency, every 10 or 15 minutes or motion trigger data may be sufficient. However, if you are trying to capture personnel tracking data in a manufacturing facility, you would likely require tracking/locating capability every minute.
The Bluetooth devices (Beacons & Gateways) should have the capability to be customized for various read ranges, scalability and frequency requirements.
Configuration & Integration Challenge
How well the data integrates across devices and flows from one end to the other is one of the most crucial success factors for IoT implementation. So as to the IoT tracking solutions for construction sites. The solution provider needs to confirm that the Bluetooth gateway can connect to backend systems locally, through API connections, or through a cloud-to-cloud connection. In this case, the worker enters the building and the device recognizes and sends UUID, major and minor, or MAC address to our server using WIFI or 3G/4G. The partner needs to configure which SSIS and password belong go the wifi access point, what the SIM-PINs are, which UUIDs are relevant, and what URL the data should be sent to, and need to send the MAC-address of the gateway as well as major, minor and UUID of the receiving device along with the timestamp. Our partner is seeking Bluetooth gateways that can meet their requirement. Meanwhile, the BLE beacons and gateways should be integrated.
DusunIoT's Solutions & Advantages for IoT
BLE Beacons & Gateway for RTLS
Location-based technologies built upon Bluetooth LE beacons with IoT gateways are becoming increasingly popular in the field of worker attendance and tracking management.
Bluetooth RTLS solutions use Bluetooth Low Energy (BLE) tags known as beacons to transmit signals to the surrounding area regularly. This signal can be used to do almost anything a developer can think up. More importantly, they ensure that the employee's records accurately match the employee's actual movements.
Moreover, the ever-decreasing cost and increasing capabilities of Bluetooth gateways and Bluetooth LE beacons make them the most competitive new tool in the employee attendance tracking market.
A Bluetooth Low Energy RTLS perfectly works well when set up with either Bluetooth receivers or BLE tags mounted in static locations and allocated actual coordinates. For instance, a transponder always communicates its exact location to the receiver at any time once a BLE transponder goes into the receiver's zone. When using a Wi-Fi signal, the response is sent to a BLE Gateway which later records that data and directs it to the host computer or cloud database.
DSBC-120 is a card Bluetooth beacon, which is a portable device. The product is developed based on the NRF52820 chip of NORDIC Company. It has the built-in Bluetooth 5.0 an above protocol and has the excellent function of ultra-low power consumption. Deploying DSBC-120 beacons on construction sites is a good idea.
Flexibility design. Beacons can be worn by the workers, or attached to the smart helmet and other mechanical devices.
Low power consumption and long service life. Bluetooth beacons are incredibly energy-efficient, and their battery life typically can last up to 2 years.
Scalability. Beacon hardware can be integrated with sensors to perform extra capabilities. They may include temperature and humidity sensors, accelerometers, and light or movement sensors.
Low cost. Beacon prices are relatively low, which is affordable for a wide application in construction sites.
Reusability. Once a particular task is completed, the workers can reuse the beacon for other purposes or for another job site.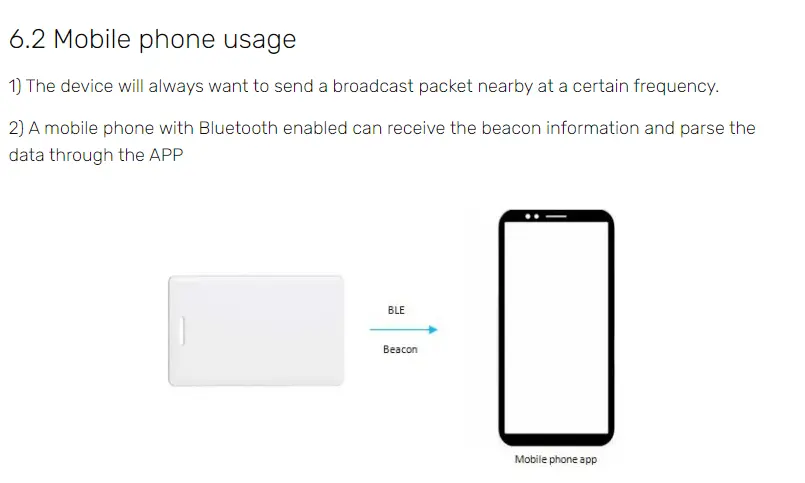 DSGW-040 BLE to Wi-Fi/LTE gateway supports BLE 5 to connect BLE beacon.
The BLE-Cellular LTE Gateway processes the provided data and sends it via Wi-Fi, and Ethernet to Server. Here, the position is displayed on a map and motion statistics can be retrieved.

Reliable Wi-Fi & LTE Connectivity with SIM Card Slot
With LTE/Wi-Fi/Ethernet options and SIM Card Slot, DSGW-040 enables customers to Implement a failover to SIM card for communication in case of a WiFi or power failure at construction sites. It supports both WiFi AP and WiFi STA modes.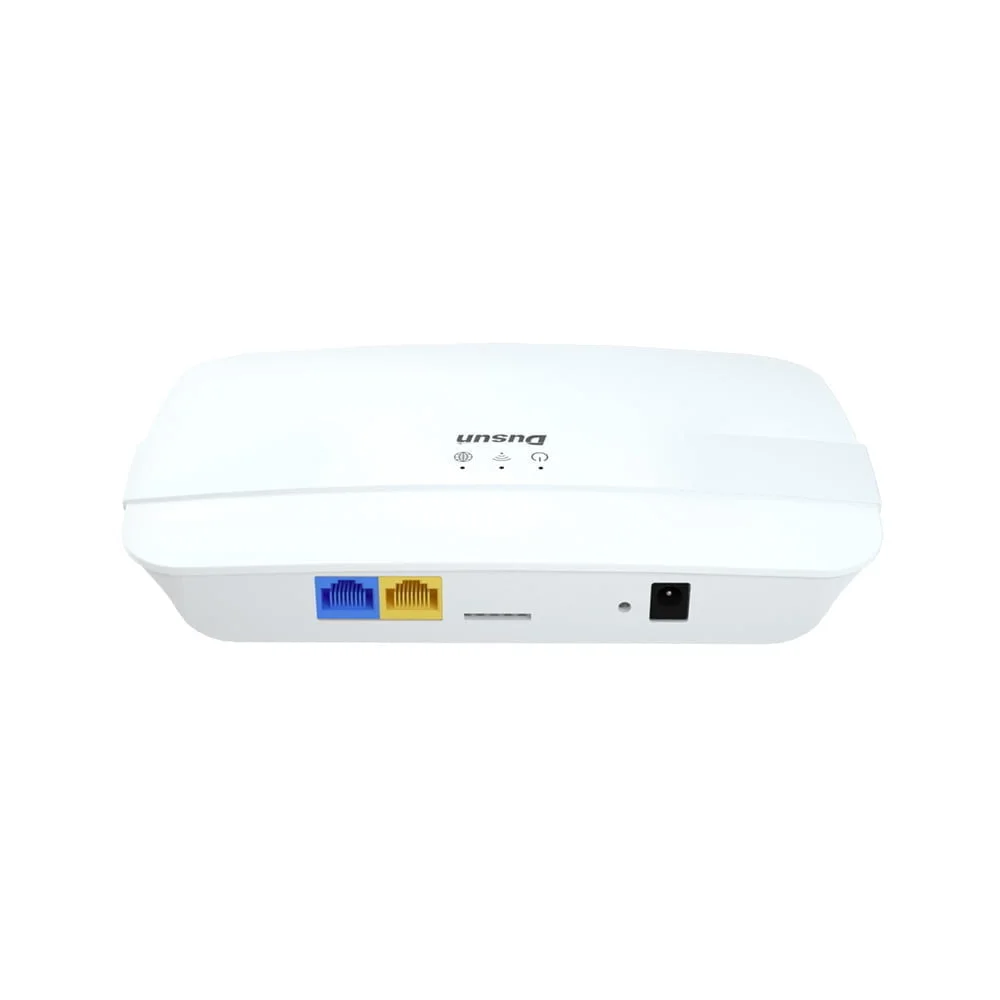 When the BLE-Cellular LTE Gateway is powered on, the LTE will set up, and check if there is a sim card, then scan the network and join it. It can use the web or command to change the APN to adapt to different countries.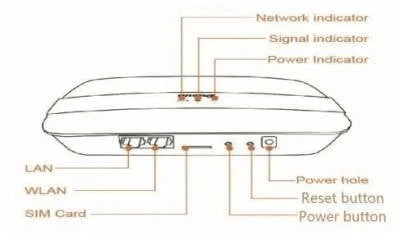 DSGW-040 BLE LTE/Wi-Fi Gateway comes with a built-in battery power option and can last 4 hours without DC power so that in the event of a power failure the system will continue to run.
Custom Service for Frequency Requirement
In the partner case, they need to send the information every 15 minutes for workers' attendance management. The scenario in which the gateway will be implemented is as follows:
An employee comes to work at 8 in the morning. While doing so, he passes by the entrance of the building where the gateway is installed. He carries a beacon for recognition, with which he is to be automatically registered (check-in) and with which the time registration is automatically started. So at this point, the timestamp is required, which is the first recognition of the beacon.
In the evening, the employee leaves the building and walks past the installed gateway again. At this point, the timestamp is required, which is the last one in the transmission interval of the gateway.
Briefly summarized:
The employee arrives at 08:00,
Gateway sends every 15 minutes (for example at 07:59 and then again at 8:14),
Gateway should send the timestamp of the first beacon detection (08:00) and the last beacon detection in intervals (for example 08:12),
The employee leaves at 17:00.
Gateway sends every 15 minutes (for example at 16:59 and then again at 17:14),
Gateway should send the timestamp of the first beacon detection (17:00) and last beacon detection in intervals (for example 17:04).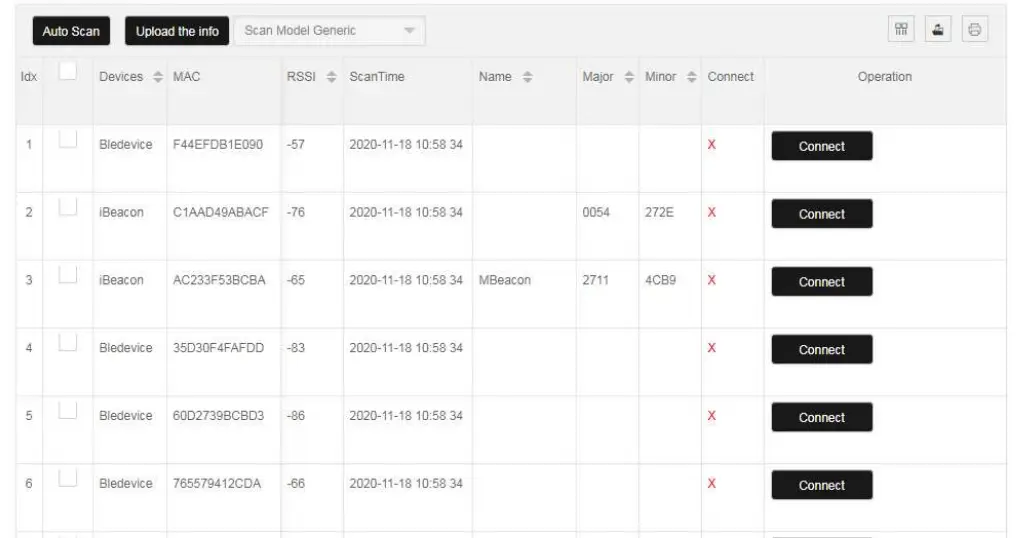 Since the boxes will not all be connected to the WLAN, but will send their data via SIM cards, the intervals should not be reduced due to cost reasons, but remain at 15 minutes. At first, the gateway's Bluetooth logic and firmware do not meet the requirements. DusunIoT's FAE team update a new firmware for the partner to realize the scenario.
BLE Gateway Configuration & Integration Support
Dusun provides configuration and integration support for the partner. They need to send the MAC-address of the gateway as well as the major, minor and UUID of the receiving device along with the timestamp. DSGW-040 can recognize and sends UUID, major and minor or MAC address and upload the data.
Wifi & LTE config
Following are the gateway upload ternal, the partner can config to decide Wifi access point or 3G/4G APN.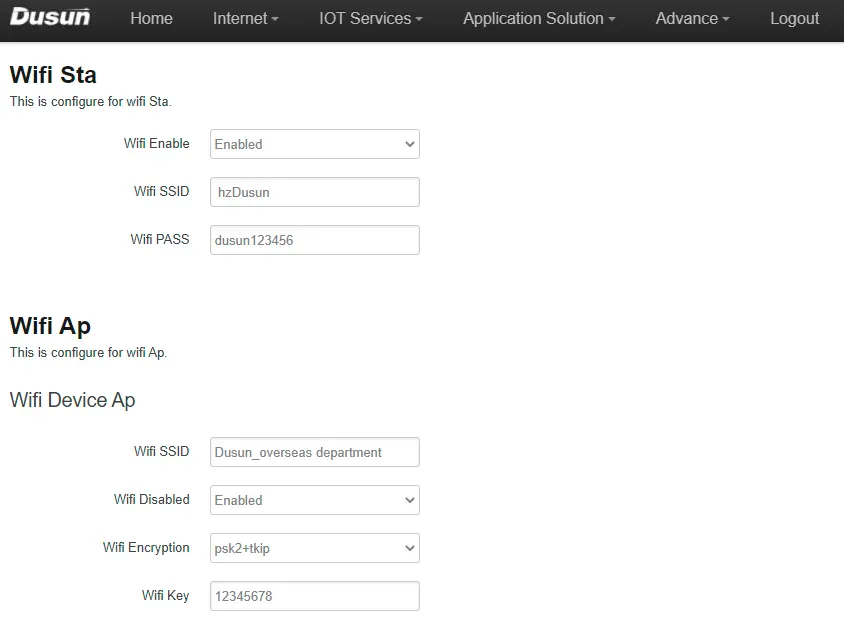 Cloud Config
Cloud config can set URL to the partner's server.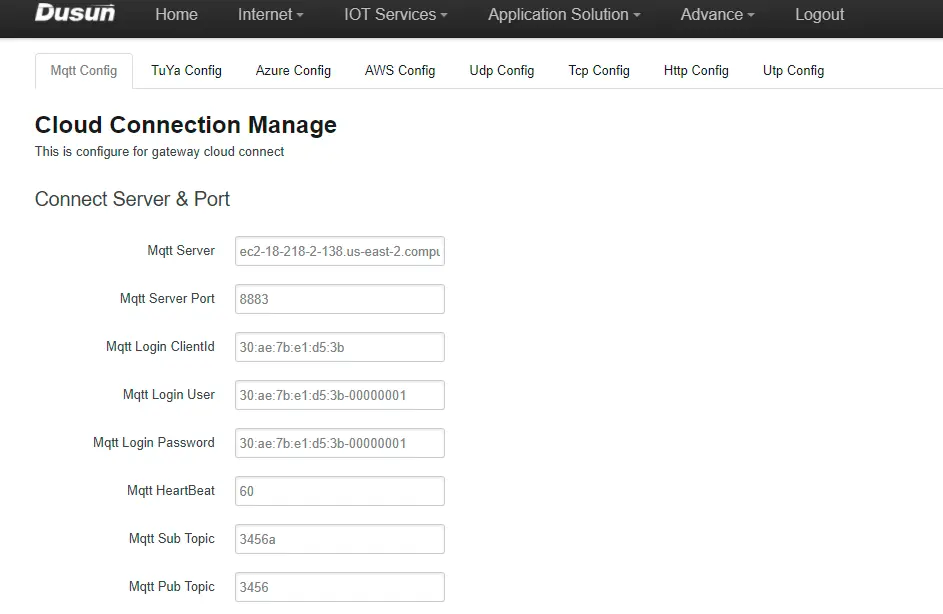 DusunIoT Team helps the customer solve the BLE gateways and Beacons integration problems. It lessens the difficulty of integrating with the customer's platform and saves the investment and time costs of the customer's R&D engineers, which helps the customer save money on expenses.
Summary
The ability of IoT technology to provide real-time insights into construction site operations is proving to be a critical tool in improving safety, reducing risks, and optimizing resources in the construction industry. With its potential to greatly improve worker safety, risk detection, and resource management, IoT technology is indeed a game-changer for the construction industry, moving towards a safer, more efficient, and sustainable future.