An industrial gateway is a device that provides communication, data exchange, and protocol translation between various industrial equipment and networks. This article describes the definition of an IIoT gateway and its applicable fields, and teaches you to choose an industrial gateway with the best performance.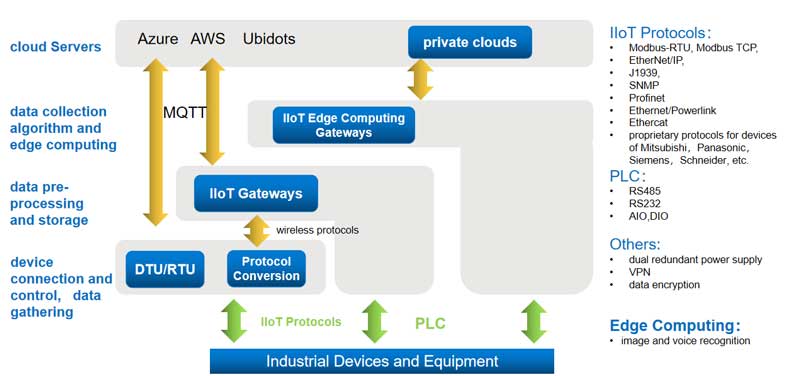 What Is an Industrial Gateway?
A gateway that is specifically tailored and created for industrial settings and IoT applications is known as an industrial gateway. Industrial gateways connect local network resources with remote assets situated on another network or in the cloud, just like any gateway operating at the network's edge.
With the aim of absorbing data created on the factory floor and transmitting it upstream for additional processing, it is often implemented on devices on the factory floor, production equipment, and sensors close to the edge. Industrial gateways can connect systems using a variety of network protocols, just as these edge gateways, and frequently include on-board processing to protect, filter, and manage complicated data flows.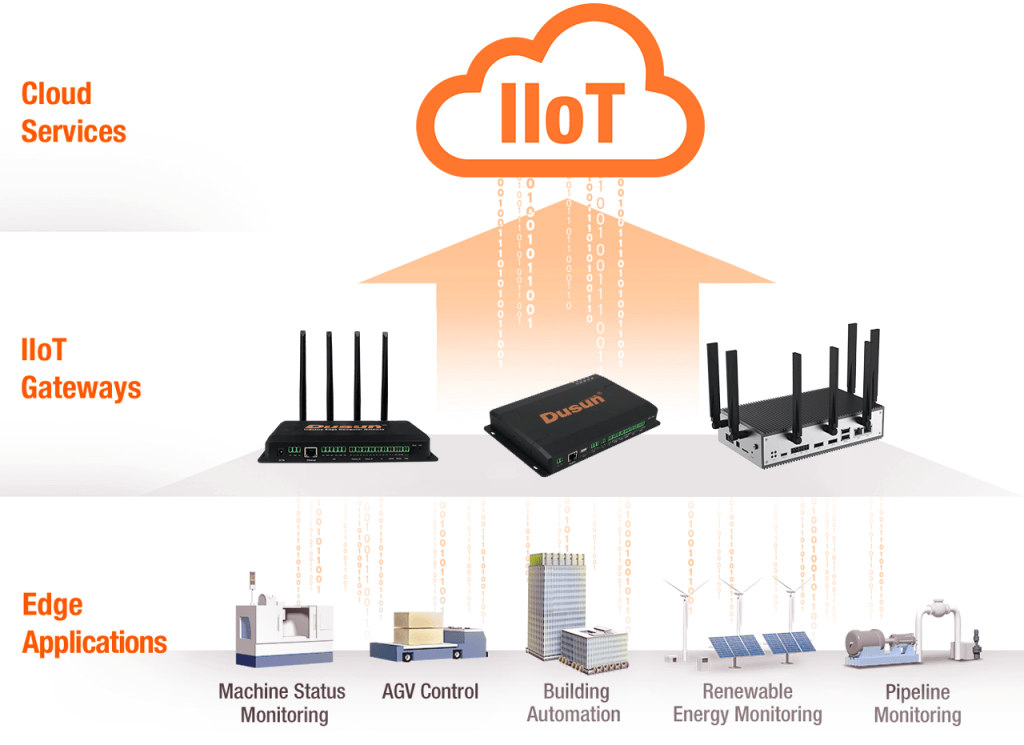 Industrial IoT gateway devices differ from other gateways in that they are built for harsh and isolated situations and require little in the way of physical maintenance and engagement. Environments that call for industrial-grade gateways include shop and factory floors, cars and transportation, and exterior places like transmission towers and rail yards.
Fanless cooling and ventless chassis designs reduce wear brought on by contact with dust and other contaminants while getting rid of the moving elements that are most likely to break down.
Industrial Gateways Network Type
The categories of IIoT gateways by network type include:
Ethernet Networks
Industrial gateways often handle Ethernet networks, including regular Ethernet (10/100/1000 Mbps, for example) and industrial Ethernet protocols like EtherNet/IP, PROFINET, Modbus TCP, and others. In industrial contexts, Ethernet networks provide quick and dependable device and system connectivity. The Dusun DSGW-080 Industrial Ethernet Gateway offers these physical interfaces to facilitate various connectivity options and enable integration with industrial devices and systems. It includes:
Ethernet Ports: It has two 10/100 Mbps Ethernet ports, allowing for wired network connectivity.
Serial Ports: The gateway features two serial ports, including one RS-485 port and one RS-232 port. These ports enable communication with legacy devices that utilize serial protocols.
USB Ports: There are two USB 2.0 ports available for connecting peripheral devices or for additional expansion.
Fieldbus Networks
Systems for industrial automation and control often employ fieldbus networks. Different fieldbus protocols, including DeviceNet, CANopen, PROFIBUS, FOUNDATION Fieldbus, and others, may be supported via industrial gateways. They make it possible for devices that make use of fieldbus communication to be connected and integrated.
Explore DSGW-081 Modbus BACnet KNX RS485 to MQTT Gateway
Wireless Networks
Industrial gateways could allow wireless networks to provide connectivity in places where installing wired connections is prohibitive or challenging. They can handle cellular networks (2G, 3G, 4G, and maybe 5G), Wi-Fi, Zigbee, Bluetooth, LoRaWAN, and numerous wireless protocols. In industrial settings, wireless networks allow adaptability and mobility.
Explore Waterproof IP66 Rugged Industrial Bluetooth gateway
Virtual Private Networks (VPNs)
Some commercial ports come with VPNs already built in. VPNs create secure, protected links over public or private networks. This lets industrial devices and systems join and talk to each other securely from afar. VPNs add an extra layer of security to make sure that data sent through the route is safe.
Features of Industrial Gateways
There are a number of features exclusive to industrial gateways that make them ideal for use in factories.
Industrial Protocols Support
Industrial gateways offer support for a wide range of industrial protocols such as Modbus, Profibus, EtherNet/IP, PROFINET, CANopen, and more. This capability allows for seamless integration with various industrial devices, smart sensors, and control systems, regardless of the communication protocols they use. It promotes interoperability and facilitates the exchange of data between disparate systems.
Robust Design
Industrial gateways are designed to withstand the challenging conditions found in industrial environments. They are typically built with rugged enclosures, high-quality components, and have high ingress protection (IP) ratings. These features enable them to withstand dust, moisture, temperature extremes, vibrations, and other environmental factors commonly encountered in industrial settings. The robust design ensures reliable performance and longevity even in demanding operating conditions.
Industrial-grade Security
In industrial settings, security is crucial for protecting sensitive data and vital infrastructure. Industrial gateways have strong security features including firewall capability, data encryption, and safe authentication procedures. The confidentiality, integrity, and availability of data communicated over the gateway are ensured by these security measures, which guard against unauthorized access, data breaches, and cyber threats.
Adaptability and Expansion
The expanding requirements of industrial networks are catered for by industrial gateways. By allowing several connections to run simultaneously and having the capacity to manage an increasing number of connected devices, they provide scalability. Additionally, a lot of gateways provide options for expandability via modular design or extra ports, making it simple for enterprises to scale up their infrastructure as their needs change.
Coordinated Management
Industrial gateways sometimes include web-based administration interfaces or centralized management software, which enables administrators to setup, watch over, and administer several gates from a single interface. This unified administration speeds configuration changes, makes it easier to monitor device condition and performance, and gives a thorough picture of the industrial infrastructure. It also makes network management jobs simpler. It improves operational effectiveness and enables administrators to act quickly in response to any problems or abnormalities.
How to Choose an Industrial Gateway?
Popular IIoT gateways
There are some popular IIoT gateways on the market:
Siemens' Simatic IoT gateways provide seamless integration between industrial equipment and cloud-based systems. Siemens provides a variety of Simatic IoT gateways. They provide safe networking and data transfer while supporting a variety of industrial standards.
Industrial gates from Dusun are renowned for their durability and dependability. Local data processing and analysis are made possible by the Dusun Industrial Gateway's secure connectivity, protocol conversion, and edge computing capabilities.
The Advantech UNO Industrial Gateway series offers ruggedized gateways built for challenging industrial settings. Multiple protocols are supported, together with cutting-edge security measures and adaptable connection choices.
Arizona Contact Phoenix Contact's FL MGUARD series offers industrial-grade gates with built-in security features. FL MGUARD Industrial Gateway. They provide dependable data transmission, support for a number of protocols, and cutting-edge security features to guard against online dangers.
Moxa Industrial Gateway: Moxa provides a selection of industrial gateways built for dependable data integration and communication in industrial settings. They provide protocol conversion, secure communication, and reliable performance via their gateways.
HMS Anybus Industrial Gateway: The Anybus Industrial Gateway series from HMS Networks provides adaptable gateways that handle a variety of industrial protocols. They allow for smooth data transfer and connection across various networks and devices.
Competitor Analysis
| | | | | |
| --- | --- | --- | --- | --- |
| Industrial Gateway | Protocols Supported | Security Features | Scalability | Edge Computing Capabilities |
| Siemens Simatic IoT | Modbus, PROFINET, EtherNet/IP, OPC UA, MQTT, others | Advanced security measures | Scalable for growing networks | Edge computing capabilities |
| Advantech UNO Industrial | Modbus, PROFIBUS, EtherNet/IP, CANopen, others | Robust security functionalities | Scalable design | – |
| Phoenix Contact FL MGUARD | Modbus, PROFIBUS, EtherNet/IP, OPC UA, others | Built-in security features | Scalable for expanding needs | – |
| Moxa Industrial | Modbus, PROFIBUS, EtherNet/IP, CANopen, others | Enhanced security features | Scalable for growing networks | – |
| HMS Anybus Industrial | Modbus, PROFIBUS, EtherNet/IP, PROFINET, others | Security measures included | Scalable to accommodate needs | – |
| Dusun Industrial | Modbus, PROFIBUS, EtherNet/IP, CANopen, others | Secure communication | Scalable for expanding needs | Edge computing capabilities |
Modbus, PROFINET, EtherNet/IP, OPC UA, and MQTT are prominent industrial protocols that should all be supported by a solid IIoT gateway. To safeguard critical industrial data from cyber attacks, it should also include strong security features like data encryption, secure authentication, role-based access control, intrusion detection and prevention, and firewall capabilities. Scalability is crucial for the gateway to be able to handle an increasing number of connected devices and growing network demands.
Edge computing capabilities also allow for on-site data processing and analysis at the network's edge, which lowers latency and reduces reliance on cloud services. In order to guarantee dependability and longevity, the gateway should have a ruggedized design suitable for tough industrial conditions. Multiple gateways can be configured, maintained, and monitored effectively thanks to centralized management and monitoring interfaces. Explore DSGW-380 RK3588 AI Edge Computing Router Gateway here.
Last but not least, seamless connection with current industrial protocols, cloud-based platforms, and legacy systems improves interoperability and facilitates efficient data transmission. These considerations will aid in choosing an appropriate IIoT gateway for particular industrial IoT applications.
Dusun Industrial Gateways
Protocols like Ethernet, LTE, Zigbee 3.0, Bluetooth 5.2, Z-Wave, and Wi-Fi are supported by the DSGW-081 Zigbee BACnet Modbus KNX gateway. It is suitable with a wide range of industrial machinery since it supports numerous field bus and real-time Ethernet protocols for the industry. The IoT hardware development of reliable and scalable industrial automation solutions is made easier by developers' ease of connection and communication with industrial devices.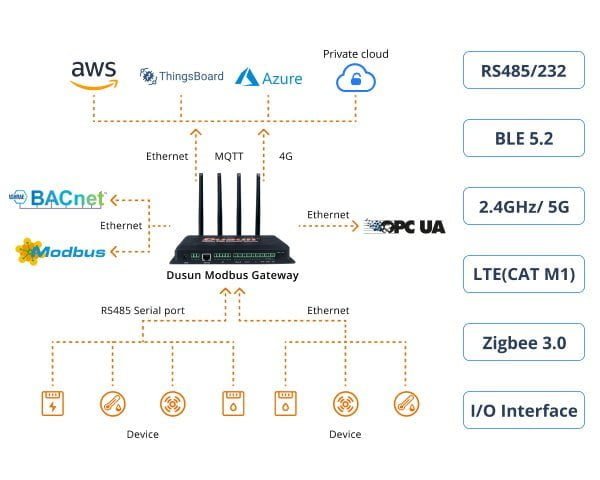 The aluminium alloy inclosure and industrial-grade design of the Dusun DSGW-081 Modbus to MQTT gateway provide protection from environmental elements including vibration, temperature changes, and dust. The gateway provides Python development assistance, enabling developers to produce unique apps catered to their unique requirements. Due to the flexibility of the gateway, developers are able to create a wide range of customised and integrated solutions on top of its capabilities.
Additionally, the Dusun DSGW-081 Modbus PLC gateway has strong edge computing capabilities that make it possible to optimise data, respond in real-time, connect quickly, and do intelligent analysis at the IoT edge. This capacity lessens data flow between field locations and data centres, preventing cloud-end computing bottlenecks and facilitating quicker decision-making.
The Dusun DSGW-081 IIoT gateway can be applied in various fields where IoT connectivity and data management are required. These applications include Industrial Automation and Monitoring, Energy Management, Smart Cities, Environmental Monitoring, Automotive IoT and so on. we also offer other industrial gateways:
The DSGW-089 Lift/Elevator Predictive Maintenance Edge Computing Gateway gives machines constant access to the Internet via the widely used 3G and 4G wireless networks and a variety of broadband services. with strong wireless services, extensive security protection, and edge computing capabilities.
Data flow between field sites and data centers is drastically reduced, and cloud-end computing bottlenecks are avoided. It also accomplishes data optimization, real-time response, agile connectivity, and intelligent analysis on the IoT edge.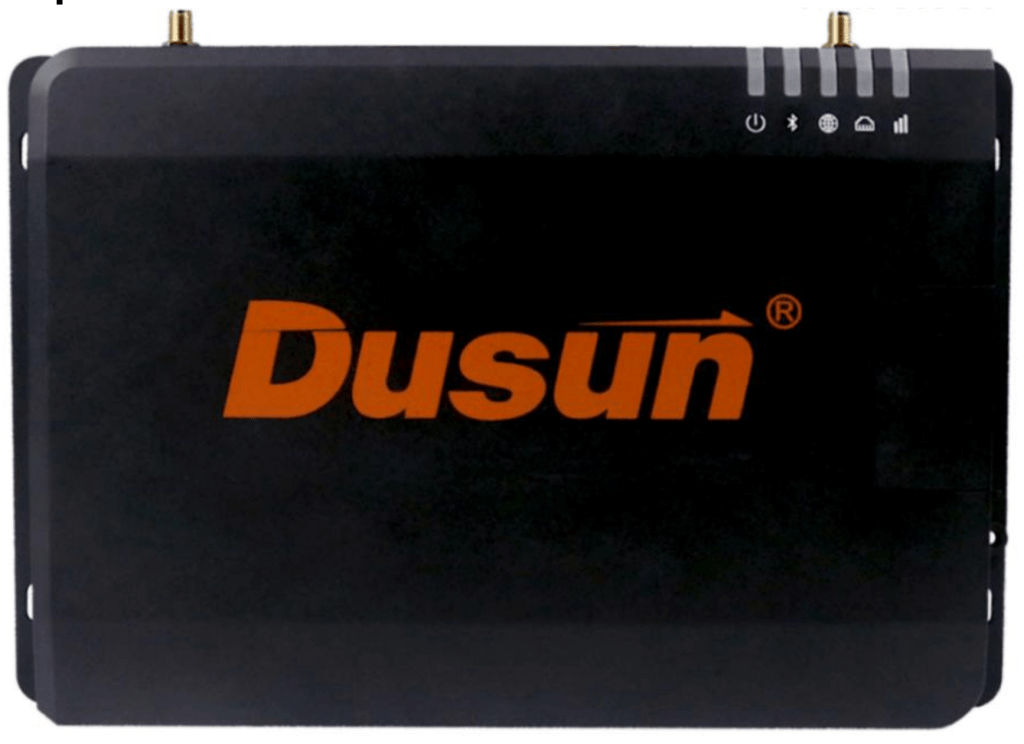 The DSGW-380 is an RK3588 AI Compute Module Gateway Router (SDK and Schematic offered), which includes an integrated quad-core Cortex-A76 and quad-core Cortex-A55 CPU with NEON co-processor. The deployment of artificial intelligence computer capacity at the frontier of deep learning is best accomplished using this apparatus.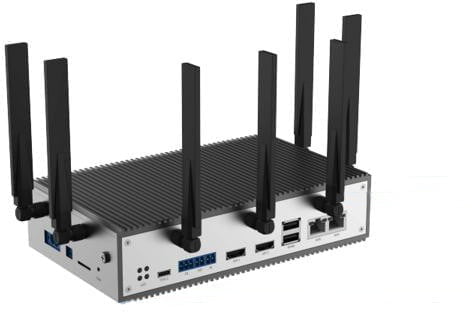 Industrial Gateway FAQs
How can industrial gateways protect the privacy of data?
Industrial gateways integrate a number of security measures to safeguard data, such as firewall protection, virtual private network (VPN) capabilities for secure remote access, encryption protocols, authentication systems, and secure data transmission protocols.
Can industrial gateways be integrated with existing SCADA systems?
Yes, industrial gateways can be integrated with existing SCADA (Supervisory Control and Data Acquisition) systems. They act as a bridge between the SCADA system and industrial devices, allowing for data collection, control, and visualization in the SCADA environment. DSGW-081 can achieve this perfectly, saving time and effort.
Get to know IoT SCADA energy management case study here.
Can industrial gateways operate in environments with high electromagnetic interference (EMI)?

Yes, industrial gateways are typically designed to operate in environments with high levels of electromagnetic interference. They are equipped with robust shielding and grounding mechanisms to ensure reliable operation and data integrity in such environments.