1. Introduction of DSGW-089 Lift IIOT Edge Computing Gateway
The DSGW-089 Industrial Edge Computing Gateway provides uninterrupted Internet access for machines over ubiquitous 3G/4G wireless networks and multiple broadband services. With powerful edge computing capabilities, comprehensive security protection and wireless services. It realizes data optimization, real-time response, agile connection and intelligent analysis on the IoT edge, significantly reduces the data flow between field sites and data center, and avoid bottlenecks of cloud-end computing.
1.2 Product Feature Summary
-Built-in redundancies: SIM card, link backup, VRRP hot standby, ensuring uninterrupted network communications
-Powerful computing performance, providing high-performance processing resources for edge computing
-Supports a variety of industrial real-time Ethernet protocols and field bus protocols, compatible with a wide range of industrial equipment
-Supports Python development, for developing user custom applications
-Supports industrial cloud platforms: Microsoft Azure, Amazon AWS
-Easy for management and large-scale deployment, support SNMP protocol and Device Manager cloud platform for efficient remote central management
-Fully industrial-grade design, ready for challenging conditions
-Support multiple wireless protocol: Bluetooth5.2, Wi-Fi, 4G LTE CAT4.
-Support Li-Battery back up
1.3 Hardware block diagram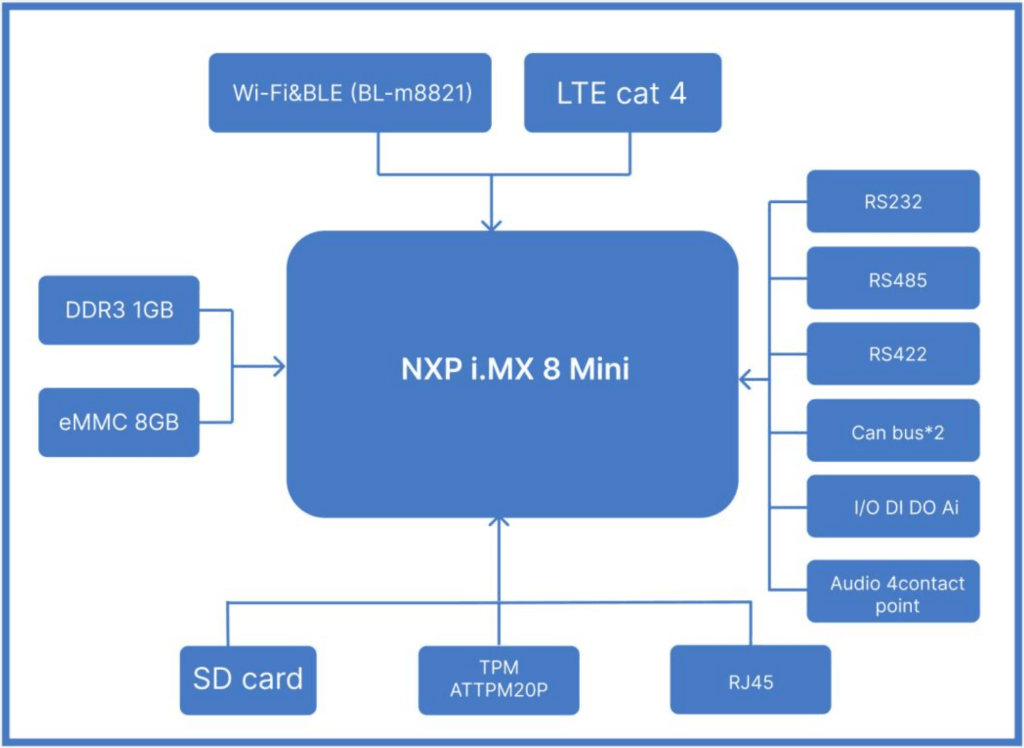 1.4 Mechanical Requirement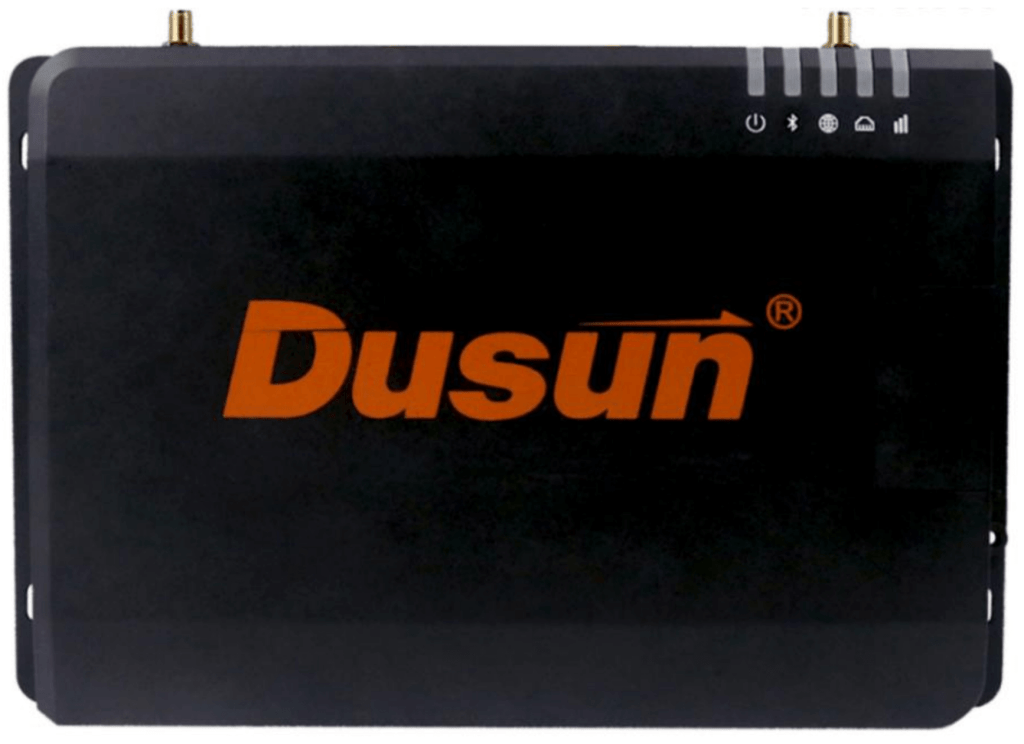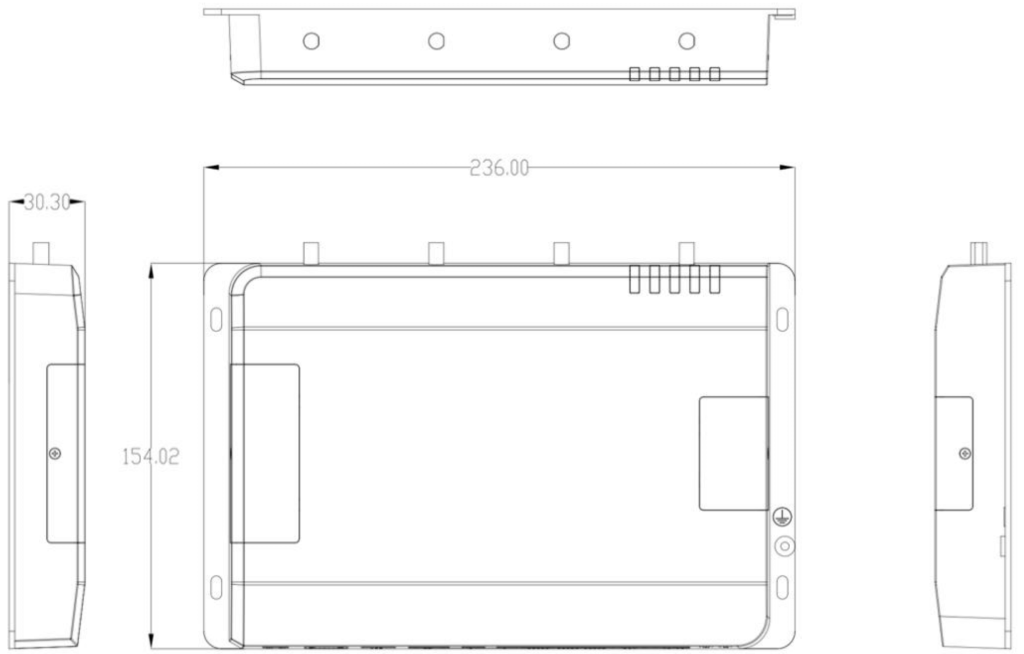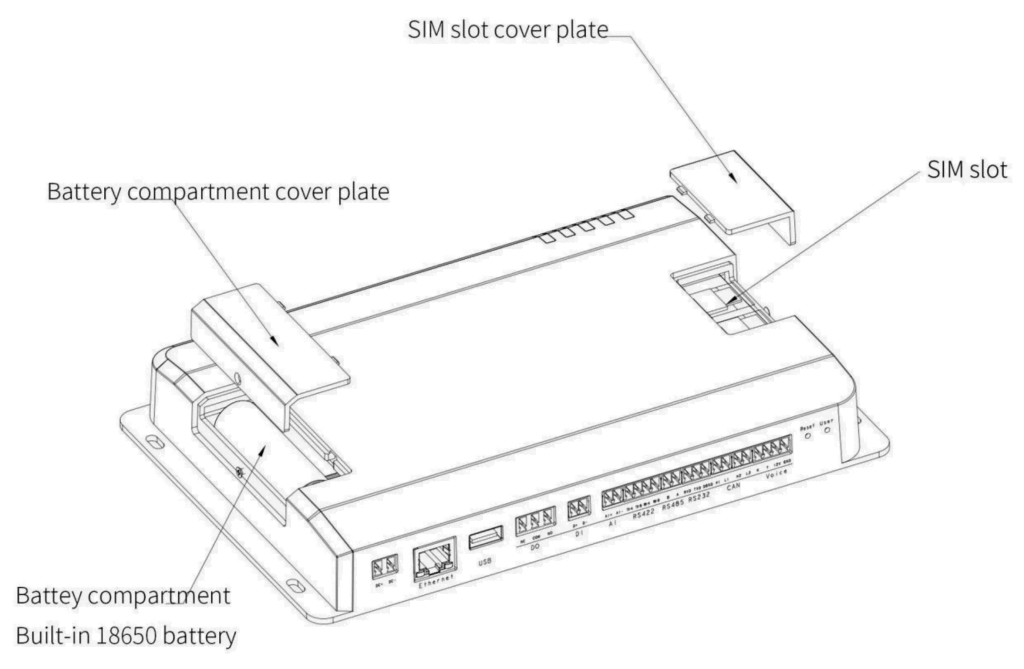 2.Technical Specification of DSGW-089 Lift IIOT Edge Computing Gateway
CPU
NXP i.MX8M mini Quad-cores Cortex-A53 and Arm® Cortex-M4F
System
Yocto 3.1 (Dunfell)
Docker
Support
RAM
1GB
Flash
8GB eMMC
Power
Input: DC 12V~24V
Indicator LEDs
Power LED normally on when powered on
BLE LED is flash when the signal come
Network LED is flash, When the gateway can access the Internet
Ethernet LED is flash, When the network port is plugged into the
Internet cable
LTE Signal LED, It indicates the signal strength of LTE
Reset Button
Hardware Reset
User Button
Software Custom Button
I/O Port
1 digital input channels DI(passive)1 digital output channels DO Maximum load 5A@30VDC or 250VAC
1 analog input channels AI
Current signal: 0-20mA, 4-20mA Voltage signal: 0-5VDC, 0-10VDC
Choose one of the above 4 ranges
Ethernet
1*100/1000Mbps WAN/LAN port
USB
USB2.0
Audio
K,Y,12,GND
SIM SD card Slot
1*SIM card slot ;1*SD card slot
Antenna
2*SMA:1*LTE, 1*WiFi/BLE
RS232/RS485/RS422
1*RS232, 1*RS485,1*RS422
CAN
2*CAN (separate power supply and Galvanic isolation)
Li Battery
Lasts 1~2 hours
TPM(Trusted Platform
Module)
Chip:ATTPM20P
Cryptographic Support for: HMAC,AES-128,SHA-1,SHA-256,ECC BN_P256, ECCNIST_P256 , RSA 1024-2048 bit keys
Installation
DIN-rail, Wall, Mounting, Magnet
Protection Rating
IP30
Housing
Aluminum alloy
Storage Temperature
-20℃~75℃
Operating Temperature
0℃~70℃
Ambient Humidity
5%~95%
3. Wireless Specification of DSGW-089 Lift IIOT Edge Computing Gateway
Wi-Fi Performance
● IEEE wireless LAN standard: IEEE802.11n; IEEE802.11g; IEEE 802.11b
● Data Rate:
● IEEE 802.11b Standard Mode:1,2,5.5,11Mbps
● IEEE 802.11g Standard Mode:6,9,12,18,24,36,48,54 Mbps IEEE 802.11n: MCS0~MCS7 @ HT20/ 2.4GHz band
● Sensitivity:
● HT40 MCS7 : -70dBm@10% PER(MCS7) /2.4GHz band HT20 MCS7 : -71dBm@10% PER(MCS7) /2.4GHz band
● Transmit Power:
● IEEE 802.11n: 16dBm @HT20/40 MCS7 /2.4GHzband IEEE 802.11g: 16dBm @54MHz
● IEEE 802.11b: 18dBm @11MHz
● Wireless Security: WPA/WPA2, WEP, TKIP, and AES
● Working mode : Bridge、Gateway、AP Client
● Range: 50 meters minimum, open field
● Transmit Power:17dBm
● Highest Transmission Rate: 300Mbps
● Frequency offset: +/- 50KHZ
● Frequency Range (MHz): 2412.0~2483.5
● Low Frequency (MHz):2400
● High Frequency (MHz):2483.5
● E.i.r.p (Equivalent Isotopically Radiated power) (mW)<100mW
● Bandwidth (MHz):20MHz/40MHz
● Modulation: BPSK/QPSK, FHSSCCK/DSSS, 64QAM/OFDM
Bluetooth Performance
● Bluetooth Specification :Bluetooth v2.1+EDR/4.0/4.2
● Frequency Range:2.4~2.4835GHz(2.4GHz ISM Band)
● Channels :
● Bluetooth Classic: Ch0~Ch78 (For 1MHz Channels);
● Bluetooth Low Energy: Ch0~Ch39 (For 2MHz Channels);
● Power Classes
● Bluetooth Classic: Class1;
● Bluetooth Low Energy: Class1.5;
● Date Rate & Modulation
● BR_1Mbps: GFSK;
● EDR_2Mbps: π/4-DQPSK;
● EDR_3Mbps: 8DPSK;
● LE_1Mbps: GFSK;
LTE Cat4
● LTE-FDD: B1/B2/B3/B4/B5/B7/B8/B12/B13/B18/B19/B20/B25/B26/B28
● LTE-TDD: B38/B39/B40/B41
● WCDMA: B1/B2/B4/B5/B6/B8/B19; GSM: B2/B3/B5/B8
● VoLTE
RF Factory Test Mode
● Setting the Board into the test mode, using the Iqexl-ws that can test the Wi-Fi,BLE.
● Please refer to the DUSUN Test Specification for details.
4. QA Requirements of DSGW-089 Lift IIOT Edge Computing Gateway
Quality &Testing Information
Information Description
Standard(Yes) custom(No)
ESD Testing
Yes
RF Antenna Analysis
Yes
Environmental Testing
Yes
Reliability Testing
Yes
Certification
FCC,CE,SRRC
DusunIoT offers full set of development resources for the DSGW-089 industrial edge computing gateway including QUICK START, SDK, Firmware packaging, module firmware, Tools, vairous third party software,etc.