Product Name: Bluetooth Keyfob / wristband beacon
Model Name : DSBC-100
DSBC-100 is Is a keyfob/wristband Bluetooth beacon, DUSUN developed a portable sensor device. Suitable for indoor positioning, asset positioning, scenic navigation,patrol check-in, advertising push, asset management, project tracking, and other scene applications. The product is developed based on the NRF52820 chip of NORDIC Company. It has the built-in Bluetooth 5.0 an above protocol, and has the excellent function of ultra-low power consumption. It has a red LED light and button.
Person position
Archives
Experimental (test) rooms
Workshop
Museums
Work card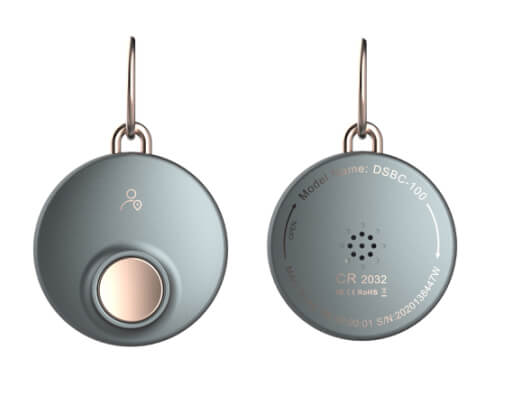 Feature

Model
Long range
iBeacon
NFC
DSBC-100-1
●
iBeacon(1)
●
Remark: (1) Can be designed as a standard iBeacon, Eddystone protocol, can also meet the needs of broadcast package customization
Protocol
Built-in PA
Performance
Bluetooth 5.0
Without PA

Main IC: nRF52820
Transmission frequency: 2.400 - 2.4835GHz
TX power: 4dBm,adjustable
Communication rate: 1Mbps
RX sensitivity: -95 dBm
Transmission distance:50~100 meters (open area)

NFC
-
ISO/IEC 14443 A
Item
Performance
Electronic

Working voltage: 2.2~3.6VDC
Average power consumption: <50uA (2S interval)
Built-in battery: CR2032 180mAh
Battery life: 9month (Depends on the mode of operation)
RTC: not support
IP protection: IP68
Outline size: φ41mm
Certification: CE FCC