Protocol translation: Bluetooth to WiFi, Bluetooth to LTE 4G, Bluetooth to Ethernet
Functionality: Bluetooth Access Point, Bluetooth Router Hub, Bluetooth Bridge
Bluetooth Range: 150m in open field, and Bluetooth long-range mode up to 1km
Automatic Scanning: nearby beacons' RSSI, MAC, etc.
Connected BLE devices: simutaneously max.16 for stable connection
Leveraging Industrial IoT to gather data from sensors and beacons, improve overall operational processes, and make faster and more accurate business decisions is no longer a a hyped concept. The BLE-enabled IIoT has been widely adopted in key industries like oil and gas, hydropower, and manufacturing, as well as in areas like equipment condition monitoring and predictive maintenance, factory building automation, and personnel/asset management, thanks to the proliferation of smart sensors, the adoption of industrial gateways, and the growth of data analytics applications.
Why Use Bluetooth in Industrial Settings?
Core challenges for IIoT include battery life of wireless sensors, remote maintenance and operating costs. Wireless Bluetooth low energy devices have long battery life, which can ower total long-term operating and maintenance expenses (less battery replacement and personnel maintenance costs).
Bluetooth is ubiquitous, with strong interoperability, has very competitive chip and module pricing. It can be incorporated into a range of smart devices with minimal implementation costs and significant economies of scale.
Bluetooth 5 allows greater Bluetooth coverage and faster speed, improved anti-interference capabilities, and supports reliable connections in many vast and loud areas, especially in warehouses and factory environments with a lot of interference.
Many-to-many Mesh Network
To ensure uninterrupted transmission, Bluetooth mesh uses many-to-many communication and multi-channel information relay to keep numerous BLE sensor devices connected with one another securely and reliably, meeting high-performance industrial requirements.
In some industrial plant or field with ignitable quantities of combustible gas, vapor, or dust, BLE devices with long range capability can be deployed to guarantee that employees are working in a safe environment, while data gathering and remote access over longer distances is feasible.
Industry Bluetooth Gateway Use Cases
BLE gateway for industrial uses can be used for basic data acquisition, measurement, control, and communication needs. It relays message between BLE sensor networks and cloud servers, allowing users to retrieve and cisualize data in dashboard for data analysis, and send commands back to configure BLE networks. For asset management, a BLE gateway may automatically detect nearby BLE beacons and upload information to a server, including the MAC address, broadcasting type and content, in-time signal power, etc.
To track temperature changes, BLE sensors can be installed in the IoT temperature monitoring system or incorporated into thermostatic valves, thermostats, and boiler controls. Industrial Bluetooth gateways serve as a bridge between IoT devices and the cloud server for data collection and relaying.
Elevator IoT solution is made possible by using BLE sensors and industrial Bluetooth gateways to gather data on accelerations, jerks, and vibrations, for early warning diagnostics and component residual life prediction, reducing the possible downtime of a malfunctioning elevator.
Access Control/Asset Managament
By establishing geo-fences in key locations to regulate access and make forklift tracking in warehouse, Bluetooth AoA increases the security of industrial and chemical facilities. Meanwhile, it can alert staff members when they reach risky regions.
BLE mesh can be used to accomplish centralized control, monitoring, and automation in factory building automation, covering lighting, heating, ventilation, air conditioning (HVAC), and security. This can help conserve energy, lower operating costs, and extend the life cycle of BMS.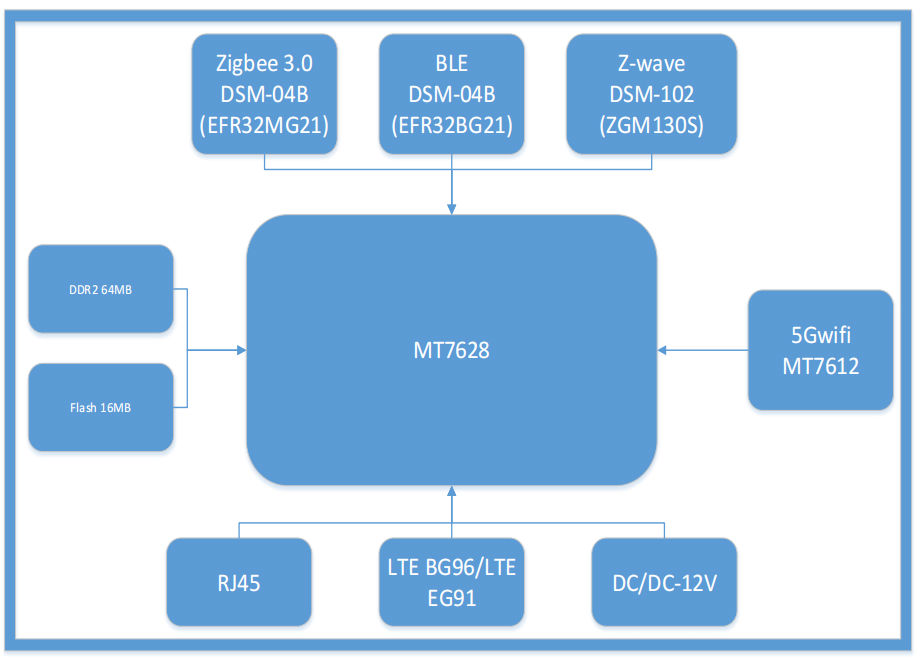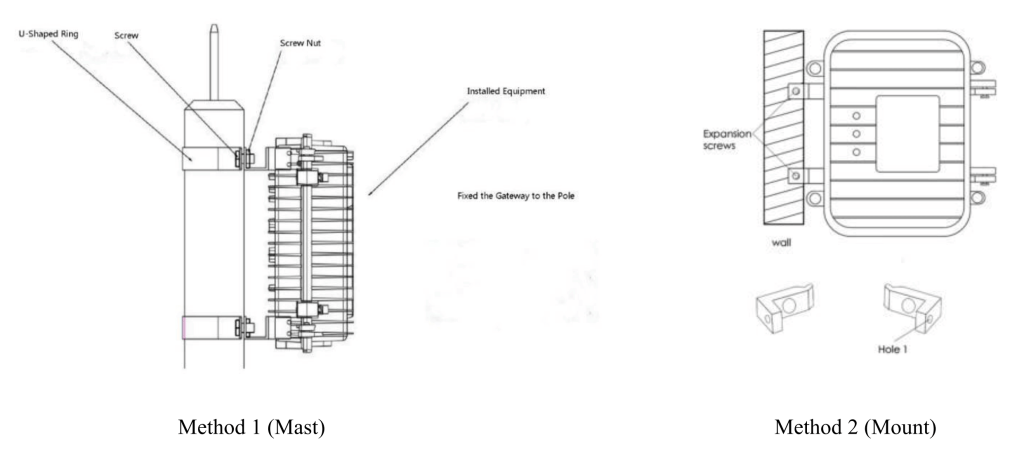 How does DSGW-010-3 Bluetooth gateway communicate with my BLE devices?
DSGW-010-3 is Linux Bluetooth Low Energy gateway running based on OpenWrt system, Linux supports BLE protocol through running the BlueZ stack. BlueZ stack supports all core Bluetooth protocols and layers, it is flexible, efficient and uses a modular implementation. Users can write BLE applications using Bluez APIs to manipulate BLE 5 devices.
How to send BLE beacon data to the designated server via BLE gateway?
Firstly you need to connect the gateway to thje router and log into the router to find the IP address of DSGW-010-3 industrial gateway, then input the IP address on a web browser and enter username and password, you can sucessful log into the gateway;
Secondly, initiate the WiFi/LTE/Ethernet function in the gateway to connect to the Internet;
Thirldly, set the server address where the gathered data will be sent to, MQTT broker, TCP/UDP server you desired;
Finally, open up the BLE beacon list in the LuCi page, set filter options, time intervals, etc. Depending on the user's settings, the scanned BLE beacon would be posted to the platform after a specific amount of time.
Can DSGW-010-3 industrial Bluetooth gateway used for ships on the sea?
Yes. Various communication devices aboard the ship may be connected to the industrial bluetooth gateway, which can then be utilized as a transmitter to send signals to the monitoring center through LTE. The camera or voice device may also be linked to the gateway at the same time, and a number of communication channels may be used to encode and transmit the picture back to the fixed satellite station on the ground. It is simple for the crew to use the ground satellite master station as a router to link laptops, mobile phones, etc. and access the Internet to accomplish network surfing.