IoT links multiple devices and systems together to create a seamless network that can be accessed and managed remotely. Building automation system integrators began incorporating IoT technology into their solutions as IoT gained popularity in other industries over the past decade. This allowed them to schedule energying, lighting and HVAC control in advance, adjust BMS (building management system) remotely, carry out remote supervision, optimize space usage, track asset positions, conduct predictive maintenance, etc.
IoT Components of Building Automation System
IoT Sensors
A building automation system comprises various components, including sensors, IoT gateway controllers, and BMS. Changes in temperature, humidity, occupancy levels, and other variables are measured and collected by sensors.
IoT Gateway Controllers
Sensor data is wirelessly/wired transmitted through local IoT gateway controllers to the cloud, where pre-programmed sequences specific to the building's equipment subsequently make logical control decisions. These commands are transmitted back to the building equipment as output decisions or with microadjustments.
BMS (Building Management System)
BMS is built based on the cloud PaaS or SaaS. In order to achieve real-time monitoring of various operating equipment status in the building, it is necessary to use an intelligent automatic control system, after which the collected equipment data must be transmitted to a workstation for storage and analysis in order to ensure that the data is scientifically managed. The data visualization dashboard is usually provided simply implemented and safely shared with internal and external parties by building operators who have been granted access.
Read further: fundamental elements of IoT architecture
Design Principle of IoT-based Automated Building Control System
The systems that need to be controlled in the building automation system primarily include a variety of subsystems such as HVAC and elevator/lift systems. Diverse wired or wireless communication protocols are also employed to interconnect workstations and control units, form an interactive network, and establish hierarchical control system. Sensors and IoT gateway controllers are required for data information exchange between the management and on-site control equipment.
Reduce Energy Cost
The design of smart building automation control solution will be of great significance and prominence to energy consumption saving. Take automated energy consumption control system as an example, BAS infrastructure may use Wi-Fi occupancy sensors to indicate a status change. Once it senses some room are empty, pre-defined rules stored in the cloud will be implemented to modify the functioning of ZigBee-enabled lighting systems or a BACnet-based HVAC unit, contributing to the optimization of energy use.
Prevent Safety Risk
Another example is about multi-subsystem-integrated BMS control systems to prevent safety risks. Understanding how to control mechanical and electrical systems together may help buildings run more efficiently and have fewer hidden safety hazards. Air-conditioning equipment systems, fire alarm systems, and monitoring systems is able to detect the potential safety hazards and the occurrence of accidents like building fires. The centrally controlled and managed building automation control system, can send alarm data to the control room and forward control instructions to field equipment, while simultaneously use the broadcast system to ensure that personnel can be safely evacuated.
Challenges of of Building Such Efficient but Complicated BAS Control Solution
Hardware and software must be properly integrated and coordinated in order for building automation systems to operate at maximum capacity. However, efficiency cannot be increased if connection between various BASs is impeded (for instance, by using different protocol). In such a scenario, communication between lighting, HVAC, plumbing, security, and access control systems would also be blocked off. Although the BACnet protocol made an attempt to standardize communications in the 1990s, new applications for building automation systems (BAS) have complicated network topologies. It's challenging to find one size fits all.
In addition to complex connectivity requirements, other specifications for BAS include: simple integration to reduce capital expenditure and support multiple deployments; rugged but unobtrusive packaging for deployment in harsh industrial environments as well as consumer-focused retail settings; remote manageability to enable unified system management over diverse application sets or multi-site control; high reliability to ensure continuity for safety-critical systems; end-to-end hardware and software security to protect the BAS network from application to backend network infrastructure.
Solutions: Multi-connectivity Building Automation Gateways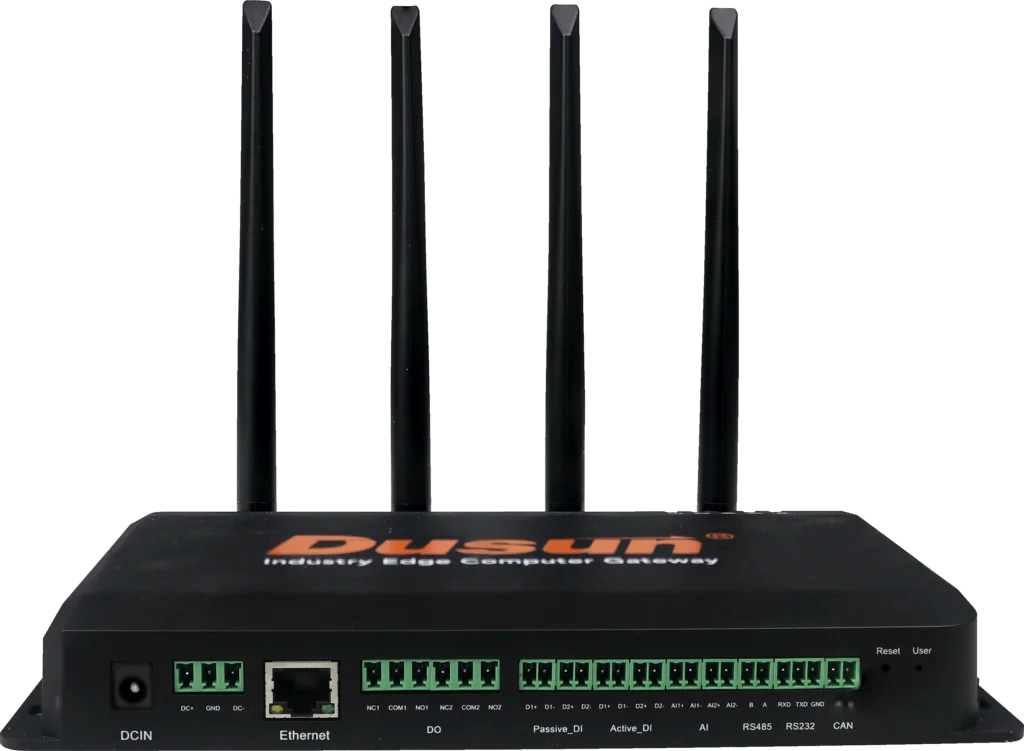 DSGW-081 PLC Modbus BACnet KNX BLE Zigbee Converter Gateway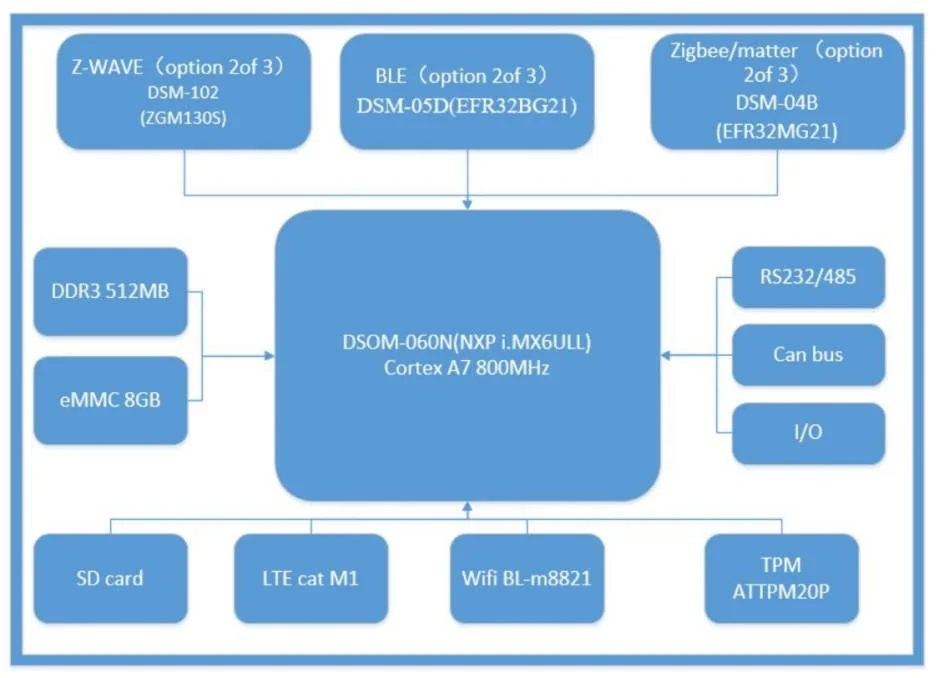 Supported Wired Protocols (just listed mainstream, possibilities is unlimited)
BACnet
BACnet, abbreviated for Building Automation Control Network, is a data communication protocol particularly designed and widely used for building management systems (BMS). BACnet MS/TP and BACnet/IP are the two major BACnet implementations.
Because of its simplicity of use and interoperability, BACnet enjoys better popularity among building automation experts or system integrators. Integrators can enter a building, plug in a computer, execute a BACnet scan, scan the devices, check what data points exist, and then add these points to the building automation system (BAS) database.
Read more about what is BACnet Gateway and Router?
Modbus
Modbus is frequently utilized in industrial sector, such as at data centers for power distribution units (PDUs) and at factories for programmable logic controllers (PLCs). In contrast to BACnet, Modbus does not support network discoverability. Integrators require a Modbus Register and data point address numbers to manually enter them and then set up each to read the right value. The benefits is that Modbus performs pretty well than BACnet once it is up and running.
Read more about what is Modbus protocol?
KNX
KNX is the abbreviation of Konnex, and KNX bus is a system that is independent of application and manufacturer. All bus devices in a KNX system are linked together using a KNX media, such as twisted pair, power line, radio, or IP/Ethernet. Through the medium, these devices may interface with other systems and talk to one another.
The KNX system's architecture is decentralized, allowing each device to operate independently rather than depending on a central control system. KNX systems may therefore be installed and maintained with a great deal of flexibility, and they enable fault separation and extension. The bus devices are used to operate building management systems and might be either sensors or actuators. Without the need for a separate control center, all of these operations may be managed, tracked, and notified by a single system.
Note: DSGW-081 has RS485 and RS232 interface as well as Ethernet port, which means it can support any serial fiedbus and industrial protocol like PROFIBUS and PROFINET.
Supported Wireless Protocols(just listed mainstream, possibilities is unlimited)
BLE mesh
Bluetooth mesh network is ideally suited for control, monitoring, and automation systems where hundreds, or thousands of devices need to communicate with one another. (reference from: https://www.bluetooth.com/learn-about-bluetooth/recent-enhancements/mesh/).
The main markets for Bluetooth mesh networks are building automation, wireless sensor networks and asset tracking. Why these three markets? Because most of these areas are indoor spaces, avoiding the need to establish a low-power wide-area network with outdoor base stations for long-distance transmission. Meanwhile, Bluetooth mesh network can deploy thousands of nodes, which solves the problem of insufficient transmission distance of traditional wireless networks. , so it can be deployed in large indoor spaces such as buildings, factories, hospitals, stadiums, etc. According to the introduction of Bluetooth SIG.
Read further: what is BLE (Bluetooth Low Energy) mesh?
When a smart building is deployed with the Bluetooth Mesh network, dozens, hundreds or thousands of BLE devices in the building can communicate with each other reliably and securely. After installing Bluetooth mesh gateways, it can help a smart building connect to the internet to realize building automation, so as to remotely control and link BLE devices.
Zigbee
The ZigBee Building Automation standard was developed and confirmed by the ZigBee Alliance, making it the only BACnet-approved wireless-mesh standard for commercial buildings. A ZigBee building automation network makes it simpler, quicker, and less expensive to transform a facility to accommodate a different tenant requirement.
Sources from: HPAC Engineering
Due to Zigbee's characteristic of wireless low-power mesh networks, which can accommodate the needs of almost any type of building, products using ZigBee Building Automation are designed to give building owners and operators more control options of various building types, previously inaccessible rooms, or sensitive areas. Additionally, existing wired BACnet building automation systems can now be expanded with greater ease and lower operational costs.
Explore Zigbee Gateways here.
IoT-based Smart Building Automation
Smart Parking
Imagine that on a winter morning, you drive to work. After passing through the company security system, the system automatically assigns a parking space to you. The number above the parking space automatically lights up, guiding you to park your car easily. Ane then, the space allocation system then immediately marks the space as occupied.
Smart Lighting Control
When you walking into the building, the sensor detects your presence and instantly identifies you through your wearable device. You walk into the elevator, ride to the second floor, and step out of the elevator. As always, you're the first in the office again. When the elevator door opens, the lights will automatically turn on along the road from the elevator entrance to your office and kitchen. In order to save energy, other areas remain dark. See Bluetooth mesh lighting control introduction here!
Smart Temperature Control
You walk into the office and the door closes automatically. The lamps on the ceiling and on your table have been turned on and adjusted to the most comfortable brightness. You notice that the temperature seems to be slightly warmer, which happens to be your personal favorite temperature. As soon as you sit down, your computer automatically logs you in.
Reasons That the Building Become So Smart
Your day begins so smoothly, and the building automatically responds to your needs and even your preferences. All the systems work so efficiently, because a few months ago, the company installed a Bluetooth Mesh network. At the beginning, the mesh lighting system was installed first; later, presence sensors, environmental sensors, wireless heating and air conditioning, and parking management systems were added to the mesh network one after another. As a result, the company has saved a lot of electricity and heating bills, and the working environment has become more use-friendly, which greatly improves personnel work efficiency. Not only that, but maintenance costs are also reduced because the company no longer has to run extensive wiring to add new light switches, which is costly and does not disrupt normal operations.
How Bluetooth Mesh Gateway Help
At the same time, the building management team can also use various data, uploaded by Bluetooth mesh gateway to the cloud server, to understand the status of the entire building and various services, and at the same time use these data to optimize the system to the best condition. Bluetooth mesh network and Bluetooth mesh gateway work together to allow you to easily and cost-effectively know the services of the entire building, and control automatic behaviors wirelessly.
Learn more about What is a Bluetooth Gateway
Bluetooth Mesh Gateway Solutions Offered by Dusun IoT
The Bluetooth mesh gateway launched by Dusun IoT interconnects BLE devices in buildings (such as smart lights, central air conditioners, security alarm systems, etc.) and cloud-based (private or public) management servers. Bluetooth mesh gateway provides a centralized security platform for acquiring various data from external sonsors and centrally integrating them. At the same time, Dusun IoT's Bluetooth mesh gateway also has the edge computing function, which can directly issue instructions after performing edge computing on the data, so as to improve the response time of smart lighting equipment. This intelligence enables real-time processing and communication responses without relying on servers.
Working Principle of Bluetooth Mesh Gateway
Bluetooth sensors collect smart building data.
The Bluetooth mesh gateway integrates all relevant data, analyzes it, and provides (internal and internal) communication.
The Bluetooth mesh gateway uses its advanced communication technology to forward the data to the cloud-based management center.
Advantages of Dusun IoT Bluetooth Mesh Gateway
Wide Compatibility
Our Bluetooth gateway, including Bluetooth mesh gateway, can interconnect and collect data from different BLE devices. It breaks down data silos in smart buildings by integrating data across regions and disparate platforms that are often incompatible. Dusun IoT's Bluetooth mesh gateway allows all IoT devices to communicate with each other without the hindrances imposed by uniquely dependent system software.
Quick to Market
Dusun IoT Bluetooth mesh gateways adopt flexible modular design. Therefore, the productized gateways can be directly introduced to the market only by transplanting the application program.
Strong Security
Bluetooth mesh is the only network topology based on mandatory security keys, which can protect the network at multiple levels of the protocol stack. Every data packet must be encrypted and authenticated.
Powerful Edge Computing Capability to Maximize Cost Savings
The Bluetooth mesh gateway solution with edge intelligence capabilities can directly process data for perception, integration, reasoning, judgment and decision-making. This also facilitates more and faster decision-making systems such as HVAC utilization, power, electrical management, water usage, etc.
In Conclusion
Dusun IoT Bluetooth mesh gateway brings a full range of communication channels between IoT sensors and smart analytics (whether running on-device, locally or remotely). Our Bluetooth mesh gateway supports communication between wireless and wired devices. It forwards various data acquired from the sensors to the analysis engine (cloud server) and sends the necessary instructions back to the sensors. If you are looking for a reliable building automation solution, please feel free to leave your requirements, we will prepare a complete set of detailed IoT solutions for you.