DSGW-290, also called Dusun Pi4, is a multifunctional IoT gateway hub designed to meet needs of some customers who want to find a Raspberry Pi 4 alternative with even same or even solider performance, and more connectivity options and richer interfaces for IoT applications. 4G RAM and 64GB eMMC memory to ensure the operation speed and stability. If needed, you can insert a TF card (up to 1GB) and connect a M.2.SSD through the PCIe interface, which supports up to 512GB.
DSGW-290 adopts RK3568 SoC, which has better power consuming performance with frequency up to 2.0GHz, ensuring the capability to deal with complicated smart home applications. Meanwhile, it has a excellent graphic and video processing as well as rich multi-media connectivity options: A HDMI interface and a 3.5mm audio port to easily connect to various display and audio devices. A MIPI CSI interface support camera access up to 800M pixels.
DSGW-290 is an lightweight edge computing gateway hub specially design for IoT hardware developers. It support multiple operating system and programming languages. Androids and Debian available.C, C++. Python, and Java can be used to program. Up to now, more and more developers start to employ it for IoT applications beyond smart home automation, like building automation, agricultural greenhouse control, smart apartment management, smart hospitality electricity monitoring, and any other IoT solutions. Welcome to unleash its potential.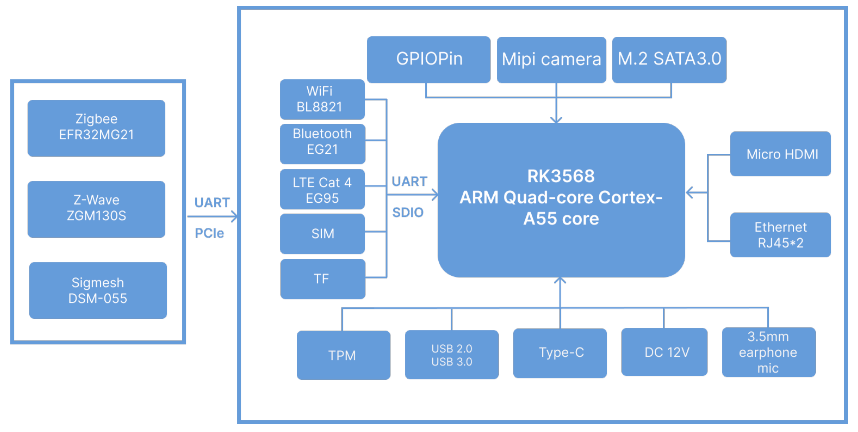 Dusun Pi4
Raspberry Pi4
Hardware Information
Processor

RK3568 ARM® Quad-core 64-bit processor

, Quad-core Cortex-A55 ARM G52 2EE Support

OpenGL ES 1.1/2.0/3.2

,OpenCL 2.0,Vulkan 1.1
Broadcom BCM2711, Quad-core Cortex-A72 (ARM v8) 64-bit SoC @ 1.5GHz GPU Broadcom Videocore VI
Memory
4GB dual channel 64Bit LPDDR4(1GB/2GB/4GB/8GB optional)
1GB, 2GB, or 4GB LPDDR4-3200 SDRAM (depending on model)
Storage
Up to 128GB high-speed eMMC (16GB/32GB/64GB/128GB optional) Micro SD card slot for loading operating system and data storage
microSD card slot for loading the operating system and data storage.
Networking

Gigabit Ethernet port * 2

Gigabit Ethernet port
RTC
Support
Support
Wireless Connectivity
Zigbee

YES

NO
OpenThread

YES

NO
Matter

YES

NO
Z-WAVE

YES

NO
Bluetooth

Bluetooth 5.2

Bluetooth 5.0
LTE CatM1

YES

NO
Wi-Fi 2.4/5G

YES

YES
Expansion Slot & Ports
Ports
1xUSB 3.0, 1x USB 2.o, 1x USB Type-C, 2x Gigabit Ethernet port, 1x HDMI port, 1x 3.5mm Audio PORT, 1x MIPI-CSI camera interface (built-in dual hardware ISP, up to single 13M pixel or dual 8M pixel), 1x PCIe 2.1 interface Debug serial port for development and debugging, 1x M.2 SSD (up ti 512GB)
2 x USB 3.0 2 x USB 2.0 Raspberry Pi standard 40-pin GPIO header 2-lane MIPI DSI display port 2-lane MIPI CSI camera port 4-pole stereo audio and composite video port
SIM Card Slot

YES

NO
TF Card Slot

YES

YES
Audio
1 × micro HDMI port
a 3.5 mm analog audio-video jack
Display
1 x HDMI 2.0, support 4K@60HZ output and HDCP 1.4/2.2 (support dual-screen simultaneous display, dual-screen different display) 1 x MIPI-DSI, support dual channel 2560x1600@60fps output
2 × micro-HDMI ports (up to 4kp60 supported) H.265 (4kp60 decode), H.264 (1080p60 decode, 1080p30 encode)
Others
Power Supply
Input power: DC12V/3A, Power over Ethernet (PoE-enabled, requiring separate PoE HAT)
5V DC via USB-C connector (minimum 3A*) 5V DC via GPIO header (minimum 3A*) Power over Ethernet (PoE) enabled (requires separate PoE HAT)
CPU
RK3568 Quad-core ARM Cortex-A55
GPU
ARM G52 2EE,Support OpenGL ES 1.1/2.0/3.2, OpenCL 2.0,Vulkan 1.1
RAM
4GB DDR4
eMMC
64GB eMMC
OS
Debian11
Dimension
177.9mm(7") x 100(3.9") x 45(1.8")
Power Supply
DC 12V (Voltage error ±5%) Supports PoE (voltage range 44-57V)
Video Processor
Support 4K VP9 and 4K 10bits H265/H264 video decoding, up to 60fps 1080P multi-format video decoding (WMV, MPEG-1/2/4, VP8)
1080P video encoding, support H.264, VP8 format
Video post processor: de-interlacing, denoising, edge/detail/color optimization
Power Management
RK808 PMU Power Management Unit
TF card
support
Abundant wired ports

for easy connection to other devices
1. WAN/LAN Gigabit cable network
2. USB3.0 high-speed universal A port *1
3. USB 3.0type-c common data interface
Multi-media competence

empowers audio and video capabilities, can be used to watch TV and movies
1. universal HDMI video interface
2. Dual channel headphone jack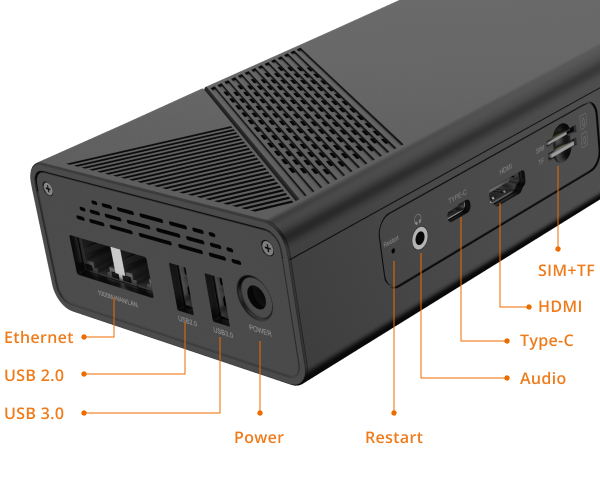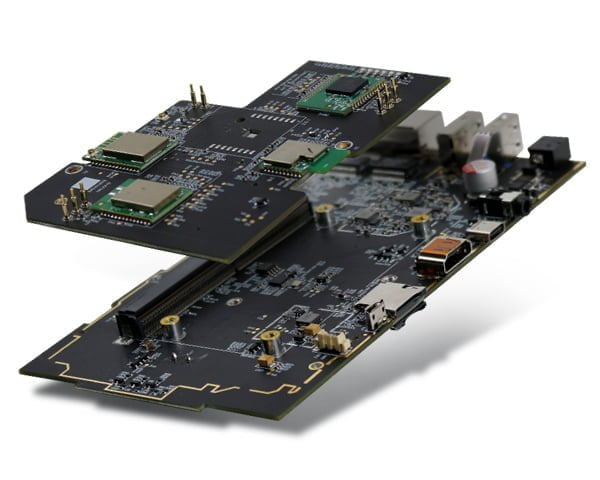 Plug and play

with high scalability
1. Insufficient computing performance: Replace the CPU with a DDR, up to 4GB.
2. Not enough storage? Reserve TF card slots. Not enough? An M.2 SSD with a maximum support of 512GB is also available.
3. Multiple protocols and cost overruns for Internet of Things: change modules.
4. Want to do IPC? Reserve the mipi csi interface. It supports up to 800M pixel camera access. It supports up to 800M pixel camera access
A Linux based PC (Android also supported)

, easily start your programming and development
It is suitable for storage-intensive and computationally intensive tasks like AI and machine learning. At the same time, it is also capable of daily work tasks.
| Model | Wi-Fi 2.4G/5G | Bluetooth 5.2 | Zigbee 3.0 | Z-Wave | Tuya-Zigbee | LTE Cat4 | Sub-G |
| --- | --- | --- | --- | --- | --- | --- | --- |
| DSGW-290-S1DB | ● | ● | ● | ● | | ● | ● |
Category B (Built by Order)
| Model | Wi-Fi 2.4G/5G | Bluetooth 5.2 | Zigbee 3.0 | Z-Wave | Tuya-Zigbee | LTE Cat4 | Sub-G |
| --- | --- | --- | --- | --- | --- | --- | --- |
| DSGW-290-S3DB | ● | ● | | | | | |
Category C (Built by Order , MOQ: 500 )
| Model | Wi-Fi 2.4G/5G | Bluetooth 5.2 | Zigbee 3.0 | Z-Wave | Tuya-Zigbee | LTE Cat4 | Sub-G |
| --- | --- | --- | --- | --- | --- | --- | --- |
| DSGW-290-S2DB | ● | ● | | | ● | ● | |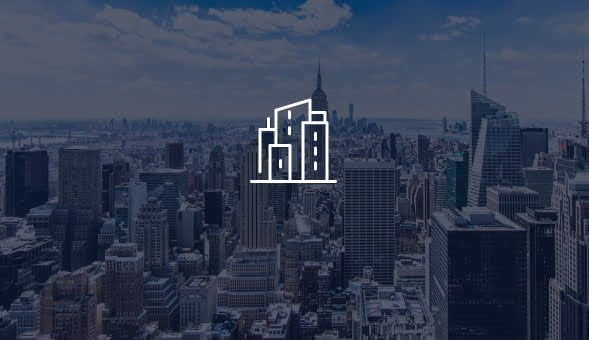 Mass Transit System | Smart Building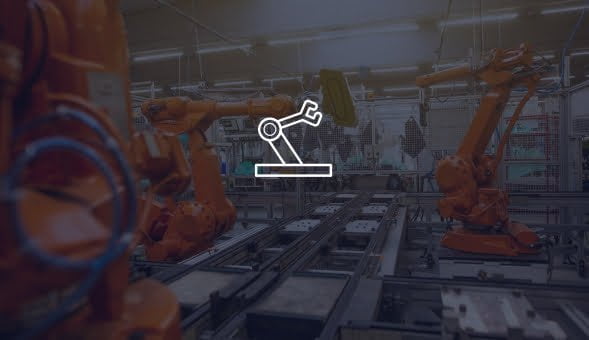 Smart Apartment/Hospitality
Energy Monitoring | Set-top Box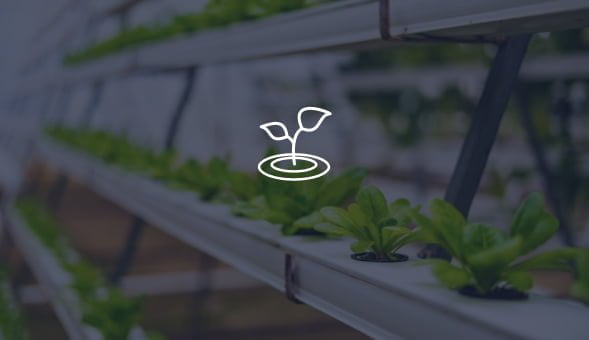 Do you have the CE certification for Dusun Pi4?
Yes, Dusun Pi4 Gateway has already passed CE certification.
If needed can you also customise a hardware with KNX? or with custom specifications?
The hardware of the above two devices can support KNX, because KNX has standard firmware, which can be integrated into our gateway. We are willing to add KNX for you in your actual order (MOQ required). Welcome to make an inquiry.
Does Dusun Pi4 have SIM card included?
Of course, Dusun Pi4 gateway supports SIM card.
Can Raspberry Pi 4 be an universal ZigBee/Z-wave bridge?
Yes, of course. Here we also offered an article talked about how to make Raspberry Pi home automation projects. But what you need to pay attention is that Raspberry Pi 4 ZigBee gateway may be hard to get mass production due to some reasons like long time to go to market, productized gateway certification, and supply chain issues. So if you want to ensure your ZigBee/Z-wave gateway raspberry pi 4 smart home project successful, it's not a bad idea to find mature smart home ZigBee gateway factory like Dusun IoT.
I'm looking for Raspberry Pi 4 8GB alternative to install Android OS, can Dusun Pi4 meet my requirement?
We can see from Android Developer Community that it requires 64-bit processor and 8GB RAM to tun Android OS, Dusun Pi4 is completely meeting the requirement. It uses RK3568 high-range SoC, integrated 4-core ARM architecture A55 processor and Mali G52 2EE graphics processor, and built-in independent NPU for lightweight AI applications. Both Android 11 and Linux system are supported for industrial applications like industrial control panels.
RK3568 vs Raspberry Pi 4, which one is better?
Some geeks have already made detailed comparison about RK3568 and Raspberry Pi 4, we will not repeat it here, but only tell you the conclusion: RK3568 is a definitely a more powerful raspberry pi 4 alternative in terms of both single-core and multi-core performance comparison. RK 3568 provides rich interfaces and incorporates the most latest high-performance CPU and GPU. You can use it to expand any industrial automation, building automation, and edge computing scenarios.
ARM A55 vs Arm A72 core performance, which one is better?
User reviews on websites versus.com provide valuable insights into ARM A55 vs A72 performance perceived by consumers. It appears that ARM Cortex-A55 is receiving a higher overall rating compared to the Cortex-A77. Here are a few factors that might explain this:
Power Efficiency: The Cortex-A55 is part of ARM's more power-efficient architecture (Armv8.2-A) compared to the Cortex-A77 (Armv8.2-A), which is designed for higher performance. For IoT devices, especially those that run on battery power, power efficiency is often a critical factor. If users value longer battery life or lower power consumption, they may prefer the Cortex-A55.
Use Cases: IoT devices typically involve a wide range of applications, from simple sensor monitoring to more complex edge computing tasks. The choice between Cortex-A55 and Cortex-A77 depends on the specific use case. ARM Cortex-A55 RK3568 SoC has an extra 1TOPSs NUP, which allows DSGW-290 to run lightweight AI edge computing applications.
Clock Speed: While the Cortex-A55 may have a slightly lower clock speed compared to the Cortex-A77, it's important to note that clock speed alone doesn't determine overall performance. In the context of IoT hardware development, power efficiency is indeed crucial, as IoT devices often need to operate on limited power sources.
Can I develop DSGW-290 as a mini PC for home?
Two types of mini PC are very popular in the market, one is bare-bone kit, another is ready-to-go device. People often choose to buy bare-bone mini PCs because of its high customization (the option to select and installed preferred RAM, storage, and operating system), cost-effectiveness, specialized uses cases like media centers, Home Theater PCs, digital signage, or IoT gateways. 
DSGW-290's flexibility and feature set make it a versatile mini PC platform for a wide range of applications and development scenarios. It allow user to Debian or Android OSs to develop various IoT applications, multimedia software, or other solutions. A wide spectrum of programming languages like C, C++, Python, and Java broadens the development possibilities and allow users to develop a variety of application from low-level system programming to high-level application development. Meanwhile, the ability to configure memory options allows users to tailor the system's performance and storage capacity to their requirements. This is especially useful for applications with varying memory needs.  The wide selection of wireless connectivity options, including WiFi, Zigbee, Z-Wave, BLE 5.2, Ethernet, and 4G LTE, provides ample choices for connecting to various IoT devices and networks. Its rich interface options, such as HDMI, audio ports, and camera support, make it suitable for multimedia applications and sensor integration. These interfaces enhance its versatility and potential use cases. All in all, DSGW-290's combination of hardware features, operating system options, programming language support, rich interfaces and connectivity choices makes it a versatile tool for developers and innovators to create and deploy a wide range of smart home mini PC solutions while also fostering creativity and customization.