Mini PCs have gained popularity for their versatility and suitability for tasks that demand a compact and efficient computing solution. Whether used for media consumption, office productivity, or home automation, mini PCs offer a space-saving and energy-efficient alternative to larger desktop computers.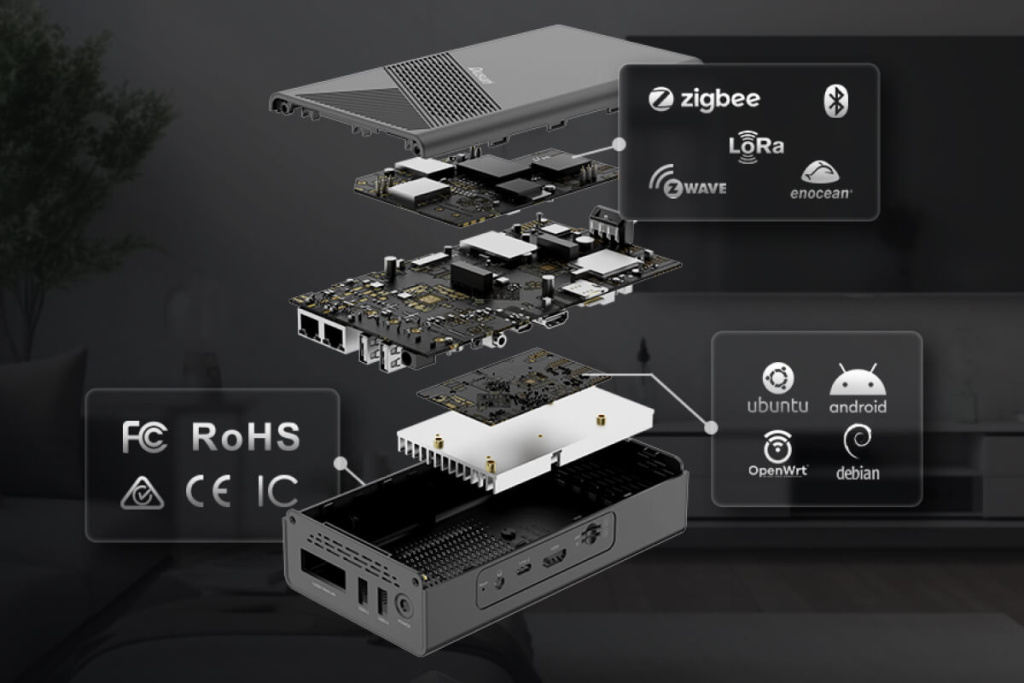 Key characteristics of mini PCs typically include:
Compact Form Factor: Mini PCs are significantly smaller in size compared to conventional desktop computers, making them space-efficient.
Specialized Processors: Many mini PCs feature energy-efficient ARM-based processors optimized for specific computing tasks. These processors enable them to operate while consuming minimal power.
Configurable Memory and Storage: Mini PCs offer customizable RAM and flash storage options, allowing users to tailor the device to their specific needs.
Operating System: They run on standard operating systems, enabling them to execute various applications and software programs.
Versatile Ports: Mini PCs come equipped with a range of ports, such as HDMI and USB, to facilitate connectivity with a variety of external devices and peripherals.
Here Dusun IoT has introduced a highly versatile smart home mini PC – DSGW-290 multi-protocol smart home controller, featuring exceptional multimedia processing capabilities suitable for both home and office media centers and entertainment purposes. This mini PC also offers a comprehensive selection of wireless protocol options (Zigbee 3.0, Z-Wave, BLE, and Sub-GHz), making it an ideal candidate for use as a smart home hub. Let's explore this cutting-edge smart home mini PC today and unlock a world of possibilities for your home and office needs.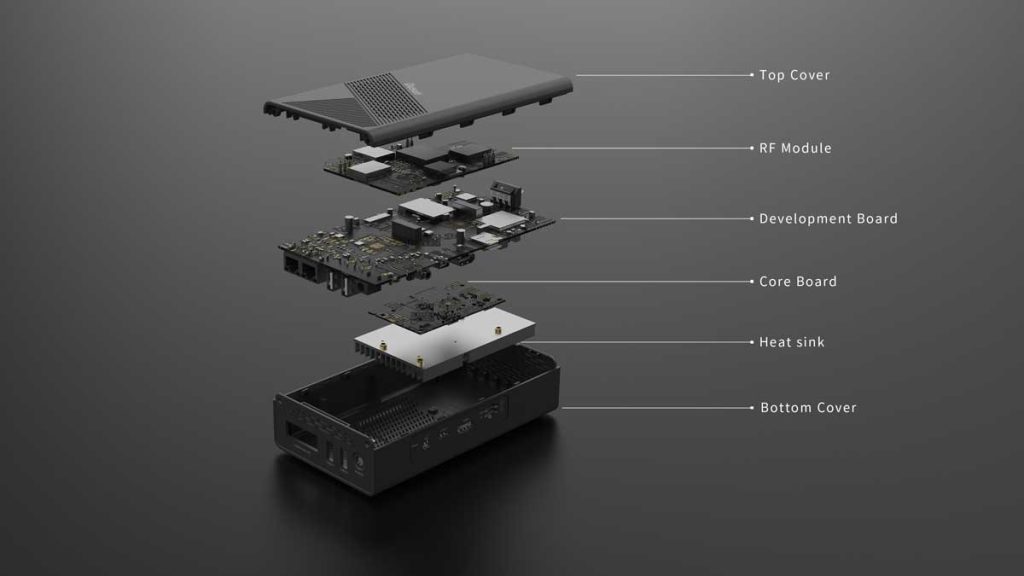 Lightweight AI-enabled CPU with Superb Audio/Video/Image Processing Capability based on Rockchip RK3568
RK3568 is a high-end SoC launched by Rockchip in 2020. Rockchip is a Chinese fabless semiconductor company whose SoC products, using the ARM architecture licensed from ARM Holdings for the majority of its projects, mainly used for tablets & PCs, streaming media TV boxes, AI audio & vision, IoT hardware, etc.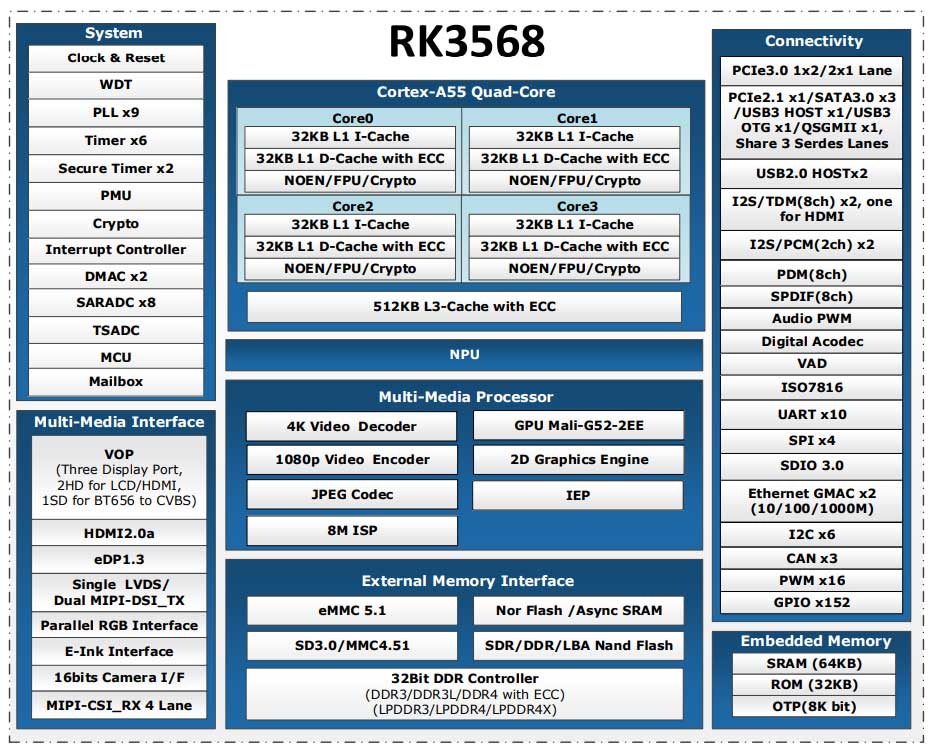 Superior Processor to Provide Smart Home Edge Computing Solution
Featuring a high-performance processor designed for robust and reliable performance, the RK3568, manufactured using advanced 22nm process technology, is equipped with an independent NPU boasting an impressive 1T computing capability. This combination makes the DSGW-290 mini PC an ideal choice for smart home edge computing tasks. The 64-bit quad-core Cortex-A55 processor, with a maximum clock speed of 2.0GHz, ensures consistent and efficient data processing for the DSGW-290.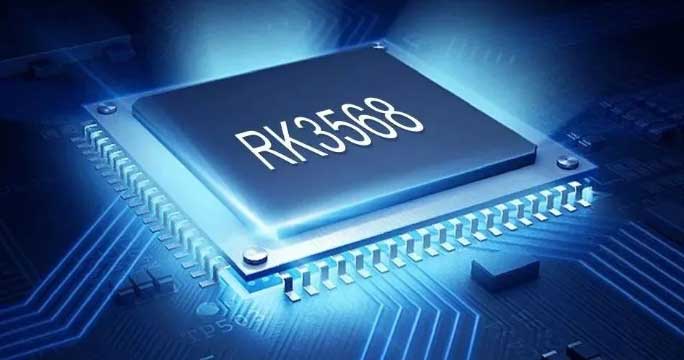 Moreover, the DSGW-290 offers ample memory resources, including 4GB of DDR4 RAM and 64GB of eMMC storage, guaranteeing both speed and stability for your devices. To further enhance memory capacity, users have the option to insert a TF card (up to 1TB) and an M.2 SSD (up to 512GB) via the PCIe interface, accommodating the demands of large-memory applications and simplifying product development for users.
Enhanced Graphics Performance to Deliver Exceptional Visual Experiences
The RK3568 elevates visual excellence with a marvel of dual-core graphics processing power. It packs a dual punch with its integrated graphics processing unit, featuring a Mali-G52 GPU with enhanced machine learning capabilities and a dedicated 2D processor. This dynamic combination empowers the DSGW-290 Mini PC to effortlessly tackle intricate graphics tasks, delivering premium experiences for graphics-intensive applications. The ARM G52 2EE GPU provides support for OpenGL ES 1.1/2.0/3.2, OpenCL 2.0, and Vulkan 1.1, ensuring seamless performance and compatibility.
What's more, the RK3568 boasts a dedicated hardware JPEG Codec, streamlining concurrent processing of numerous small images. This notable feature significantly boosts efficiency in image processing, setting it apart from the majority of comparable devices that rely on software decoding. To further enhance image quality, the RK3568 is equipped with an ISP image core capable of processing up to 8M@30fps, resulting in exquisitely delicate image quality.

origin: 96rocks.com
Powerful Multimedia Decoding Capability for Seamless Screen Display Applications
The RK3568 is engineered with exceptional video decoding capabilities. Its robust video encoding and decoding capabilities are further highlighted by its support for 4K VP9 and 4K 10-bit H265/H264 video decoding, as well as 1080P 60fps multi-format video decoding (WMV, MPEG-1/2/4, VP8). RK3568 excels in H.264 and VP8 format video post-processing tasks, including de-interlacing, denoising, and edge/detail/color optimization. Remarkably, it enables simultaneous decoding of multiple video sources, significantly enhancing overall decoding efficiency. This outstanding video decoding capability ensures smooth video playback on the DSGW-290 home-use mini PC. The RK3568 also offers versatile display interfaces, including eDP, HDMI, MIPI, LVDS, and more, supporting multi-display configurations for an enhanced visual experience.
Complemented by an HDMI interface and a 3.5mm audio port, this configuration positions the DSGW-290 as the ultimate home Mini PC for entertainment center, offering effortless connectivity to a wide array of displays and audio devices. Furthermore, the DSGW-290 doubles as a Single Board Computer (SBC) for secondary development, retaining the MIPI CSI interface, which accommodates camera access of up to 800M pixels.
| | |
| --- | --- |
| Display Interface | 1 x HDMI 2.0, support 4K@60HZ output and HDCP 1.4/2.21 x MIPI-DSI, support dual channel 2560×1600@60fps output |
| Audio Interface | 1 x 3.5mm Audio port |
| PCIe | 1 x PCIe2.1 interface |
In summary, the DSGW-290 stands out with its exceptional CPU performance, powered by the state-of-the-art RK3568 processor. This processor brings advanced processing capabilities not only to the CPU but also to the GPU, NPU, and VPU, resulting in a remarkable computing experience. Moreover, the DSGW-290 maintains impressive processing power while also delivering exceptional energy efficiency, making it the perfect choice for a smart home mini PC.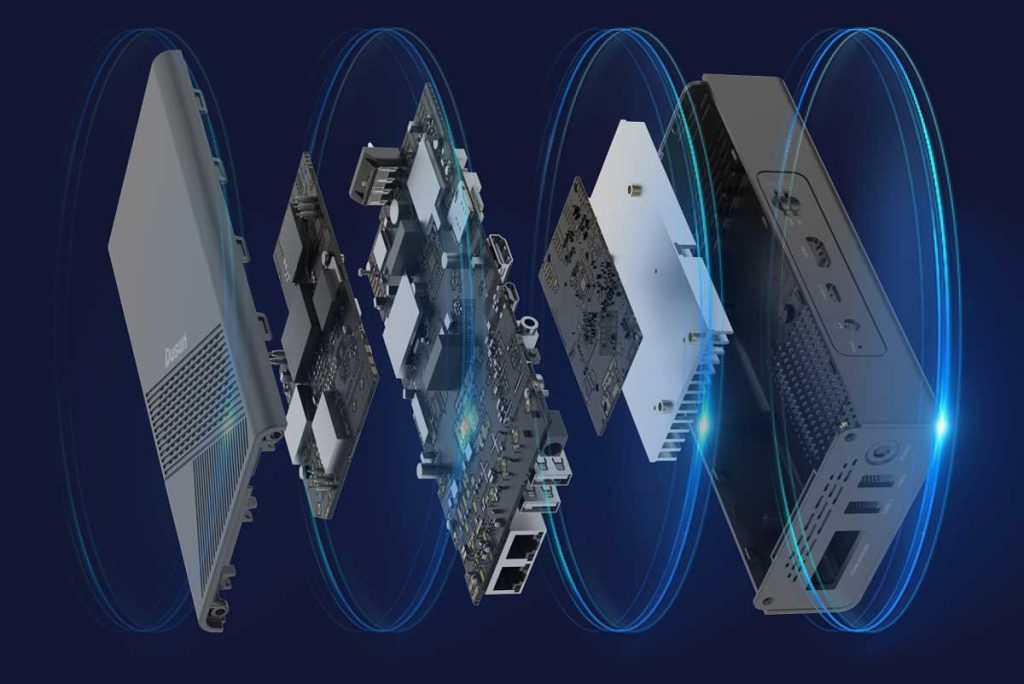 Highlighting An Array of Onboard Wireless Modules for Robust Smart Home Hub Functionality
The DSGW-290 mini PC comes fully equipped with a diverse range of integrated wireless modules, featuring Zigbee 3.0 (with optional Tuya Zigbee support), Bluetooth 5.2 (BLE), Z-Wave, Sub-GHz, Wi-Fi (2.4G/5G), and 4G LTE Cat4 connectivity. This comprehensive suite of wireless protocols empowers the DSGW-290 to excel as a versatile and powerful multi-protocol apartment & home automation hub, catering to the evolving landscape of IoT-based applications.
Cost-Saving Modular Design (Detachable Uppermost Board)
As illustrated in the image above, the inner board of the DSGW-290 consists of multiple layers. The uppermost small board is equipped with four wireless modules (including Zigbee 3.0 with optional Tuya Zigbee, Bluetooth 5.2, Z-Wave, and Sub-GHz) and is designed with modularity in mind. This design empowers users to choose the specific modules they need while removing any unnecessary ones, resulting in significant cost savings. Additionally, developers will have access to an open-source SDK, facilitating the development of diverse protocols for device integration.
If you want to customize it as a pure mini PC, you can choose to remove the upper board.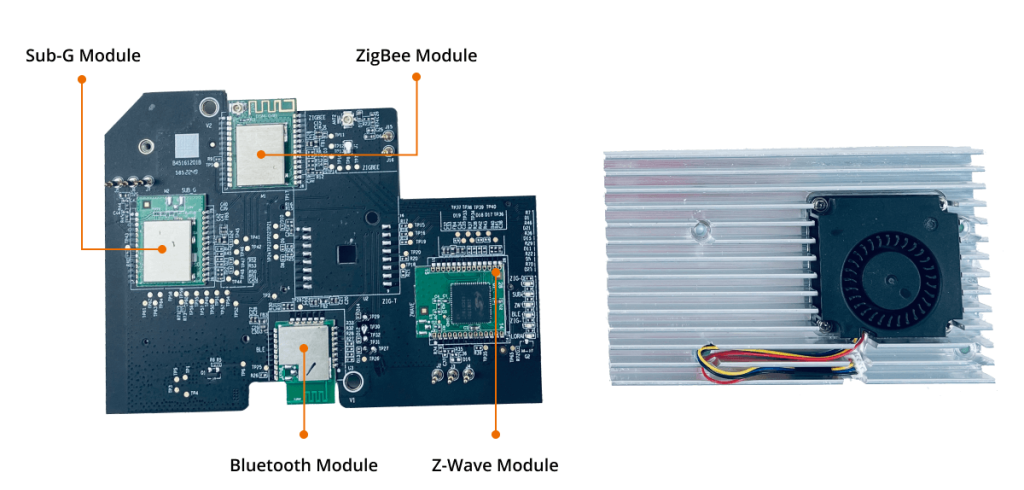 Tailored or All-Inclusive: Your Choice for a Smart Home Hub
A smart home hub, also referred to as a home automation hub, assumes the pivotal role of being the central control unit for an array of smart home devices and appliances. Its primary function is to serve as a unified platform that facilitates seamless communication and coordination among diverse smart devices operating on different protocols within a household.
With the cost-effective modular design mentioned above, you have the flexibility to use the DSGW-290 mini PC as a dedicated smart home gateway, specializing in the control of specific product groups through designated wireless technologies (e.g., Wi-Fi or Zigbee). Alternatively, you can harness its wide array of components to transform it into a universal smart hub, ensuring future-proof versatility and adaptability to accommodate evolving needs. The choice is yours.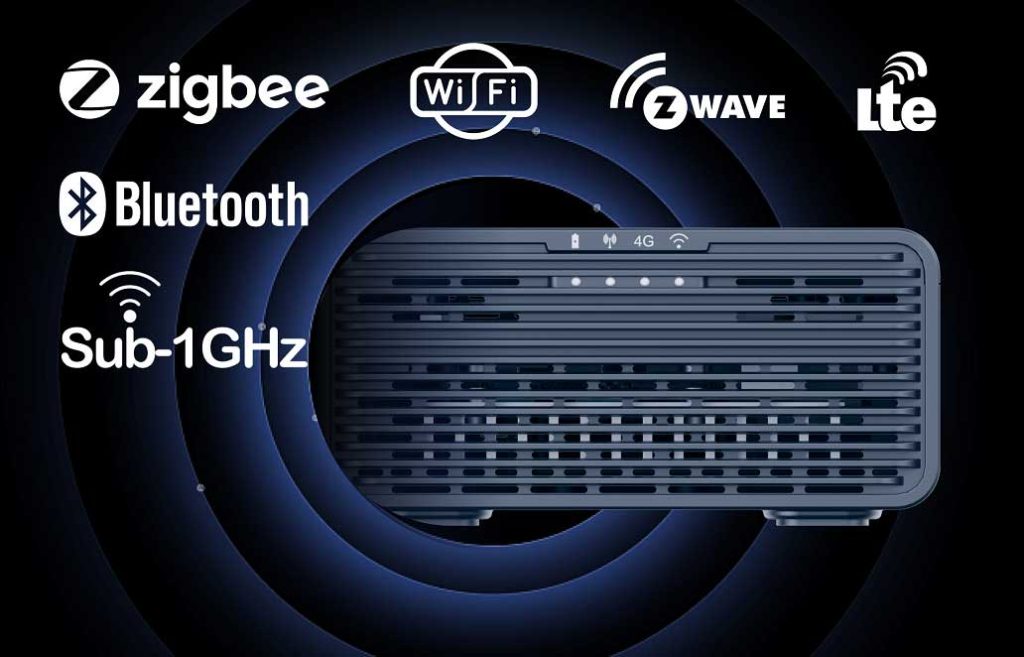 Faster Data Transferring Speed
The DSGW-290 incorporates a GMAC Ethernet controller that extends the capabilities with two RJ45 Gigabit Ethernet ports, delivering a significant advantage in data transfer speed and meeting the demands of high-speed networks. Simultaneously, the presence of dual Gigabit Ethernet network ports enables users to seamlessly transmit and access data within both internal and external networks, substantially enhancing network data transmission efficiency. This advanced configuration is well-suited to satisfy the multi-network port requirements of industrial-grade gateways.
Furthermore, one of these ports offers Power over Ethernet (PoE) support, within a voltage range of 44-57V. This unique setup not only provides power to the device but also ensures uninterrupted network data flow, guaranteeing the smooth operation of the device.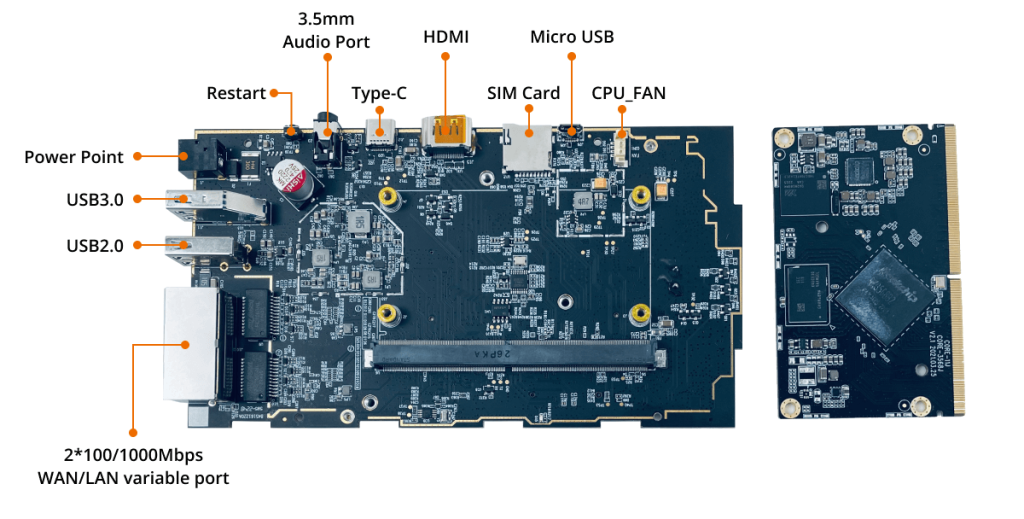 Additionally, the DSGW-290 features a USB3.0 port, a USB2.0 port, and a Type-C port, further enhancing its data transfer capabilities and enabling faster data transfer speeds.
Programmability for Maximum Customization
In the realm of technology, hardware serves as the physical foundation, while specifically programmed software imparts the logical instructions necessary for a device to perform a multitude of tasks and operations. These two elements synergize to enable seamless functionality. In the market, you'll discover a plethora of ready-made smart home mini PCs that are perfect for enterprises with standard requirements. However, if you're embarking on the development of a smart home mini PC tailored for a niche market, require complete control over your product, or have highly specialized demands, a highly customizable solution becomes essential. Additionally, time-to-market goals may necessitate a swift implementation.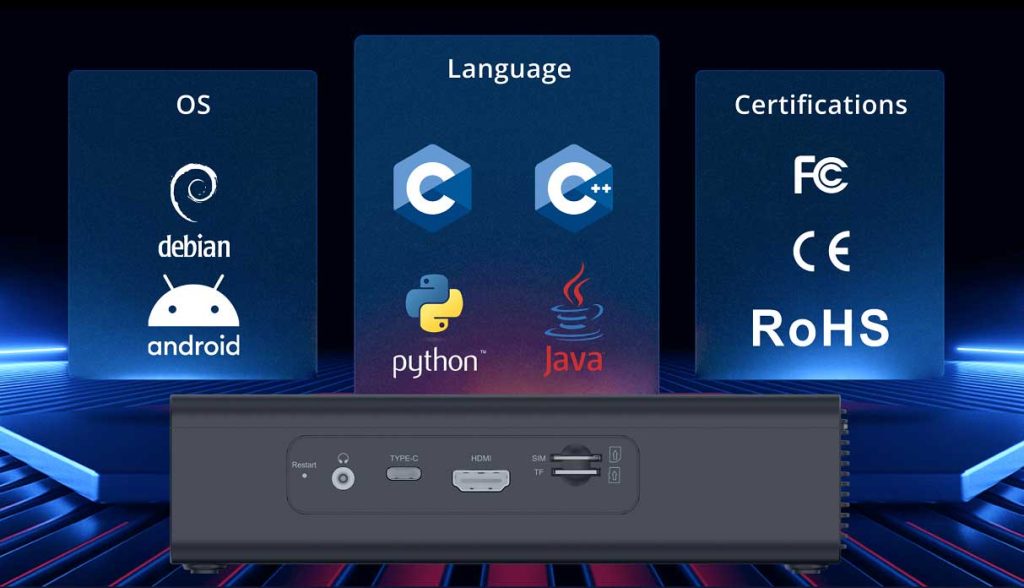 The DSGW-290 distinguishes itself as nearly pure computer hardware, offering developers the flexibility to customize firmware logic from the ground up. Users can select from a range of operating systems, including Debian 11 and Android, as well as leverage programming languages such as C, C++, Python, and Java.
Running on a Linux-based operating system, the DSGW-290 empowers developers to craft their own applications and user interface interfaces. Furthermore, a comprehensive IoT hardware development environment encompasses drivers for communication modules, kernel resources, and bootloader support. Dusun IoT provides a robust Software Development Kit (SDK), complete with development documentation, tutorials, and supplementary materials, facilitating users in realizing their vision by fully customizing the device to meet their specific needs.
A Powerful Raspberry Pi Equivalent in IoT Development
If you want to build mini PC for IoT applications by yourself, the first choice will be the Raspberry Pi. Although it is not a desktop computer in the traditional sense, but it is a microcomputer widely used in embedded systems development. DSGW-290 is a more powerful Raspberry Pi4 alternative. It excels in more powerful CPU, specially in graphic and video processing capability. 2 Gigabit Ethernet, built-in wireless modules (Zigbee 3.0, Bluetooth 5.2, Z-Wave, and Sub-GHz), SIM card and TF card support are all it outperforms.
When it comes to crafting your own mini PC, the Raspberry Pi often springs to mind as the go-to choice. While not a conventional desktop computer, it has carved a niche as a microcomputer widely employed in embedded systems development. However, the DSGW-290 emerges as a compelling alternative, surpassing the capabilities of even the Raspberry Pi 4.
This powerful IoT hardware development solution boasts a superior CPU, particularly excelling in graphic and video processing prowess. With its array of features, including dual Gigabit Ethernet ports, integrated wireless modules (covering Zigbee 3.0, Bluetooth 5.2, Z-Wave, and Sub-GHz), and support for SIM cards and TF cards, the DSGW-290 unquestionably outperforms its Raspberry Pi counterparts. See more detailed comparison in this page.
You may also want to read: DSGW-210, a more powerful Raspberry Pi 3 alternative
Final Words
The DSGW-290 represents a significant leap forward in the realm of smart home technology. With its potent CPU delivering unmatched multimedia processing capabilities, a comprehensive suite of onboard wireless modules for seamless connectivity, and exceptional programmability allowing for high customization, it stands as a true pioneer in the world of smart home mini PCs and hubs. Whether you're a seasoned developer looking to unlock the full potential of your IoT projects or a tech enthusiast eager to create your ideal smart home ecosystem, the DSGW-290 is your gateway to a future where innovation knows no bounds.
With its meticulously crafted casing and elegant packaging, the DSGW-290 mini PC not only excels in performance but also embodies the essence of quality and sophistication. Rigorously tested and certified for compliance with industry standards, including FCC, CE, and RoHS, it epitomizes stability and reliability. This commitment to excellence extends beyond the device itself, assuring users that they are not only acquiring cutting-edge technology but also a product that meets the highest standards of quality and safety. Embrace the future of smart living with Dusun IoT's groundbreaking DSGW-290.