MT7628A MCU, OpenWrt OS, programmable;
Supports power supply from POE switches and 5V adapters;
Support data transmited to the cloud via WiFi 2.4G/5G, LTE 4G (LTE-TDD/LTE-FDD), and Ethernet;
Downlink device connection supports Bluetooth 5.2/SIG mesh, Zigbee 3.0;
Two extra antennas for WiFi and Zigbee signal strengthing;
Features one WAN/LAN variable network port;
Support custom firmware from the bottom layer of the hardware;
Certification: CE, FCC, BQB, Zigbee;
Operating Temperature: -0℃~55℃;
ODM/White Label/OEM supported for large quantity order.
CPU
MT7628A
RAM
Up to 128MB
eMMc
Up to 16MB Flash
OS
OpenWrt
OTR
0℃~40℃ Commercial Grade
Dimension
195.05mm*126.66mm*36.08mm
Protocol
Uplink: Wi-Fi 2.4G/5G, Ethernet, LTE CAT.1, LTE CAT M1 Downlink: BLE 5.2, Zigbee 3.0
Network Interface
The network interface supports CAT-5/CAT-5E to transmit data and POE Power Supply (voltage range is 44~ 57V). It is a WAN/LAN variable.
Indicator LEDs
1). Power LED normally on when powered on
2). Network LED normally on when connected
3). Wi-Fi LED normally on after connecting to Wi-Fi for 1- 2 sec
LTE CAT M1
4G FDD-LTE B1/B3/B7/B8/B20(2100/1800/2600/900/800MHz)
TDD-LTE B38/B39/B40/B41 (2600/1900/2300/2500MHz)
3G: DC-HSPA+/HSPA+/HSPA/UMTS B1/B8 (2100/900MHz)
Antennna
Wi-Fi Antenna, LTE Antenna, Optional BT, Zigbee, GPS
Operating Temperature
-10℃~70℃
Current
350mA@5V
Coming with Zigbee3.0, Wi-Fi 2.4G/5G, BLE 5.2, and LTE CAT M1
Dual Band(2.4G and 5G) running on the same network
Enhancing your wireless signal experience over two different radio bands(2.4GHz and 5GHz ) at once.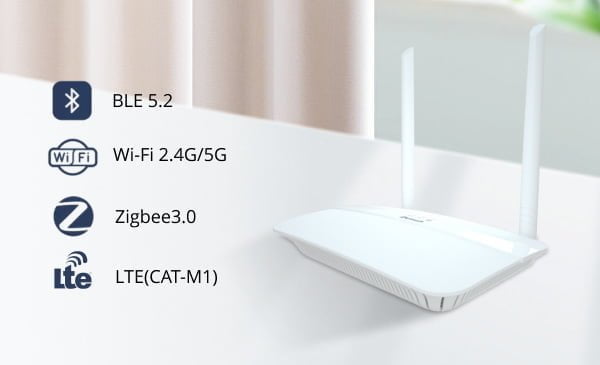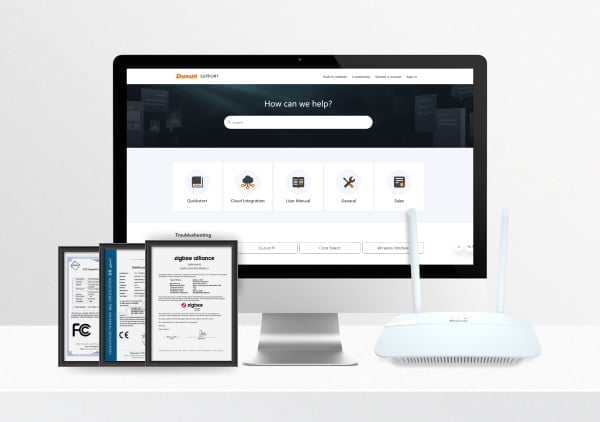 Develop your custom firmware directly on our hardware using our comprehensive and fully documented guidance covering all aspects of the products's capabilities and hardware interface.
Globally and Carrier Certified
Carrier-certified for immediate deployments and meets a comprehensive range of regulatory and industry standards worldwide. Accelerating your product development and get to market faster.
Optional Model for the
mass production
| Model | Wi-Fi 2.4G/5G | Bluetooth 5.2 | Zigbee 3.0 | LTE CatM1 | POE | |
| --- | --- | --- | --- | --- | --- | --- |
| DSGW-020-1 | ● | ● | | | ● | |
| DSGW-020-2 | ● | ● | | ● | ● | |
| DSGW-020-3 | ● | | ● | | ● | |
| DSGW-020-4 | ● | | ● | ● | ● | |
| DSGW-020-5 | ● | ● | ● | ● | ● | |
| DSGW-020-8 | ● | | ● | ● | ● | One Antenna for Zigbee, the other for Wi-Fi&5G |
For Sample only Product
(DSGW-020-5)
available
| Model | Wi-Fi 2.4G/5G | Bluetooth 5.2 | Zigbee 3.0 | LTE CatM1 | POE |
| --- | --- | --- | --- | --- | --- |
| DSGW-020-5 | ● | ● | ● | ● | ● |
MOQ (Minimum Order Quantity) for Logo Customization is $ 20K