Leveraging Dusun's IoT gateways, devices, and professional services, our partner successfully implemented a comprehensive Multi-Dwelling Units Solution in the US. This solution is specifically tailored to address the unique requirements of multifamily property owners, managers, and service providers.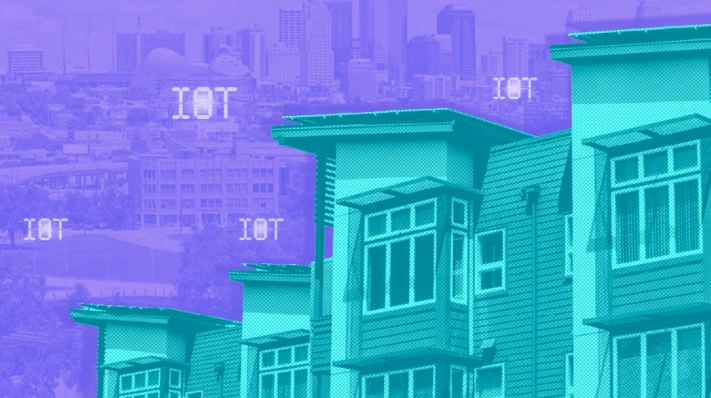 Background of the Multi-Dwelling Units Solution Case
MDU Solutions offers a comprehensive suite of solutions designed to revolutionize multi-dwelling units (MDUs) and enhance the living experience for residents and property managers alike. Some of the innovative offerings include:
Advanced smart unit door locks.
State-of-the-art CCTV security cameras.
Community Wi-Fi networks.
Smart home IoT devices.
Integrated IPTV services.
An all-encompassing billing and control platform.
The comprehensive billing and control platform with various devices of MDU Solutions streamlines the management of all aspects of MDUs, encompassing common area spaces, club rooms, gyms, access control, internet, IPTV, and unit door locks. Designed with efficiency and convenience, allowing property managers to seamlessly monitor and control every facet of their MDU from a user-friendly interface.

Let's further read how DusunIoT has enabled MDU Solutions to realize the whole multi-dwelling units solution in the US with our smart IoT gateways, devices & professional engineering services.

IoT MDU Solutions Challenge:
As a professional solution provider, MDU Solutions has the ability to offer a comprehensive suite of smart security products and services tailored to meet the unique needs of multifamily property owners, managers and service providers, for both hardware and software concerns. IoT technology can provide all sorts of data to help optimize the processes of multi-dwelling unit (MDU) management. When building the whole solution, there are some challenges that exist.
IoT Challenges with Multi IoT Smart Devices
IoT solutions integrate intelligent devices, sensors, gateways and multiple software layers to access cloud resources and gain insights from — as well as control of — connected devices throughout MDUs.

Because there are so many potential IoT applications, having a single solution to integrate them all is crucial to avoiding the development of new system silos in the facility. The IoT multi-dwelling unit solution does not rely exclusively on one kind of hardware or one kind of software. As a result, there are many devices and different types of technology to enable specific actions in different locations. Meanwhile, these devices must be certified, otherwise, the time to market will be much longer.
To implement the complete IoT multi-dwelling unit solution, the partner must find numerous IoT devices with full certifications that are compatible with their cloud and platform.
Challenges in Connectivity
The planning of IoT deployments must take connectivity into consideration. Different deployment strategies are supported by various built environments. Building layouts, construction materials, and the presence and placement of existing wiring all have an effect on connectivity. There is no one deployment model that works for all locations, so MDUs and IoT solution providers must carefully choose the best model for each location. IoT devices intended for resident units may also require different considerations than those for use cases related to property management.
The infrastructure and wiring used for residential internet access may be compatible with devices in resident units, and depending on the partnerships involved and whether they include the internet service provider, these devices may be able to use the same access points installed on the property. There may be a need for a new wired network or the application of wireless technology for smart home devices outside of units and throughout the property.
Challenges in Multi Integration
MDUs must ensure that IoT ecosystems are not fragmented. This applies to both the front end and the back end. MDUs need to confirm that products and services can connect to backend systems locally, through API connections, or through a cloud-to-cloud connection. With the many types of IoT products on the market today, easy integration is not a guarantee. Writing new integrations might be just as expensive and time-consuming without this pre-work as deploying the actual hardware.
How well the data integrates across devices and flows from one end to the other is one of the most crucial success factors for an IoT implementation.
Such a system needs methodical testing, which calls for careful planning.
More testing is necessary at lower physical layers like hardware, network, and OS because there are many different pieces of hardware, firmware, and protocols.
During testing, it is important to keep in mind the possibility of continuous hardware version changes and the ensuing rise in the demand for testing new variants more quickly.
As the number of devices increases, the connections between them become more intricate, and if the weakest link in the chain is found, the security of the entire system may be compromised.
It is much easier to integrate just one technology — for example, only smart room controls or only mobile keys. Growing the whole IoT Multi-Dwelling Units Solution using different vendors will face technical difficulties. Coordination of deployments with multiple vendors may result in significant delays in deployment timelines, complexity in project management and communication, and may also be outside the capabilities of the MDU solution provider.
Challenges in IoT Security of the Whole Ecosystem
First and foremost, any associated MDU ecosystem must be properly secured. When MDU systems aren't properly secured, they are vulnerable to security breaches and hacking. It's crucial to take this risk into account when creating IoT-based MDU solution.
A vendor of IoT devices must have disaster and redundancy plans for adverse circumstances like power outages, internet outages, or disruptions in DNS or cloud services. Devices need to be tested to make sure they won't behave poorly without internet access and critical mechanisms like access control need manual backups. It is also essential to make sure that devices and systems are secure from cyberthreats because device firmware can be hacked or ransomed.
DusunIoT Solutions & Advantages for IoT in MDUs
To solve the challenges mentioned above, DusunIoT proposes the following solutions:
IoT Smart Device Kit with Full Certification
Smart apartment device offerings are emerging as a key differentiator for properties in attracting and retaining residents. As an IoT smart apartment devices provider, DusunIoT has the ability to offer various IoT devices to implement MDUs including IoT Gateways, Door locks, thermostats, etc.
DSGW-020 IoT Gateway connects various smart hotel IoT devices to transfer data from the physical layer to the cloud.
BLE Door Locks: With seamless blend of convenience and security, smart unit door locks have completely changed how residents and property managers secure accessible living spaces. The incorporation of smart locks into contemporary living spaces has significantly increased the effectiveness of building management and the overall security of residents, making them a necessary part of modern multi-dwelling units.
Zigbee Thermostat: Smart thermostats can learn a resident's preferences, adjusting the temperature based on occupancy, time of day, or even outdoor weather conditions.
…
All these devices support various certifications to reduce a lot of time and effort for the partner to list their Multi-Dwelling Units solution to the market, including CE, FCC, etc.
Multiple & High-Performance Connectivity
Supporting a variety of radio frequencies through the installation of particular IoT gateways, which utilize a conventional IP network for backhaul, is a common strategy for both types of MDUs. This could be a cellular, Wi-Fi, or wired connection.
DSGW-020 multi-protocol gateway captures data from end devices (BLE door locks, Zigbee thermostat, etc) supporting Zigbee 3.0 and Bluetooth and sends it to the MDU Solutions platform via global low power cellular (LTE CAT M1), Wi-Fi 2.4G/5G, and Ethernet.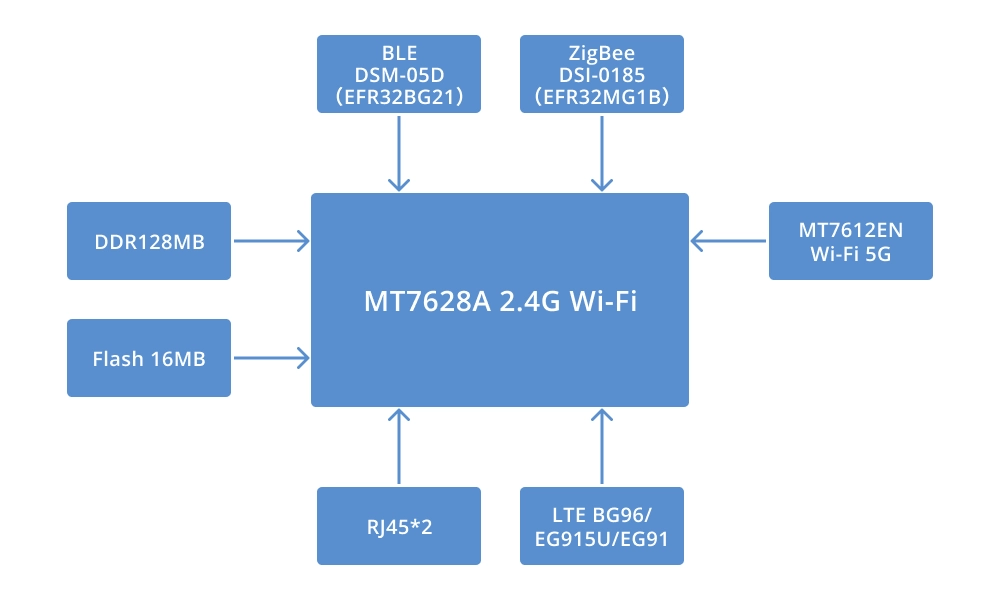 Dual-Band Wi-Fi 2.4G/5G Support
For broadband connection, the DSGW-020 gateway emits signals in the 2.4 GHz and 5 GHz ranges of the Wi-Fi spectrum. A 2.4 GHz connection travels farther at lower speeds, while 5 GHz frequencies provide faster speeds at shorter ranges. These Wi-Fi protocols are supported: IEEE802.11ac, IEEE802.11n, IEEE802.11g, and IEEE802.11b.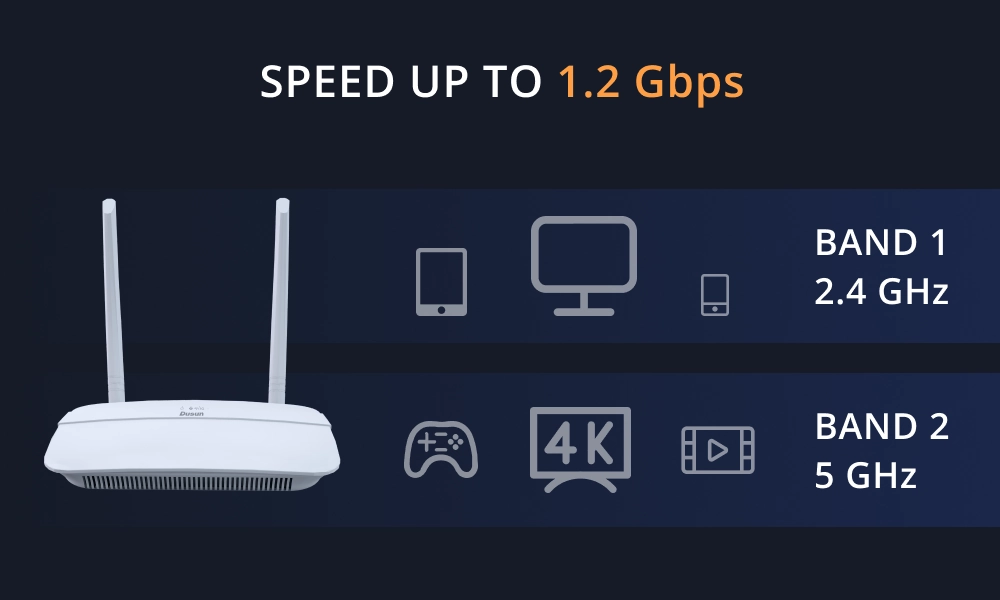 Wi-Fi CERTIFIED™ ac, which is based on Wi-Fi CERTIFIED n and operates in the 5 GHz band, delivers up to multi-gigabit per second data rates, enabling devices to handle demanding applications like Ultra HD and 4K video, multimedia streaming, and quick file transfers on a variety of devices. The DSGW-020 Gateway, which is based on Wi-Fi 5 or IEEE 802.11ac, provides faster data transfer speeds, better power management, and lower latency for MDU solutions.
Wi-Fi CERTIFIED™ n utilizes the 2.4 GHz and 5 GHz bands and offers adequate coverage for daily tasks that don't require a lot of bandwidth, like managing smart devices like connected lighting and thermostats and conducting internet searches.
BLE 5.2 SIG Mesh Support
In order to support a large number of connected devices, the DSGW-210 PoE Wi-Fi router gateway supports Bluetooth 5.2/SIG mesh.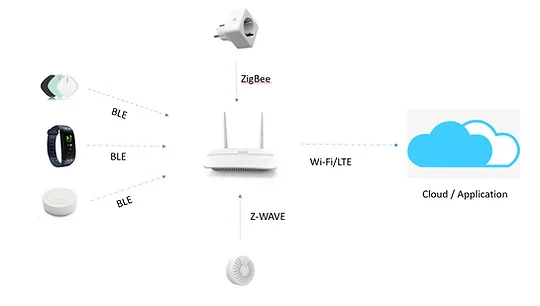 A Bluetooth mesh network can include a maximum of 32767 nodes. In other words, devices can transmit data to other devices even if they are not exactly within the original device's radio range (roughly 10 meters). 10 meters). Therefore, tens, hundreds, or even thousands of devices can be supported by BLE Mesh networks, which can also cover a wide range of physical areas. Extensive-node networks are consequently created on a fundamental level and can be used with IoT MDU Solutions to realize a large number of connected devices.
Zigbee 3.0 for Smart Home
ZigBee provides the process of IoT hardware development with flexibility and good interoperability. Because of its key qualities of low cost, low power consumption, and faster wireless communication. It is a preferred technology for smart homes, for example, because it outperforms other wireless technologies in various respects.
To enable Internet-based control and automation of Zigbee devices like smart lights, smart sensors, thermostats and smart switches, a Zigbee gateway plays a significant role in the field of home automation.
Professional One-Stop Integration Service
With pre-integrated, comprehensive, and fully documented out-of-the-box guidance and support, developers can custom firmware from the bottom layer of the hardware.
Engineers from DusunIoT have provided expert integration services in the interim. Integration was a very challenging and complex process. We offer integration services and components for IoT gateways and all other smart devices in solutions for multi-dwelling units.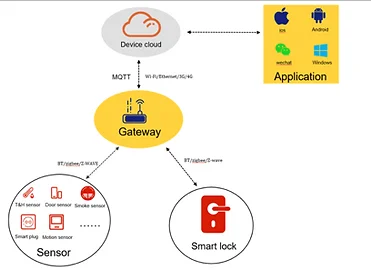 We also give the customer the zigbee2mqtt and ble2mqtt documents after the devices are connected to make it easier for MDU Solutions to connect to their platform. DusunIoT Team helps the customer solve all hardware integration problems. It lessens the difficulty of integrating with the customer's platform and saves the investment and time costs of the customer's R&D engineers. These all help the customer save money on expenses.
Working with a single IoT device vendor offers several critical benefits:
Streamlines the deployment process
Avoids communication and coordination issues
Ensures expert project managers are in control and that MDUs have access to a cohort of experts to questions, advice, and troubleshooting
Provides MDUs with a single point of contact if there are any issues
Eliminating Security Risks With PoE Technology
One way to make IoT in Multi-Dwelling Units safer is by using PoE (Power over Ethernet) technology. Maintaining private and secure networks is made easier by PoE devices' requirement for a connected connection. Wireless networks pose a greater security risk because they're more accessible to malicious users and hackers.
The DSGW-020 Dual-Band Wi-FI Gateway with POE port is designed for IoT Gateway developers and can be powered either through a POE-enabled network cable or a DC power supply in order to maintain security, limit risk and save energy.
With PoE technology, thousands of IoT devices in Multi-Dwelling Units can be powered and connected to a computer network. If any PoE device is disconnected, it will be alerted through an immediate notification on the computer. This PoE implemented reduced the building's energy consumption by up to 40%, greatly saving costs! It is also connected to an uninterruptible power supply for constant power in the event of a power shortage.
Summary
Prior to implementing IoT, MDUs must carefully assess business cases, pinpoint crucial details about their properties and property management systems, and determine whether the solutions they intend to deploy are compatible with their current systems. The assignment of roles and responsibilities to each vendor and team member is a crucial step in this process, one that presents many challenges for MDUs.
The best vendors are able to assume the role of a trusted advisor, outlining best practices, explaining them, and offering guidance on how to implement them. Dusun is such an IoT device and service vendor in this case. We are dedicated to providing our clients with professional hardware-as-a-service business. If you are intrigued by how IoT can help you with the smart apartment solution, don't hesitate to contact us now.