With DusunIoT Gateways, IoT Devices and professional services, a partner realized WHOLE IoT Smart Hotel Solution for Hospitality Industry with a streamlined hotel management system in the US.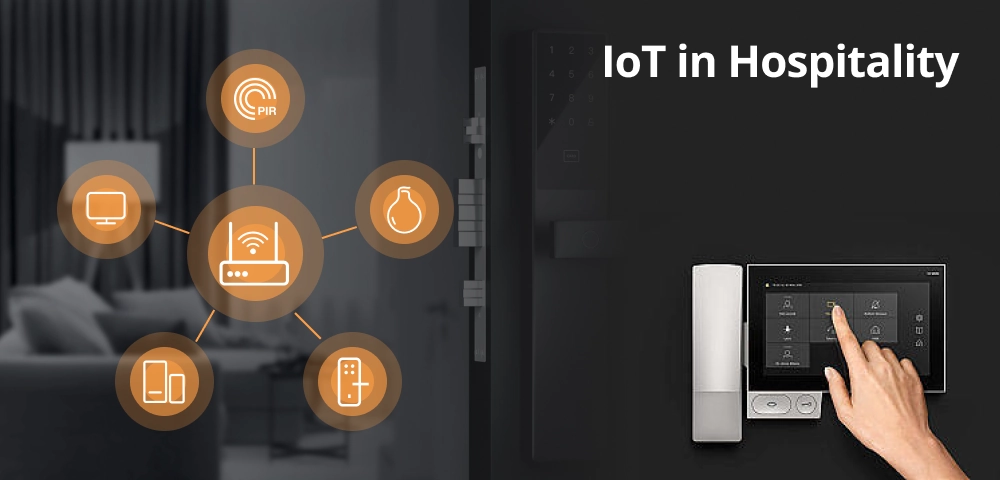 Background of the IoT Hotel Solution Case
An IoT smart hotel solution is a streamlined hotel management system, which effectively produces results based on IoT-powered solutions. IoT-connected devices are integrated into smart hotels to enhance the guest experience and provide tailored services and automation.
A smart hotel's main goal is to give every guest a personalized experience while having more control over the environment. For hotel entrepreneurs, guests who stay in smart rooms have easy access to manage and automate the room settings in accordance with their preferences. IoT provides hoteliers with smart room technology so they may connect various elements, such as smart devices, and innovators are constantly enhancing their businesses.
DusunIoT Partner – is a company that specializes in offering a comprehensive suite of innovative products and solutions that cater to property managers, building owners, service providers, and residents' unique need, including Multi-Dwelling Unit Properties like Apartment Complexes, Hotel Buildings, Condominiums, and other High Rise buildings.
Let's further read how DusunIoT has enabled the customer to realize the whole IoT smart hotels solution in the US for the hospitality industry with our smart IoT gateways, devices & professional engineering services.
IoT Smart Hotel Solution Challenge:
As a professional solution provider, the partner has the ability to help hotel owners integrate into cloud as well as provide much-needed support for both hardware and software concerns. But developing their own hardware from zero will take too much time and cost to the market. When building the whole solution, there are some challenges that exist.
Multi Devices Requirements for IoT Smart Hotel
The Internet of Things is not a single technology, but a combination of many of them working in tandem. The architecture of an IoT Smart Hotels system typically consists of the following building blocks.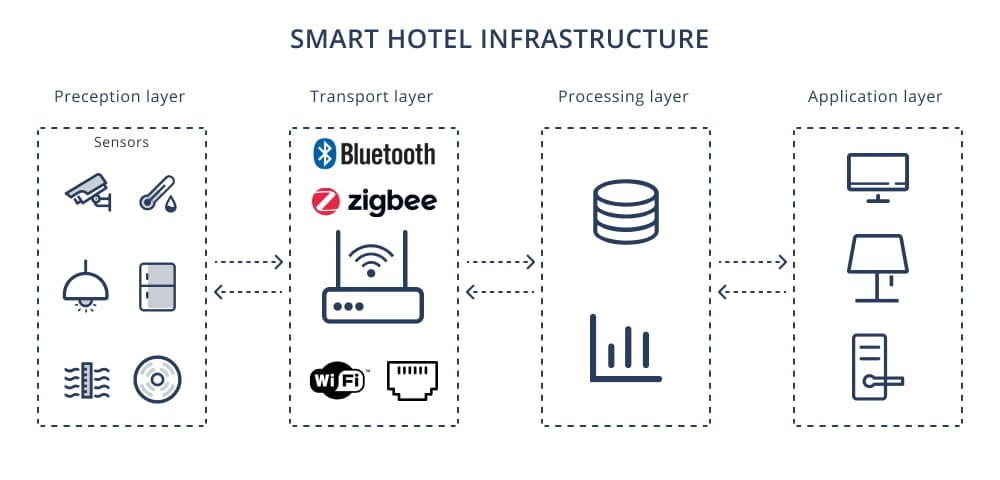 Perception layer (smart sensors & actuators) – Physical devices that convert analog information into digital data.
Transport layer (networks and gateways) that transfer data from the physical layer to the cloud.
Processing layer (middleware or IoT platforms), where this data is stored and prepared for usage.
Application layer (apps, analytics), where data is put into business usage.
Because there are so many potential IoT applications, having a single solution to integrate them all is crucial to avoiding the development of new system silos in your facility. The Internet of Things hotel does not rely exclusively on one kind of hardware or one kind of software. As a result, there are many devices and different types of technology to enable specific actions in different hotel locations. Meanwhile, these devices must be certified, otherwise, the time to market will be much longer.
To implement the complete IoT Smart Hotel solution, the partner must find numerous hardware components with full certifications that are compatible with their cloud and platform.
Difficulty in Multi Interfaces Integration
There's no unified hotel IoT that people can set up to transform the property into a connectivity marvel. The market consists of smaller players, each providing one or two specialized solutions. So, in most cases, Hotel owners have to link to separate systems and build a seamless connection between them.
Because it is much easier to integrate just one technology — for example, only smart room controls or only mobile keys.
Growing the whole IoT Smart Hotel using different vendors will face technical difficulties. Interfaces will have to be integrated one with another, otherwise, the hotel's staff will have to operate between a few different systems all the time. This and other issues lead businesses to the option of building a custom IoT infrastructure. That's the biggest challenge that the partner came across.
Multitude of Connected Devices & Low-latency Communication
An IoT-enabled Smart Hotel is characterized by many devices that connect to each other. And it becomes hundreds, if not thousands, of devices in an area like a busy hotel, for example, when you add cutting-edge low-latency communication technology like Wi-Fi 5G into the picture. In addition, one of the most important success factors for an IoT implementation is how easily the data integrates across devices and flows smoothly from one end to the other. Investment in such initiatives must take into account the importance of developing value-adding services using such data.
Such a system requires careful and methodical testing, which requires careful planning.
Since there are numerous pieces of hardware, firmware, and a wide range of protocols, more testing is required at lower physical layers like hardware, network, and OS.
The potential for ongoing hardware version changes and the resulting increased need to test new variants more quickly should both be taken into account during testing.
The interlinks between devices grow quickly as the number of devices rises, and the security of the entire system may be at risk if the weakest link is identified.
Security Risk for Connected Hotel Ecosystem
The use of IoT-enabled devices in smart hotels has a number of advantages and benefits, but there are also certain risks involved with integrating technology in the hospitality industry.
First and foremost, any associated hotel ecosystem must be properly secured. When IoT systems aren't properly secured, they are vulnerable to security breaches and hacking. It's crucial to take this risk into account when creating IoT-based smart hotel systems. Hotel operators must make sure they have reliable internet security protocols in place since following internet safety best practices reduces some risk.
DusunIoT Solutions & Advantages for IoT Hotel Solution:
IoT Smart Device Kit Solution with Full Certification
As an advanced IoT hardware provider, DusunIoT has the ability to offer various IoT devices for IoT Smart Hotels including IoT Gateways, Door locks, thermostats, etc.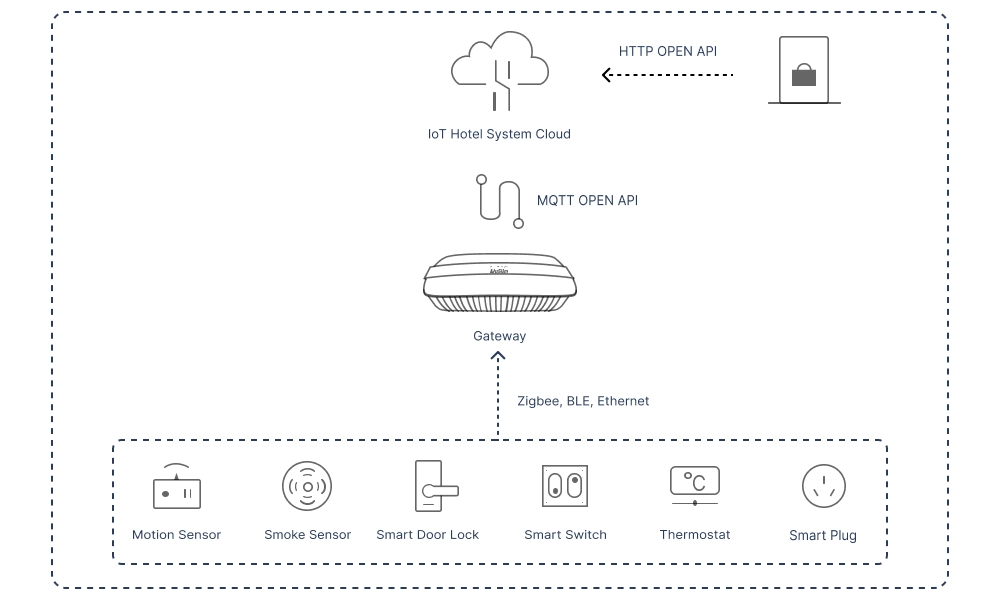 DSGW-020 IoT Gateway connects various smart hotel IoT devices to transfer data from the physical layer to the cloud.
BLE Door Locks: Bluetooth locks that are compatible with smartphones improve the overall guest experience. Since guests no longer use a plastic keycard to access their room, mobile keyless entry reduces complaints about keycard failure or loss. Additionally, by checking in remotely and entering their rooms directly upon arrival, guests of hotels using Bluetooth locks are able to avoid the line at the front desk.
Zigbee Thermostat: In order to save money and prevent guests from unintentionally setting a temperature that is too high for comfort, hotel thermostats are now much more sophisticated, frequently providing preset temperature limits, convoluted menus, and motion-controlled sensors that turn off cooling and heating systems while guests are sleeping. IoT Zigbee Thermostat enables these functions to realize.
…
All these devices support various certifications to reduce a lot of time and effort for the partner to list their IoT Smart Hotel solution to the market, including CE, FCC, etc.
Multi-Interface Support with Professional Engineering Services & Documents
DSGE-020 multi-protocol gateway captures data from end devices (BLE door locks, Zigbee thermostat, etc) supporting Zigbee 3.0 and Bluetooth and sends it to the cloud via global low power cellular (LTE CAT M1), Wi-Fi 2.4G/5G, and Ethernet.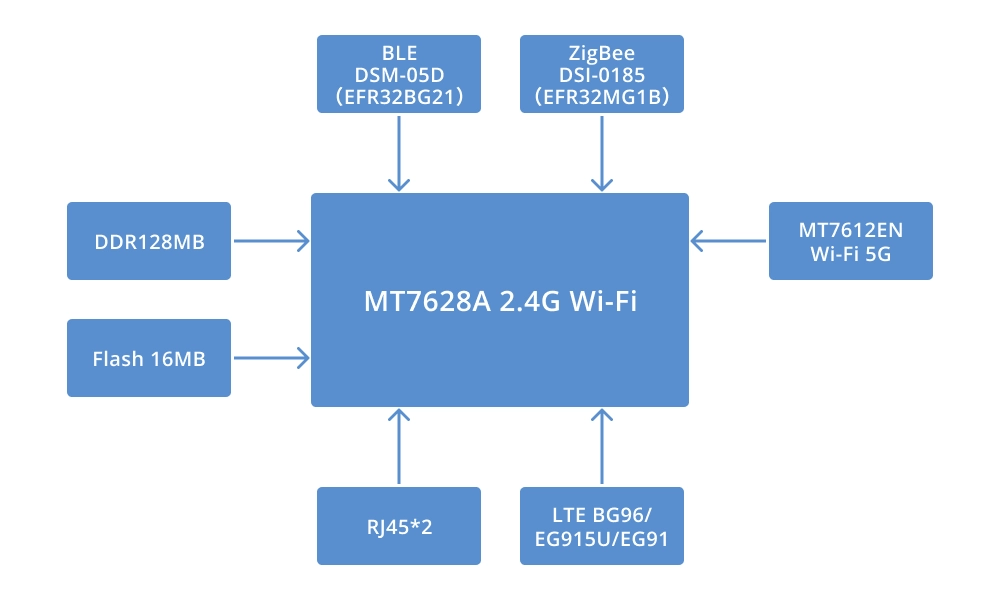 With pre-integrated, comprehensive, and fully documented out-of-the-box guidance and support, developers can create custom firmware from the bottom layer of the hardware.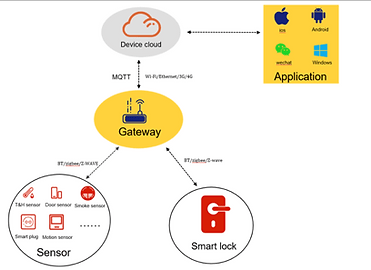 Meanwhile, DusunIoT engineers have offered professional integration services. The integration was very difficult and complicated. We provide integration services for IoT gateway and all other devices in smart hotels. After connecting the devices, we also provide the customer with the documents of zigbee2mqtt and ble2mqtt to facilitate the customer to connect to the platform. DusunIoT Team helps the customer solve all hardware integration problems. It saves the investment and time cost of the customer's R&D engineers and reduces the difficulty of integrating with their platform. All these reduce a lot of costs for the customer.
High Performance Wi-Fi 2.4G/5G & SIG Mesh Support
DSGW-210 PoE Wi-Fi router gateway supports Bluetooth 5.2/SIG mesh to realize multitude of connected devices.
A Bluetooth mesh network can include a maximum of 32767 nodes. In other words, devices can transmit data to other devices even if they are not directly inside the original device's radio range (approx. 10 meters). BLE Mesh networks can therefore accommodate tens, hundreds, or even thousands of devices and span a wide variety of physical regions. As a result, extensive-node networks are fundamentally created, which can be applied to IoT smart hotels to realize multitude of connected devices.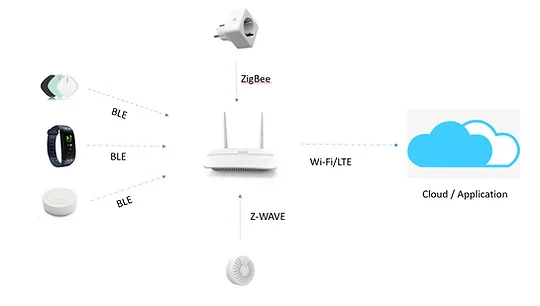 For low-latency communication, DSGW-020 gateway emits two different frequency bands for your broadband connection – 2.4 GHz band and 5GHz bands. A 2.4 GHz connection travels farther at lower speeds, while 5 GHz frequencies provide faster speeds at shorter ranges.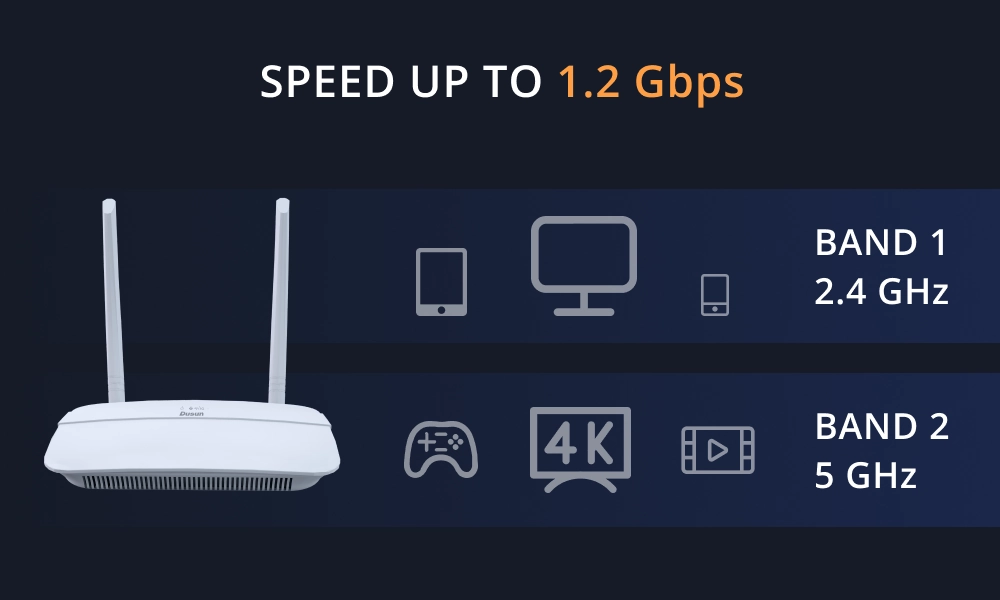 Meanwhile, It supports the IEEE802.11ac, IEEE802.11n, IEEE802.11g, and IEEE802.11b protocols.
Building on the foundation of Wi-Fi CERTIFIED n and operating in 5 GHz, Wi-Fi CERTIFIED™ ac delivers up to multi-gigabit per second data rates, enabling devices to handle demanding applications such as Ultra HD and 4K video, multimedia streaming and rapid file transfer on many devices. Based on IEEE 802.11ac, also referred to as Wi-Fi 5, DSGW-020 Gateway offers higher capacity, improved power management, and lower latency to readily transfer data of IoT Smart Hotel devices.
Wi-Fi CERTIFIED™ n operates in the 2.4 GHz and 5 GHz bands and provides good coverage across for everyday functions that do not require extensive amounts of bandwidth such as internet searching and managing smart hotel products such as smart thermostats and connected lighting.
Eliminating Security Risks With PoE Technology
Using PoE (Power over Ethernet) technology is one method to make IoT safer in the hospitality industry. PoE devices require a connected connection, making it simpler to maintain private and secure networks. Wireless networks pose a greater security risk because they're more accessible to malicious users and hackers.
The DSGW-020 Dual-Band Wi-FI Gateway with POE port is designed for IoT Gateway developers and can be powered either through a POE-enabled network cable or a DC power supply in order to maintain security, limit risk and save energy.
With PoE technology, thousands of IoT devices in smart hotels can be powered and connected to a computer network. If any PoE device is disconnected, it will be alerted through an immediate notification on the computer. This PoE implemented reduced the building's energy consumption by up to 40%, greatly saving costs! It is also connected to an uninterruptible power supply for constant power in the event of a power shortage.
Benefits of Integrating IoT with Smart Hotels
Increased Safety and Security
One excellent security feature that an IoT hotel room can offer is automated smart door locks. Guests staying in smart rooms with IoT-enabled door locks can unlock their hotel room's door using a secure app on their phone rather than a key that might be lost or stolen.
Not just the guest rooms secure in hotels. A smart hotel that has IoT security solutions installed can use specialized software and protocol configurations to secure the entire structure. Programming for connected devices is made possible by IoT platforms with IoT gateways. Programming that activates door locks, emergency lights, and other features is immediately sent to devices in the event of a security breach.
Improved Maintenance
The hotel industry can maintain the space more effectively and at a lower cost by integrating IoT technology to create smart rooms. One of the key advantages of smart hotel rooms is the use of sensor devices powered by the Internet of Things, which enhances overall guest comfort and convenience. IoT solutions make it possible for customers to customize options like automated room lighting, temperature control, pleasant ambiance, and many more. Enabling standard living offers visitors a highly personalized experience. Furthermore, it offers remote control through their usable smart devices, which connect to the assets via the internet.
Smart Room Sustainability
The hotel industry is changing as a result of sensor devices that are IoT-enabled and connected with IoT gateways. With the unparalleled potential for improved sustainability, it links hotels. The sensors identify empty rooms and automatically make energy-saving adjustments to reduce energy consumption. This enables the room lighting to be dimmed, the fans or ACs to be turned off, and the temperature to be changed as needed. As a result, resources could be managed more effectively, which would help save energy. Other sensors, such as leakage detectors or water level detectors, aid in managing water levels on a larger scale. It effectively lowers business operating costs and offers cost savings.
Personalized Experience
IoT-enabled services in the hospitality sector make it possible for customers to have a personalized experience thanks to effective interconnectivity. The use of IoT also offers a feature for advanced analytics that keeps track of customer information and enables managers to provide it during a subsequent visit. This makes it possible for hotel management to track, evaluate, and act in accordance with guest preferences. As a result, it has a much greater impact on customer retention rates, boosting business productivity.
Conclusion
Around the world, the smart hotel industry is booming. Utilizing IoT to bring normal smart home features into hotel rooms is the newest development in hotel infrastructure. However, not all hotels have adopted the technology, which causes additional issues for guests, like Wi-Fi outages or water tanks that abruptly run dry. Smart hotel infrastructure and IoT in the hospitality industry can help raise standards while lowering costs and minimizing human error.
DusunIoT uses cutting-edge technology to provide top-notch IoT development services in hardware, firmware, and connectivity. We are available to offer advice and industry-specific IoT solutions so you can increase operational effectiveness while ensuring data security.
If you are intrigued by how IoT can help you in the hospitality industry and want to build IoT Smart Hotels, IoT devices and services from DusunIoT can help you in the best possible way.