During the Pandemic time, more and more people began to realize the importance of home health monitoring of vital signs, such as blood oxygen, blood sugar, electrocardiogram, etc. To adapt to these challenges, many hospitals are deploying remote patient monitoring system and using innovative technologies to provide necessary assistance to medical staff.
As early as September last year, Afirstech began to connect with Dusun IoT and started the customized portable LTE gateway project. The current Telehealth monitoring solution has reached the stage of hardware confirmation, and the first batch of 3,000 sets of IoT gateway is expected to be delivered.
As a professional digital medical solution provider, Afirstech's appeal is to allow patients with chronic diseases to use remote patient monitoring wearables to monitor the their health data in real time when they are at home (including indoors and outdoors), and integrate these data into its own platform to make automatic alarms once needed. IoT based health monitoring system enables doctors, nurses and patients to quickly and accurately obtain various health information, and provides efficient Telemedicine data management for medical staff, and reduces the time for rapid response in emergency situations.
Home Health Monitoring Solutions
As a professional IoT gateway supplier, Dusun IoT's portable DSGW-340 gateway can fully meet the above requirements. As a portable LTE CAT1 gateway specially developed for digital healthcare, it also enables the exchange of information in a more secure manner over multiple frequency ranges with low latency and higher data rates. IoMT(internet of medical things) gateway can report medical information to the cloud through LTE/Wi-Fi, monitor patient health status at any time, and can connect to medical health equipment, such as electrocardiogram, blood oxygen and blood sugar.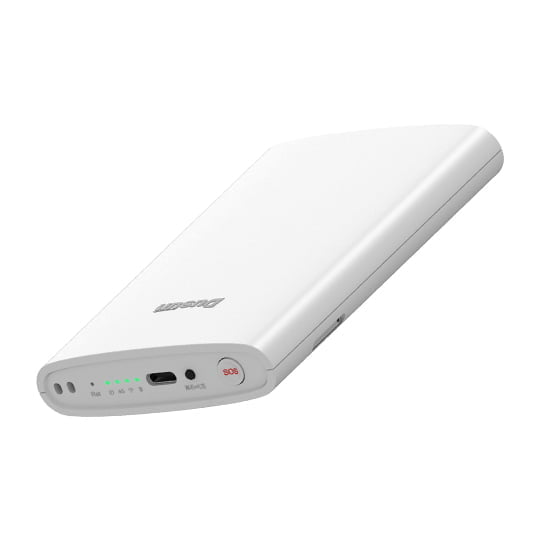 Introducing Portable Bluetooth LTE Gateway For Wearable Medical Devices
DSGW-340 BLE LTE gateway is compact and portable, enabling healthcare professionals to easily collect, process, and transmit medical data, from various medical devices carried by patients at home/wards to a central server or cloud-based platform via LTE (Wi-Fi avaliable also).
DSGW-340 BLE LTE gateway can be used in various IoT healthcare scenarious, such as hospitals, clinics, and home healthcare environments. It can connect to various medical devices, such as blood glucose meters, pulse oximeters, blood pressure monitors, and electrocardiogram machines.
This BLE LTE gateway features transmitting the data to a central server or cloud-based platform in real-time. Besides, It can also be used for remote patient monitoring, enabling patients to receive medical care at home.
Reasons to Use BLE LTE Gateway for Home Health Monitoring System
Multi-Protocol Compatibility
It supports multiple protocols used in various IoT devices, including BLE5.2, Cat1, and Wi-Fi2.4, satisfying various healthcare needs of home patients.
About CAT1 Protocol
CAT1 is an LTE User Equipment designed for machine-to-machine (M2M) IoT applications. To save electricity costs in large-scale or remote IoT systems, CAT1 bandwidth and communication requirements are reduced. LTE CAT1 supports a maximum downlink speed of 10 Mbit/s and an uplink of 5 Mbit/s. It is best suited for IoT applications that depend on high-speed data transmission and the reliability of 4G networks.
Optimized for Long-term Real-Time Applications
Long-term real-time home health monitoring can significantly improve the detection rate of some clinical diseases. For example, most cardiovascular diseases have sporadic or paroxysmal characteristics, not continuous attacks. It is difficult to effectively capture the occasional abnormal ECG information through routine ECG testing in hospitals. However, the long-term remote ECG monitoring can solve the above problems, capture occasional abnormalities within a period of time, and provide medical reference for judging the type, frequency, and risk level of arrhythmia, so as to carry out the next step of treatment evaluation.
At the same time, when arrhythmias such as atrial fibrillation and sinus arrhythmia occur, the symptoms are mild, and the patient's own feelings are not obvious and it is easy to be ignored, which inadvertently leads to deterioration of the condition or unsatisfactory postoperative recovery. In order to avoid this situation, it is necessary to continuously monitor the electrocardiographic activity for a long time, so as to understand the development of the disease in time, evaluate the treatment effect and recovery, and formulate the next step plan.
In a word, providing real-time access to patient data enables healthcare providers to make informed decisions quickly and efficiently.
Compatible with Multiple BLE Medical Wearable Devices
Facilitating the exchange of information between different medical devices and systems, such as blood glucose meters, pulse oximeters, blood pressure monitors, and electrocardiogram machines makes it easier for healthcare providers to access patient data and collaborate with other healthcare professionals.
Suitable for a variety of Scenarios
Medical Portable BLE LTE Gateway enables remote patient monitoring in various healthcare scenarios, including hospitals, clinics, laboratories, doctor's offices, and patients' homes. This helps doctors and specialists spend less time monitoring activities and more on holistic diagnosis and patient care.
Features of Portable BLE LTE Gateway for Wearable Medical Devices
Highly Programmable
Featuring high programmability and enables secondary development from the hardware layer through our comprehensive documentation, allowing the creation of custom applications tailored to specific needs.
Explore: IoT Gateway Development
Get all the necessary resources for IoT Gateway development for free, including a Quickstart Guide, User Manual, and SDK for the communication module. Click to Dusun IoT Support Center.
Empowering Healthcare on the Move with Enhanced Portability
Portable medical gateways enable healthcare providers to access patient data from anywhere, outdoors or in motion. This is because they are designed to be lightweight, compact, and portable, allowing healthcare providers to carry them and use them in various scenarios easily.
Explore: How Can Bluetooth Roaming Help IoT Healthcare?
Global Compliance
Our Bluetooth Gateway has obtained certifications including FCC, CE, IC, WPC, NTC, KC, RCM, and SRRC, ensuring compliance with various countries' requirements and enabling a quick and smooth path to market for your solution.
About Dusun IoT – Remote Patient Monitoring Device Company
Dusun IoT's remote patient monitoring device solution can realize the interaction between patients and medical staff, medical institutions, and medical equipment, especially the chronic care remote physiologic monitoring. Our remote monitoring sensor devices are connected to customers' health platforms through LTE/Wi-Fi/Bluetooth gateways, which can monitor and analyze patients' health data in real time. Chronic diseases that require real-time monitoring, such as Parkinson and type 2 diabetes.
Functions of Dusun Remote Patient Monitoring Devices
Condition Management Remote Monitoring: online diagnosis, tracks the medication process, effectively records and analyzes changes of patient conditions
Home health remote patient monitoring: collects human body vital signs and home environment data to realize real-time monitoring of abnormal conditions of the elderly and the disabled.
Benefits of Dusun Remote Patient Monitoring Devices
FDA approved remote patient monitoring devices
Open API interfaces to various platforms and system
Easier to connect via standard Bluetooth health protocol
Easier to connect to the cloud through LUCI configuration page
Continuous and stable data transmission through Bluetooth Roaming