Finding the best smart home controller hub device is always a hard thing! There is once a popular post in Reddit saying that the majority of people accept their very little control over the home cooordinator they've purchased, and this makes some hardware enthusiasts feel annoyed. Actually, this is not the hassle for individual consumers, but also for smart home hub gateway sellers.
There are billions of smart home solution provider looking for appropriate smart home controller at AliExpress everyday. But they encounter the same thing: 99% of the brands are not actual hardware manufacturers. They are white label resellers who rename a certain home controller hub, and the testing of the internal components of the devices is limited.
Smart Home solution providers are longing for gateway controller hardware that can install self-developed software and customizable hardware components. This is the meaning of this ODM hardware story sharing. It will show you details of how Dusun IoT, a original IoT gateway hardware provider, offers Z/IP gateway installed customized Z-wave firmware and pass test by one of our smart home solution customers.
User: A Smart Living Solution Provider in the Middle East
Market Segment: Smart Home and Hospitality Room Management
Project Time: 2023
Product: DSGW-030, DSGW-210, DSGW-230
What is the Smart Home Solution Provider looking for?
The customer of this case study is a business that specializes in offering Smart Living, Hotel Guest Room Management, Building Management Automation & Control solutions and services on major available platforms combined. They have already owned home sensors, themostats, and light switches but looking for multiple Z-Wave gateways supporting Z-Wave 700 series to connect Z-Wave end devices (700 series and 500 series).
Read Further: What is Z-wave Protocol, Z-Wave700 vs Z-Wave500.
Challenges and Solutions
1. Finding the Locally-managed Home Hub Hardware with Large Storage Space
Smart home hub automation can be controlled from your living room or the net, but locally controlled smart home hub solutions are always preferred since they offer greater privacy and security.
Strong processing performance: since the hub itself processes automation rules, and this requires large memory to maintain latency (delays) to a minimal and feature-specific software to manage various commands. For this situation, these business model usually needs at-least Arm-based processors for local configuration.
Data security & privacy: locally controlled hubs, on the other hand, don't rely on a web service; as a result, data doesn't have to go from your device to the cloud, saving customers' anxiety about their information being viewed by others. Thus, a substantial storage space inside the smart home hub is required.
You may interested: Home Assistant Security, How to improve it?
Solution:
Dusun IoT recommended a popular smart home gateway hardware product: DSGW-210 IoT gateway device equipped with ARM-based RK3328 Quad-core Cortex A53 CPU running Ubantu OS, up to 2GB RAM, 32GB eMMC, and 128GB SD card.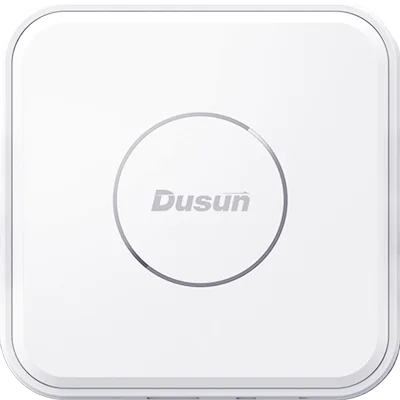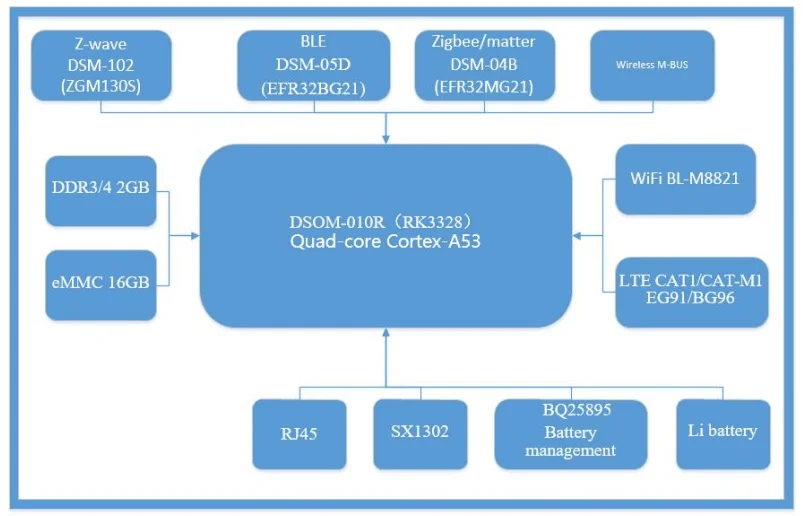 2. Finding Appropriate Z-Wave over IP Gateway (Z/IP gateway) to connect with Z-Ware Web Portal
A Z/IP gateway is a device that enables internet Z/IP clients to communicate with and manage Z-Wave network nodes. It provides a layer above the serial API and the Z-Wave protocol operating on the Z-Wave module.
Z-Ware is a middleware for Z-Wave controllers that run overs the Z/IP (Z-Wave over IP) interface. Z-Ware Apps (Z-Apps) are web pages integrated into the Z-Ware Web Server that offer user interfaces UI for smartphones, tablets, and PCs.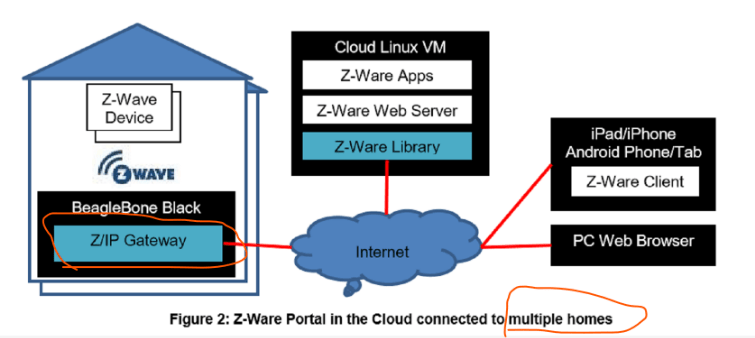 In this case, what the customer needs is a cloud-platform-accessible gateway bridge running as signal extender to the Internet. Dusun IoT recommend DSGW-030 Z-Wave to WiFi/Ethernet gateway. This product has proved a plenty of successful cloud platform access experience, especially with Microsoft Azure certification and AWS certification.
Solution:
For any other third-party or private cloud platforms, DSGW-030 has a user manual of how to use LuCi page to setup Cloud Platform Config and connect to your MQTT broker.
3. Finding a Ceiling Mountable Smart Home Hub Gateway with PoE to Make Cables Invsible
Making the smart home hub controller work properly is crucial, but giving users a positive user experience is quite another matter. Nobody wants to live in a cord jungle. A good IoT gateway device enclosure design will always have the mounted switches, lights, and cables organized properly.
The customer has told us their difficulty that a lot of customers want to home hub device to fix up on the ceiling, not table, and no wires visible. Dusun IoT's Product Structure engineers consider to use PoE + Ceiling Mounting enclosure. Benefits of this structure lie in:
Reduced Costs of Deployment: PoE installation expenses are less than the cost of conventional wiring installation, since a single cable may transmit both power and data concurrently.
Safety from Single-power Source: installation is simplified with fewer steps and potential risks brought on by many adapters and sockets when power comes from a single source lessens.
Solution:
Dusun IoT has prepared a variety of enclosure proposals to hide wires during the entire project communication. We take a RPi box as reference, digged a hole to run the cables from the ceiling to the inner board, and the base is screwed to the ceiling, then the cover part snaps on top of this base. We also add a cutout for the cables to go through when it's placed on table top.
RPi box ceiling mount reference
Fianl PoE gateway ceiling mounting productInstallation effect show
Installation effect
Customer review:
Thank you very much for the updated design. This enclosure design looks great. I hope we can achieve the same design with 3 different sizes! For now can we order samples?
4. Looking for a Reliable Hardware Supplier with Strong Technical Support Capability
Field application hardware support entails having qualified professionals troubleshoot and fix any potential technological issues. This assistance should be available to facilitate technical tasks and resolve issues throughout the event. Professional hardware support services for field applications are very helpful in ensuring that projects proceed as planned with the least amount of disruption.
Examples:
Dusun IoT FAE engineers have successfully debuged the sporadical disconnection between Z-Ware portal and ZIP-Gateway. They found the issue caused by Z-ware program and gave the customer command to stop it. Furthermore, DusunIoT DQA (Design Quality Assurance) team has also included this fix into the latest firmware.
5. Seeking for the Capability of Adding Additional Zigbee and Thread to the PCBA Board
You can found a lot of articles telling you to choose the best smart home protocols, but Dusun IoT is capable of integrating them all onto a single carrier board. Smart home solution providers can choose what they prefer, and remove the ones they do not use, or keep some for future expansion. This kind of modular design is also what the most smart home solution providers prefer most and what Dusun IoT outperforms in the market.
Z-Wave: Since 20 years ago, Z-Wave technology has been effectively grabbing the market. Many well-known companies produce and market z-wave products and solutions. Z-Wave enjoys high interoperability, additional Security 2 standard, and operates on a on a lower frequency, less vulnerable to other environmental devices.
Zigbee: Zigbee has gained more and more market share due to its much faster speed at getting data to and from your device than Z-Wave.
view more detailed illustration on Zigbee vs Z-Wave
Thread: The Thread Group, which includes Google Nest, Amazon, Apple, and a number of other businesses, created the newest protocol. Thread operates at the same 2.4 GHz frequency as Zigbee. The fact that Thread is IP-based, which makes it simpler for it to interface with Wi-Fi networks and cellular networks, is its main point of differentiation.
Solution:
DSGW-230 gateway uses EFR32MG21 Series 2 Multiprotocol Wireless SoC, which optimized for line-powered Zigbee and Thread applications. Meanwhile, we add a Z-Wave 700 module on the board. To make customers easily use it, we updated the firmware via OTA.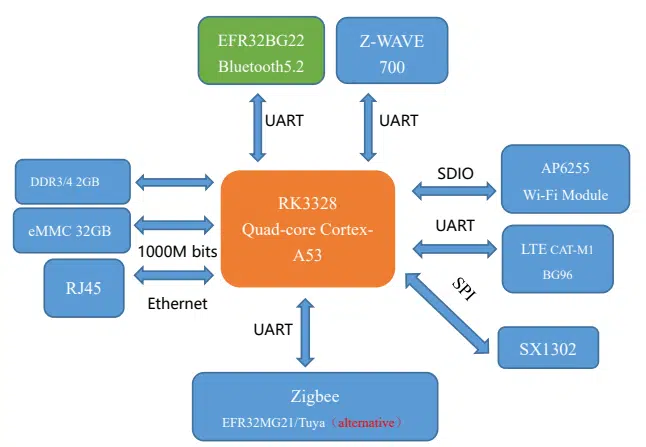 Summary
It takes a lot of work to create a real, physical hardware product for your IoT environment and make sure it aligning with your ultimate goal. You must determine the performance requirements, the required hardware and software, then the specifications for the components chosen after taking the environment and the application to be used into account.
As a full-fledged IoT hardware development company, Dusun IoT can handle the complete hardware development process including idea ideation, prototype design, manufacturing design, firmware development, and quality assurance. We are dedicated to provide our clients with professional hardware-as-a-service business. Don't hesitate to schedule a meeting with us!
Sources:
https://www.reddit.com/r/homeassistant/comments/11ifsmw/buying_smarthome_devices_is_hard/