Z-wave, a wireless communication protocol developed by Zensys Inc. in 1999, has emerged as one of the leading wireless technologies for communication of electronic devices like lights, fans, heating and cooling units, etc. It finds wide applications in smart home networks, for example, using Z-wave gateway to establish a Z-wave network and control Z-wave devices wirelessly at home.
With proper networking and device installation, z-wave converts the traditional home into a smart home. It provides a low-power long-range protocol to command and control the smart home wirelessly. Z-Wave technology is capturing the market successfully for the past 20 years as it offers an extended range, low power, and the best security measures.
The Z-wave Market Size
Z-wave products are available in the market for around 20 years. Many renowned brands are manufacturing and selling z-wave devices and solutions. Officials claim that more than 100 million products are already sold globally.
According to Reportlinker, The Global Z-Wave Products Market size is expected to grow at a CAGR of 12.83% to reach USD 18,144.18 million by 2027 from USD 8,791.75 million in 2021. Therefore, as a new consumer, you don't have to worry about the reliability of Z-wave technology.
How Does Z-wave Work?
Z-wave works on the principle of Z-wave Mesh Network topology that utilizes two-way communication between multiple devices. Does it a sound bit more complex? Let's get it in easier words. 
The basic z-wave working methodology is to connect all the smart home devices, providing multiple channels and routes for communication between each device. All the devices are connected to a smart central device known as a Z-wave hub or gateway controller. Or in other word, the smart Z-Wave WiFi Bridge gateway can connect your ZigBee device network to the internet. The ZigBee mesh network topology is the main difference between traditional smart home methodology and the z-wave smart home concept, where in the traditional network each smart home device is directly connected to the internet.
Z-Wave network is an internet of things (IoT) in which you can control your smart home products through your smartphone over the Z-wave Module. When the user transmits a command from a smartphone application to control a device, let's say to turn on the light bulb or open the door lock, the Z-Wave gateway hub receives this command and routes it to the air conditioner which turns ON in response to this command. The Z-wave network hierarchy is shown in figure 1.

What is Z-wave Hub
A Z-wave smart hub gateway offers Z-Wave functionality and serves as the central hub for your home network, enabling you to remotely manage, automate, schedule, and receive data from your smart home. The connected smart devices can communicate with each other and with users via the smart home Z-wave hub. Each device is known as a node and a collection of multiple nodes connected to a single Z-wave home controller is known as a Z-wave network. 
You can deploy various z-wave networks in your home, where each network will be associated with its unique network ID and each subsequent device has its node ID. This feature not only facilitates you to segregate different sections of your building but also prevents the intervention of one z-wave smart home with another.
Z-wave Versions
While exploring the details of z-wave, you might come across several different types of z-wave. They work on similar methodologies but offer distinct features. A brief introduction is given below.
Z-Wave Long Range
Z-Wave 700 Series Modules are designed for enhanced needs for more sensors and battery-operated devices that require long-range. Z-Wave LR comes with an enhanced connectivity range that extends its applications beyond the boundaries of the home resulting in the adoption of Z-Wave in commercial verticals. Some of the noticeable features of z-wave LR are provided below.
Transmission distance of 1 mile (1.6 KM) direct line of sight has been achieved utilizing +14dBm output power.
Increased scalability up to 4000 nodes on a single smart home network.
Dynamic power control optimized the battery life of up to 10 years on a single coin-cell battery.
It uses star network topology instead of traditional mesh topology.
Z-Wave Smart Start
It allows the sellers to pre-configure both the device and the network before handing it over to the consumer, resulting in an effortless and repeatable installation of a smart z-wave device for your z-wave network. Other key features include.
Uniform set-up across brands, applications, and device types
Minimal installation errors
Easy support even with remote backend control
Z-Wave Plus
It is just an advanced version of Z-Wave with the new 500 series chip. It utilizes the advantage of the Gen5 Z-Wave hardware platform.
Gen-5 products offer attractive features that enhance your smart life experience along with a swift installation process. Your new z-wave plus smart home products come with long battery life, fast operation, increased wireless range, and improved noise immunity. These products are also highly compatible and more secure. Some of the key benefits of z-wave plus over z-wave are listed below.
Up to 50% extended battery life.
Enhanced range of around 200 feet further with Z-Wave Plus.
Auto-connect to the network for a quick installation process.
Upgraded bandwidth with nearly 250% more data.
Auto diagnostics to resolve errors and issues.
More Channels that increase bandwidth
Improved device connectivity.
Benefits of Using Z-wave Protocol
High compatibility – Each Z-wave device, regardless of its type, version, or brand is compatible with the other device.
Low power consumption – Z-wave devices transmit data only when required and remain in sleep mode otherwise. Hence, they can operate for as long as 10 years without battery replacement.
Low interference – Mostly you already have communication devices that operates at 2.4GHz. If you install Wi-Fi-based smart home devices, then they will interfere with other communication devices. Z-wave has an added advantage in that they work on a lower frequency and do not interfere with Wi-Fi and Bluetooth communication devices. Additionally, the low frequency is also less vulnerable to other environmental devices.
Scalability – Although Z-wave work for enough range for domestic homes. Nevertheless, if you need to extend the range, the Z-wave device can also act as a repeater or an intermediate device. You can increase both the range and the no. of devices in a Z-wave network. 
What is Z-wave Technology
This section will provide you with detailed insights regarding technical aspects of the z-wave technology.
Z-wave Frequency 
The operating frequency of Z-Wave ranges from 800-930MHz depending upon the region of operation. This is a low-frequency range as compared to 2.4GHz smart home devices, which is a key reason for low interference.
Before you buy any z-wave device, make sure that it is compatible with the frequency range of your region. Z-wave devices in the US use 908.40, 908.42, and 916MHz. In the UK and Europe, the z-wave protocol work on 868.40, 868.42, and 869.85MHz.
Z-wave Range
The communication range of the z-wave network is 100 meters or 328 feet without major interference. In indoor deployment, the walls and other objects can reduce signal strength. Hence, the maximum recommended distance between two z-wave nodes is 30 feet to experience maximum efficiency.
You can connect 232 smart devices in one z-wave network. Although that is enough numbers still if you want to connect more nodes then you can extend the network using z-wave hubs. Z-wave repeater can also be deployed to extend the network range and capacity. Z-wave devices can hop up to 600 feet and you can link the devices together to get longer ranges.
Z-wave Network
Z-Wave networking for smart homes consists of three layers. As shown in figure 2, these layers work collectively to form a fast and reliable network that supports the communication of several smart home device nodes simultaneously.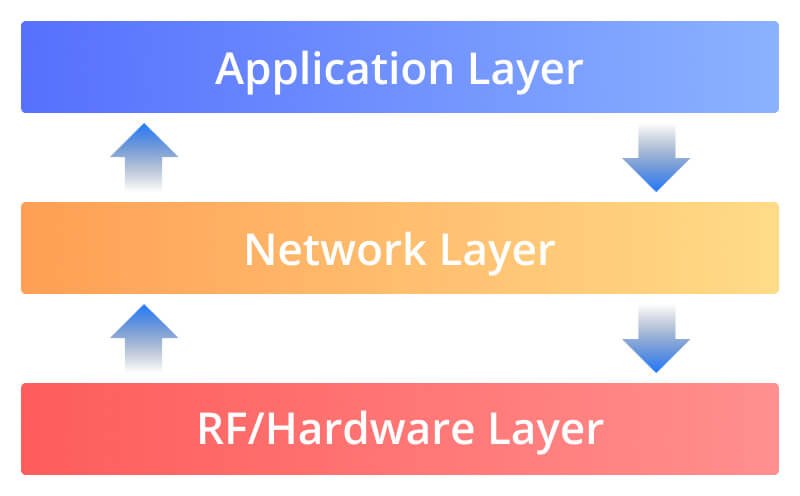 Radio Layer of Z-wave Network
Identifies the methodology of signal transmission between the network and the physical hardware. Hardware access, frequency, and encoding are the key components of this layer.
Network Layer of Z-wave Network
It is responsible for the transfer of control data between two devices or nodes. Here you will organize the network with addressing, switches, routing, etc.
Application Layer of Z-wave Network
This layer contains the end user appliances, and it defines which messages need to be processed by particular devices to carry out particular tasks such as turning ON a heating or cooling unit, switching ON the light, or adjustment of the thermostat temperature.
Z-wave Security
You must have been concerned about the integrity of the technology that you are going to deploy to your personal space. That means that the receiver wants to be sure that the received message was transmitted by a secure device node through a safe network. Also, the message has not been modified during its journey from the source end to the receiver end. Messages sent by radio transmitters outside the network will be recognized as fakes.
Z-wave security 2 (S2)
Since a continuous growth of z-wave products in the market has been observed, there has been a major emphasis on security for these products. Hence, the Z-wave security 2 (S2) was launched. This protocol is a security framework exclusively created for IoT developers. With this framework, you can set protect your devices with pin codes or QR codes for convenience and security.
Curve25519
S2 protocol is based on a new and smart algorithm known as Curve25519 instead of the typical AES 128-bit cipher security. It also offers protection against illegal backdoor access. The Z-Wave security layer delivers message reliability, privacy, and data originality. The messages are encrypted, and only the secure smart devices can read the message contents in the network.
Z-wave Power Consumption
Smart devices working on a Z-wave network consume very less power as compared to IoT-based smart nodes. Z-wave devices consume negligible power when they are in sleep mode i.e., around 10,000 times less than in transmission mode. While transmitting the data, each device of your home automation network will consume around 23mA for a standard 2.2V – 3.6 power supply.
Hence, to enhance the battery life your z-wave network must be smart enough to communicate with the device nodes only when it is required. With standard use and an intelligent sleep-wake mechanism, you won't need to change your 700 Series Z-Wave device's coin cell battery for 10 years.
Z-wave Devices to Build a Z-wave Network
If you want to deploy a Z-wave network, then you need to have a hierarchical wireless network comprising various types of Z-Wave devices.
Z-wave Gateway Controller
As the name indicates, Z-wave gateway controller are the central control unit of the network. It controls all the other Z-Wave devices. Controller devices are programmed as a Home ID that is unique and unchangeable by the end user.
Z-wave Slave
Slave devices are those that are controlled by controllers. Slave devices do not have a pre-programmed Home ID, but instead, they take the Home ID assigned to them by the Z-Wave network controller.
Z-wave Routing slave: 
This Z-Wave slave device can store the information of its neighbors and has limited knowledge of the routing table. It is a bidirectional device and can reply to the same node from which it has got the message. After receiving the message, it can also transmit it to several predefined slave devices to which it is already connected through routing in the network.
Z-wave Device List
For a minimal cost, you can transform the ordinary into smart with some of the basic Z-wave devices listed below.
Z-wave Gateway Bridges – Smart Home Hub, Router gateway, Z-wave Pi-series
Sensor – Motion, Water leakage, Smoke, Gas, Carbon monoxide, CO2, AIR quality, Temperature, Humidity, Pressure, Energy consumption, etc.
Actuators/Controllers – Power Plug, Touch wall switches, Smart Locks, Valve controller, Relays, Blinds, Curtains, Motors, etc.
Using the above-listed products, you can design many solutions and applications. For your convenience, I have listed a few use cases below.
Home Automation
Smart Security
Fire, smoke, and gas alarm
Energy and water management
Z-wave Device Installation
We've had ample details regarding Z-wave before this section, it's time to go smart with z-wave technology. Here I will suggest some of the promising products.
Z-wave Products
If we categorize the Z-wave products broadly, we come up with the following three types.
Central Hub
Node Sensors
Actuators/Controllers
A central smart hub Z-wave is necessary to install the z-wave mesh network, whereas the number of the other two products is optional. You can add as many as you require. 
Z-wave Module Suppliers
Many suppliers are currently souring the z-wave modules. I did all the research and have compiled a short list of reliable suppliers for you.
Silicon Labs 
After the acquisition of Sigma Designs' Z-Wave Business, silicon labs is one of the leading competitors in this field. They offer Sub-GHz Z-Wave solutions with state-of-the-art class S2+ Secure Vault™ security, Smart Start provisioning, battery life of up to 10 years, complete home and yard coverage, customer product-level interoperability, backward compatibility and support for both Z-Wave Mesh and Long Range.
Dusun IoT
With more than 18 years of experience in global trade,  Dusun IoT offers a complete ecosystem of the AIoT industry ranging from data collection SaaS platforms to ODM/OEM services for Z-wave devices.
As an experienced Z-wave gateway provider, Dusun presents programmable Z-wave devices compatible with many applications and platforms. The modules include Z-wave Pi-series, Smart Z-wave hub, and Z-wave router gateway.
Vesternet
Having global footprints for over 15 years in the smart IoT market, Vesternet claims to be a z-wave specialist. You can browse their smart collection for your next smart home.
Implementation process
If you have the relevant technical background, the Z-wave installation will be easy for you. Here is an example of developing an Z-Wave application communicating with Z-Wave devices.
Z-wave vs Zigbee
There are numerous different technologies available in the market to automate your home appliances. Here we will compare Z-wave with Zigbee, which is the closest competitor of Z-Wave that works on a similar topology. For a clear picture, I have summarized the noticeable differences in the following table.
| | | | |
| --- | --- | --- | --- |
| Sr. No | Parameter | Z-wave | Zigbee |
| 1 | Frequency | ~900Mhz | 2.4GHz |
| 2 | Indoor Range | 100 feet | 32 feet |
| 3 | Mesh network connections | 232 | 65,000+ |
| 4 | Data transfer speed | 9.6-100Kbps | 40-250Kbps |
| 5 | Number of hops per transmission | 4 | Unlimited |
| 6 | Interference | Less | More |
| 7 | Complexity | Less | More |
| 8 | Security | AES128 standard of encryption with an extra layer of Security 2 (S2) | AES128 standard of encryption |
Besides, some minimal differences include power consumption and price. Zigbee has a slight edge over z-wave in these parameters. Overall, Z-wave is a more suitable choice for domestic applications.
What Makes Z-wave Excel ZigBee?
Easy installation and upgradation of the network.
Less power consumption and long battery life.
Wireless control of the appliances adds more comfort and convenience.
Z-wave smart devices are interoperable, which means you are not bound to buy devices from one manufacturer. Any z-wave wireless operating device is compatible with your smart IoT networks.
It is a reliable and secure network as it comes with AES128 standard of encryption with an extra layer of Security (S2) feature.
Z-wave Drawbacks and Limitations
A Limited number of hops require more devices that act as a repeater to enhance the range, which increases the cost of the system.
Works on a lower frequency that reduces its operational speed and data transmission rate.
Key Takeaways
Here are the key takeaways of Z-Wave technology.
It operates in a lower frequency range than Zigbee, Wi-Fi, or Bluetooth, which is why it is a perfect solution for automation applications.
It supports only four hops per transmission, which is why it is best suitable to deploy for a fewer number of nodes.
It offers more operational range, less interference, and more battery life.
It has a wide range of module suppliers, devices, and applications.
It is a reliable technology having 20 years of global footprint and support.
It comes with state-of-the-art security features that ensure peace of mind while deploying it in your personal space.
That's the complete guide Dusun IoT wrote about Z-Wave, and if you found this article beneficial, now's the time to share it!
references: