With Dusun IoT portable BLE Gateways solution, FIRTECH realizes better non-invasive Long-Term Continuous Electrocardiogram (LT-ECG) Monitoring for customers. Learn what challenges FIRTECH meets and how DusunIoT solves these challenges.
Background
FIRTECH is a company located in the High-tech Zone of Hefei City, Anhui Province, China. It has more than 20 years rich experience in the medical industry and experience in research and development in hospital informationization. The company's current business mainly includes three major sectors: R&D and production of high-end medical equipment accessories (nuclear magnetic resonance spectrometer), semiconductor investment and investment, and smart medical overall solutions.
An electrocardiogram (ECG) is a non-invasive device that records the electrical activity of the heart by placing electrodes on the skin of the chest and extremities to evaluate activity from the heart. The output signal can be used to identify or detect abnormal heart rhythms (called arrhythmias) that can lead to cardiac arrest, stroke, or loss of consciousness. Known as long-term electrocardiogram (LT-ECG) monitors, these monitors can be worn for up to 14 days without changing monitoring electrodes, allowing patients who wear it to bathe, sleep and engage in simple outdoor exercise comfortably.
Challenges
The portable electrocardiogram monitoring equipment (ECG) produced by FIRTECH Technology has the same detection principle as the electrocardiogram machine used in the hospital. It provides an effective detection method for the early detection of heart disease and prevention of sub-healthy people, and provides remote patient monitoring for doctors. But there are some challenges in actual use:
User-friendliness
For certain groups of people (such as the elderly), it may be challenging to operate and use complex ECG monitoring equipment or operate through a mobile phone APP. Hence, ease of use and user-friendliness becomes a pain point.
Real-time monitoring and data transmission
For heart patients, real-time monitoring of ECG data is very important. FIRTECH's existing products realized the function through two solutions. Method 1 collects data through the ECG device, then transmits it to the mobile phone through Bluetooth, and then transmits it to the platform through the mobile phone application. Method 2 is through the IoT gateway solution of a large company in China. During the process of data transmission to the platform, the delay and instability of data transmission may affect the effect of real-time monitoring.
Support multi-device access
Bluetooth gateway needs to support multiple device access. At present, the gateway solution from the large company cooperating with FIRTECH only supports the access of one terminal device (ECG), and it needs to be connected to the oximeter monitoring in the later stage. The existing solution is unable to meet the new requirements of FIRTECH.
Flexibility and continuity
The device needs to work normally in different network environments, adapting to the needs of different scenarios and geographical locations (use Wi-Fi in areas with good Wi-Fi signals in the courtyard and use 4G outdoors or places with poor Wi-Fi signals ). Supporting automatic switching between Wi-Fi and LTE can ensure real-time uploading and processing of data, thereby meeting the needs of continuous ECG monitoring and remote ECG monitoring, and ultimately providing patients with more comprehensive ECG monitoring services.
Low power consumption (ECG chip)
ECG (electrocardiogram) monitoring usually needs to last for several hours or several days. FIRTECH is currently using Espressif's chip solution, but the power consumption in the actual test is not ideal. Therefore, they want to use the chip featuring low power consumption to extend battery life or reduce device power consumption.
Gateway Development capabilities
FIRTECH's advantage lies in the development of SAAS layer applications. Embedded hardware development and SOC layer development are their short boards, and it is necessary to find companies with rich development experience in this area. In addition, ID design, PCB design, testing, radio certification and other capabilities are required.
Solutions
To solve the challenges mentioned above, DusunIoT proposes the following solutions:
ECG Bluetooth chip solution
The Dusun ECG Bluetooth chip solution uses the ATM33E series low-power Bluetooth chip produced by Atmosic Technologies in the United States. This chip has extremely low power consumption and highly optimized power management functions.
Module Block Diagram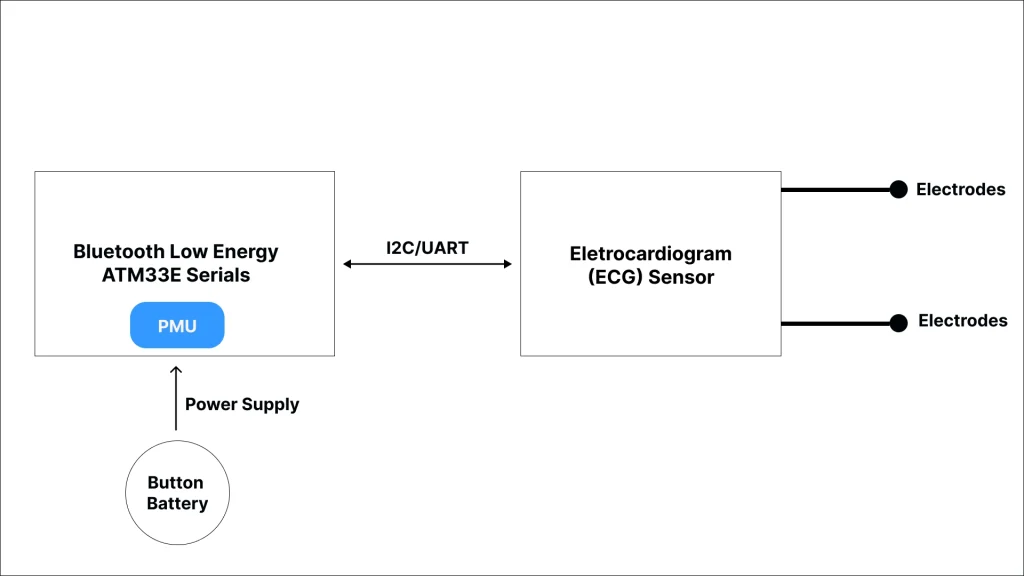 Solution Advantages
Low power consumption: The power consumption of the ATM33E chip is very low, up to 100 microamps per milliwatt. With Wake-up receiver, it only needs extremely low power consumption to maintain continuous monitoring of ECG, which makes this solution suitable for low-power applications that need to run for a long time, such as smart watches, Health monitoring devices and wearable devices, etc.
| | | | | |
| --- | --- | --- | --- | --- |
| Model | Atmosic | Competitor X | Competitor T | Competitor R |
| Standby(Idle) | 5.2 μA | 31.8 μA | 48 μA | 26 μA |
| | | 6 times more battery time | 10 times more battery time | 5 times more battery time |
Security: The ATM33E chip also has additional security features such as AES-128 encryption and SHA-256 hashing algorithms to ensure data security.
Portable Medical Bluetooth Gateway Solution
Dusun Portable BLE Gateway uses Silicon Labs BG24 as the MCU, and supports Wi-Fi/LTE northbound protocol. When the network environment is good, the data collected by the end device sensor is sent to the monitoring center through Wi-Fi. In outdoor or poor network environment scenarios, the data collected by the end device sensor is sent to the monitoring center through 4G LTE. In this way, the medical team can monitor the health condition of patients in real-time. In addition, medical staff can also check the sign data on computers or handheld devices.
Hardware Block Diagram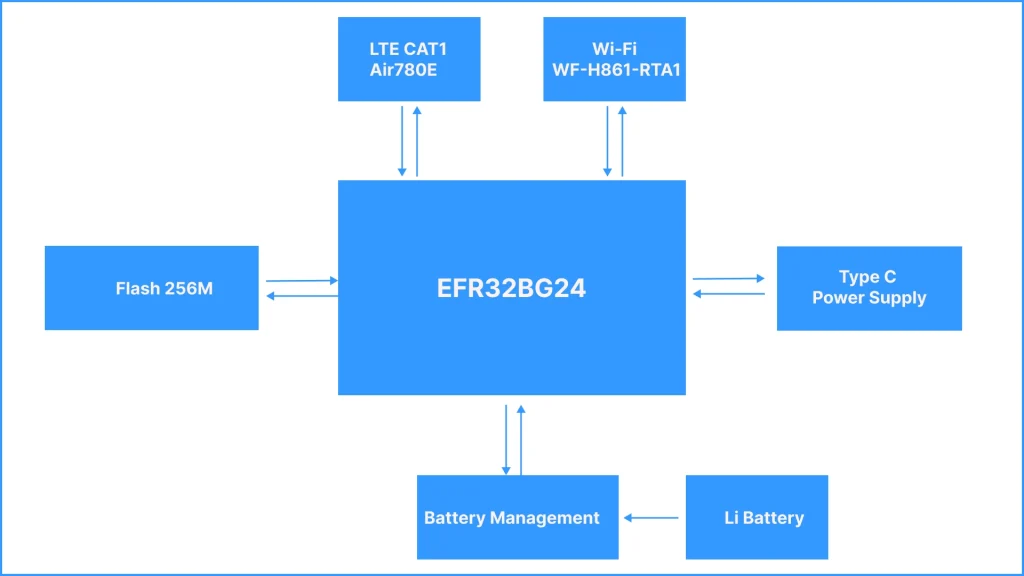 System Framework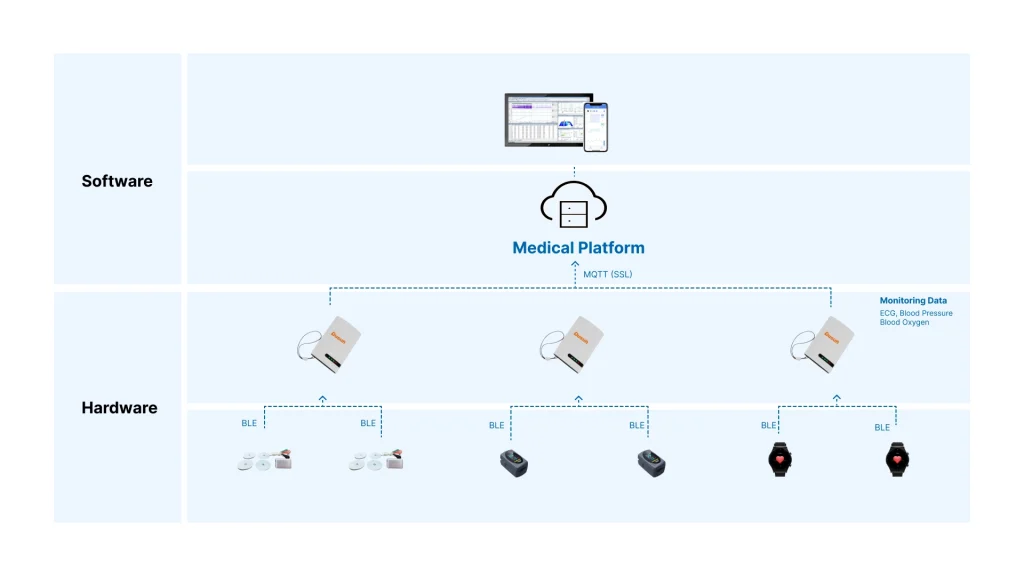 Solution Advantages
Support multi-device access: support connection up to 32 Bluetooth sub-devices, including standard Bluetooth protocol sub-devices and non-standard Bluetooth protocol sub-device access (stacking service)
Wide network coverage: By supporting LTE and Wi-Fi, the system has wider network coverage, and supports the function of automatically switching between Wi-Fi and LTE, reducing the user's operational difficulty. Patients and healthcare workers can focus more on the process of treatment and recovery.
LTE network compatibility: The LTE module adopts Air780E, which is compatible with three main LTE networks in China (China Mobile, China Telecom, China Unicom), so it can switch networks between different operators without replacing the module, saving the cost caused by different operators.
Security: The gateway communicates with platforms directly through the MQTT protocol, and supports both client certificate and server certificate authentication to ensure communication security and avoid data leakage.