Quick View of DSGW-040 4G LTE IoT Gateway with WIFi, BLE, Zigbee, and Z-Wave Connectivity
DSGW-040 IoT 4G gateway is a versatile home gateway solution combing router and gateway features for seamless and robust network management. It offers LAN, Wi-Fi, and 4G LTE options to interact with your IoT devices, connecting them effortlessly and enjoying uninterrupted data flow that adapts to your preferences.
DSGW-040 4G LTE gateway has excellent 4G LTE performance: it supports 4G LTE CAT1 and LTE CAT M1 to provide high-speed and reliable internet connection. Operating frequency band: 850/900/1800/1900MHZ. Global LTE FDD: B1/B2/B3/B4/B5/B8/B12/B13/B18/B19/B20/B26/B28. North America LTE TDD: B2/B4/B12/B13. It aims to ensure user devices always accessible no matter where they are.
DSGW-040 4G LTE IoT gateway also opens the doors to a wide array of IoT devices by supporting Wi-Fi, BLE, Zigbee, and Z-Wave protocols. Seamlessly integrate your smart ecosystem and control it all from one central hub. With a 4100 mAh Li-battery backup for uninterrupted reliability, it keeps the system functioning even in challenging conditions.
Features of DSGW-040 4G LTE IoT Gateway
Multipe-Protocol

(wire and wireless) supported
Connecting various sensors/devices through Zigbee3.0, Wi-Fi 2.4G, BLE 5.2, Z-Wave and LTE (CAT M1/ CAT1) .
Coming with a built-in battery power option so that in the event of a power failure the system will continue to run.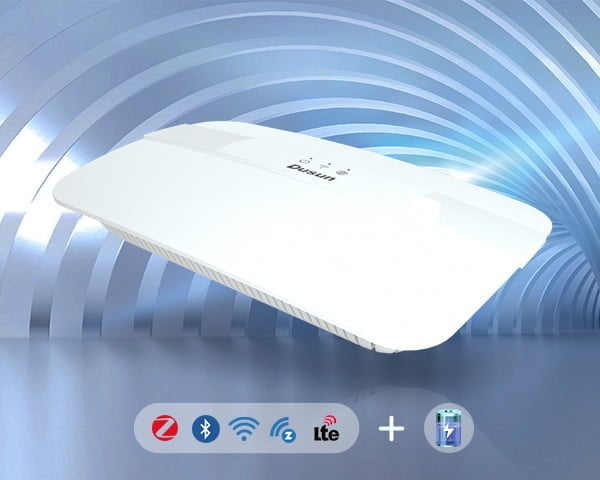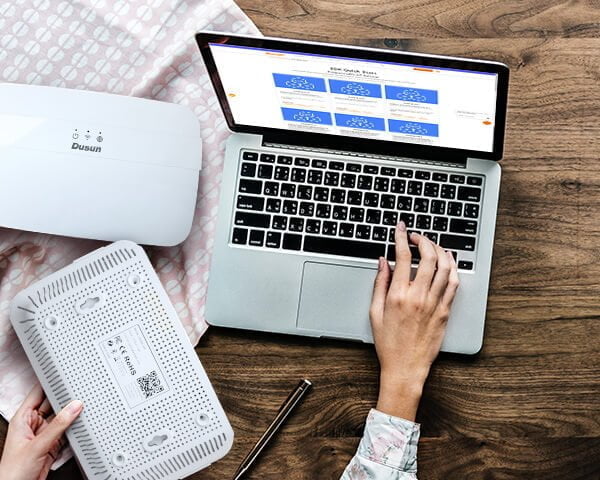 Develop your custom firmware from the bottom layer of the hardware with a comprehensive set of resources and services to help developers create successful IoT Gateway projects. 
Carrier-certified for immediate deployments and meets a comprehensive range of regulatory and industry standards worldwide.
FCC, CE, ROHS, BQB, Zigbee, PTCRB, AT&T.
Dimension and Package of DSGW-040 4G LTE IoT Gateway
Parameters of DSGW-040 4G LTE IoT Gateway
Category
Specifications
CPU
MT7620
System
OpenWrt
RAM
128MB
Flash
16MB
Network Interface
1 * 10/100 Mbps LAN port, 1 * 10/100 Mbps WAN port
Indicator LEDs
• The Zigbee/BLE LED flashes when a signal is received.
• The Network LED indicates RED when no establishing a network connection.
• The Network LED indicates GREEN when a network connection is established.
Power Supply
DC Input, input voltage range is 4.5V to 5V. The power seat aperture is 3.5mm.
The needle diameter is 1.35mm and is positive. The power adapter: 100-240V 50/60HZ. Output is 5V/2A.
Reset
Factory reset button. To reset the Gateway to its original factory settings, press and hold it for more than 10 seconds
Installation
Flat, Ceiling
Weight
TBD
Operating Temperature
-10℃~55℃
Storage Temperature
-40℃~65℃
Operating humidity
10%~90%
IP Rating
IP 22
Use Cases of DSGW-040 4G LTE IoT Gateway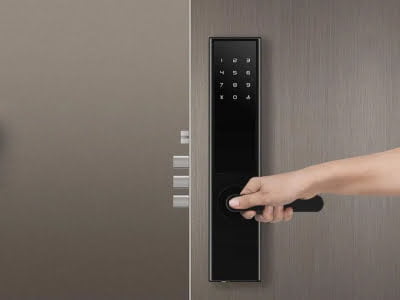 Smart lock remote management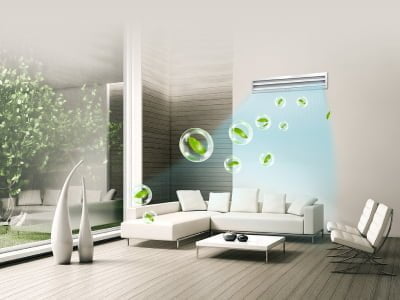 Air quality monitoring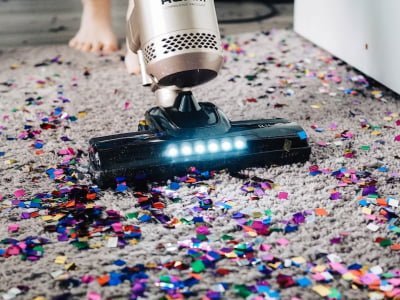 Smart cleaning managemet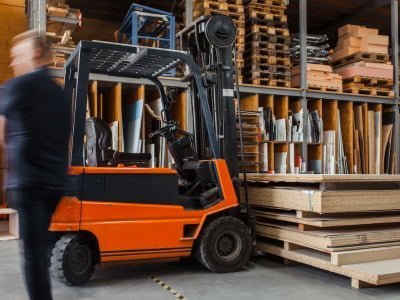 Smart warehouse management
Developer Resources of DSGW-040 4G LTE IoT Gateway
Model List of of DSGW-040 4G LTE IoT Gateway
Category B (Built by Order)
Category C (Built by Order, MOQ: 500 )
| Model | Wi-Fi 2.4G | Bluetooth 5.2 | Zigbee3.0 | Z-Wave | LTE Cat M1 | LTE Cat1 | Li Battery |
| --- | --- | --- | --- | --- | --- | --- | --- |
| DSGW-040-4 | ● | | ● | | ● | | |
| DSGW-040-5 | ● | | | ● | | | |
| DSGW-040-6 | ● | | | ● | ● | | |
| DSGW-040-7 | ● | ● | ● | ● | ● | | |
| DSGW-040-8 | ● | ● | | | | ● | |
| DSGW-040-9 | ● | ● | ● | | ● | | |
| DSGW-040-10 | ● | ● | ● | | ● | | |
| DSGW-040-11 | ● | ● | ● | ● | ● | | ● |
| DSGW-040-12 | ● | ● | | | ● | | ● |
| DSGW-040-13 | ● | ● | | ● | ● | | ● |
| DSGW-040-14 | ● | ● | ● | ● | | | |
| DSGW-040-15 | ● | | ● | | | ● | |
| DSGW-040-16 | ● | | ● | | | ● | ● |
| DSGW-040-17 | ● | ● | ● | | ● | | ● |
Do DSGW-040 Gateway support Wifi AP & Wifi STA Mode
Yes, the gateway support both wifi ap and wifi sta mode.
Wifi AP mode: In this mode, the gateway works as a router, user can connect to the SSID using the AP Password. The AP SSID, AP Password and AP encryption mode are configurable
Wifi STA mode: In this mode, the gateway functions as a access point and is able to connect to a router. User can fill in the SSID and Password of the router to let gateway connect to router.
What is LAN vs WAN Gateway?
A WAN port establishes a gateway connection to an external or Internet source. A LAN port is used to connect the computers and other client machines with gateway. The WAN cable that is used to connect your gateway router and modem can be a normal ethernet cable.
Is WAN faster than Ethernet?
Ethernet cabling is extremely reliable and much faster than WAN speeds. LAN speeds are typically 1,000 Mb/s to 40,000 Mb/s. Contrast that with the typical 150 Mb/s WAN speed and now we have some speed.
Is the DSGE-040 gateway a LAN or WAN?
The DSGW-040 gateway can be a device that connects the Wide-area network (WAN) to the LAN as a bridge between two networks.
Is gateway required on LAN?
Gateway is the device address that your device will use to respond to any requests for which it has no direct route. Without a gateway, all devices on the same LAN (same subnet) can communicate with one another. To connect to a device on a network outside of your LAN, such as the Internet, you need a gateway.
What is LTE Cat M1 and its difference with LTE Cat 1?
LTE Cat M1 primarily serves IoT applications with low to medium data rate needs and has uplink and downlink rates that can exceed 375 kbps in half-duplex mode. Compared to traditional cellular technologies like LTE Cat 1, it provides longer battery lifecycles and greater indoor range. LTE-M's key characteristics are as follows:
●little power usage
●a greater inside range
●complete mobility and in-car handover
●support VoLTE voice functionality
How to connect DSGW-040 to AT&T mobile network?
The initial step for users is to purchase an AT&T LTE-M SIM card, place it in the DSGW-040's SIM card slot, then activate it through the AT&T website's services.
After that, by logging into the gateway, users can power it on and change the APN settings. Customers can contact AT&T for the most recent information regarding the APN setting and enter broadband in the APN set textbox.
Finally, the 4G module will start up when users unplug the network cable. The gateway network indicator will turn on if the gateway can establish a connection to a cloud platform.
You can view more deployment detail here.
What's the difference between DSGW-030 and DSGW-040?
After finishing modifications to its 4G LTE cell sites across the USA, AT&T officially turned on its CatM1 and narrowband internet of things (NB-IoT) network. This is because the 3GPP organization has issued LTE CatM1 and NB-IoT standards to support IoT. DSGW-040 is an AT&T certified LTE 4G IoT gateway. This indicates that connecting to the cloud with an AT&T LTE-M sim card is supported by this LTE IoT gateway hub. Therefore, many IoT applications, especially those constrained by wired internet connections, can use this wireless gateway for AT&T. The 4G LTE IoT gateway from Dusun can also support LTE or LTE-M services from other providers.

NB-IoT vs LTE-M, What's the difference?
Narrow Bandwidth-Internet of Things is what this term stands for. It is a form of technology that supports device communication in 4G and 5G networks. NB-IoT has a greater range and uses less power than LTE-M since it only uses a single narrow band of bandwidth in the 200kHz region. The major flaw in NB-IoT is its speed, which is less than 100kbps, yet devices that use it typically have batteries that last more than ten years.
"Long-Term Evolution for Machines" is what LTE-M stands for. You won't need to install new infrastructure for your project because LTE-M is backward compatible with existing LTE networks and only works on 4G networks. Higher bandwidth communications, such as Voice Over IP services, can be supported by LTE-M specifications. Given that it has upload and download speeds of up to 1 Mbps and a latency of only 50 to 100 ms, it is effective for speech data transfers.
View more NB-IoT vs LTE-M info here.
What is LTE (Long-term Evolution)?
Long-word Evolution (LTE) is a word for the cellular network that defines a standard for mobile devices to deliver higher bandwidth, reduced latency, and higher data services than 3G. It is established by the 3GPP.
The LTE protocol defines 22 LTE UE Categories to characterize the performance requirements of LTE devices. There are various parameters for each LTE UE Category. such as signal coverage, frequency spectrum, power consumption, and data rate. The LTE base station cannot properly communicate with LTE devices without the aid of LTE UE Categories. The base station has to use the LTE UE Categories information from this apparatus to assess the UE's performance. It might then be able to interact with it appropriately. The data for each LTE UE category is displayed in a table.