Overview of Programmable Zigbee 3 to Wi-Fi/Ethernet Gateway
DSGW-030-1 uses MTK7688 WiFi-capable processor and Silicon Lab EFR32MG21 wireless SoCs. It can make Zigbee 3.0 to Wi-Fi protocol conversion, connecting your Zigbee devices to Wi-Fi network, and allowing remote access control.
DSGW-030-1 Zigbee WLAN IP gateway is highly suitable for users to control multiple ZigBee-enabled devices in smart home network via a single interface. It can be used to make home energy monitoring, scene creation and triggering. The home automation software on the gateway is open to be reprogrammed based on Linux@ OpenWRT OS. Integration with your own cloud platform can be easily done via our MQTT API.
Master Chip Introduction of Zigbee Home Automation Hub WLAN
Dusun IoT's Zigbee hub gateway is designed to meet indoor wireless industrial-grade coverage. It uses the MTK7620A and can easily handle a wide range of smart home applications at 580MHz.
Linux OpenWRT Zigbee Gateway WiFi
Our Smart Home ZigBee Gateway runs OpenWRT system. It is a robust Linux-based open source operating system for embedded devices. Because of its flexibility and robustness, OpenWRT has been widely used in the IoT gateway development.
By using OperWRT OS, users can simply manage their devices using a Linux terminal and a Secure Shell (SSH) connection. Users can also configure the firmware on their embedded devices via the OpenWRT online user interface (UI), commonly known as LuCI and Lua.
When building a new OpenWRT ZigBee gateway, developers can employ a variety of pre-existing software applications, which can save time and money. It is possible to streamline the development process by utilizing plug-ins like LuCI.
Also, because of its modular nature, it is simpler for programmers to develop bespoke firmware that is suited for particular use cases.
Benefits of Wireless ZigBee 3.0 IP Gateway
DSGW-030-1 ZigBee home gateway hub supports zigbee 3.0, and Wi-Fi 2.4G wireless protocol communication methods. It is so simple to be installed with no wiring, and a lightning-fast, no-technical-skills WiFi setup.
Silicon Lab Zigbee Gateway
The ZigBee module within the ZigBee gateway uses Silicon Labs EFR32MG21 wireless SoCs, featuring high performance, low power consumption, and high security. It is optimized for line-powered Zigbee mesh applications, including connected lighting, gateways, voice assistants and smart metering, accoding to its introduction. On the other hand, this 2.4 GHz wireless SoCs also supports Thread and Bluetooth mesh applications, meaning PCB space can be saved, and the entire Zigbee gateway product is in mini size and won't occupy too much space at home.
The maximum adjustable transmission power of the wireless signal of Silicon Labs ZigBee chip is + 20dBm, which has great advantages compared with ZigBee chips which have maximum transmission power of + 8dBm in the previous market, greatly extending the signal transmission in large-area home.
For gateway hardware developers, Silicon Labs' Simplicity Studio simplifies the IoT development process with one-click access to everything developers need to complete their projects using an integrated development environment (IDE). Developers can get their projects underway in minutes.
Zigbee 3.0 Compatible Gateway
The ZigBee protocol stack within DSGW-030-1 Zigbee home gateway supports ZigBee 3.0. This feature let DSGW-030-1 Zigbee 3.0 hub gateway connect with a variety of ZigBee 3.0 smart devices regardless of the manufacturers and brands.
Zigbee 3.0 is the latest version of Zigbee. It is designed to provide enhanced features (including interoperability, encryption, network scalability and reliability, low-power consumption) and capabilities compared to previous versions of Zigbee.
DSGW-030-1 Zigbee Wi-Fi gateway support AP mode and client mode. An Wi-Fi enabled button on the enclosure of the box to let users open Wi-Fi access point function after long pressing 5 seconds. The extremely quick simple WiFi setup requires no professional technical skills involved.
Hardware Overview of DSGW-030-1 Zigbee 3 to Ethernet/Wi-Fi Gateway
Dimension and Package of Programmable Zigbee 3 to Wi-Fi / Ethernet Gateway
Parameters of Wireless Zigbee WiFi Gateways
| | |
| --- | --- |
| CPU | MT7688 |
| System | OpenWRT |
| RAM | 64MB |
| Flash | 16MB |
| Programming Language | ava, Python, Node.js, C, C++ |
| Downlink Network Connectivity | Zigbee |
| Uplink Network Connectivity | Wi-Fi 2.4G, Ethernet |
| Interface | 1 x RJ45, 10/100 Mbps WAN/LAN variable |
| Access Devices | Up to 100 |
| Wireless Distance | Wi-Fi<100m; Zigbee<200m; Bluetooth<20m; Z-Wave<100m |
| Power Adapter | Input:100V~240V/50-60HZ ouput:5V/2A |
| Indicator LED | Three ( Green ;Yellow; Red ) |
| Installation | Flat, Ceiling |
| Weight | TBD |
| Operating Temperature | 0℃~40℃ |
| Operating humidity | 10%~90% |
| IP Rating | IP 22 |
Application of DSGW-030-1 Zigbee 3.0 Wi-Fi MQTT Bridge Gateway Hub
Case of DSGW-030-1 ZigBee 3.0 WiFi MQTT Bridge Gateway Hub
Developer Documents of Programmable Zigbee 3 to Wi-Fi / Ethernet Gateway
| Feature | RAM | Flash | Wi-Fi 2.4G | Bluetooth 5.2 | Zigbee3.0 | Z-Wave |
| --- | --- | --- | --- | --- | --- | --- |
| DSGW-030-1 | 64MB | 16MB | ● | | ● | |
DSGW-030 is a Zigbee Alliance certified gateway. You can view our certification in Zigbee CSA weisite. Been certified means Dusun Zigbee gateway can be compatible with a wide variety of Zigbee-based devices. Becasue at present, Zigbee enjoys huge advantages in the whole smart home and apartment market and ecology. With Zigbee certification, your IoT solution/projects can quickly come into being and launch in the market.
What's more, as a Zigbee gateway supplier, Dusun owns a self-owned factory to manufacture Zigbee gateways. We owns a strong R&D team to make Zigbee hub device hardware design, antenna design, and debugging capability. Meanwhile, we support custom software services. With over 18 years experiences in PCB and RF designing, you don't have to worry about our professionalism. Besides, Our Zigbee gateway has passed CE, FCC, RoHs, and IC, which means the quality is well-assured. So do not hesitate to contact us for large volume quote!
Zigbee Gateway Factory Show (White label Service for Bulk Order)
PCBA Auto Test Machine of Zigbee Hub Supplier (ODM Support for Large Quantity Order)
Zigbee2MQTT is a light weight programme or software that connects Zigbee networks to MQTT networks. It is also called as Zigbee MQTT bridge to functions as the connection between a Zigbee network with attached devices to an MQTT network. Zigbee to MQTT is preferred by home automation project because of its small size, low power usage, minimized data packets, and efficient distribution of information to one or many receivers. MQTT Zigbee Bridge also makes the configuration between the Zigbee home gateway and devices pairing more easily.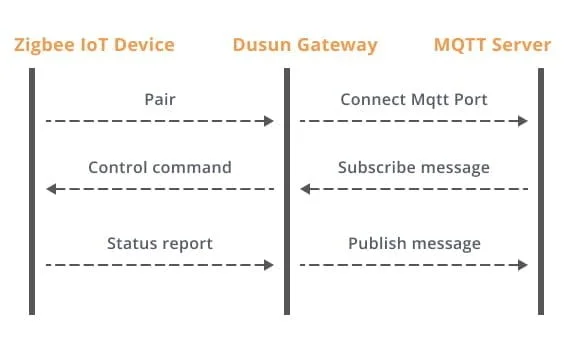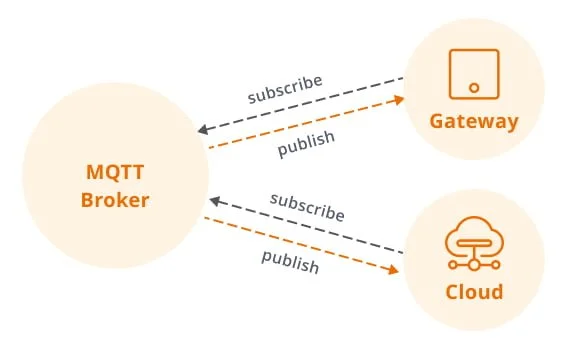 DSGW-030-1 wireless Zigbee WiFi gateway use MQTT protocol to communicate with cloud server. MQTT (Message Queuing Telemetry Transport), as its name suggested, is a publish-subscribe-based messaging protocol, enabling MQTT client libraries to communicate with a MQTT broker. It is very useful for connections with remote locations where a small code footprint is required and/or network bandwidth is at a premium.
Both Zigbee gateway device and cloud server acts like an MQTT client running MQTT software. Free MQTT API will be offered by Dusun IoT to integrate to the popular home automation applications. Take Eclipse Paho as an example, users can deploy Paho libraries on Dusun zigbee gateways and publish sensor data messages to their MQTT broker server. Developers can use an application or platform such as Tuya Zigbee Gateway MQTT to subscribe the topic and watch the sensor status remotely. You can view Paho MQTT Client configuration guide here.



Setup MQTT Server for Zigbee Gateway
To encrypt the communication between MQTT clients, especially on a public network, SSL is necessary. Get to know more about connect to MQTT broker with SSL here. In summary, benefits of Zigbee MQTT gateway lies in shorten the time of product development time by employing standard MQTT protocol to make cloud platform integration. What's more, developers are allowed to flash the DSGW-030-1 Zigbee home gateway and firmware with the open-source software on the Linux OpenWRT system.
| | |
| --- | --- |
| API | Document |
| Temperature & humidity sensor | MOTT API for Temperature &humidity sensor |
| Door/window sensor | MOTT API for Door/window sensor |
| PIR | MOTT API for PIR |
| Leakage | MOTT API for Leakage |
| Plug | MOTT API for Plug |
| Switch | MOTT API for Switch |
| Smoke | MOTT API for Smoke |
| Emergency button | MOTT API for soS button |
How to choose the best zigbee gateway?
Many company produces Zigbee gateways. Generally, Zigbee gateway should meet Zigbee Home Automation (ZHA) standard and IEEE 802.15. 4 physical radio specification to ensure seamless integration and compatibility with other smart home devices. Other factors need to consider when choosing the best Zigbee gateway include Zigbee versions and compatibility, number of supported devices, power consumption, integration with other smart home ecosystem like Amazon Alexa or Google Assistant, multi-protocol support, firmware updates and prices.
How to setup Zigbee gateway?
1.Position the gateway at a proper place.
wireless signal strength and coverage varies depending on the actual environment where your gateway is in. Many obstacles and factors (like concrete structures, thickness and number of walls) may limit the range of the wireless signal. Tips: the gateway can be placed on a shelf or desktop.
2.Connect gateway with a Router via WAN port
Press and hold the Wi-Fi enable button for 5 seconds to enable the Wi-Fi function. Find a computer connected to your home router and open the web browser, and find out the IP address, user name and password of the gateway and log in.
3. Gateway Configuration
Configure the gateway features on the web browser of computer and watch the three indicators (power on/off, WAN/LAN network, signal) to confirm whether the gateway is working.
To know more details, kindly ask us for user manual and quick start guide.
Gateway Configuration
Configure the gateway features on the web browser of computer and watch the three indicators (power on/off, WAN/LAN network, signal) to confirm whether the gateway is working.
To know more details, kindly ask us for user manual and quick start guide.
What is Zigbee smart home hub?
Zigbee is a global wireless radio communication standard designed to enable the control and monitoring of connected devices. It's a low-power, close-proximity solution suited for home automation. With Zigbee, even two devices from different manufacturers can speak a common language, so there's no barrier to communication. Know more about What is Zigbee here.
Zigbee supports mesh network and can connect up to 65,000 nodes on a single network. If one node fails for some reason and cannot communicate with a second node on the mesh network. This means it can boost data transmission range and provide greater stability (even when a single connected node fails and doesn't work).
By installing home automation software on a Zigbee gateway controller, It forms a univsal Zigbee smart home hub/command coordinator to control smart devices across your home via a user console and without the need for multiple apps on your smartphone.
Is DSGW-030-1 a Zigbee Cellular LTE gateway?
The entire DSGW-030 is built for smart home uses and supports BLE/Zigbee/Z-wave to Wi-Fi/Ethernet, without LTE 4G functions. If you are looking for Cellular function, you can click our DSGW-040 Zigbee Cellular gateway.