With so many options available, choosing the best Zigbee gateway is challenging. Here we analyze the five best Zigbee gateway products from global companies.
Aqara Hub M2 – Best Zigbee gateway hub for voice control
Dusun DSGW-210 – Best programmable smart home Zigbee gateway
Hubitat Elevation C-8 – Fast and private Zigbee gateway
Develco Squid link 2B – Modular and flexible Zigbee gateway
EVVR Hub – Best value Zigbee gateway
The article provides comprehensive details regarding the gateway's specifications, applications, benefits, and drawbacks. The comparative analysis helps you to choose the best Zigbee gateway for your application.
Top Zigbee gateways available today
Zigbee's popularity in IoT results in various smart home Zigbee gateway devices from numerous unique vendors, each with distinct features and resources. Here you will get the required information about the best Zigbee gateway devices.
DusunIoT Zigbee Gateway
The DSGW-210 RK3328 IoT gateway hardware hub is a smart home Zigbee gateway that supports various connectivity options, including Cellular, Bluetooth, Wi-Fi, Ethernet, USB, ZigBee, Z-wave, and Lora. Its Li battery backup ensures reliable connectivity for your smart home devices.
The Zigbee gateway exhibits high performance due to a quad-core ARM Cortex-A53 processor and 1GB RAM. A large storage capacity of 8GB eMMC and battery backup makes it more useful in many distinct applications.
The Zigbee hub has multiple interfaces, including USB, HDMI, Ethernet, and RS485. Its modular IoT gateway architecture allows for the customization of many gateway features, providing an off-the-shelf solution that meets particular needs.
The Dusun DSGW-210 gateway is compatible with both Linux and Android operating systems. It is easy to install and maintain due to Its compact and robust design. With its wide range of connectivity options, the DSGW-210 can cater to diverse IoT applications, making it a versatile and flexible choice for your smart home automation.
Aqara Hub M2
Aqara Hub M2 is a compatible Zigbee 3.0 Gateway that allows you to connect and control various Aqara smart home devices. You can access the Zigbee gateway from multiple applications, including Apple HomeKit and the Aqara Home. The Zigbee hub has a built-in light sensor, speaker, and IR transmitter.
The Aqara Zigbee Hub supports Wi-Fi and Bluetooth 5.0, operating on 2.4 and 5 GHz frequency channels. The Zigbee hub can transmit for up to 200 meters and connect up to 128 devices in parallel. Its built-in battery pack can provide a backup power source for up to 8 hours.
Hubitat Elevation
The Hubitat Elevation C-8, a smart home hub, has been designed to operate with Zigbee smart home devices featuring a quad-core ARM Cortex-A53 CPU and 2GB DDR3 RAM.
This device can work on protocols like Ethernet, Wi-Fi, Zigbee, and Z-Wave Plus. The Hubitat Elevation C-8 is a local processing hub, not reliant on the cloud, and is compatible with various voice assistants, including Amazon Alexa and Google Assistant.
Develco
The Develco Squid link 2B smart home gateway has an ARM Cortex-A7 CPU, 256 MB RAM, and 4 GB eMMC flash memory. It supports Ethernet, Wi-Fi, Zigbee, and Z-Wave Plus connectivity, featuring an internal antenna for Wi-Fi and external antennas for Zigbee and Z-Wave Plus.
The Zigbee gateway receives power through a 5V DC micro-USB input. The IoT gateway secures Zigbee and Z-Wave Plus connections with AES-128 encryption. It is suitable for -20 to +60°C (-4 to +140°F) temperatures.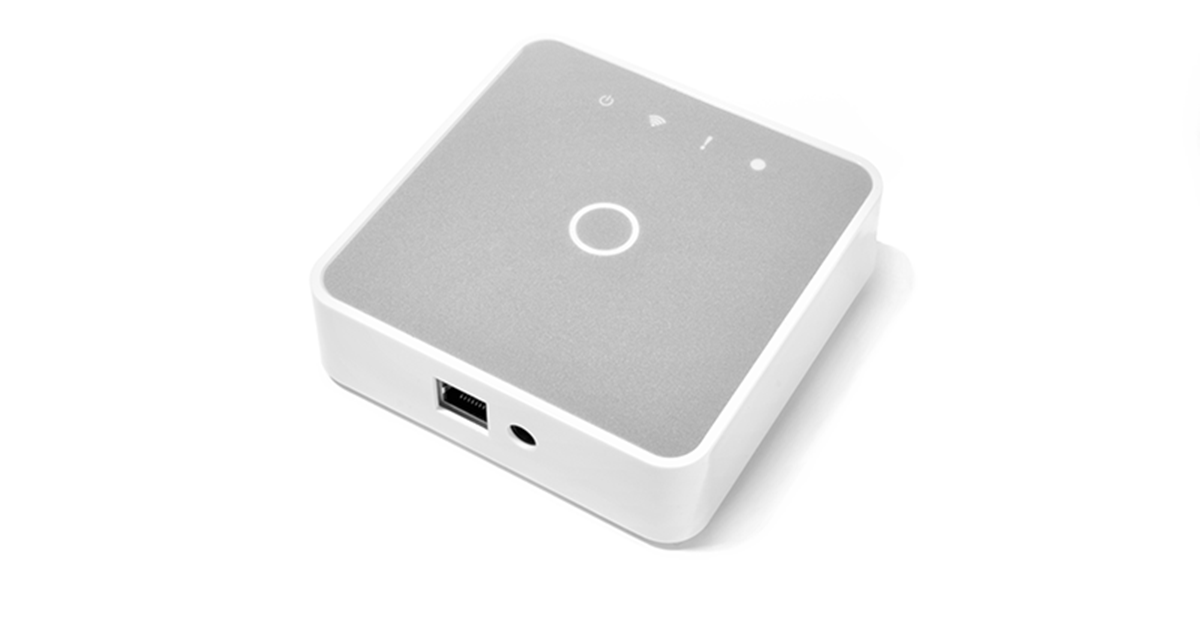 EVVR Hub
Technical specifications of EVVR Zigbee Hub include a quad-core 1.5 GHz ARM Cortex CPU, 256MB DDR3 RAM, and 512MB Flash storage. The Zigbee hub has a recessed push button for hardware reset and one LED indicator.
EVVR Zigbee gateway includes one RJ45 and one RS485 and operates through PoE (IEEE 802.3af) with an input of 48V. The EVVR Hub supports 1000 Mbps Ethernet, IEEE 802.1X, and 2.4 GHz & 5 GHz Wi-Fi. It is suitable to operate at 41 to 113 °F (5 to 45 °C) range.
Comparative analysis
Following is a summary table of the primary characteristics of the top 5 Zigbee gateways, offering a brief review of their essential features.
| | | | | | |
| --- | --- | --- | --- | --- | --- |
| Hub Name | Aqara Hub M2 | Dusun DSGW-210 Zigbee Gateway | Hubitat Elevation C-8 | Develco Squid. Link 2B | EVVR Zigbee Hub |
| Processor (CPU) | Not specified | Quad-core ARM Cortex-A53 | Quad-core ARM Cortex-A53 | ARM Cortex-A7 | Quad-core 1.5 GHz ARM Cortex CPU |
| Memory (RAM) | Not specified | Up to 2GB | 2 GB DDR3 | 256 MB | 256 MB DDR3 |
| Storage (Flash) | Not specified | 8GB eMMC, Up to 32GB DDR3/4 | 16GB eMMC | 4GB eMMC flash memory | 512MB Flash storage |
| Connectivity | Zigbee 3.0, Wi-Fi 2.4GHz/ 5GHz, BT 5.0 | Zigbee, Z-WAVE, BLE, Wi-Fi, LoRaWAN | Ethernet, Wi-Fi, Zigbee, Z-Wave | Ethernet, Wi-Fi, Zigbee, -Wave Plus | Ethernet, Wi-Fi, IEEE 802.1X, RS485 |
| Power Input | Micro USB 5V-1A or 5V-2A | USB Type-C 5V/3A | 5V DC Micro USB | 5V DC micro-USB input | PoE (IEEE 802.3af) Input: 48V |
| Operating Temp. | 5°C~+50°C | -10℃~60℃ | Not specified | -20 to +60°C | 5 to 45 °C |
| Interfaces | Built-in light sensor, speaker, IR transmitter | USB, Ethernet | USB-A, Micro USB, Ethernet | Internal Wi-Fi antenna, external Zigbee and Z-Wave Plus antennas | RJ45, RS485 |
| Additional Feat. | Backup battery (8 hours) | Linux Debian 9, 5000mAH battery | Local processing, USB-A port (future use) | AES-128 encryption for Zigbee and Z-Wave Plus connections | LED Indicator, Recessed reset button |
The comparison helps identify the best Zigbee gateway in multiple scenarios. For instance, the best value Zigbee gateway might not perform best. The most flexible Zigbee gateway might lack some security features. Therefore, choosing the Zigbee gateway with the most comprehensive performance in all crucial parameters is recommended.
For some individual home automation experts, using Raspberry Pi to DIY Zigbee hub is a good choice. But for mass production, it is better to use productized Zigbee Gateway Raspberry Pi 4 Alternatives. It will save you a lot of time and cost.
Critical factors to consider when choosing a Zigbee gateway
Zigbee is one of the most commonly used smart home protocol. It allows various smart home devices to communicate with each other and the gateway, forming a cohesive and intelligent system.
The Zigbee gateway should meet the Zigbee Home Automation (ZHA) standard and IEEE 802.15. 4 physical radio specification to ensure seamless integration and compatibility with other smart home devices.
The critical factors when choosing a Zigbee gateway include the price, compatibility, range, number of connected devices, battery backup, and customization options.
Zigbee version
Ensure that the gateway you select is compatible with the specific version of Zigbee on your devices, as Zigbee has various versions with distinct functionalities.
Explore: What is Zigbee and Zigbee Versions
Mesh network support
Zigbee uses a mesh network topology, which allows devices to communicate with each other directly, even if they are not within range of the gateway. Make sure that the gateway you choose supports mesh networking.
Explore: Wireless Zigbee Mesh Network
Device support
The processing power and memory of the Zigbee gateway impose limitations on the number of devices it can support. Hence, select a gateway that supports sufficient devices for your smart home projects.
Guideline: Getting ZigBee sensors/devices data from UBUS
Power consumption
To optimize your Zigbee devices' battery life, seek a gateway with low power consumption.
Integration with other Zigbee systems
If you have other smart home systems, such as Amazon Alexa or Google Assistant, or Home Assistant, search for a Zigbee gateway that seamlessly integrates with these systems to provide a smooth experience.
Explore: Tuya Zigbee gateway
Home Assistant is free and open-source software for home automation designed to be a central control system for smart home devices. DSGW-210-HA is your best Zigbee gateway with pre-installed Home Assistant software and firmware.
Read further: Zigbee vs Z-Wave, Who Enjoys the Best Interoperability?
Protocol support
While Zigbee protocol is popular for smart home devices, it's not the only one. Ensure that the gateway you choose supports other protocols your smart home devices may use, such as Z-Wave or Wi-Fi.
Security
Zigbee devices can communicate directly, making selecting a gateway that provides enhanced security protocols to prevent unauthorized access to your smart home network even more important. It includes encryption, secure boot, and firmware updates to ensure protection from potential security vulnerabilities.
Firmware updates
The firmware updates are critical to fixing bugs and security vulnerabilities. Find a gateway that supports firmware updates to keep your smart home network up to date.
User interface
The user interface, which includes the mobile app and web interface, plays a vital role in any intelligent automatic system. Choose a gateway with a user-friendly interface that simplifies the process of setting up and managing your smart home devices.
Price
Zigbee gateway selection greatly depends on your budget since Zigbee gateways are available at different price ranges. Since every benefit comes with a tradeoff, the least expensive option may not provide the best features, security, and reliability.
Best Zigbee gateway conclusion
After analyzing the five Zigbee gateways, the Dusun Zigbee Gateway emerges as the best. This smart home Zigbee gateway supports wireless communication protocols, interfacing ports, and multiple operating systems. Its compact and rugged design makes it easy to install and maintain and suitable for harsh environments. Conclusively, it is a powerful and versatile gateway for smart home automation applications.
Aqara Hub M2 is also popular among those who want a Zigbee hub compatible with Apple HomeKit and Aqara smart home devices. Its compatibility with various smart home ecosystems, built-in sensors, and backup battery ranks it the second-best Zigbee gateway.
Please do not hesitate to contact Dusun IoT using the form on the right or live chat. A knowledgeable engineering staff will recommend the best Zigbee equipment and solutions for your project.
You may also be interested in Zigbee Devices: Find Out Which Ones to Get (The Comprehensive List for 2023)
Best Zigbee Gateway FAQs
How wrong Zigbee gateway selection can impact performance?
A poorly selected gateway may be incompatible with your Zigbee devices, resulting in connectivity issues or uncontrollable devices. It may also have a limited range or be susceptible to interference, resulting in dropped connections or slow response times. Inadequate security measures can leave your smart home vulnerable to hacking or unauthorized access.
Can I use multiple Zigbee gateways in my home?
Yes. It is possible to connect multiple Zigbee gateways in your home. Multiple gateways can be advantageous if the devices are far from the primary gateway.
Can I control my Zigbee gateway through my mobile phone?
Yes. Most Zigbee gateways can work with a mobile app that remotely controls smart home devices.
Can I integrate my Zigbee gateway with other smart home systems?
Many Zigbee gateways are compatible with other smart home systems, such as Amazon Alexa, Google Assistant, and Apple HomeKit.