Zigbee is a full stack solution that typically operates in accordance with the IEEE 802.15.4 standard and employs wireless zigbee mesh network technology. It is a wireless technology based on standards that was created to enable low-cost, low-power wireless machine-to-machine (M2M) and internet of things (IoT) networks.
ZigBee Architecture
The ZigBee standard was created by the ZigBee Alliance, which included many major companies such as Philips, Mitsubishi Electric, Epson, Atmel, Texas Instruments, and others. This Alliance was established as a non-profit organization in 2002.
The IEEE 802.15.4 standards for the Physical and MAC layers, as well as its own Network and Application layers, are followed by the ZigBee Network Protocol.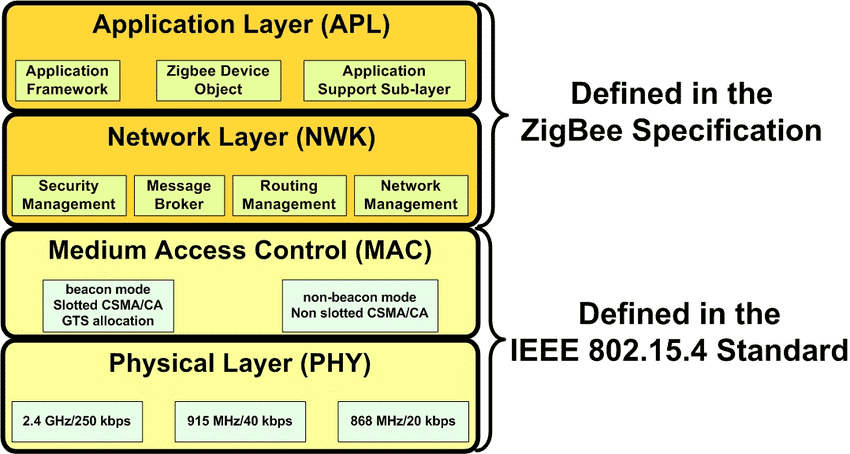 ZigBee Network Topologies
The ZigBee Network supports a variety of topologies, the most common of which are star and peer-to-peer topologies. Each ZigBee network topology is made up of three different types of nodes: ZigBee Coordinator, ZigBee Router, and ZigBee End Device. The coordinator assigns a unique address to each device in the network, initiates and transfers network messages, and chooses a unique identifier for the network. There are two types of ZigBee devices: Full Function Devices (FFD) and Reduced Function Devices (RFD) (RFD).
ZigBee Star Topology
The coordinator is the central device in a Star Topology that initiates and manages network devices. Each coordinator chooses a unique identifier that is not shared by any other network in its area of influence. The coordinator is communicated with by each End Device. End devices are typically RFDs that can communicate only with the coordinator or the FFD.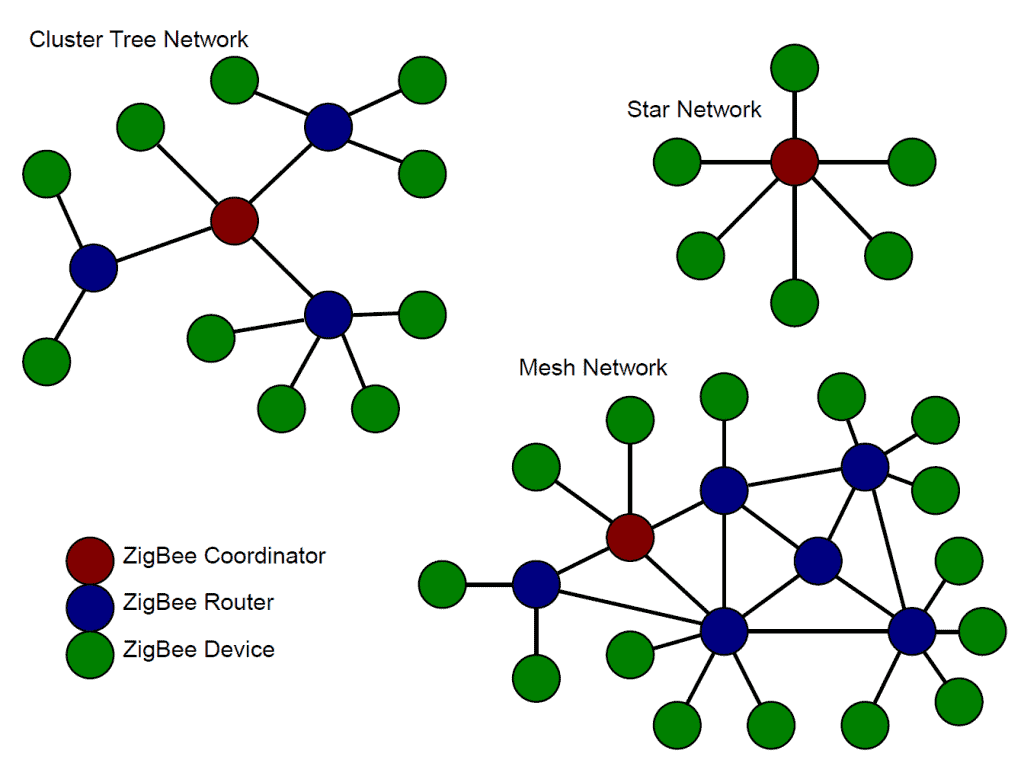 ZigBee Peer to Peer Topology
Each end device in a Peer to Peer Topology can communicate with others in its vicinity. The devices are FFDs that can communicate with one another directly. This type of topology, however, can include an RFD that communicates with only one device in the network. A Peer to Peer Topology can be either a Mesh or a Tree Topology.
ZigBee Cluster Binding
A critical part in Zigbee protocol is the cluster binding process. Throughout the ZCL, a client/server model is employed. This model is illustrated in Figure below,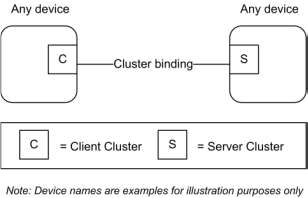 A cluster is a related collection of commands and attributes that define an interface to specific functionality. Typically, the entity that stores the characteristics of a cluster is referred to as the server of that cluster, and an entity that affects or manipulates those attributes is referred to as the client of that cluster. However, if required, attributes MAY also be present on the client of a cluster.

Take the Dusun IoT'S Zigbee solution for cluster binding as an example. It implemented the SiliconLabs EZSP Zigbee stack. The following figure is an example of binding the gateway with a Zigbee Plug. It can be seen that several main clusters for operation are supported, for instance, 0x0006(ONOFF) and 0x0500(IAS ZONE for energy report).


Benefits of Using Zigbee as Your IoT Gateway Connectivity Option
Globally Adoption
Extensive library of applications and devices used by hundreds of businesses worldwide.
Interoperablility
There is a large ecosystem of products to choose from that work in unison.
Reliablity and Low-Power Consumption
A self-healing mesh network eliminates single points of failure while consuming little power.
Security
Secure by design, with a variety of security mechanisms, including AES-128-CCM encryption over-the-air.
Dusun IoT Application Including ZigBee Gateway
Dusun is a member of the CSA Alliance and offers a variety of Zigbee-based IoT solutions centralized with the ZigBee Gateway and Zigbee Module.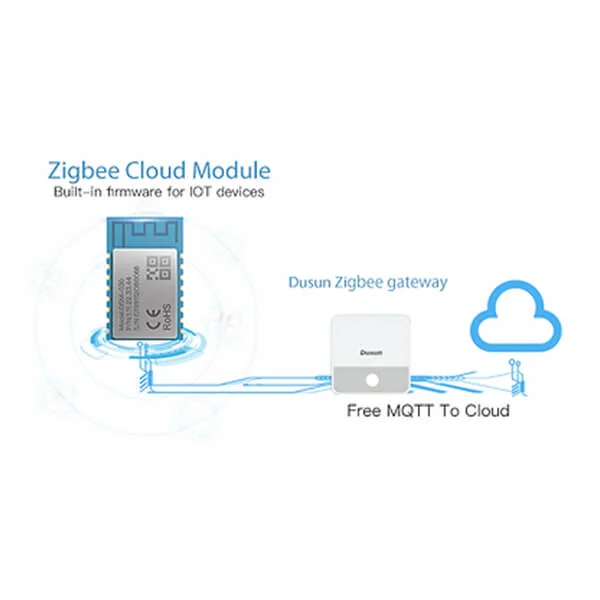 If you are looking for some powerful ZigBee gateway, here we recommend DSGW-030 ZigBee to Wi-Fi/Ethernet Gateway.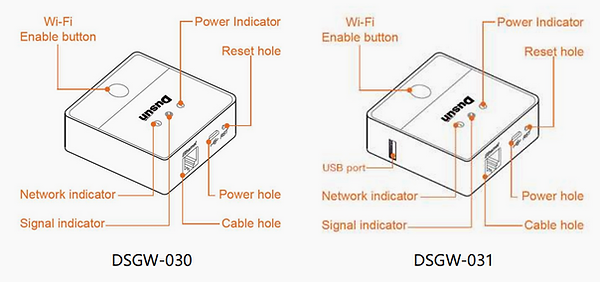 You can control multiple ZigBee-enabled devices in your home from a single interface. This ZigBee gateway typically connects to your home network via Wi-Fi or Ethernet and offers a variety of methods for connecting/controlling your smart devices at home. Energy monitoring and reporting, scene creation and triggering, and voice control are all included in some series of ZigBee to Wi-Fi/Ethernet Gateway.
DSM-040 Wireless ZigBee Module is a low-power embedded Zigbee3.0 module. It is composed of a highly integrated wireless chip.
EFR32MG13P732F512 and some peripheral devices, built-in 802.15.4 PHY/MAC Zigbee network protocol stack, and rich library functions. The antenna is on board PCB Antenna with 2.2dBi gain. This module is a FreeRTOS platform that integrates all Zigbee MAC and TCP/IP protocol function libraries. Users can develop Zigbee IoT application products that meet their needs.
ZigBee Gateway Uses Cases
Dusun IoT provides several complete IoT solutions for wireless technology implementation scenarios based on the two essential parts of the Zigbee network, two of which are listed below.
Smart Apartment Solution
The Smart Apartment Hardware Solution is the first solution. It gives renters a home that is integrated with and responds to their way of life. In exchange, it raises rent, saves energy, and collects useful resident population data. The smart device communicates with the customer's or a third party's smart apartment platform via the smart gateway for remote operation and control.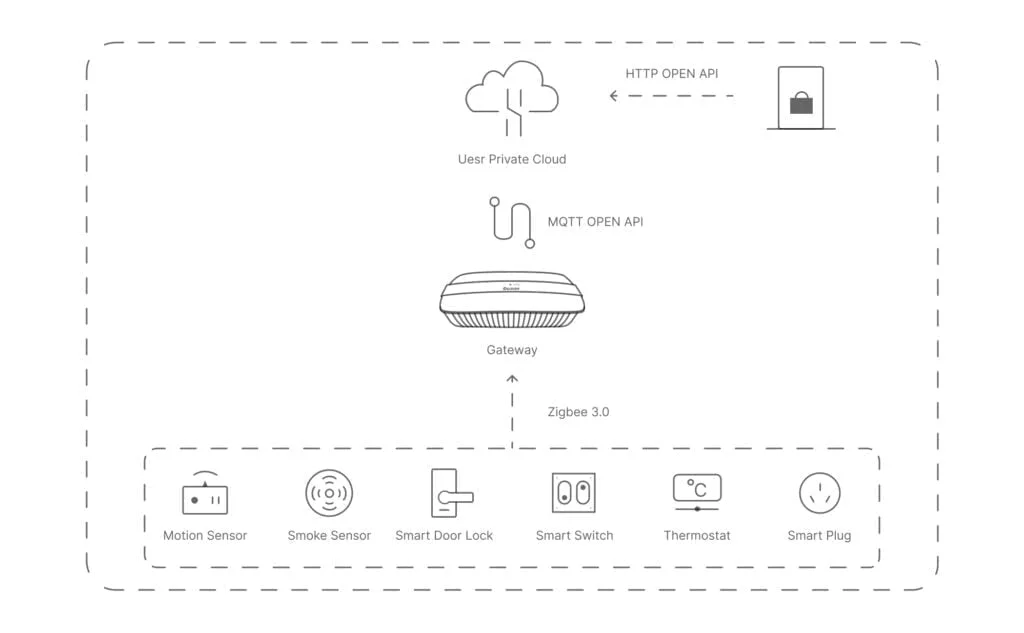 You may also interested in:
Smart Home Elderly Care
The Smart Elderly Care Hardware Solution allows the elderly to remain at home independently for longer periods of time. It can detect the elderly's life trajectory and also protect the elderly's safety. The system employs inconspicuous wireless sensors placed throughout the home to learn the elderly's daily behavior patterns and detect behavioral changes that may be cause for concern.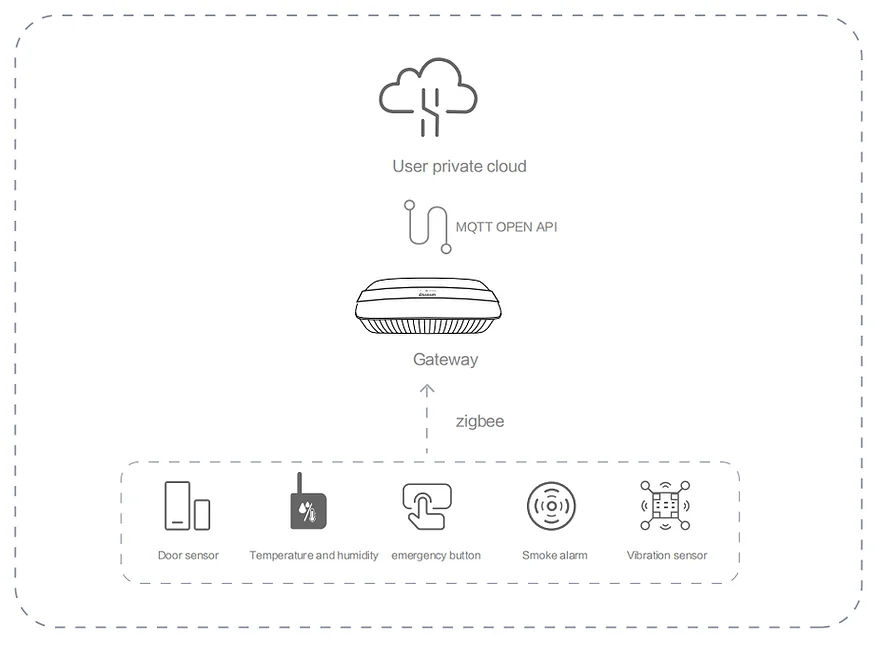 It then sends messages to family members or caregivers to remind them. The smart elderly care system, which has been successfully tested in residential care facilities for several years, is now available for home installations by service providers, retailers, and smart home system integrators.
Reasons to Choose Dusun IoT's ZigBee Gateway
Support Secondary Development
Dusun IoT's Zigbee gateway supports secondary development and can be connected to various sensors
and customer-owned cloud platforms. Customers can obtain data for developing personalized linkage scenarios. DUSUN develops a system based on Linux OpenWrt, which is more convenient for secondary development.
Multi-platform Integration
With free MQTT- API, Dusun IoT's Zigbee gateway can integrate to the popular home automation applications and speech recognition platforms: Amazon Alexa, Google Assistant, Google Nest, and IFTTT. Since it is compatible with most mainstream platforms on the market, it saves customers the trouble of frequently changing devices.
Quality Assurance
The Dusun IoT's Zigbee Module is certified by Zigbee 3.0, the CE, and the FCC. And our Zigbee gateway is certified by the European Community, the Federal Communications Commission, Underwriters Laboratories, and ETL. You can rest easy knowing that the quality is guaranteed to be high.
LUCI Configuration Page
The ZigBee gateway comes with a standard Luci configuration page, making it easier to access the cloud on the device. It's easy and simple for customers to access and configure.