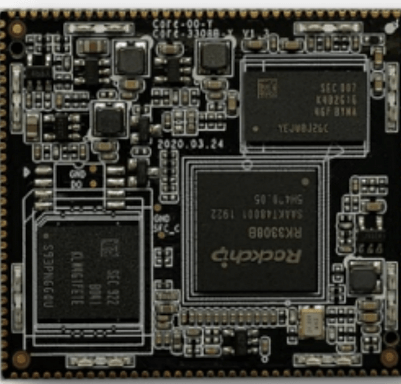 1. DSOM-050 RK3308 SOM Product Description
1.1 Product Overview and Scope
DSOM-050R RK3308B System on Module adapts 136 pin stamp hole design and is equipped with RK3308B, an IoT-focused processor with a quad-core 64-bit Cortex-A35 architecture that can run at a maximum frequency of 1.3Ghz. It boasts an integrated high-performance Codec and hardware VAD (Voice Activation Detection) and is compatible with a variety of operating systems, speech systems, and services.
Additionally, it offers numerous expansion interfaces and powerful display drive capabilities, making it a versatile choice for IoT applications, including smart speakers and displays, that demand advanced audio processing and speech recognition capabilities.
The DSOM-050R RK3308B System on Module offers a wide range of development documents and software resources that are both free and open-source. This convenience enables developers to enhance their efficiency and shorten the development cycle. Video streams and high quality audio streams – perfect for commercial/industrial applications that will have customer and public facing software.
1.2 System on Module Features
Featuring a compact form factor and sufficient GPIO interfaces
Size 45mm*40.2mm
eMMC up to 128GB
RAM up to 512MB DDR3
Support power sleep and wake-up
Supports Buildroot, Linux + MiniGUI/QT, ROS
Supports 100M wired Ethernet
Leads out 136 PIN pins, 1.2mm pitch, including all CPU pins
RoHS certified
1.3 System on Module Application
lIoT Gateways
Smart Speakers
Smart Displays
Voice Assistants
Healthcare
Industrial Control
2 System Block Diagram of DSOM-050 RK3308 SOM
2.1 Main Chip Block Diagram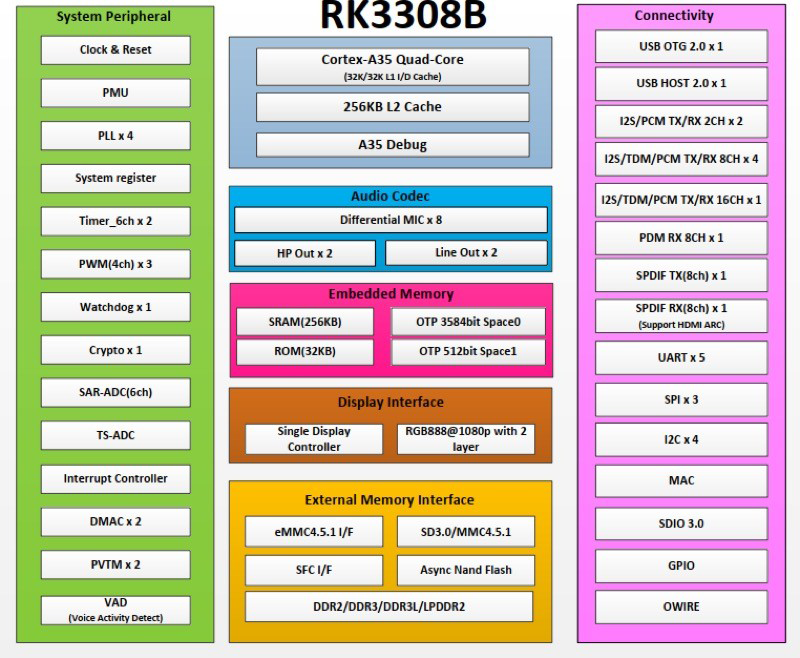 2.2 System on Module Block Diagram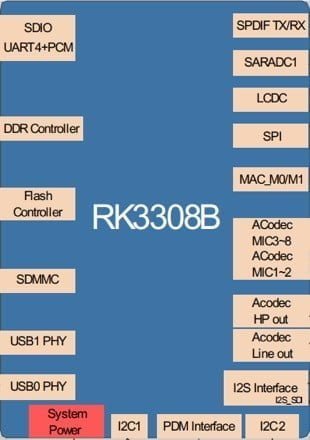 3 Basic Parameters and Interfaces of DSOM-050 RK3308 SOM
Item
Parameter
CPU
Quad-Core ARM® Cortex-A35 64-bit processor, Frequency up to
1.3GHz
RAM
512 MB DDR3/LPDDR3 (128MB/ 512MB optional)
Storage
eMMC 8 GB (4GB / 8GB / 16GB / 32GB/ 64G / 128G eMMC
optional)
Power Management
Isolated DC/DC Converters that support dynamic frequency
scaling
Operating Voltage
Typical voltage 5V/0.5A
OS
Buildroot, Linux + MiniGUI/QT, ROS (Robot Operating System)
Temperature
Operating Temperature: -10°C ~60 °C
Storage Temperature: -40 °C ~85 °C
Humidity
10~95%(Non-condensing)
Barometric Pressure
76Kpa ~106Kpa
Size
45mm×40.2mm x 3.35mm
Item
Parameter
Ethernet
1 X 10M/100MHz RMII Ethernet interface needs an external PHY
chip
LCD
Parallel RGB LCD interface supports RGB888, ARGB888, RGB565,
YCbCr422, YCbCr420, YCbCr444
Audio
The system provides a rich set of digital and analog audio interfaces, including support for I2S, PDM, TDM, and SPDIF.
l built-in stereo headphone and line-out outputs and support for up to six channels of analog microphone input
l supports 8-channel I2S/TDM x 2, 8-channel PDM, and 2- channel I2S/PCM.
l supports up to 8-channel microphone array with echo
cancellation
UART
5 X Serial Ports and flow control are supported on all four
channels except for UART2.
I2C
4 X I2C
SDIO
1 X SDIO
SPI
1 X SPI
PWM
11 X PWM output, including multiplexed channels
USB 2.0
2 X USB2.0, one of which is for OTG
USB 3.0
1 X USB3.0
Ethernet
the main chip integrates a 100M Ethernet chip
TF
1 X SDIO
GPIO
Defined features
ADC
6 X ADC
Upgrade
supports local firmware upgrades via USB interface
4 Pin Definition of DSOM-050 RK3308 SOM
5 Eletronical Parameters of DSOM-050 RK3308 SOM
5.1 Absolute Electrical Parameters
Parameter
Description
Min
Typ
Max
Unit
VCC5V0_SYS(_1/_2/_3)
VCC5V0_SYS Input voltage
-0.3
 
6.0
V
VCC_IO_1
VCC_IO_2
3.3V IO out voltage
-0.3
 
3.6
V
VCC_1V8
1.8V IO out voltage
-0.3
 
2.1
V
Ta
Operating temperature range
-10
 
60
°C
Ts
Store temperature range
-40
 
85
°C
Note: Exposure to conditions beyond the absolute maximum ratings may cause permanent damage and affect the reliability and safety of the device and its system. 
The functional operations cannot be guaranteed beyond specified values in the recommended conditions.
5.2 Normal working parameters
| Parameter | Description | Min | Typ | Max | Unit |
| --- | --- | --- | --- | --- | --- |
| VCC5V0_SYS(_1/_2/_3) | VCC5V0_SYS Input voltage | 4.8 | 5 | 5.2 | V |
| VCC_IO_1 VCC_IO_2 | 3.3V IO out voltage | 3.0 | 3.3 | 3.4 | V |
| VCC_1V8 | 1.8V IO out voltage | 1.7 | 1.8 | 1.9 | V |
| VCC5V0_SYS Supply | VCC5V0_SYS Input current |   |   | 0.3 | A |
| Ta | Operating temperature range | -10 | 25 | 60 | °C |
| Ts | Storage temperature range | -40 | 25 | 85 | °C |
6 Product Dimensions of DSOM-050 RK3308 SOM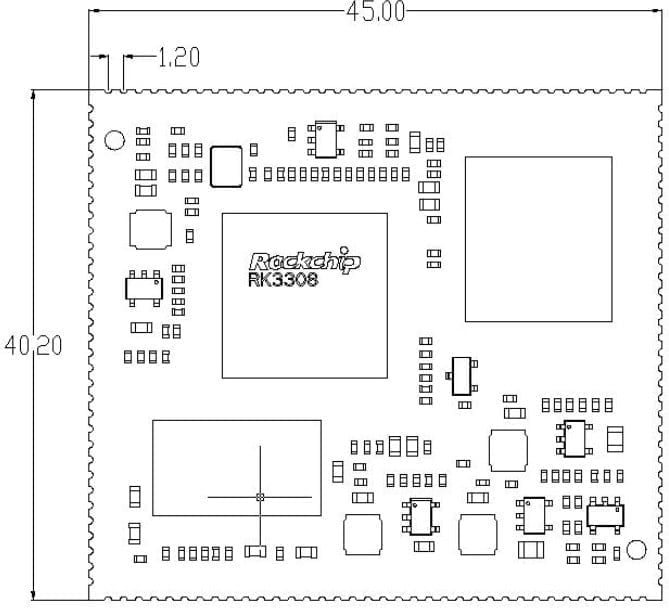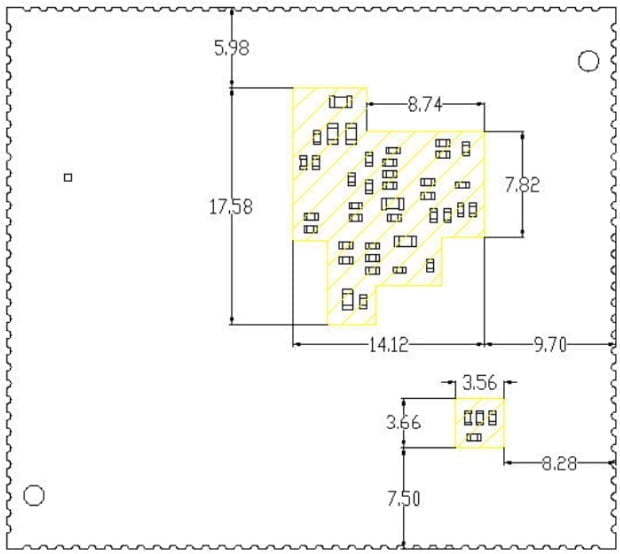 | Item | Parameter |
| --- | --- |
| Exterior | Stamp Hole |
| Core Board Size | 45mm X 40.2mm X 3.35mm |
| Pin Spacing | 1.2 mm |
| Pin Pad Size | 1.5mm X 0.7mm |
| Number of Pins | 136Pins |
| Number of Layers | 6 floors |
| Warpage | less than 0.5 % |
7 The methods of Coreboard Thermal Control
7.1 Thermal Control Strategy
There is a generic thermal system driver framework in the Linux kernel that defines a number of temperature control strategies. The following three strategies are currently in common use:
Power_allocator: Introduces proportional-integral-derivative (PID) control, dynamically allocates power to each module based on the current temperature and converts power to Frequency to achieve Frequency limiting based on temperature.
Step_wise: Limits the Frequenof in steps based on the current temperature.
User space: Does not limit Frequency.
The RK3328 chip has a T-sensor that detects the chip's internal temperature and uses the Power_allocator strategy by default. The operating states are as follows:
If the temperature exceeds the set temperature value:
·  If the temperature trend is rising, the Frequency is gradually reduced.
·  If the temperature trend is falling, the Frequency is gradually increased.
When the temperature falls to the set temperature value:
·  If the temperature trend is increasing, the Frequency remains unchanged.
·  If the temperature trend is falling, the Frequency is gradually increased.
Suppose the Frequency reaches its maximum and the temperature is still below the set valve. In that case, the CPU frequency is no longer under thermal control, and the CPU frequency becomes system load frequency modulation.
If the chip is still overheating after the Frequency has been reduced (e.g., due to poor heat dissipation) and the temperature exceeds 95 degrees, the software will trigger a restart t. If the restart fails due to deadlock or other reasons and the chip exceeds 105 degrees, the otp_out inside the chip will trigger an immediate shutdown by the PMIC.
Note: The temperature trend is determined by comparing the previous and current temperaturesIf the device temperature is below the threshold, the temperature is sampled every l seconds; if the device temperature exceeds the threshold, the temperature is sampled every 20ms, and the Frequency is limited.
7.2 Thermal Control Configure
The RK3328 SDK provides separate thermal control strategies for the CPU and G U.
Please refer to the (Rockchip_Developer_Guide_Thermal) document for specific configurations.
8 Production Guide of DSOM-050 RK3308 SOM
Select modules that can be SMT or in-line packaged according to the customer's PCB design. If the board is designed for SMT packaging, use SMT-packaged modules. If the board is designed for in-line assembly, use in-line assembly y.
Modules must be soldered within 24 hours of unpacking. If not, place them in a dry cabinet with a relative humidity of no more than 10% or re-pack them in a vacuum and record the exposure time (total exposure time must not exceed 168 hours).
Instruments or equipment required for SMT assembly:
SMT Mounter
SPI
Reflow soldering
Oven temperature tester
AOI
Instruments or equipment required for baking:
Cabinet ovens
Antistatic high-temperature trays
Antistatic and high-temperature gloves
8.2 Module storage conditions:
Moisture-proof bags must be stored at a temperature <40°C and humidity <90%H. Dry-packed products have a shelf life of 12 months from the date of sealing of the package—sealed packaging with a humidity indicator card.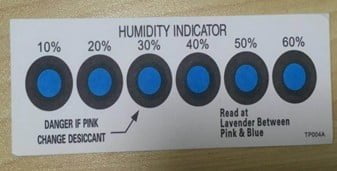 8.3 Baking is required when:
The vacuum bag is found to be broken before unpacking.
After unpacking, the bag is found to be without a humidity indicator card.
The humidity indicator card reads 10% or more after unpacking, and the color ring turns pink.
Total exposure time after unpacking exceeds 168 hours.
More than 12 months from the date of the first sealed packaging.
Baking parameters are as follows:
Baking temperature: 60°C for reel packs, humidity less than or equal to 5% RH; 125°C for tray packs, humidity less than or equal to 5% RH (high-temperature-resistant trays, not blister packs for tow trays).
Baking time: 48 hours for reel packaging; 12 hours for pallet packaging.
Alarm temperature setting: 65°C for reel packs; 135°C for pallet packs.
After cooling to below 36°C under natural conditions, production can be carried out.
If the exposure time after baking is greater than 168 hours and not used up, bake again.
If the exposure time is more than 168 hours without baking, it is not recommended to use the reflow soldering process to solder this batch of modules. The modules are class 3 moisture-sensitive devices and may become damp when the exposure time exceeds d. 
This may lead to device failure or poor soldering when high-temperature soldering is carried out.
Please protect the module from electrostatic discharge (ESD) during the entire production process.
To ensure product qualification rates, it is recommended to use SPI and AOI test equipment to monitor solder paste printing and placement quality.
8.6 Recommended Furnace Temperature Profile
Please follow the reflow profile for SMT placement with a peak temperature of 245C. The reflow temperature profile is shown below using the SAC305 alloy solder paste.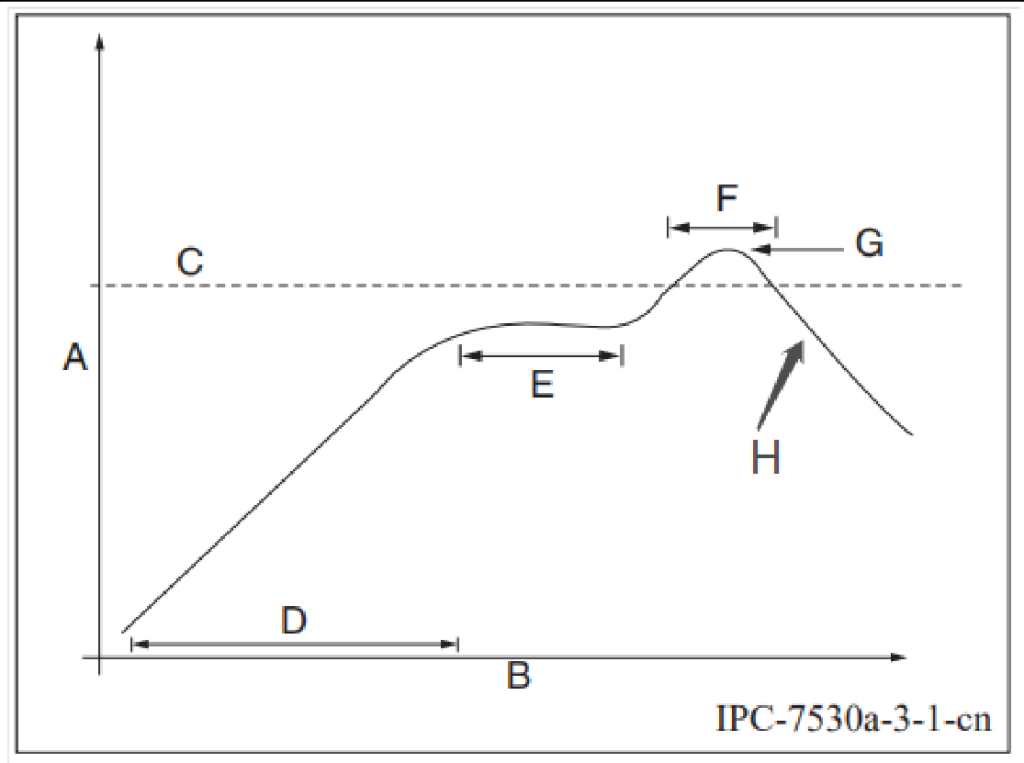 Description for graphs of curves.
A: Temperature axis
B: Time axis
C: Alloy liquid phase line temperature: 217-220°C
D: Slope of temperature rise: 1-3°C/s
E: Constant temperature time: 60-120s, constant temperature: 150-200°C
F: Time above liquid phase line: 50-70s
G: Peak temperature: 235-245°C
H: the slope of temperature reduction: 1-4°C/s
Note: above-recommended curves are based on SAC305 alloy solder paste as an example. Please set the recommended oven temperature curve for other alloy solder pastes according to the solder paste specification.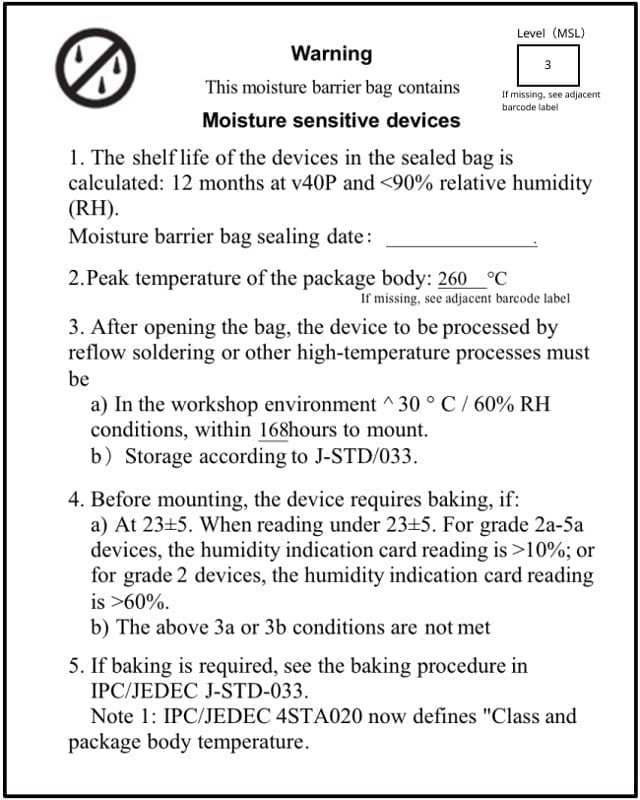 | Model | RAM | eMMC |
| --- | --- | --- |
| DSOM-050R-1 | 512MB | 8GB |
DusunIoT offers full set of development resources including QUICK START, SDK, Firmware packaging, module firmware, Tools, vairous third party software,etc.