Zigbee devices are widely used in various sectors due to their inexpensive cost, low power consumption, and capacity to handle a large number of devices in a single network. The need for Zigbee devices is anticipated to increase as more and more objects become "smart" and linked. Zigbee devices are classified into three types: Zigbee Gateways (also called Zigbee coordinators), Zigbee Routers, and Zigbee End Devices. In this article, we provide a complete list of Zigbee devices to help you choose Zigbee products suitable for your IoT project.
What are the types of Zigbee devices?
A complete solution, Zigbee normally functions in accordance with the IEEE 802.15.4 standard and makes use of wireless mesh network technologies. It is a wireless technology built on standards made possible by the Internet of Things (IoT) and machine-to-machine (M2M) networks. Below is a list of common Zigbee IoT devices in each category:
Further read: Zigbee mesh network, how does it work?
Zigbee gateway/ Zigbee coordinator
A ZigBee gateway is a device that allows data to be sent between a ZigBee network and devices on another network. The Zigbee Gateway serves as a link between the Zigbee network and other networks or devices, allowing for communication and data exchange. Further functionality, such as the ability to remotely manage devices in the Zigbee network, monitor network activities, or execute bespoke applications, may be provided by the Zigbee Gateway.
Further read: types of remote management IoT device
A Zigbee Coordinator is the core of the Zigbee gateway. The Zigbee Coordinator serves as the network controller, establishing and administering the Zigbee network. It is often the first device to be installed and is in charge of creating the network by assigning network addresses to other devices, setting network characteristics, and managing network traffic. The Zigbee Coordinator serves as the primary point of contact for all network devices and is responsible for the network's security and integrity.
Some famous Zigbee gateways/ Zigbee coordinators:
Xiaomi Zigbee gateway
Caseta Smart Bridge
Aqara Hub
Tuya Zigbee Hub
OSRAM Lightify gateway
Take one of Dusun IoT's most successful products 'Dusun Pi' for example. It is a flexible open-source IoT gateway created by Dusun IoT. Its details are accessible to IoT developers, who can change them to meet user and project requirements. It can be used for indoor and outdoor applications such as smart farming and precision agriculture, industrial automation, remote health monitoring, and smart farming.
With an ARM IoT gateway architecture Processor and up to RK3568, LPDDR4 8G, and 128GB eMMC, as well as up to 512GB storage with SSD compatibility, the Dusun Pi offers a strong performance. It supports a variety of wireless networking protocols, including Matter, Thread, B Wi-Fi 2.4/5G, Z-5.0, and Zigbee 3.0LE.
Ethernet, USB3.0, HDMI, MIPI-DSI, DP, SPDIF, SDMMC, SPI, UART, I2S/PCM(2ch)/TDM(8ch), PWM, ADC, CAN, and GPIO are just a few of the ports and interfaces you'll get. Additionally, the system offers trustworthy security with ATECC608, MQTT 3.1.1, Trust Zone, and tamper detection.
Also, it and all other Dusun Zigbee gateways include a modular architecture that lets you select modules in accordance with the protocols you require. Also, as these Zigbee gateways have open API, no additional programming or configuration is needed. This promotes efficiency and reduces costs.
These Zigbee hubs also support open-source operating systems like OpenWrt, Linux Debian, and Android, enabling them to self-develop software and applications. The global supply network of Dusun IoT can accommodate a wide range of particular requirements for private labeling, R&D, and Zigbee cellular gateway customization.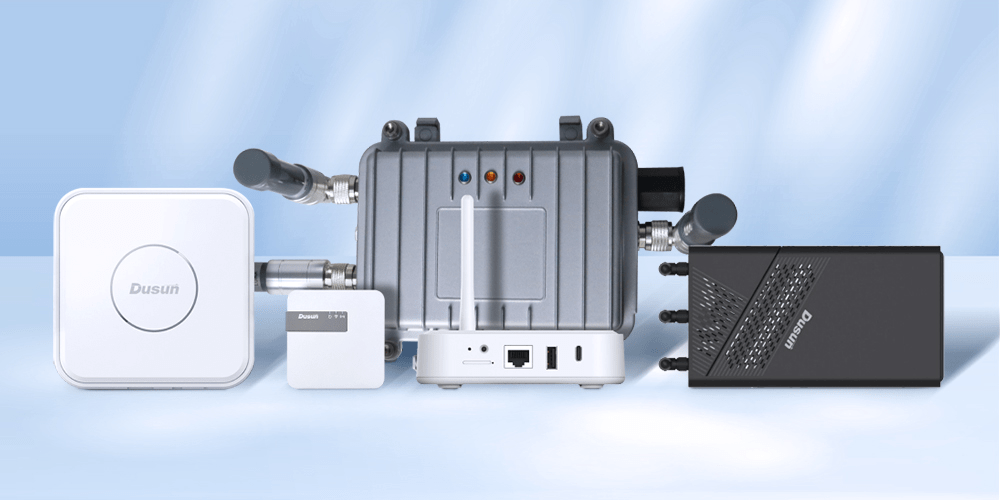 Zigbee router
A Zigbee Router can communicate with other devices and the coordinator, and it can also run the software. Both beacon and beaconless modes of operation are viable for a network. When in beacon mode, Zigbee routers send out broadcasts at regular intervals; in between beacon transmissions, devices can be turned off if desired. It is important to note that Dusun IoT launched the WiFi Zigbee Router gateway to maximize performance by seamlessly integrating the IoT gateway and Router capabilities. This product may offer all the features you require.
Some famous Zigbee router brands:
Philips Hue
Samsung SmartThings
Dusun IoT
Amazon Echo Plus
IKEA TRÅDFRI
You may also be interested in Router vs Gateway: Which to Choose for My IoT Project?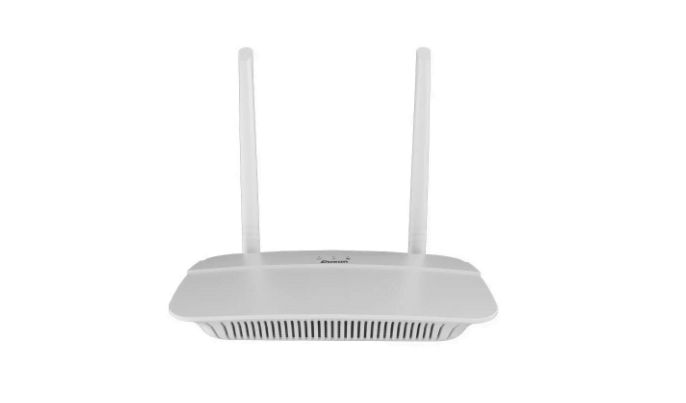 Zigbee end device
A Zigbee End Device in a Zigbee network is a device built for use in the Zigbee system. Battery life is prioritized, therefore it often has little processing power and memory and enters a low-power sleep mode when it's not in use. Sensors, switches, and light bulbs are all examples of Zigbee End Devices. Most Zigbee End Devices run on batteries and are built to last for a very long time without being recharged or replaced. In order to talk to other gadgets on the network, they must use Zigbee Routers or the Zigbee Coordinator.
Zigbee sensor
A Zigbee sensor is a device that receives input from the physical environment, processes the information before transmitting it, and uses built-in compute resources to carry out predetermined tasks when certain input is detected. Smart sensors make it possible to collect environmental data more precisely, automatically, and with fewer errors interfering with the information that is successfully recorded.
There are many types of Zigbee Sensors, including Light Sensor, Leak Sensor, Smoke detector, PIR Human sensor, and so on. Zigbee sensors can detect motion and a number of environmental variables, including temperature and humidity. Dusun smart Zigbee sensors can be utilized in a variety of settings, including security, energy management, and home automation.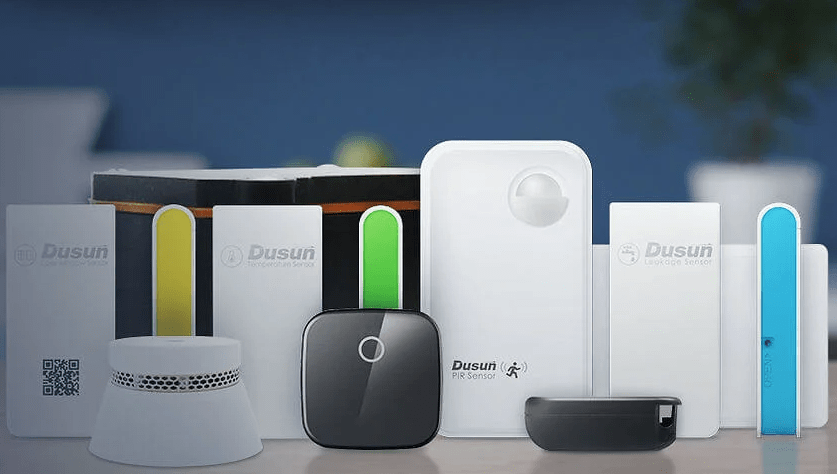 Zigbee switch
Lights and other devices connected to the Zigbee network can be managed with the help of Zigbee switches. They provide wireless control and automation to help make your home or business smarter. They have many potential uses, from commercial lighting control and smart home to IIoT. Using Zigbee switches makes it easy to turn lights on and off, adjust brightness, and complete remote control, so arranging Zigbee switches reasonably can help reduce energy consumption.
Dusun smart Zigbee switches can be used for wireless control of devices like intercoms, garage doors, access systems, garden doors, and more in addition to the aforementioned Internet of Things use cases. Also, it enables functionalities for transmitting data, such as RS485 (UART or Modbus) send to Zigbee or Bluetooth.
For instance, a Dusun Zigbee switch can couple with a Dusun Zigbee gateway and link the indoor telecom via a telephone line. When the downstairs doorbell is rung, the mobile app will receive a notification and the user can utilize the app for remote control.
You may also be interested in Unlock the Power of Automation with a Smart Switch in Smart Apartment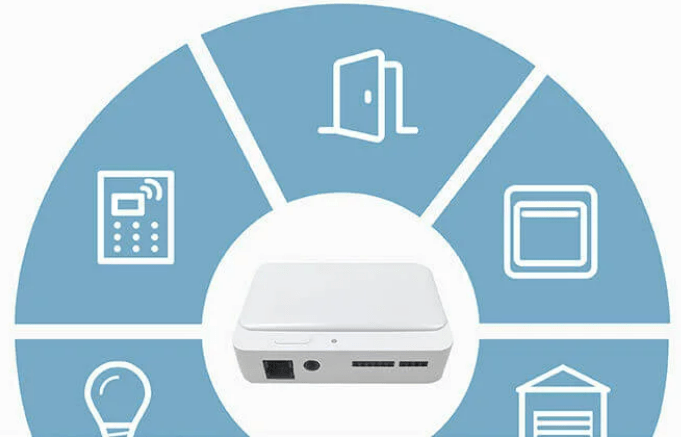 Zigbee door lock
A smart lock known as a Zigbee door lock allows for remote control operation over a Zigbee network. These locks are a practical choice for enhancing home security because they are often battery-powered and are simple to install on existing doors. You may remotely lock or unlock your door, monitor its status, or create access codes for family members or visitors using a Zigbee door lock.
Compared to conventional locks, this offers more flexibility and ease. In order to offer a complete home security system, many Zigbee door locks can also be connected to other smart home appliances, like security cameras and alarms.
Renters may benefit from greater security and convenience if smart apartment solutions are combined with Zigbee door locks. Rents are raised for apartment management, energy is saved, and in exchange, vital information about the resident population is gathered. As a producer of hardware for smart apartments, Dusun IoT offers a service that gives tenants access to a house that fits into and adapts to their lifestyle.
The smart ZigBee gateway establishes a connection with the customer's or a third party's smart apartment platform so that the smart home gadget, including the smart ZigBee door lock, may be operated and controlled remotely.
You may also be interested in Smart Apartment Solution for Property Management Companies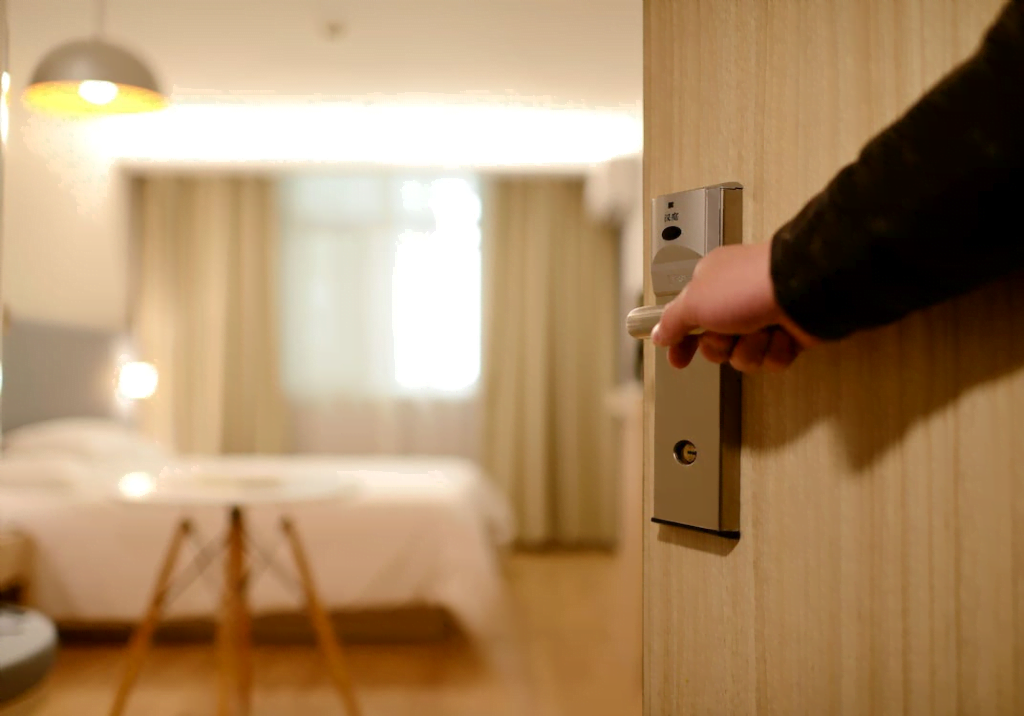 Zigbee wearable device
Zigbee wearable devices are medical devices that patients wear to track their health remotely. These Zigbee wearables use sensors to collect data on various vital signs such as heart rate, blood pressure, respiratory rate, and temperature. These wearable remote patient monitoring devices combined with IoT gateways can benefit patients, healthcare providers, and the general population from treatment outcomes to healthcare costs.
These Zigbee-based wearable devices include Blood pressure monitors, Glucose monitors, ECG machines, Pulse oximeters, Fall detectors, and Smart watches.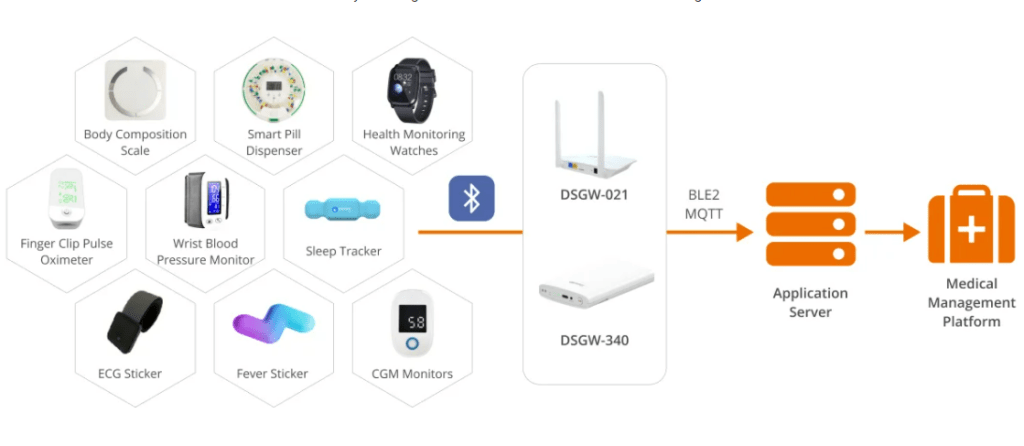 A Zigbee gateway collects data from Zigbee wearable devices like blood pressure monitors, ECG machines, and blood glucose meters and delivers it to the cloud for analysis and storage in remote patient monitoring. The Dusun DSGW-030-1 Zigbee WiFi gateway uses software-defined and real-time computing to address all healthcare needs. It accelerates healthcare AI systems that have to adhere to strict throughput, latency, and power-efficiency requirements.
You may be interested in 7 Benefits of Remote Patient Monitoring: Reduce Costs and Improve Health
What factors need to be considered before buying Zigbee device?
While we have picked the finest Zigbee devices for you, you need still to make sure that the Zigbee devices you purchase are compatible with your network, match your demands, and provide consistent performance. There are 4 critical factors that you should consider:
Compatibility of the Zigbee devices
Before making a purchase, you need to determine whether or not these Zigbee devices are compatible with the Zigbee network that you already have.
Usage scenario
The range of Zigbee devices is relatively limited. If it is used in a large building or outdoors, the problem of the insufficient signal range may occur. Therefore, please confirm whether the range of the device is sufficient to meet the needs of your IoT scenario. If it is not suitable, you can consider buying multi-protocol gateway supporting other IoT protocols, such as BLE protocol.
You may also be interested in Zigbee vs Bluetooth vs Wi-Fi, Why IoT Gateway is Necessary to Smart Home?
Power supply
Consider the power source of the device, whether it is battery-powered or requires a wired connection. A battery-operated device may be more convenient, but you'll want to keep an eye on battery life to ensure the device continues to function properly. Most Zigbee gateways from Dusun IoT support PoC power supply to ensure that the device can operate normally even in unexpected situations.
Brand reputation
It is a necessity for you to consider the reputation of the Zigbee device manufacturer, and look for IoT gateway vendors who provide high-quality Zigbee equipment. In addition to obtaining CE, FCC, IC, FAC, WPC, KC, and SRRC certificates, Dusun IoT's Zigbee products have also obtained official certification from the Zigbee Alliance (now be called Connectivity Standards Alliance).
Although price is also a factor you should consider when choosing a Zigbee device. Cheaper Zigbee devices may not be the best option, as they may lack important features or be of lower quality. Dusun IoT is committed to providing you with a full range of Zigbee devices for years, including Zigbee gateways, Zigbee end devices, Zigbee sensors, Zigbee switches, and Zigbee wearables.
These Zigbee devices have been tested by the market and are characterized by high-cost performance and high performance. Please don't hesitate to contact us via the side form or chat. An experienced engineering team will recommend the most suitable Zigbee equipment and solutions for your project.
Zigbee devices FAQs
Is Zigbee superior to Wi-Fi?
The Zigbee protocol outperforms Wi-Fi in terms of range and stability thanks to its mesh network. Each device is connected to the others in a mesh network without a hierarchy. Your connected devices' range is increased by this absence of hierarchy.
How do I configure Zigbee hardware?
Typically, a gateway hub is needed for Zigbee devices to connect to the internet and communicate with other Zigbee devices. You must adhere to the manufacturer's setup instructions for pairing the devices with the hub or gateway and configuring them for your particular use case in order to set up Zigbee devices.
To make sure that data carried over the network is safe, Zigbee devices employ encryption and other security measures. Yet, there is always a chance of hacking or unwanted access, just like with any wireless communication protocol. To reduce these risks, it's critical to adhere to best practices for network and device security.
Can Zigbee devices work with other smart home systems?
Zigbee devices are designed to be interoperable with other Zigbee devices, but they may not be compatible with other smart home systems that use different communication protocols. You may explore our Tuya Zigbee Gateway. Fortunately, the latest Matter gateways can connect your devices to devices using other protocols.