Benefits of using Tuya smart product lie in the cost reduction that you can only focus on marketing products and services with less time and money spent on the designing and manufacturing process of Tuya Zigbee gateway and smart sensors. In addition, The downstream protocol is entirely defined and Tuya gateway can only connect to the sub-devices developed by your tone, not the sub-devices in the Tuya Gateway. Moreover, Tuya's smart life is a highly compatible App, allowing a wide range of smart home products from different manufacturers and brands, all capable of working together.
This case study show a small smart home solution installer using Dusun IoT's Tuya products to make profits. Continue to read to get more info!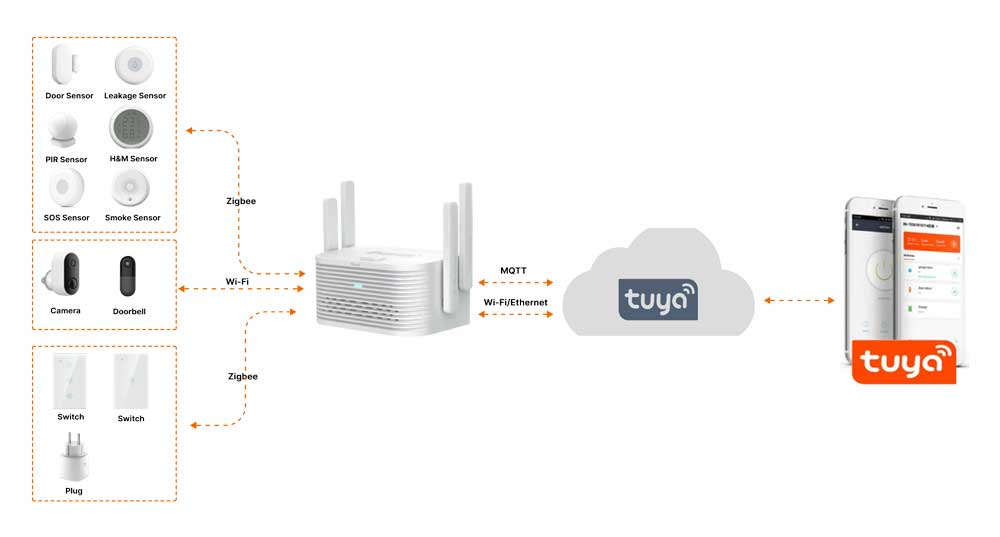 Basic Information
Customer: a smart home solution installer
Country/Region: Peru
Application: Smart Home Automation
Products: Tuya Smart Product Series
Background
As the smart home market grows, more customers are enjoying its convenience and effectiveness, by allowing personalized settings like lighting and temperature through remote or voice-controlled devices.
According to SPER Market Research, the Peru Smart Home Market is expected to expand at a CAGR of 13.36%, reaching £1.44 billion by 2033. However, there are still obstacles that must be overcome to guarantee its ongoing expansion and extensive acceptance.
This customer is a Small-to-medium SME enterprise installation Contractor in Peru's smart home industry. They deliver on-site installation and retail services, targeting luxury apartments and residential setups. They efficiently serve the local market and are recognized as a comprehensive solution provider in the Smart Apartment segment.
Challenges
During its operation, the customer of this case encounters various challenges, spanning from technical to economic barriers and technical and maintenance support issues.
Lacking R&D and Integration Capabilities
As a smart home installer, the customer lacks dedicated in-house R&D capabilities. With their focus on installation services, they could face challenges with requirements such as developing applications or integrating devices from multiple vendors. As a result, they need a Plug-and-Play smart home solution that includes Smart Hardware Products and SAAS Services from the PC to Mobile.
Economic Barriers (Low Cost)
Despite Peru's economic growth, many end-users might perceive smart home devices as relatively expensive, potentially impacting their final purchasing decisions. The customer must strategize to lower costs while satisfying customer requirements.
Customized Requirements
Each end user's needs are often distinct. In addition to product performance and functions, there are often specific requirements concerning product appearance, such as logos, user manuals, and more.
Technical and Maintenance Support
There might be a lack of trained professionals who can offer extensive technical support, ensuring smooth operations and prompt resolution of any issues.
All-in-one Smart Home Solution
Dusun IoT's universal smart home hub solution integrates home kits with the Tuya Smart platform to enhance home automation. Users can easily set up various sensors like motion and door sensors, sirens, and cameras that can be remotely controlled via Tuya. Tuya Smart, a global leader in IoT and AI, provides comprehensive AI-powered IoT solutions, including cloud services, hardware access, and App.

Benefits
Plug and Play
Our solution deploys quickly without programming, reducing the complexity and time required
for project implementation.
Compatible with Tuya Smartlife
The solution or device is optimized for integration with Tuya's cloud services. Users can seamlessly manage and control the device using the Tuya Smartlife app, centralizing management over multiple devices in the ecosystem.
Ease of Installation
Utilizing a wireless protocol eliminates the challenges of setting up complex wiring systems.
Cost-Effectiveness
By eliminating extensive wiring, costs related to purchasing, installing, and maintaining wires are potentially reduced.
Why Dusun IoT
One-stop procurement service
Dusun IoT offers a wide range of smart devices compatible with all Tuya platforms, streamlining your
procurement process by eliminating the need for multiple suppliers and saving you valuable time.
Supply Chain Partnership
Dusun IoT has established a robust supply chain by working with the leading sensor manufacturers to
obtain the lowest prices in China.
Training Staff Support
We provide remote and on-site training to staff to equip them with essential smart hardware knowledge and skills.
Marketing Support
We provide marketing-related materials, including designing promotional materials, running marketing promotions, and other related activities.
Technical and Maintenance Support
Our team offers extensive technical support, ensuring smooth operations and promptly resolving any issues.
Certification
Our products have acquired essential certifications, including FCC and CE, for regulatory compliance.
Hangzhou Roombanker Technology Co., Ltd A Dusun Company
Result
The customer has procured over 1,000 gateways and 5,000 smart sensors from our catalog for smart home and security projects. Their consistent purchasing behavior underscores their satisfaction with our offerings and indicates their reliance on our solutions for their expanding operational needs. This sustained partnership between us is a testament to the robustness and reliability of our smart gateway products.
Reference:
https://www.sperresearch.com/report-store/peru-smart-home-market.aspx