Quick View of DSGW-081 NXP i.MX6 ULL Industrial Edge Computing Gateway
DSGW-081 is a versatile industrial gateway supporting Modbus, Ethernet IP, CAN, I/O, Zigbee, BLE protocols and with RS485/232 interfaces. It can be used as protocol converter gateway to make protocol translation, or an industrial IoT gateway to simultaneously collect data from all fieldbus devices of multiple protocols and upload data to the cloud servers through TCP IP. 4G LTE CAT1/CATM1/Wi-Fi supported as well.
DSGW-081 adopts powerful NXP i.MX6 ULL processor to provide robust edge computing performance. It is able to implement agile connection, real time data optimization, and intelligent analysis on the IoT edge, reducing data flow between field sites and data centers,and saving expenses in Internet band. The chip ATTPM20P (Trusted Platform Module)is integrated to enhance device security.
DSGW-081 is an outperformed and versatile IoT controller/converter/gateway hardware suitable for users to develop application and install firmware on it, widely used in industrial automation, energy management, predictive maintenance, building automation, and so on.
Features of DSGW-081 NXP i.MX6 ULL Industrial Edge Computing Gateway
Multiple

Backhaul Connectivities
Capturing data from end devices and sends it to the cloud via 4G(CAT1), and Ethernet
Connecting various sensors/devices through Zigbee3.0, Modbus gateway RS485/232, I/O Interface, Wi-Fi, BLE 5.2, CAN,KNX and LTE (CAT M1)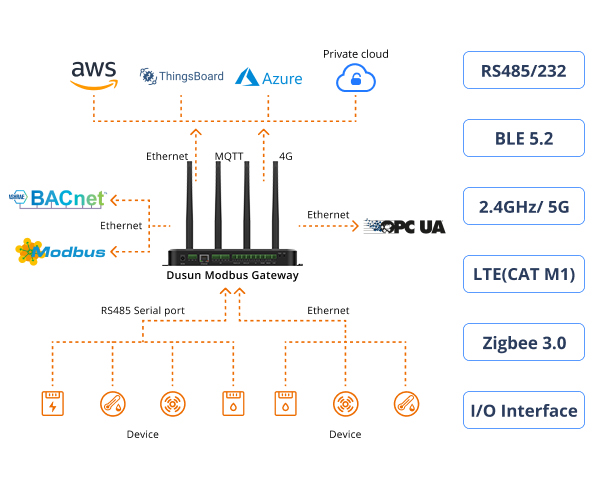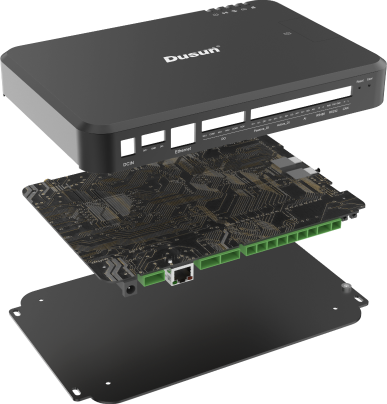 Coming with Rugged enclosure protection for protection from water and dust ingress, ideal for the harsh environments. Wall-mount and DIN-rail mounting options.
Hardware Overview of NXP i.MX6 ULL Industrial Edge Computing Gateway
Dimension and Package of DSGW-081 NXP i.MX6 ULL Industrial Edge Computing Gateway
Parameter of DSGW-081 NXP i.MX6 ULL Industrial Edge Computing Gateway
CPU
ARM NXP i.MX6ULL, Cortex-A7,800Mhz
System
Debian 11
Docker
Support
RAM
512MB
Storage
8GB eMMC
Power
Input: DC 12V/2A
Indicator LEDs
● Power LED normally on when powered on
● Zigbee/BLE/ LED flash when the signal comes
● Network LED flash When the Gateway can access the Internet
● LTE Signal LED, It indicates the signal strength of LTE
Reset
Factory reset button. To reset the Gateway to its original factory settings,
press and hold it for more than 10 seconds
I/O Port
4 digital input channels DI
State "1": +10~+30V State "0": 0~+3V 2 digital output channels DO
Maximum load 5A@30VDC or 250VAC 2 analog input channels AI
Current signal: 0-20mA, 4-20mA Voltage signal:
0-5VDC, 0-10VDC Choose one of the above 4 ranges
Ethernet
1*10/100Mbps WAN/LAN port
SIM
1 * SIM card slot
SD
1 * SD slot
Antenna
4*SMA:1*LTE, 3*2.4GHZ
RS232/RS485
1*RS232, 1*RS485
CAN
Support
TPM (Trusted Platform Module)
Chip: ATTPM20P
Cryptographic Support for:
– HMAC
– AES-128
– SHA-1 – SHA-256
ECC BN_P256, ECCNIST_P256
RSA 1024-2048 bit keys
Industry Protocol
Ethernet/IP, Modbus
Installation
DIN-Rail, Flat, Ceiling
Protection Rating
IP30
Housing
Aluminum alloy
Storage Temperature
-40℃~85℃
Operating Temperature
-20℃~85℃
Ambient Humidity
5~95%
Use Cases of DSGW-081 NXP i.MX6 ULL Industrial Edge Computing Gateway
Developer Resources of DSGW-081 NXP i.MX6 ULL Industrial Edge Computing Gateway
DSGW-081 NXP i.MX6 ULL Industrial Edge Computing Gateway Model List
Category A (In Stock)
| Model | Ethernet | RS485 | CAN | I/O | BLE 5.2 | Zigbee3.0 | 4G LTE Cat1/M1 | Wi-Fi2.4G |
| --- | --- | --- | --- | --- | --- | --- | --- | --- |
| DSGW-081-5 | ● | ● | ● | ● | ● | ● | ● | ● |
Category B (Built by Order)
Model
Ethernet
RS485
CAN
I/O
BLE 5.2
Z-Wave
Zigbee3.0
4G LTE
Cat1/M1
Wi Fi2.4G
DSGW-081-2
●
●
●
●
●
●
DSGW-081-3
●
●
●
●
●
●
Category C (Built by Order, MOQ: 500)
Model
Ethernet
RS485
CAN
I/O
BLE 5.2
Z-Wave
Zigbee3.0
4G LTE
Cat1/M1
Wi Fi2.4G
KNX
DSGW-081-1
●
●
●
●
●
●
DSGW-081-4
●
●
●
●
●
●
●
DSGW-081-6
●
●
●
●
●
●
●
●
●
DSGW-081-7
●
●
●
●
●
●
●
●
How many devices (slaves) can be connected on the RS485 Modbus? Practically, how many devices tested using RS485 Modbus?
What are the benefits of using NXP i.MX 6ULL?
The NXP i.MX 6ULL-based industrial-grade embedded Linux Core Board has power management integration and an ARM Cortex-A7 processor. It supports interfaces like USB, Ethernet, audio, display with touch panel, and serial interfaces and offers a variety of memory configurations such DDR3L, NAND, eMMC, and SD memory cards. The system is appropriate for embedded systems-focused, industrial-grade applications.
We need LINUX OS in the device, not OpenWRT. Is DSGW-081 Debian-based or Ubuntu-based running OS?
Ubuntu OS with 8GB eMMC,suitable for you to store device log information.
What is BACnet protocol?
Building Automation and Control Networks is what BACnet stands for. It defines a communication protocol standard especially to offer a method of integrating building control systems produced by various manufacturers. The BACnet protocol makes it easier to apply and operate digital control technology in buildings by providing an abstract, object-oriented representation of information that is transmitted between such equipment. Products made for lighting control, fire and life safety systems, HVAC&R control, and other building automation functions are now simple to be monitored and controlled via BACnet gateways.
What is a BACnet gateway?
BACnet is the most widely used open protocol in building automation and energy management systems. BACnet devices talk to one another over a network. The Master-Slave Token-Passing network (BACnet MS/TP) and the Internet Protocol (BACnet/IP) are two of the more well-known networks. BACnet routers are needed to connect BACnet networks, whereas BACnet gateways connect and devices that use various network protocols, such as Modbus, to a BACnet network. Meanwhile, A variety of protocols transmit encoded data to BACnet gateways, which decode the data and then re-encode it according to the intended protocol. This is what makes it possible for devices that do not support BACnet to function in a single building automation system based on BACnet network.
Meanwhile, DSGW-081 also functions as an IoT gateway, enabling users to simultaneously collect data from all Modbus and BACnet meters, sensors, and outside devices via RS232/RS485/LAN ports before uploading the information to the cloud servers over an Ethernet or LTE 4G connection.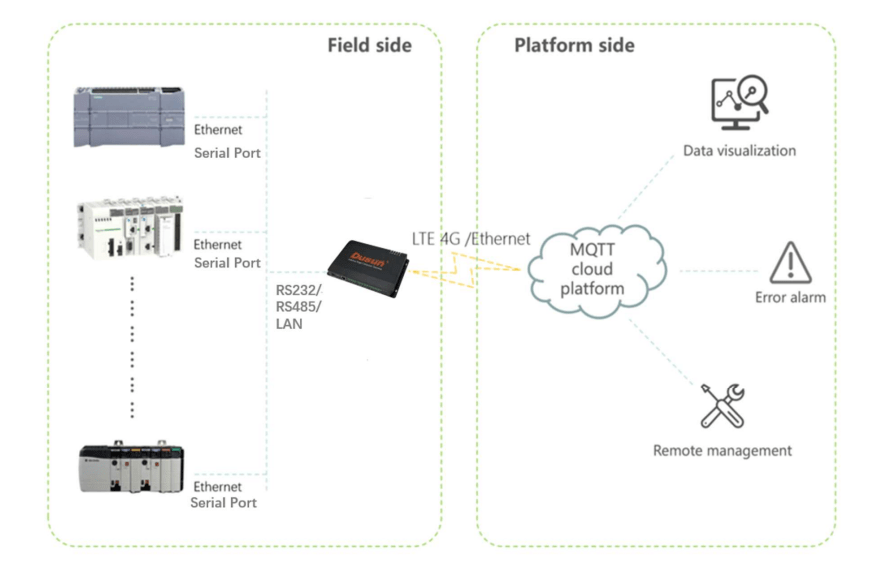 BACnet IP vs MS/TP, What's the difference?
BACnet MS/TP (master-slave/token-passing)
A common BACnet data link with baud rates ranging from 9.6 kbaud to 76.8 kbaud. It is an older version of BACnet that uses twisted pair cable (RS-485 standard) to build a separate network and offers its own logical link control to BACnet's network layer. It is not possible to default or alter the physical network setup. It must be installed with specific end-of-line and biasing resistors.
BACnet/IP
The BACnet community needed a plan for utilizing the BACnet protocol in an IP environment as TCP/IP's popularity skyrocketed. The BACnet standard's body uses MAC addresses exclusively for all data lines, including Ethernet. BACnet/IP is created to prevent the standard from being rewritten. Ethernet connections and IP networks can be used for BACnet/IP communication. This eliminates the requirement to run a standard MS/TP twisted pair of RS-485 wires. The benefits is that the network jack on the gadgets can accept an Ethernet cable, and an IT/OT expert or system integrator then configures a network.
Read further at: What is a BACnet Gateway and BACnet Router?
How does BACnet Modbus gateway work with PLC?
Industrial PLCs frequently use the communication protocol known as Modbus. The PLC devices must, however, communicate in a standard language in order to guarantee the compatibility of every device on the network. Without a BACnet gateway to convert Modbus registers into BACnet objects, BACnet devices on this network (BACnet IP or BACnet MS/TP) will not be able to connect with the PLC. Here we show how to use DSGW-081 Modbus BACnet gateway converter:
To use DSGW-081, the first step is to turn on DSGW-081 and use an Ethernet cable or RS232/RS485 cable to connect DSGW-081 and the PLC to the topology.
Secondly, use the router to get the IP address of DSGW-081 and connect it to the network, and then utilize the IP address to access the gateway.
Thirdly, you must configure the LAN port to be in the same network of the PLC, in order to enable gateway to access the Ethernet-based PLC.
Fourthly, add a PLC machine (take Modbus TCP as an example). Click Add PLC after selecting Edge Computing > Device Supervisor > Device List. Choose ModbusTCP as the PLC protocol and set the PLC communication parameters on the device adding page. (The default port number is 502, and the byte order is abcd. Adapt them as necessary.) The device name must be distinct, please note.
Fifthly, add Modbus TCP variables on the Device List page, then set the variable's parameters in the pop-up box. Parameters may including Variable Name, Register Type, DB Number, Register Address, Data Type, Decimal Places, Size, Register Bit, Read/Write, Unit, Description, and Group.
Sixth, configure an alarm policy parameters by selecting Edge Computing > Device Supervisor > Alarm > Alarm Strategy. The alert is activated when its value is greater than 30 but lower than 50; Otherwise, the alarm is either not activated or dismissed.
Seventh, after finishing the previous steps, you can view the status of data collection at Device List page and monitor the PLC data and the alarm locally. You can also choose to configure a cloud service to report and receive data.
What is Modbus protocol?
Modbus is the most used network protocol in the industrial production industry. It is a request-response protocol that is implemented utilizing a master-slave connection (the term "server and client" has since been used instead). When devices are connected to buses or networks, Modbus is used to transfer data across Ethernet, serial lines, and, increasingly, wireless. Modbus Servers are the devices that provide the information, whereas Modbus Clients are the devices that seek the information.
Modbus protocol is typically used to communicate between a programmable logic controller (PLC) and a supervisory control and data acquisition (SCADA) system. The fact that it is open source, easy to use, and free for manufacturers to include into their equipment without having to pay royalties makes it superior to competing protocols. The Modbus protocol is available in serial line (Modbus RTU and Modbus ASCII) and Ethernet (Modbus TCP) variations. You can explore more about Modbus RTU vs Modbus ASCII vs Modbus TCP/IP in this article: Modbus protocol in IoT.
What is Modbus gateway?
Modbus gateway is capable of converting serial to Modbus by allowing the legacy of Modbus RTU/ASCII devices to operate on a Modbus TCP network. It is a converter which can convert the data of Modbus RTU to the data of Modbus TCP. Noted that Modbus protocols can classify into two types, one is RS485 based Modbus RTU(or ASCII), and the other is Ethernet-based Modbus TCP. You can explore more Modbus RTU Gateway vs Modbus TCP Gateway here.