Quick View of DSGW-081-2 Bluetooth RS485 Modbus Converter Gateway
DSGW-081-2 enables your industrial operation gain the power to seamless connect and control devices via Modbus, Ethernet, CAN, Bluetooth, WiFi, etc.
Meanwhile, DSGW-081-2 adopts robust NXP i.MX6ULL processor to connect, monitor, and control devices, harnessing the power of IoT to bridge the gap between various devices, sensors, and cloud platforms.
DSGW-081-2 is not only an IoT gateway but also a protocol conversion gateway. The convergence of diverse communication interfaces streamlines operations, enhances efficiency, and promotes the realization of Industry 4.0 principles.
Whether you're in the manufacturing, automation, or industrial control sector, take DSGW-081-2 as a pivotal solution for modernizing and optimizing operations.
Features of DSGW-081-2 Bluetooth to RS485 Modbus Converter Gateway
Multiple

Backhaul Connectivities
Capturing data from end devices and sends it to the cloud via Ethernet
Connecting various sensors/devices through Modbus gateway RS485/232, I/O Interface, Wi-Fi, BLE 5.2, CAN and KNX.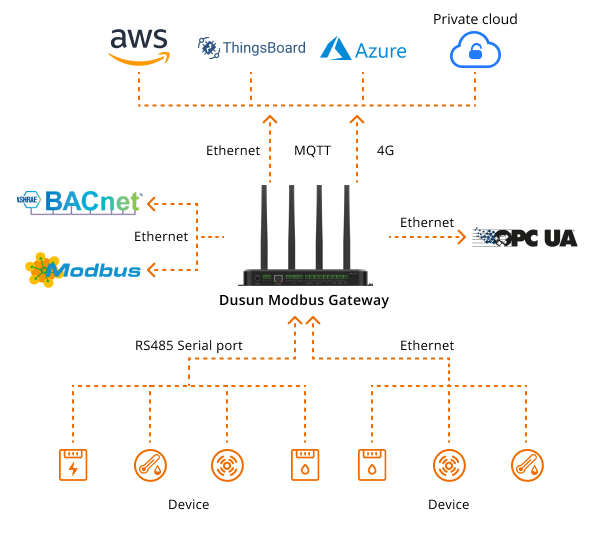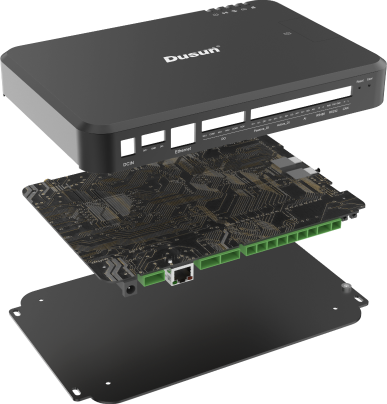 Coming with Rugged enclosure protection for protection from water and dust ingress, ideal for the harsh environments. Wall-mount and DIN-rail mounting options.
Hardware Overview of DSGW-081-2 RS485 Modbus over Bluetooth Converter Gateway
Dimension and Package of DSGW-081-2 Bluetooth RS485 Modbus Converter Gateway
Parameter of DSGW-081-2 Bluetooth RS485 Modbus Converter Gateway
CPU
ARM NXP i.MX6ULL, Cortex-A7,800Mhz
System
Debian 11
Docker
Support
RAM
512MB
Storage
8GB eMMC
Power
Input: DC 12V/2A
Indicator LEDs
● Power LED normally on when powered on
● BLE/ LED flash when the signal comes
● Network LED flash When the Gateway can access the Internet
● LTE Signal LED, It indicates the signal strength of LTE
Reset
Factory reset button. To reset the Gateway to its original factory settings,
press and hold it for more than 10 seconds
I/O Port
4 digital input channels DI
State "1": +10~+30V State "0": 0~+3V 2 digital output channels DO
Maximum load 5A@30VDC or 250VAC 2 analog input channels AI
Current signal: 0-20mA, 4-20mA Voltage signal:
0-5VDC, 0-10VDC Choose one of the above 4 ranges
Ethernet
1*10/100Mbps WAN/LAN port
SD
1 * SD slot
Antenna
4*SMA:1*LTE, 3*2.4GHZ
RS232/RS485
1*RS232, 1*RS485
CAN
Support
TPM (Trusted Platform Module)
Chip: ATTPM20P
Cryptographic Support for:
– HMAC
– AES-128
– SHA-1 – SHA-256
ECC BN_P256, ECCNIST_P256
RSA 1024-2048 bit keys
Industry Protocol
Ethernet/IP, Modbus
Installation
DIN-Rail, Flat, Ceiling
Protection Rating
IP30
Housing
Aluminum alloy
Storage Temperature
-40℃~85℃
Operating Temperature
-20℃~85℃
Ambient Humidity
5~95%
Use Cases of DSGW-081-2 Bluetooth RS485 Modbus Converter Gateway
Developer Resources of DSGW-081-2 Bluetooth RS485 Modbus Converter Gateway
Connectivity Model List of Bluetooth RS485 Modbus Converter Gateway
Category B (Built by Order)
Model
Ethernet
RS485
CAN
I/O
BLE 5.2
Z-Wave
Zigbee3.0
4G LTE
Cat1/M1
Wi Fi2.4G
DSGW-081-2
●
●
●
●
●
●