Quick View of DSGW-014-2 LoRaWAN 4G Gateway with LNS Integration
DSGW-014-2 LoRaWAN gateway 4G LTE empowers you to connect and control LoRaWAN devices seamlessly over high-speed LTE networks. With enhanced security features by ATECC608B Hardware Encryption, the DSGW-014-2 offers a reliable and secure platform for your smart connectivity needs.
A notable highlight of the DSGW-014-2 is the integration with two prominent LoRaWAN network servers: The Things Network (TTN) and Chirpstack LNS. This integration streamlines the process of managing your LoRaWAN devices and data, ensuring that your gateway is ready to serve your connectivity needs right out of the box.
Whether you're managing smart agriculture, industrial automation, or other IoT applications, this gateway empowers you to harness the potential of dual connectivity, making your interactions smarter and more efficient.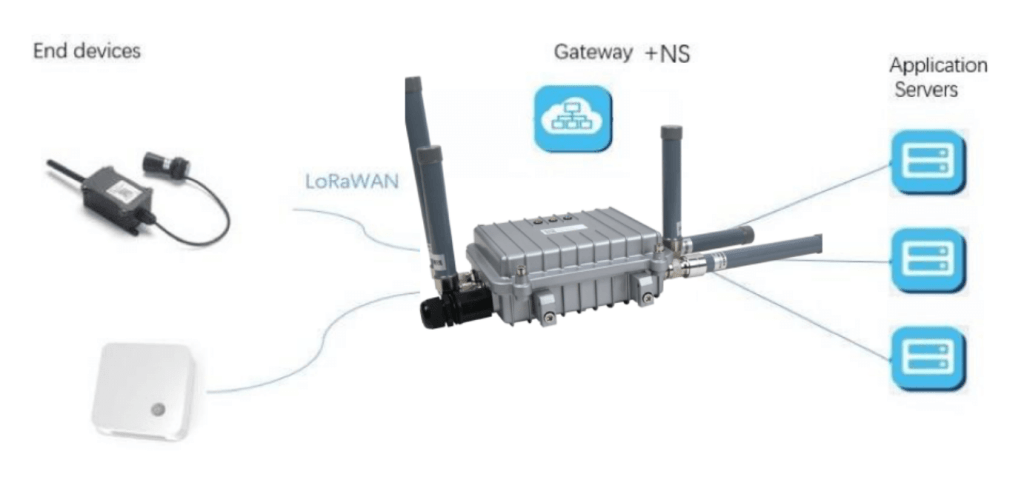 Features of DSGW-014-2 LoRaWAN Gateway 4G with LNS Integration
Multiple Backhaul

Connectivities
Capturing data from end LoRa devices and sends it to the cloud via Wi-Fi 2.4G, and Ethernet
Multi-Protocol

LoRaWAN Gateway
Coming with Wi-Fi 2.4G, BLE 5.2, LoRaWAN, and GPS
Waterproof(IP66)

and Robust Aluminum Enclosure
Features all-around IP66 Rating for protection from water and dust ingress, ideal for the harsh environments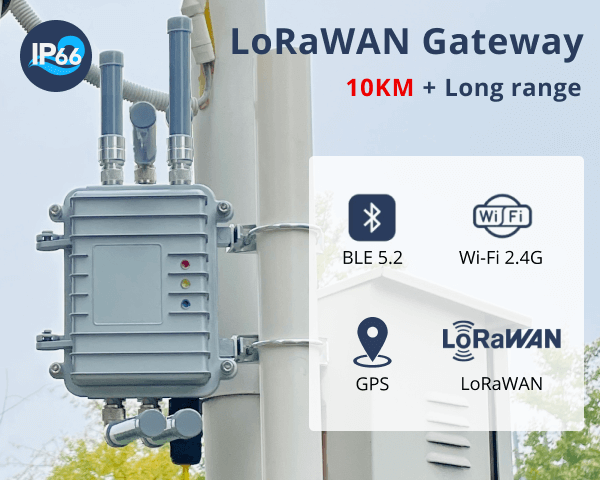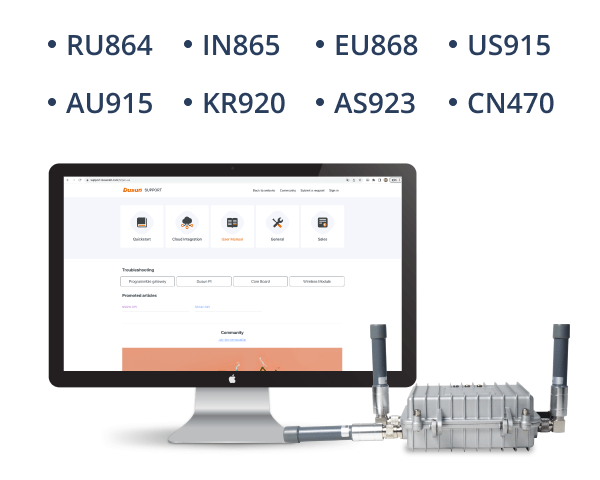 Supporting receiving data from 8 end-devices simultaneously and supporting up to 1000 end-devices
Global
LoRaWAN Frequency

Plans
LoRa Frequency band support: RU864, IN865, EU868, US915, AU915, KR920, AS923, CN470
Hardware Overview of DSGW-014-2 LoRaWAN Gateway LTE 4G with LNS Integration
Dimensions and Package of DSGW-014-2-F Gateway
Parameter of DSGW-014-2 LoRaWAN 4G Gateway with LNS Integration
CPU
Quad-core Cortex A35
System
Debian11
RAM
2GB
eMMC
32GB
Network Interface
• 1 * 10/100 Mbps WAN/LAN variable port
• Supports CAT-5/CAT-5E for data transmission
• Supports POE (voltage range 44-57V)
Indicator LEDs (RGB)
1). Power 2). Network 3)LTE
Installation
Flat, Ceiling
Antenna
2 * LTE, 1 * GPS, 1 * LoRa, 1 * Wi-Fi 2.4G
Hardware Encryption
ATECC608B
Operating Temperature
-20℃~65℃
Storage Temperature
-40℃~85℃
Operating humidity
10%~90%
IP rating
IP66
Use Cases of DSGW-014-2 LoRaWAN LTE Gateway with LNS Integration
Development Resources of DSGW-014-2 SX1302 LoRaWAN LTE 4G Gateway with LNS Integration
LNS Integration/Connectivity Model List of DSGW-014-2 SX1302 LoRaWAN LTE 4G Gateway
Category A (In Stock)
Model
Hardware
Software
·LoRaWAN ·BLE
·Wi-Fi ·GPS
NS Embedded
NS cloud
DDR
eMMC
LTE
TTN
Chirpstack
Chirpstack
AWS IoT
Core
LORIOT
ThingsStack
DSGW-014-2-F
2GB
32GB
●
●
●
Region List
| Type | Region | Frequecy(MHZ) |
| --- | --- | --- |
| -CN | China | CN470 |
| -EU | Europe | EU868 |
| -US | North America | US915 |
| -AS | Asia | AS923 |
| -AU | Australia | AU915 |
| -KR | Korea | KR920 |
| -IN | India | IN865 |
| -RU | Russia | RU864 |