Product Name: IoT Ceiling Edge Computer PoE Gateway
Model Name: DSGW-230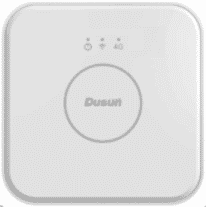 DSGW-230 Edge PoE Gateway Model List
Model
Bluetooth
5.2
Wi-Fi
2.4G/5G
LTE
CAT-M1
Zigbee
3.0
Tuya
zigbee
Z-WAVE
Lora
1000M
WAN/LAN
POE
supply
DSGW-230-1
●
●
●
●
●
●
●
●
DSGW-230-2
●
●
●
●
DusunIoT provides powerful IoT Gateways that are very user-friendly and convenient for IoT developers at all stages, from Prototype to mass production. Using a standard product as a building block for a semi-custom solution reduces time-to-market and can cut development costs.
DSGW-230 Edge PoE Gateway Introduction
DSGW-230 is IoT gateway with multiple protocol and edge computing function. It's a smart Gateway with POE or USB type-c low voltage power supply. Power over Ethernet (PoE) Gateways are low-voltage power and network-connected systems that use PoE technology. It provides reliable connectivity for a wide range of wireless IoT devices.
The edge gateway's modular architecture provides the ability to customize many gateway features providing an off the-shelf solution that meets your exact needs. Options include Cellular, Bluetooth, Wi-Fi, Ethernet, ZigBee, Z-wave.
Support the POE switch power supply and DC 12V power supply
Support IEEE802.11ac, IEEE802.11a, IEEE802.11n, IEEE802.11g, IEEE 802.11b Protocol
Support 4G LTE cat M1
Support Bluetooth 5.2
Support ZigBee3.0
Support Z-WAVE
Support LoRaWAN
One WAN/LAN variable network port
Support USB 2.0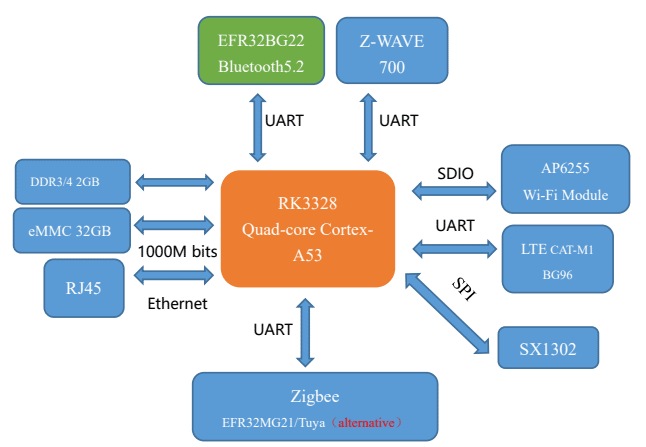 DSGW-230 Edge PoE Gateway Mechanical Requirement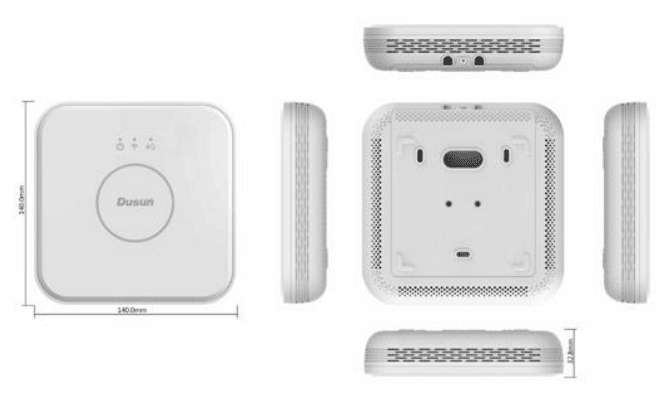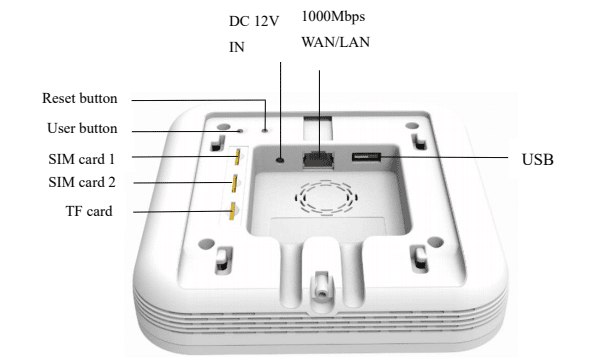 DSGW-230 Edge PoE Gateway Specifications
Category
Specifications
Power Supply
POE and DC 12V power supply
Reset button
The reset button is hole button, After pressing the reset button for more than 5
seconds, the Locator will be restored to the factory settings.
User button
User-defined button
Switch
On/Off power
Network Interface
The network interface supports CAT-5/CAT-5E to transmit data and POE Power
Supply (voltage range is 44~ 57V). It is WAN/LAN variable.
SIM card
Dual Micro SIM card,link backup, Dual card single standby, 12mm*15mm
USB
USB 2.0
Indicator LEDs(RGB)
1). Power &battery LED 2). Wireless LED 3)LTE indicator
Wireless protocol
Zigbee, Z-WAVE, BLE, Wi-Fi
Antenna
Zigbee/BLE PCB Antenna;Z-WAVE/Wi-Fi FPC Antenna
Installation method
Flat, Ceiling, DIN
RTC
Real Time Clock operated from on board battery
Operating Temperature
-10℃~60℃
Storage Temperature
-40℃~85℃
Operating humidity
10%~90%
IP rating
IP22
Cooling
Heat dissipation silicone/aluminum
Current
[email protected]
CPU
Quad-core Cortex A53
RAM
2GB
eMMC
32GB
SD card
Up to 128GB
Wi-Fi Performance
• IEEE wireless LAN standard:
IEEE802.11ac; IEEE 802.11a; IEEE802.11n; IEEE802.11g; IEEE 802.11b
• Data Rate:
IEEE 802.11b Standard Mode:1,2,5.5,11Mbps
IEEE 802.11g Standard Mode:6,9,12,18,24,36,48,54 Mbps
IEEE 802.11n: MCS0~MCS7 @ HT20/ 2.4GHz band
MCS0~MCS7 @ HT40/ 2.4GHz band
MCS0~MCS9 @ HT40/ 5GHz band
IEEE 802.11ac: MCS0~MCS9 @ VHT80/ 5GHz band
• Sensitivity:
VHT80 MCS9: [email protected]% PER(MCS9) /5GHz band
HT40 MCS9: [email protected]% PER(MCS9) /5GHz band
HT40 MCS7: [email protected]% PER(MCS7) /2.4GHz band
HT20 MCS7: [email protected]% PER(MCS7) /2.4GHz band
• Transmit Power:
IEEE 802.11ac: 13dBm @HT80 MCS9 /5GHz band
IEEE 802.11ac: 16dBm @HT80 MCS0 /5GHz band
IEEE 802.11n: 14dBm @HT20/40 MCS7 /5GHz band
IEEE 802.11n: 16dBm @HT20/40 MCS0 /5GHz band
IEEE 802.11n: 16dBm @HT20/40 MCS7 /2.4GHz band
IEEE 802.11g: 16dBm @54MHz
IEEE 802.11b: 18dBm @11MHz
• Wireless Security: WPA/WPA2, WEP, TKIP, and AES
• Working mode : Bridge、Gateway、AP Client
• Range: 50 meters minimum, open field
• Transmit Power:17dBm
• Highest Transmission Rate: 300Mbps
• Frequency offset: +/- 50KHZ
• Frequency Range (MHz): 2412.0~2483.5
• Low Frequency (MHz):2400
• High Frequency (MHz):2483.5
• E.i.r.p (Equivalent Isotopically Radiated power) (mW)<100mW
• Bandwidth (MHz):20MHz/40MHz
• Modulation: BPSK/QPSK, FHSSCCK/DSSS, 64QAM/OFDM
Bluetooth-Performance
• TX Power: 19.5dBm
• Range: 150 meters minimum, open filed
• Receiving Sensibility: [email protected]%BER
• Frequency offset: +/-20KHZ
• Frequency Range (MHz):2401.0~2483.5
• Low Frequency (MHz):2400
• High Frequency (MHz):2483.5
• E.i.r.p (Equivalent Isotopically Radiated power) (mW)<10mW
• Bandwidth (MHz):2MHz
• Modulation: GFSK
Zigbee Performance
• TX Power: 17.5dBm
• Range: 100 meters minimum, open filed
• Receiving Sensibility: -94dBm
• Frequency offset: +/-20KHZ
• Frequency Range (MHz):2401.0~2483.5
• Low Frequency (MHz):2400
• High Frequency (MHz):2483.5
• E.i.r.p (Equivalent Isotopically Radiated power) (mW)<100mW
• Bandwidth (MHz):5MHz
• Modulation: OQPSK
Z-wave Performance
• TX power up to13dBm (20mW)
• RX sensitivity: @100kbps-97.5dBm
• Range: 100 meters minimum, open filed
• Default Frequency: 916MHz( Different country with different
frequency)
LoraWAN
• Frequency band support: RU864, IN865, EU868, US915, AU915,
KR920, AS923
• TX power up to 27dBm, RX sensitivity down to -139dBm @SF12,
BW125kHz
LTE Cat M1
Operation Frequency Band: 850/900/1800/1900MHZ
• Global: LTE: FDD:
B1/B2/B3/B4/B5/B8/B12/B13/B18/B19/B20/B26/B28
• North America: LTE TDD: B2/B4/B12/B13
• LTE TDD:B39(for cat.M1 only)
WAN/LAN
1000M bps
DSGW-230 Edge PoE Gateway QA Requirements
Quality and Testing Information
| Information Description | Standard(Yes) custom(No) |
| --- | --- |
| ESD Testing | Yes |
| RF Antenna Analysis | Yes |
| Environmental Testing | Yes |
| Reliability Testing | Yes |
| Certification | FCC, CE, Bluetooth(BQB), PTCRB, RoHs |
DSGW-230 Edge PoE Gateway Software
System/Driver
Support
System
Linux
●
Debian
●
Andriod
●
Driver
Uboot
●
UART
●
SPI
●
I2C
●
USB
●
eMMC
●
PCIe
●
Ethernet
●
SDIO
●
OTA
●
Protocol
Stack
Zigbee3.0
●
BLE5.1
●
Z-Wave
●
Wi-Fi
●
Application
Wi-Fi sniffer
●
zigbee3.0 APP
Demo source code
beacon scanner
Demo source code
MQTT client
Demo source code
Z-Wave APP
Demo source code