What is the iHub Global

iHub Global is a company that assists people in setting up their crypto mining center using home miners. More specifically, you can mine Helium Token coin to profit from its price rise.
However, it appears that the company's primary source of helium miner rewards is an affiliate marketing program. You can join and pay to obtain your miner to learn more. Then, to build a team, you should share your affiliate links with others. Every time someone joins and pays, users, earn a commission based on their membership level.
How Does iHub Global Work
iHub Global is a relatively new platform that guarantees profits from cryptocurrency mining. In this case, the main goal is to assist you in mining Helium Token. iHub.Global claims to be one of the most reputable mining networks capable of providing individuals with large sums of money. Their primary strategy is to provide you with access to their miners. As a result, you can mine HNT anywhere there are hotspots, making it a cost-effective process.
What iHub global does is give users free HNT miners. All users do is plug into their network, and their house plugs into the power outlet. The machine uses about five watts to generate and mine crypto, equivalent to four to five dollars in electricity bills. However, it can generate around a thousand dollars depending on the helium miner's area. If it is in a place where there are a lot of other helium miners, it can make more money.
The user will get 25% of the profit, and the other half of the profit will go directly back to the host and be referred to iHub global. iHub global want to incentivize more people to have these devices because the more people that have these devices, the more helium they can be mined because these devices work together in synchronicity to produce this helium.
Operation Guide of iHub Global
The operation of iHub Global is quite simple. The first step is to create a free account. Once you've reached a free enrollment page, you'll need to fill out your information. You will be prompted to reserve your complimentary Helium hub device when you arrive.
When you click the web link, you will be directed to the helium network explorer, where you will log in using your iHub Global username and password. As soon as you enter the Helium dashboard, download your hub from the left side of the screen. Enter your information and the place where you plan to register your Helium center.
You will be notified when your gadget is ready. Meanwhile, while waiting for your device, you can start sharing your affiliate iHub Global web link. That being said, the final step will be to begin sharing your affiliate link to attract additional miners and earn a percentage of their mining output. There may be a delivery cost for the item itself, but that is all you have to pay.
Bonus System of iHub Global
Emrit Cool spot iHub Global provides Helium Network Token Mining. After configuring this gadget, you can begin mining Helium tokens or HNT. To purchase the tool, you should first become an affiliate. iHub Global reminds me of a pyramid scheme in which you have to pay to participate and gain by recruiting others.
Hosting hotspots makes you eligible for 25% of the overall mining earnings. IHub Global will retain the remainder. Another proportion will be distributed among affiliates, as seen in the graphic below.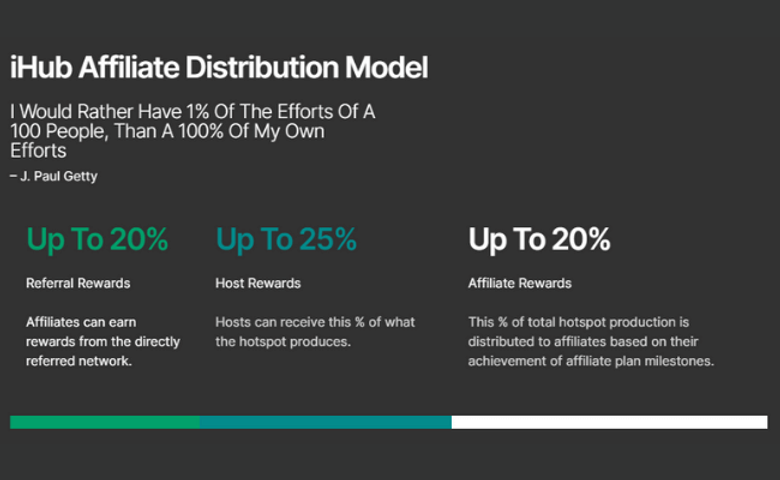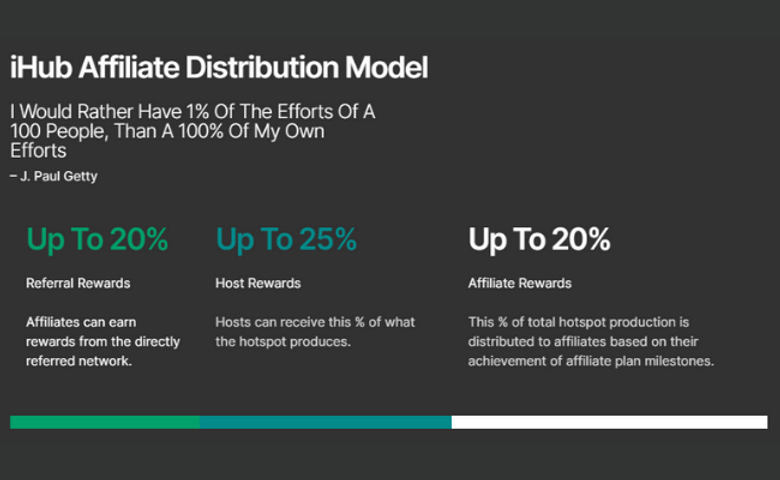 There are four types of teams: Pro, Bronze, Silver, and Gold. The size of the group determines the percentage of your pay.
You must recruit:
1 to 5 members to get a position in the Pro Team
6 to 15 members to get a position in the Bronze Team
16 to 25 members to get a position in the Silver Team
26 or more members to get a position in the Gold Team
Currently, iHub Global offers a variety of ways to make money, including:
For each hotspot that an affiliate creates, they receive a commission of 20% in the form of Recommendation Rewards.
For example, 20% of the total HNT is created by the Pro Group, the Bronze Team creates 20% of the total HNT, and more is Reference Compensate for Affiliates.
Coded Bonus
Recurring payments are what the Coded bonus is meant to resemble. A percentage of the HNT mined by groups in your affiliate network is what you get. The bonus offer percentage varies according to the type of group.
Pro Network Bonus
If you're a Pro team member, you get 20% of the total HNT; being in the Bronze Group gets 25%; being in the Silver Team gets 30%, and being in the Gold Group gets 35% of the total HNT.
However, if you're a member of the Pro Team, you can get:
commissions of 5% from each Bronze-level team member
Each Silver team member earns 15% in commissions.
Gold team members earn 20% commissions.
Potential Risks
Because there is a fee involved, becoming an affiliate for iHub Global can be compared to participating in a pyramid scheme. Joining iHub Global can be accomplished in one of two ways: by locking in a lease or making a deposit. The price range begins at $350, and individuals have the opportunity to select from a variety of models during the joining process. In addition, the application fee for affiliates is currently set at $99.
Final Thought
iHub Global is a legitimate platform for mining HNT. The good thing about him is that the company provides an easy way to get involved in its mining center program, no matter where you are or your background. However, if you can't recruit 6 new people to join, you can't make up the remaining 50% HNT difference.
Therefore, the best way for users is to run their HNT miners outside of iHub Global. Users can buy their miners and keep 100% of their mined coins, so they don't need to share their mined HNT with others.
If you need a helium miner and are struggling with its payback efficiency, you can visit When will helium pay back for more information about mainstream products including Bobcat miner 300, SenseCAP miner, Nebra miner, DUSUN hotspot, and so on.