Thingsboard is an open-source IoT solution platform aiming to offer out-of-the-box Cloud or on-premises solutions that will provide server-side infrastructure for the IoT application.
Thingsboard allows users to develop, manage, and scale IoT projects rapidly. In addition to its data operation ability, including data collection, visualization, and management, Thingsboard has another significant advantage that enables users to create an advanced and custom dashboard.
ThingsBoard provides 9 IoT solution use cases, intelligent energy, Smart Farming, Fleet Tracking, Smart metering, Environment monitoring, smart office, Water metering, and intelligent retail.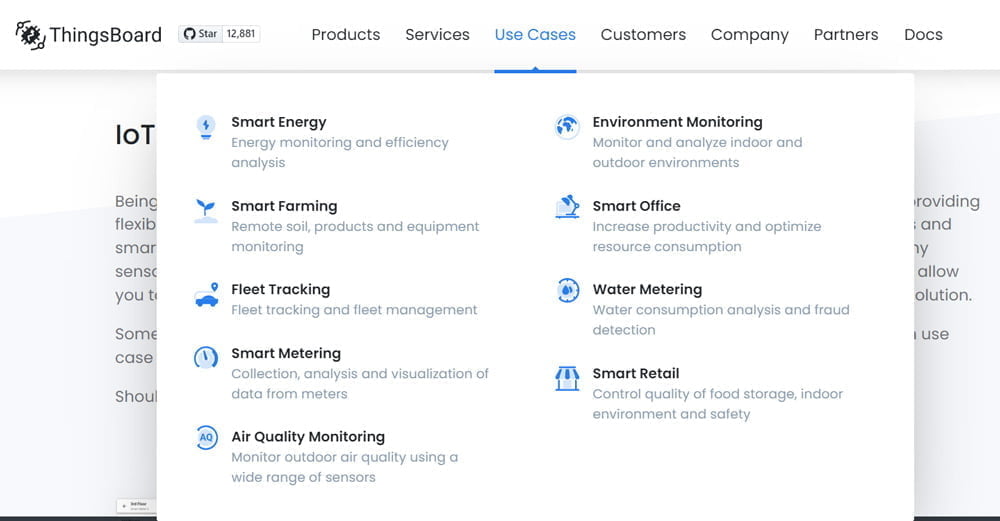 Trending ThingsBoard IoT Gateways for in the Market
Choosing the proper IoT gateway hardware for running Thingsboard can help users build robust and reliable IoT system architecture. The following table compares the trending ThingsBoard IoT gateway Hardware in the Market.


Company Name
Advantech
KingPigeon
Digital Communications Technologies,
LLC
Tektelic
Product Name
LoRaWAN 8-Channel Gateway
4G LTE communication
router R40
Tektelic Kona Micro
Processor
MIPS CPU,
Clock Speed 580Mhz
SitaraTM ARM® Cortex®-A8 32Bits
Processor @ 1GHz
RAM
128MB (Scalable to 256MB)
4Gb DDR3
Storage
16MB (Scalable to 32MB)
4Gb
Ethernet
10/100 Mbps, auto MDI/MDIX
1 x RJ45
10/100Mbps,
Automatically adapted to
MDI/MDIX
3 x RJ45
1x 10/100 Ethernet Port RJ45
RJ-45 (10/100 BaseT)
Analog I/O
1x Digital Input On Voltage:
2.7V to 36VDC
4 X 0~5V,
4~20mA,
0~20mA
2xAnalog Input (ADC).
Voltages from 0V to 28V.
127KΩ Impedance
Digital I/O
2 X Digital Input 1:High level,
5~30VDC,
close signal;
0:low level,
0~1VDC open signal
2 X Digital Output
SINK output Max 50VDC
Ignition Input.
50KΩ Impedance
Serial Port
1 – RS-232 Serial Port*
1 – RS-485 Serial Port*
ISM Band
868/915/923MHz
NA 915, EU868,
AUS923, JP920
Protocol
Backhaul
LTE CAT M1/ Ethernet
4G/Ethernet
Wi-Fi/Ethernet/LTE
3G/4G, ETHERNET
Downlink
LoRaWAN
AI/DI/RS485/
RS232/Wi-FI/
Ethernet/GPS
CAN 1939
RS485
RS232
Ethernet, GPS, GNSS
LoRa
Power Supply
Power Input 9 ~ 36 VDC
Power Connector 4-way Molex mini-fit connector
Power Consumption 8.2W-9W (9-36VDC/1A)
Input voltage 9~57VDC
Input current Normal:[email protected],
max:[email protected]
Connection 5.08mm terminals
POE( Optional) Supports 3 POE
power output
Tie-Wrap, Screw Mount
12V / 1A Adapter
Certification
FCC
CE,FCC,ROHS,3C
FCC, IC, PTCRB, AT&T, UL
Mounting
DIN rail and Wall
DIN rail and Wall
Wall or pole mounting
IP
30
30
30
Company Name
Decode
Kernel Sistemi
Seeed
Product Name
Communications processor
PLC with integrated
operator panel
Efento Gateway Bluetooth
Grove Base Kit for
Raspberry Pi
Processor
32-Bit MCU Core ARM926EJ,
454MHz
ARM STM 200
RAM
256MB DDR2
SDRAM
2048 words copied
automatically into
plugged RAM
any 100 msec
Storage
4GB Flash
Analog I/O
2 analog inputs
with 12 bits
resolution [0 … 4095] ;
for PT100,
PT1000, thermocouple
(J or K) otherwise
voltage (0 … 10 V)
or current (0 … 20 mA)
Digital I/O
8 digital inputs PNP
24 Volts including 4 fast
(until 20 KHz for encoder reading)
with programmable
anti-noise filter (value 1 … 16)
Serial Port
Galvanically isolated
with send and
receive LED indicators
S1 – RS-232C
(TD, RD, DTR, RTS,
CTS, RI, DCD signals)
S2 – RS-232C
(TD, RD, RTS, CTS signals)
or RS-485 (A+ & B-)
S3 – RS-232C
(TD, RD, RTS, CTS signals)
or RS-485 (A+ & B-)
Galvanically isolated with send
and receive LED indicators
S4 – M-Bus Master,
up to 20 Slave devices
S5 – M-Bus Slave
S6 – RS-232C
(TD, RD, RTS, CTS signals)
or RS-485 (A+& B-)
Protocol
Backhaul
Ethernet
Ethernet
Downlink
Power Supply
18-36V DC
24 Vdc +/- 10 %
Power: Mini USB
Power adapter:
MiniUSB 230V AC,
5V DC / 1.0 A
Mounting
DIN rail and Wall
IP
40
Dusun's ThingsBoard IoT Gateways for Selection
Different IoT solutions necessitate other IoT gateway protocols and installation methods, as well as various industrial standards, waterproof grades, and operating temperature requirements.
Model
DSGW-081
DSGW-014
CDGW-006
CPU
iMX.6
PX30J
MT7628
RAM
Up to 512MB
Up to 2GB
Up to 128MB
Storage
Up to 8GB
Up to 32GB
Up to 32MB Flash
OS
Debian
Debian
OpenWrt
Protocol
Modbus, OPC-UA, BACnet,
BLE, CAN, LoRaWAN, LTE
LoRaWAN
Modbus, BLE, LTE
Waterproof rating
IP30
IP68
IP30
Operating temperature
-40~85℃
-25~65℃
-10~65℃
Thingboard Deployment Type
Install the service on the gateway
Docking to the thingsboard Cloud
Install the service on the gateway
Docking to the thingsboard Cloud
Docking to the thingsboard Cloud
ThingsBoard IoT solution
Intelligent energy,
smart office,
Fleet Tracking
Smart Farming,
Environment monitoring
Smart metering,
water metering,
Smart retail
Dusun IoT Gateway Advantages
Certified by ThingsBoard
Dusun IoT is the officially certified IoT gateway hardware partner of ThingsBoard. Our ThingsBoard gateways are perfectly adapted to the ThingsBoard platform, enabling quick configuration and deployment.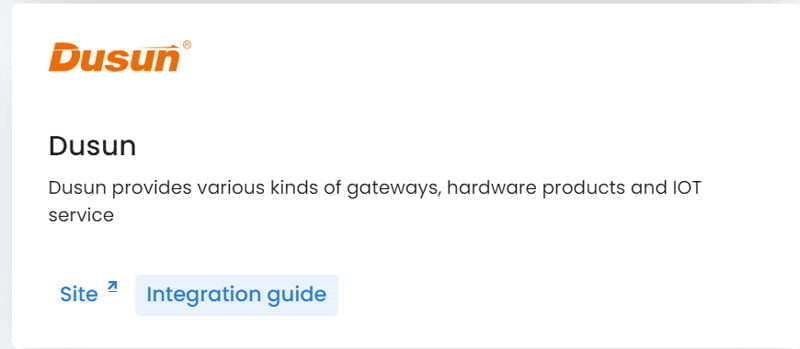 Multi-protocol Support
The Dusun gateway adapts to the future of ThingsBoard about IoT Gateways. It supports the BLE, Modbus, CAN, OPC-UA, LoRaWAN, and BACnet protocols for connecting devices, Ethernet, and LTE for connecting the Cloud. It is easy to support the MQTT connector, OPC-UA connector, Modbus connector, BLE connector, Request connector, CAN connector, BACnet connector, ODBC connector, RESET connector, SNMP connector, FTP connector, Socket connector, and custom connector on ThingsBoard.
Read Dusun IoT gateway integration guideline here:
https://thingsboard.io/docs/samples/dusun/DSGW-210_Edge_computing_gateway/
Complete Industry Hardware Solutions
The gateway corresponding to each solution has been connected to the required hardware devices; no need to worry about Hardware. Simple configuration, easy access to ThingsBoard Cloud.
Industrial-Grade/Waterproof Design
The gateway adheres to the industrial design level and is appropriate for the complex industrial environment. The waterproof gateway is critical for outdoor environments, particularly agricultural applications.
Pre-Certification
All products have met the certification requirements of most countries, including FCC, CE, IC, WPC, NTC, KC, RCM, SRRC, and other certification certificates, allowing you to bring your solution to Market quickly.
Dusun ThingsBoard IoT Gateway Benefits
Reduce Time-to-market
No need to do anything except open a ThingsBoard account, purchase Dusun gateways and Hardware, and go to MarketMarket or PoC in less than a week.
Simple Deployment
It is simple to connect devices to the ThingsBoard cloud platform, configure its settings, and deploy solutions. Local deployment is also an option for customers.
Rapid Iterative Upgrade
It can quickly connect to new IoT hardware devices and sensors, promptly meet customer needs, and form an iterative upgrade of the solution.
Dusun ThingsBoard IoT Gateway Use Cases
The Thingboard IoT Gateway powered by Dusun is fully compatible with the thingsboard and supports Cloud or on-premise deployment. And it has been successfully adopted into the following use cases.
Smart Energy
Dusun thingsboard IoT gateway can be used with an array of other intelligent energy sensors making life easier and more secure to monitor and control the smart energy use cases. Thanks to our thingsboard gateway, you can track water and electric use within businesses, apartments, and other use cases. By analyzing the data from the sensors, users can improve the operation to minimize energy waste and reduce costs.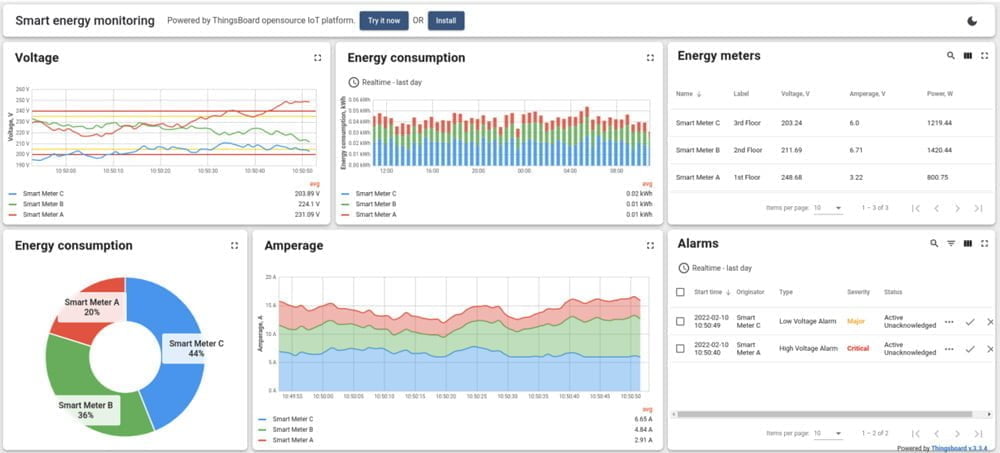 Smart Office
Dusun Thingsboard gateways are flexible and easy to connect with various intelligent sensors, such as smart thermostats, smart switches, etc. These products can all be used in the intelligent office solution.
The DSGW-210-Thingsboard IoT gateway working with the intelligent thermostat (DSHT-040), automates the maintenance of your heating, ventilation, and air conditioning system. They allow the building owners to control the office's heating and cooling. Even when they are not in the office.
In the thingsboard dashboard, users have a live overview of the office. This overview is fed with real-time temperature collected by our thingsboard gateway. Besides, you can maintain the office temperature and optimal energy consumption, saving up on bills.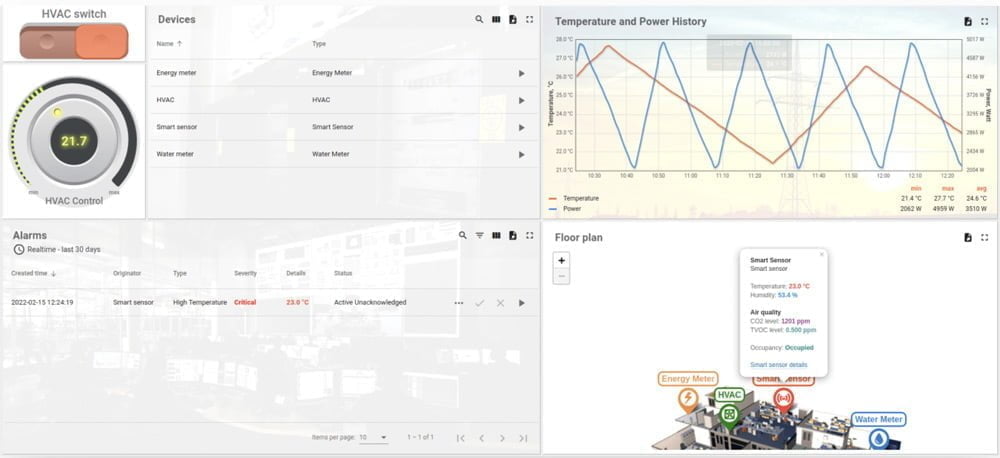 Fleet Tracking
Whether you're looking for a solution to track and monitor the real-time routes and state of the vehicles as they leave the bus station, Dusun DSGW-210-thingsboard provides an effective way to do it. In conjunction with beacons, you can use our thingsboard gateway to track vehicles across a long distance. Add as many gateways as you need based on the pathway of the cars.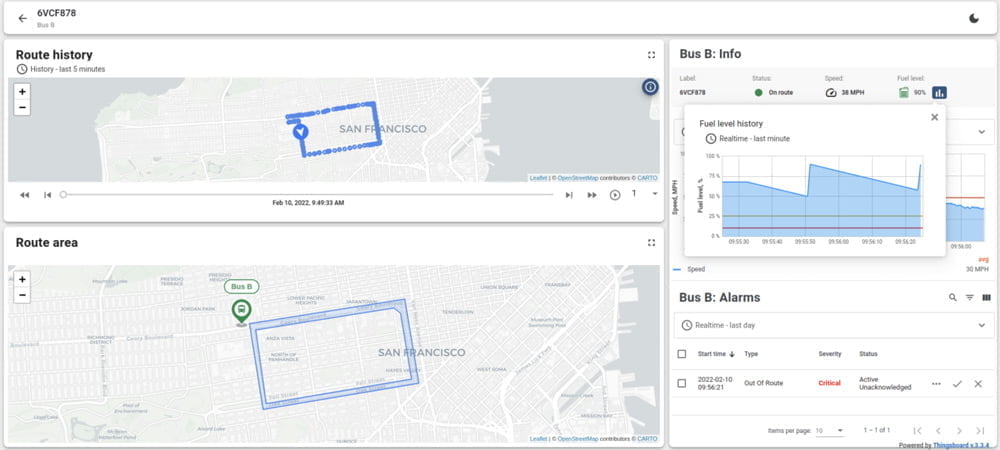 Smart Metering
As intelligent electric and water meters grow in popularity, utility providers can benefit from our solution based on our thingsboard gateway and track water and electric use within businesses, apartments, and other households on an interactive dashboard. Companies can then bill based on the amount of water and electricity used or time-of-day, or reward households and businesses for conserving resources.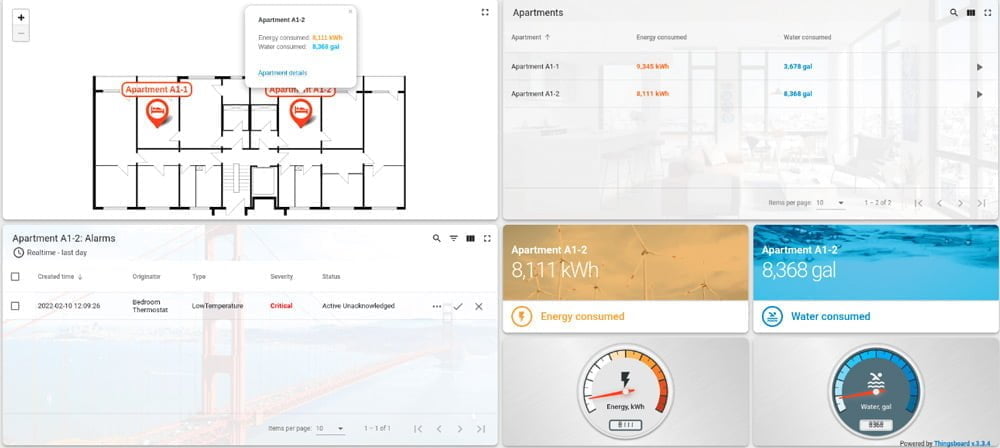 Smart Farming
Our Thingsboard Gateway (DSGW-014) can make life easier and more efficient for farmers on the farm because the user can directly integrate the production-ready server infrastructure provided by thingsboard with his smart sensor. It is easy to use, with the limited configuration required, fully scalable, reliable, and low-cost. From measuring environmental conditions that influence crop production to track livestock health indicators. And you can monitor and manage your farm by using one particular interactive dashboard
Our solution based on the thingsboard enables efficiencies that reduce environmental impact, maximize yield and minimize expenses by improving the operation by analyzing the sensors' data.
Ready to Use Dusun IoT Gateway for Your IoT Solutions?
Not only the above fields but also intelligent Energy, smart Office, and other fields apply to the DUSUN Thingsboard IoT Gateway and its derivative solutions. If you want to find the best Thingsboard IoT gateways, don't hesitate to contact Dusun IoT! Fill in the form or contact us directly by email. The pre-sales engineer will give you a detailed introduction and help you discover the most suitable solution for you.
You May Also Interested In These ThingsBoard Gateway Info