On November 3, 2023 – The "BRICS Forum: 5th Season Brand Space Value 2023 Gold Cube Lecture Series" successfully took place at Shanghai Greenland Bund Centre T3. Jointly hosted by the BRICS organization, the Shanghai Urban Renewal Research Association, the Genius Industry Research Institute, and the Greenland Bund Center.
The event welcomed over 200 experts and technologists. They collaborated on creating a "Capital, Assets, IP and Creative Operations" scene for urban renewal, paving the path for the fusion of urban spaces and cutting-edge technology.
Representing Dusun IoT was CEO Mr. Zhi Jiangfeng who gave a significant presentation at the conference detailing "How to Build Digital Connection Capabilities for Smart Scenes from the Internet of Things to Urban Indoor Spaces," where he outlined the application of IoT technology in smart city construction and its future development trends.
Dusun IoT Won the 2023 Gold Cube 12th BRICS Value Award
At the conference, Dusun IoT received the prestigeous 2023 Gold Cube Urban Renewal Innovation Award from the 12th BRICS Value. For eleven consecutive years, the BRICS Value Award has recognized authority in China's financial sector.
Over the years, the BRICS Value list has been dedicated to constructing a new co-ordinate system for industries, finance, and asset management, focusing on science, technology, and new businesses and tracking the resilience and growth indicators of various businesses. The fact that Dusun IoT won this honor is an affirmation of our efforts and commitment to continuous innovation.
As we all know, China's urbanization has entered a stage of high-quality development, and the construction of smart cities cannot be separated from the support of digital technology. Digital technology has brought unprecedented impact to urban development by strengthening the connections between people, people and buildings, and people and the world.
IoT Applications Trends in Urban Environments
Zhi Jiangfeng, CEO of Dusun IoT, said that among the six major IoT scenarios in indoor spaces: smart buildings, smart offices, smart apartments, smart homes, elderly care monitoring, and IoT remote patient monitoring. Wireless, cloud, and integration are three main trends.
In addition, in the construction of smart cities, wireless connections are increasingly becoming an important method. In the past five years, among IoT devices in homes and small shops, the average growth rate of wired devices has been 3%, and the growth rate of wireless devices has exceeded 25%, which is the general trend of future development. In the very active civil economy and residences, wireless applications have a very broad space.
Wireless, cloud-based, and integrated trends are sweeping across six major IoT scenarios within urban indoor spaces.
Custom Hardware Solutions Provided by Dusun IoT
However, IoT industries face several challenges such as a lack of uniform technical standards, high industry fragmentation, inadequate hardware capabilities, and system integration. Dusun IoT provides businesses with tailored solutions, catering to a multitude of requirements in smart homes and cities with our developer-perferred embedded IoT gateways.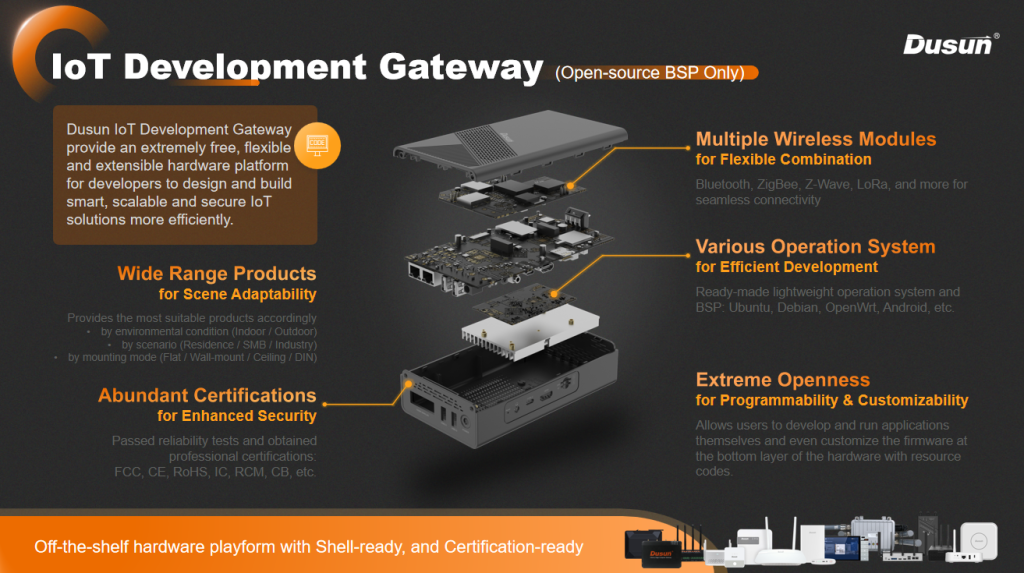 The advancement of digital technology implies that China's smart city constructions are headed toward a future of intelligent and efficient development. Coupling digital technology with city planning will drive innovation and enhancement in various areas, such as smart supply chain and logistics (e.g. cold chain monitoring), smart energy (case study: home energy management), and smart environments.
Dusun IoT will continue to play a pivotal role in the IoT field, tirelessly working to build digital connection capabilities for intelligent scenes to aid future city renewals and smart city construction. We strongly believe that through innovation and collaboration, we can collectively build smarter, more sustainable, and more livable cities.
About Dusun IoT
Dusun IoT provides IoT developers with flexible embedded IoT hardware development and design services and products including wireless modules, system on modules, industrial Single Board Computers, programmable smart IoT gateways, DAQ, far-field voice, etc. In the process of customer development, Dusun IoT provides developers with firmware SDK, development documents, development tutorials, and other services and tools to help developers quickly complete gateway development to achieve productization and marketization. At the same time, Dusun IoT provides IT solution developers with cloud platform pre-docking, pre-certified IoT gateways, and industry solution kits, such as security kits, apartment kits, pension kits, AoA positioning kits, etc.
We focus on the supply of kernel hardware in the internet of things (IoT). Whether you're a solution provider, distributor, or IoT developer, Dusun is here to help you create your best IoT project. Our smart IoT gateways have already integrated with many leading industrial and consumer platforms, which allows customers to get down to business rapidly and easily without spending an extensive amount of time on integration.