In today's growing market of industrial gateways, harnessing the power of IoT technology is essential for optimizing operations and ensuring efficient processes. Its global market expects an increase of USD 2,288.46 million at a CAGR of 19.8% between 2022 and 2027 [data from technavio].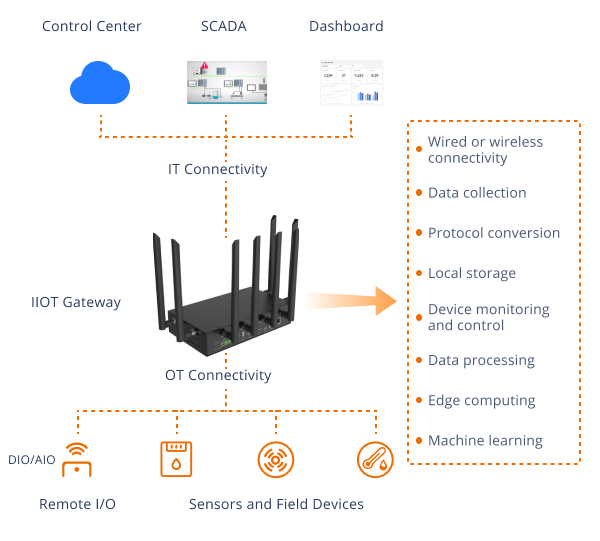 Industrial IoT gateways are the backbone of smart systems, connecting devices, collecting data, and enabling advanced applications. In this article, we'll explore five top-tier industrial IoT gateways from reputable manufacturers, each offering unique features and capabilities tailored to meet the demands of industrial environments.
AAEON AIOT-IGWS01 – Powerful and Compact
Winmate EACFA20 – Compact and Reliable
Dusun DSGW-380 – Best Edge Computing Performance
ADLINK MXA-200 – Advanced Computing
Maiwe MaxGate300 series – Robust Modbus Gateway
The article provides detailed specifications, applications, and benefits to make an informed decision and choose the best industrial gateway for your specific industrial IoT needs.
Top Industrial Gateways Available Today in 2023
With the industrial IoT sector experiencing significant year-over-year growth, vendors strive to expand their product offerings and improve vertical integration to meet market demands. Despite the challenges posed by legacy technologies, industrial operators are seeking comprehensive solutions from vendors. This shift toward end-to-end service delivery is shaping the future of the global industrial IoT gateway market. Here, you get the information about the best industrial IoT gateway devices.
AAEON AIOT-IGWS01
The AAEON AIOT-IGWS01 Industrial IoT Gateway is a compact edge device tailored for demanding industrial IoT applications. Powered by an Intel Atom x5-Z8350 SoC and equipped with 2GB of DDR3L memory and 32GB of eMMC storage, it ensures robust performance and data handling. It offers versatile connectivity options with Gigabit LAN, HDMI, USB 3.0, and multiple COM ports. Its flexibility sets it apart, supporting optional Wi-Fi, Bluetooth, and 3G/4G LTE connectivity for seamless data transmission. Moreover, it operates in a wide temperature range and complies with CE and FCC Class A standards, ensuring reliability and regulatory compliance.
Winmate EACFA20
The Winmate EACFA20 is a powerful industrial IoT gateway that stands out for its compact design and robust performance. It is powered by the NXP iMX6 Dual Core processor running at 1.0GHz. Its fanless design offers exceptional reliability in a variety of challenging environments. With a compact form factor measuring 100 x 70 x 31 mm, it can be easily mounted on a desk, wall, VESA, or DIN-Rail, making it an ideal choice for smart cities, retail, energy, and industry 4.0 applications. Its extensive connectivity options include USB 2.0 ports, Giga LAN connectors, and even an HDMI port for added versatility. Additionally, it's Microsoft Azure Certified for IoT, ensuring seamless integration with cloud services. With its rugged construction, wide operating temperature range, and certifications like CE and FCC, the EACFA20 is a good choice for demanding industrial IoT deployments, offering both reliability and performance in a compact package.
DusunIoT's DSGW-380 Industrial Edge AI Gateway
The DSGW-380 Edge AI Gateway is a cutting-edge solution engineered for demanding industrial IoT environments. Powered by the RK3588 chip with a quad-core Cortex-A76 and quad-core Cortex-A55 CPU, this gateway delivers unparalleled computing power with an NPU for hybrid operations, capable of INT4, INT8, INT16, and FP16 processing, offering up to 6 TOPS of computational capacity. Support for 5G and Wi-Fi 6 ensures high-speed, reliable connectivity. Its rich I/O interfaces, including RS232, RS485, CAN, HDMI, and USB ports, make it compatible with various industrial equipment. This gateway supports popular deep learning frameworks like TensorFlow, MXNet, PyTorch, and Caffe, making it versatile for AI applications. Its rugged aluminum alloy construction, IP30 protection rating, and wide operating temperature range from -25°C to 75°C ensure reliability in harsh industrial environments. Equipped with BLE 5.2 and LoRaWAN support, it's ideal for deploying advanced industrial IoT solutions that demand robust performance, connectivity, and reliability.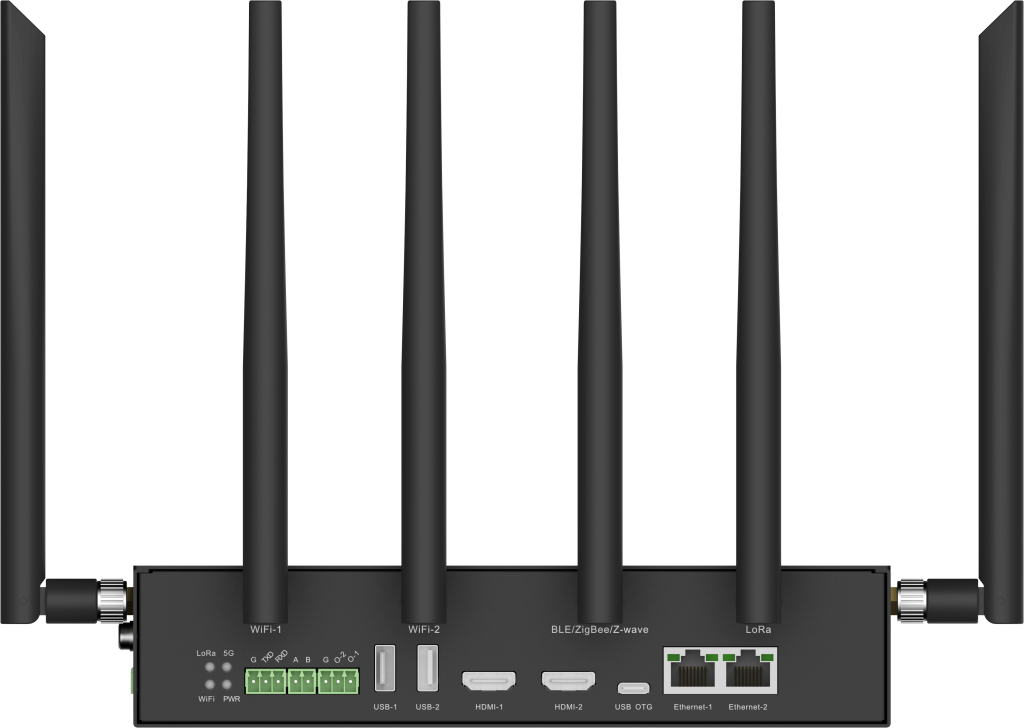 Read more about: Introducing DSGW-380 multi-function IIoT edge gateway
ADLINk MXA-200
The MXA-200 Preliminary is an industrial IoT gateway that harnesses the power of the NXP i.MX8M Plus Quad Core Processor. With 2GB of DDR4 RAM and 32GB of eMMC for system storage, it provides advanced computing capabilities for industrial applications. It features two isolated RS-232/422/485 serial ports, two high-speed Ethernet ports, and two M.2 slots for versatile connectivity, ensuring reliable and secure data communication. With an operational temperature range spanning from -20°C to 70°C, the MXA-200 is designed for harsh environments. This gateway is a good choice for system integrators working on projects in renewable energy, EV charging, smart cities, and factories, where extensive data collection, cloud-based applications, and video monitoring solutions are crucial for success.
Maiwe MaxGate300 series
The MaxGate300 series industrial Modbus gateway by Maiwe is known for its resilience against lightning strikes and electromagnetic interference, ensuring high reliability and top-notch performance. This gateway excels in converting Modbus RTU/ASCII to Modbus TCP protocols, featuring 8 RS232 or RS485 serial ports and two adaptive 10/100M Ethernet ports, catering to a wide range of industrial applications. With applications spanning power systems, industrial monitoring, traffic management, meteorology, water treatment, environmental monitoring, financial securities, coal mines, and petroleum industries, the MaxGate300 series excels in on-site data collection and transmission, remote monitoring, and on-site control. Key features include a Cortex-A7 core running at up to 792MHz, surge protection for RS232 and RS485 interfaces, support for DC12~48V input, and the ability to handle numerous TCP Client and Server connections on a single serial port.
Comparative Analysis of These Industrial Gateways
Here is a summary table of the key features and characteristics of the top 5 industrial gateways.
| | | | | | |
| --- | --- | --- | --- | --- | --- |
| Parameter | AAEON AIOT-IGWS01 | Winmate EACFA20 | Dusun IoT DSGW-380 RK3588 | ADLINk MXA-200 | Maiwe MaxGate300 Series |
| Processor | Intel Atom x5-Z8350 | NXP i.MX6 Dual Core | RK3588 Octa-core Cortex-A76 & Cortex-A55 | NXP i.MX8M Plus Quad Core | Cortex-A7 |
| Memory | 2GB DDR3L | – | 8GB LPDDR4 | 2GB DDR4 RAM | – |
| Storage | 32GB eMMC | – | 128GB eMMC | 32GB eMMC | – |
| Connectivity | Gigabit LAN, HDMI, USB 3.0, COM Ports | Giga LAN, USB 2.0, HDMI | 5G, Wi-Fi 6, 2 RJ45 Gigabit Ethernet, RS232, RS485, CAN, HDMI, USB | Ethernet, RS-232/422/485, M.2 slots for Wi-Fi & 5G/4G | RS232, RS485, Ethernet |
| Wireless Connectivity | Optional Wi-Fi, Bluetooth, 3G/4G LTE | – | 5G, Wi-Fi 6, BLE 5.2, LoRaWAN | 5G or 4G/LTE, Wi-Fi | – |
| Mounting Options | VESA, Wall, DIN-Rail | Desk, Wall, VESA, DIN-Rail | DIN-Rail, Wall Mounting | – | – |
| Operating Temperature Range | – | – | -25°C to 75°C | -20°C to 70°C | – |
| Key Features | Flexibility, Compact Design | Microsoft Azure Certified for IoT, Compact | High Computing Power, AI Framework Support | Isolated Serial Ports, Versatile Connectivity | Resilience, Surge Protection |
| Ideal for | Industrial IoT Applications | Smart Cities, Retail, Industry 4.0 | Industrial IoT, AI Applications | Renewable Energy, EV Charging, Smart Cities | Industrial Data Collection, Remote Monitoring |
Consulting this comparison table before selecting an industrial gateway is crucial for consumers because it provides a comprehensive overview of key parameters, allowing them to make informed decisions based on their specific requirements. For instance, a consumer needing a compact, rugged solution for smart city applications might find the Winmate EACFA20 appealing, while those focused on AI-driven industrial IoT tasks may lean towards the Dusun IoT DSGW-380 RK3588.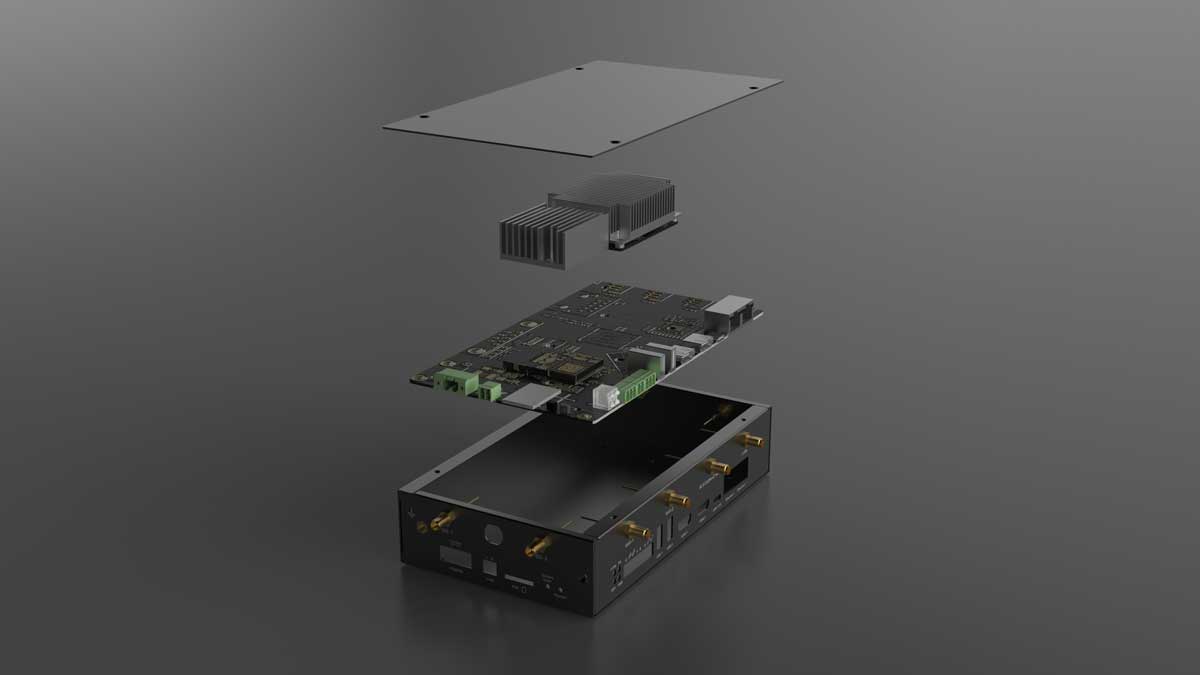 Critical Factors to Consider When Choosing an Industrial Gateway
Properly selecting an industrial gateway is paramount as it forms the backbone of an industrial IoT system, directly impacting efficiency, security, and long-term scalability. For instance, in manufacturing, choosing an industrial gateway tailored for IoT predictive maintenance can significantly reduce downtime and maintenance costs by monitoring machine performance and alerting real-time issues.
An appropriately selected gateway in smart supply chain tracking solutions enables precise tracking of vehicles' fuel consumption and mileage, optimizing operations and costs. The wrong choice, on the other hand, can lead to security vulnerabilities, data loss, and costly retrofitting efforts. You must look for the answers to the following questions before selecting an appropriate industrial gateway.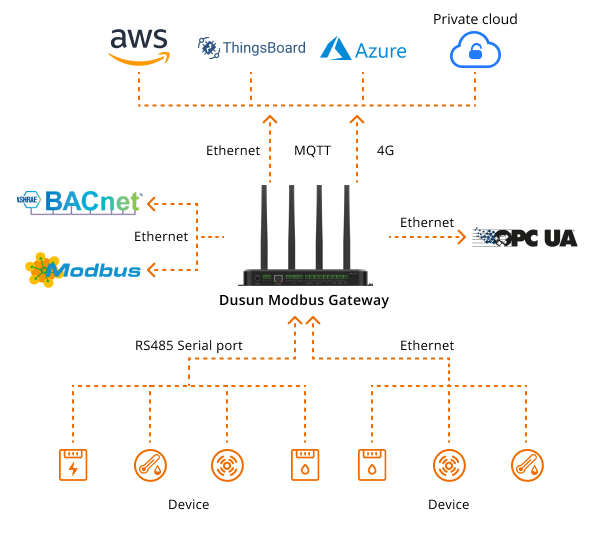 What is the industrial gateway's purpose?
Consider the specific industrial application and objectives, e.g., In manufacturing, industrial gateways are crucial for monitoring machinery performance using protocols like Modbus and collecting data securely for predictive maintenance.
How secure is the industrial gateway?
Evaluate the security features to protect against cyber threats.
Look for encryption standards like DES, AES, and Triple DES Encryption Algorithm.
Ensure authentication processes and tamper detection mechanisms are in place.
What storage capacity does the industrial gateway offer?
Assess data storage capabilities for handling sensor data.
Typical smart buildings generate around 250 GB of data daily.
Verify if the gateway has expandable storage options and micro-SD slots for storing at least 20 GB of data.
Where will the industrial gateway be installed?
It is extremely important to evaluate the environmental conditions of the installation location. Most high-performing industrial gateways can operate in extreme temperatures (-30°C to 70°C), high altitudes (15 m to 5000 m), or high shock and vibration situations.
Does the industrial gateway support edge computing?
Edge computing is crucial for automated decision-making and enhancing reliability using protocols like MQTT and OPC UA. Hence, ensure the gateway has edge computing applications for low-latency data processing.
What connectivity options and protocols does the industrial gateway offer?
Verify compatibility with required connectivity protocols and interfaces.
Look for Bluetooth, Ethernet, Wi-Fi, LoRaWAN, NB-IoT, and longer-range options like GSM/GPRS LTE-M.
Ensure support for standard protocols such as RS232, RS485, CAN, TCP/IP, HTTP, Modbus, and other serial and LAN interfaces.
Is the Industrial Gateway Compatible with Legacy Equipment?
As compatibility is essential to avoid costly upgrades and connect diverse industrial systems, check if the gateway can integrate with existing and legacy machinery and equipment.
Does the Industrial Gateway Offer Future Flexibility?
Consider future business expansion and evolving needs.
Look for a flexible gateway with a robust architecture and a focus on security to adapt to changing requirements.
Are There Additional Customization Options?
Evaluate if the gateway allows for customizations like energy-saving features and LTE support to tailor to specific industrial needs.
Is the Industrial Gateway Certified?
Ensure the gateway is FCC/CE/IC certified for electronic product compliance.
Additional certifications, such as safety certifications, may be required for specific industrial applications.
Conclusion
Dusun IoT's DSGW-380 RK3588 stands out as the best industrial Edge AI computing gateway in 2023 among the top-tier industrial IoT gateways we've examined. The support for popular deep learning frameworks like TensorFlow, MXNet, PyTorch, and Caffe makes it versatile for AI-driven applications. Furthermore, its rugged construction, IP30 protection rating, and wide operating temperature range from -25°C to 75°C ensure reliability in harsh industrial settings.
As for the second-best performing industrial gateway, the Winmate EACFA20 is an excellent choice for smart cities, retail, energy, and industry 4.0 applications. With its Microsoft Azure certification, compact form factor, and versatile connectivity options, it caters to various industrial needs, making it a strong contender in the industrial IoT gateway market.
Reference:
https://www.technavio.com/report/industrial-iot-gateway-market-industry-analysis