PLC (Programmable Logic Controller) is a type of industrial control system that is widely used in manufacturing, process control, and other industrial applications. While PLCs provide many benefits, they also face several challenges. In order to make up for these shortcomings, we need a PLC gateway.
What are PLCs challenging?
A PLC is a type of industrial computer. Ideal for a range of automation tasks, especially in manufacturing process①. PLCs constantly check the status of input devices like sensors, make decisions based on a personalised programme, and send an output to a control device like an actuator or alarm system.
Because to all of this input, PLCs concentrate a huge quantity of operational data, which regrettably stays confined inside factories. The majority of contemporary PLCs may interact with one another or transfer data to a nearby dashboard using rudimentary networking features, although they were not intended for remote interactions.
Data trading
PLC automation networks are often closed loops, keeping important and valuable data locked away on factory floors. Problematic data silos are ultimately produced by these networks.
Deploying connected infrastructure in tough industrial environments can be difficult because legacy PLCs with weak networking connectivity have restricted data exchange systems compared to high-end current PLCs with connectivity capabilities like Ethernet.
However, PLCs are becoming more and more tethered to the internet and other networks, leaving them open to being the target of a cyberattack. Hackers to obtain unwanted access, steal data, or interfere with activities using the PLC software or network.
Interoperability
It might be challenging to combine PLCs from different manufacturers or upgrade systems due to the frequent usage of different communication protocols and programming languages by different vendors. Furthermore vendor-specific, some SCADA and ICS systems can only be used with PLCs from that same vendor. Integrations of PLCs with systems like SCADA, ICS, or IT systems are difficult due to this lack of capability.
Insufficient data insights
PLCs may experience power outages or other minor irregularities over time, which may compromise entire control systems inadvertently. Examples of these irregularities include I/Omodule errors. Factory engineers must constantly and thoroughly inspect the machinery to prevent such PLC problems. Sadly, PLCs don't have any systems for tracking and foretelling machine-related issues.
Maintenance and expansion
Periodic maintenance of PLCs may be necessary, including hardware replacement and firmware upgrades. PLCs may occasionally need to be shut down, which would cause production to stop and would cost money. PLCs may need to be added to or updated as industrial systems expand and evolve.
It takes time and money to add new PLCs or modify current PLCs, which necessitates reprogramming and system testing. PLCs can also be pricey to buy and maintain, particularly for smaller manufacturers or organisations. Also, the cost of running and maintaining PLCs is increased by the need for specific skills.
How can PLC gateways help solve these problems?
What is a PLC gateway?
A PLC gateway is a piece of hardware that serves as a link between various networks or communication protocols. A PLC gateway is used in the context of industrial automation to connect and integrate various PLCs and other factory-floor equipment that may employ various communication protocols, such as Modbus, Ethernet/IP, or Profibus.
PLC IoT gateway can offer data mapping and protocol conversion services, allowing devices with various communication protocols to interact and exchange data. Additionally, they might include sophisticated features like data logging, alarm management, remote access, and monitoring.
When there are several devices and systems that need to be integrated and controlled, such as in the manufacturing, oil and gas, water treatment, and power generation sectors, PLC gateways are frequently employed.
By allowing different systems to operate together smoothly and letting engineers and operators to access and control them from a single location, they can assist to increase efficiency and lower costs.
Using PLC Gateways for IIoT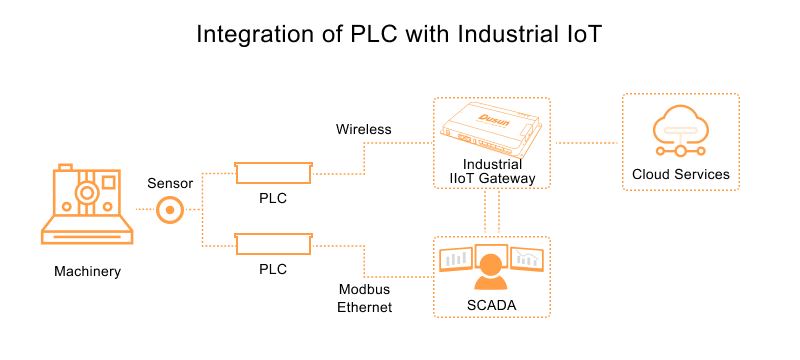 Rugged IIoT gateways are a crucial part of a full PLC integration solution. PLC gateways can perform well in challenging industrial environments, to start. Without some rugged features, no legacy IT equipment will last for very long. Second, cutting-edge wireless connectivity options like IEEE 802.11b, g, and n and LTE CAT 1 can support long-distance and high-speed data transmission.
Read further: what is industrial gateway?
PLC gateways must have reliable, fast wireless connections because they are frequently used in far-flung, challenging, and industrial environments. Third, a PLC gateway with numerous I/Os may work more seamlessly with physical interfaces, supervisory systems, and PLCs. Fourth, and most significantly, IIoT gateways connect OT and IT. IoT gateway can facilitate real-time data collection and integration between traditional and contemporary PLCs.
It is worth noting that PLC gateways are used to link various control system and device types. By serving as a communication link between these systems, they enable communication between them. Modbus is a popular protocol for connecting various sorts of devices, including PLCs, HMIs, and sensors. It is frequently used in industrial automation systems. 
Between Modbus devices and other control systems, such as Ethernet/IP, DeviceNet, or Profibus, a PLC gateway that supports Modbus can serve as a bridge. Modbus messages can be converted by the smart gateway into the correct protocol utilised by the target control system, and vice versa.
How to choose a PLC gateway?
Communication protocol
As mentioned above, the first thing to consider when choosing a PLC gateway is the communication protocols used by your devices. Make sure the gateway you select supports the protocols used by your devices. The most common protocols used in industrial automation are Modbus, Profibus , Ethernet/IP, DeviceNet, and CAN.
Dusun DSGW-081 Modbus PLC MQTT gateway can support Ethernet, CAN, Bluetooth 5.0, Zigbee 3.0, WIFI, KNX. Dusun IoT accepts modular customization, you can choose the modules ( BLE5 module, Zigebee module and so on) you need to achieve the highest cost performance.
| Model | Ethernet | RS485 | CAN | I/O Interface | Bluetooth 3.0 | Zigbee 3.0 | 4G LTE Cat1 | Wi-Fi | KNX |
| --- | --- | --- | --- | --- | --- | --- | --- | --- | --- |
| DSGW-081-1 | ● | ● | ● | ● | | | ● | ● | |
| DSGW-081-2 | ● | ● | ● | ● | ● | | | ● | |
| DSGW-081-3 | ● | ● | ● | ● | | ● | | ● | |
| DSGW-081-4 | ● | ● | ● | ● | ● | ● | ● | | |
| DSGW-081-5 | ● | ● | ● | ● | ● | ● | ● | ● | |
| DSGW-081-6 | ● | ● | ● | ● | ● | ● | ● | ● | ● |
Interface
It's important to ensure that your selected PLC gateway is compatible with the devices you plan to connect. This includes not only the communication protocols but also the types of devices and the physical interfaces used by those devices. Dusun PLC gateway has 2 DO interfaces, 2 DI interfaces, 2 AI interfaces, RS485 interface, RS232 interface and CAN interface.
Security
Security: Your industrial automation system's security is an important factor to take into account. Be sure the PLC gateway you choose has strong security features, such as firewalls, encryption, and authentication. The gateway should also be compatible with the most recent security protocols and standards.
TPM, an integrated cryptographic module that improves security and privacy, is a part of the Dusun PLC IoT gateway. The gateway's fundamental functions include demonstrating which software is running on a system, securing authentication credentials, and encrypting and decrypting data to secure it.
Dusun PLC gateway
The DSGW-081 PLC Modbus BACnet CAN KNX to MQTT gateway converter with RS485/232 interfaces is an Industrial Edge Computing Gateway that offers constant machine Internet connection across prevalent 3G/4G wireless networks and numerous broadband services.
The DSGW-081 PLC gateway can achieve data optimization, real-time response, agile connection, and intelligent analysis on the IoT edge by using its powerful industrial edge computing capabilities. This significantly reduces the amount of data that must be transferred between field sites and data centres and prevents bottlenecks caused by cloud-end computing. The PLC gateway converter also provides wireless services and all-encompassing security protection.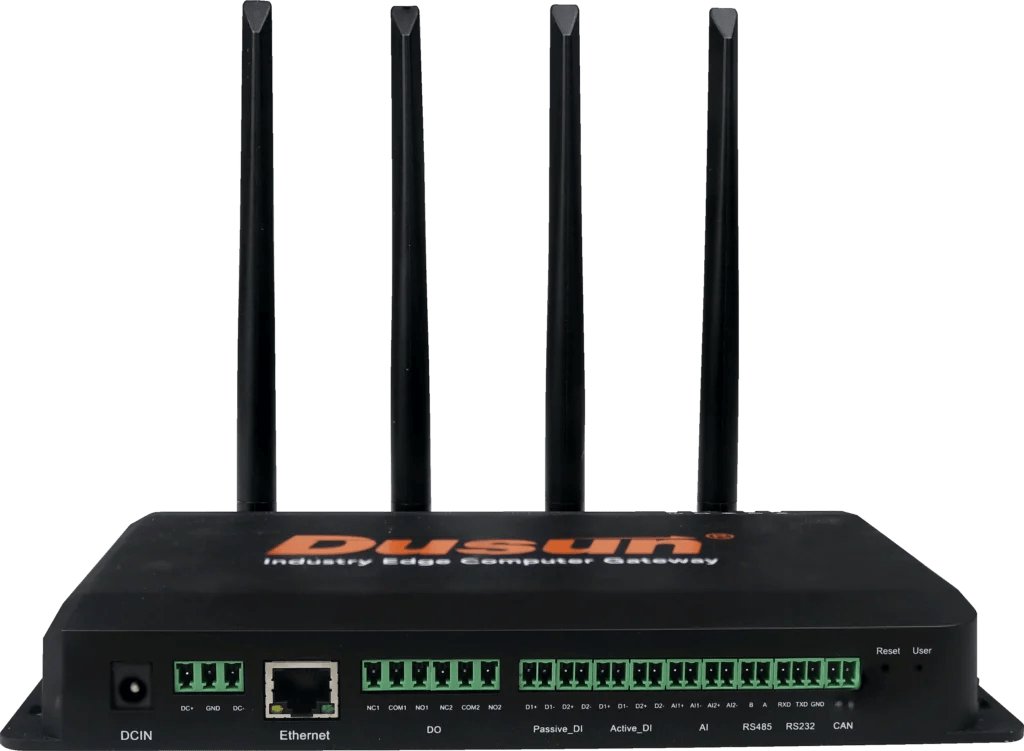 About Dusun IoT
Dusun IoT has invested heavily in IoT gateways for a long time. Our PLC gateways are among the best in the industry. Dusun IoT will customise an IoT service to meet your specific requirements. To get in touch with us, use the contact form or live chat.
Reference:
Programmable logic controller (2023) Wikipedia. Wikimedia Foundation. Available at: https://en.wikipedia.org/wiki/Programmable_logic_controller