EnOcean wireless networks are installed in more than 1,000,000 buildings worldwide①, making it the reason many manufacturers use the EnOcean gateway in their system integrates with existing systems. 
What is an EnOcean gateway?
An EnOcean Gateway connects wireless EnOcean-based devices to the internet or other IP-based networks, allowing for the management and control of those devices from a single location. Energy-harvesting wireless switches, sensors, and controls use a wireless communication protocol called EnOcean. By harvesting energy from the environment, such as motion, light, or temperature differences, EnOcean technology enables devices to run on their own.
Signals from EnOcean devices are typically received by an EnOcean Gateway, which transforms them into data that can be transmitted over a network like Wi-Fi or Ethernet. This enables remote access to the EnOcean devices, which can be used for Internet of Things (IoT) applications, smart homes, and building automation.
EnOcean Gateways can offer features like data logging, data analytics, and system integration in addition to connectivity alone. To enable voice control and remote management of devices, EnOcean Gateways can be integrated with a number of home automation platforms, such as Amazon Alexa, Google Home, and Apple HomeKit.
How does an EnOcean gateway work?
The EnOcean gateway acts as a bridge between EnOcean hardware and other networks or systems. It takes in wireless signals from EnOcean devices and converts them into a protocol that other networks and systems can understand. Typically, an EnOcean transceiver on the EnOcean gateway receives wireless signals from the EnOcean devices, and a microcontroller interprets the signals and does the appropriate translations.
The IoT gateway could incorporate extra hardware, including Ethernet ports, to connect to several networks.

What are the advantages of the EnOcean gateway?
Better wireless connection
The EnOcean gateway enables wireless communication between its products and other systems, doing away with the need for cables and simplifying and lowering the installation cost.
Higher energy efficiency
EnOcean devices are self-powered, and the gateway's low-power wireless communication protocol makes it extremely energy-efficient, which lowers maintenance requirements and increases device lifespan.
Scalability
An EnOcean gateway that supports many EnOcean devices makes it simple to scale up a system as necessary without the need for new infrastructure or wiring.
Flexibility
The EnOcean gateway enables the integration of EnOcean devices with other systems and protocols, making it simple to add new features and capabilities to a system. A 32-bit unique transmission ID is used to identify each EnOcean device, and sensor profiles are specified in detail.
As a result, installing equipment and sensors side by side from different manufacturers in a home or building is conceivable without encountering any issues. EnOcean gateway provides a centralized control point for EnOcean devices, enabling remote system management from a single location.
Security
Due to the extremely short telegram or data overhead used in EnOcean technology, the risk of data collisions is very low. Each EnOcean node has its processor. Furthermore, it uses distributed intelligence, so even if a single component or device fails, the entire EnOcean system will not fail.
Cost-effective
EnOcean devices and gateway are affordable for building automation, smart homes, and other IoT applications because of their cheap installation and maintenance expenses. Installing the EnOcean gateway is simple, needing little setup and configuration, which speeds up deployment.
The most important of these features is the low power consumption attribute. The nature of sensors and other IoT devices means that low power consumption is critical since any given network may contain a large number of devices spread over a wide area. Ensuring that these devices are as cheap to maintain and as reliable as possible is important to keeping the network up and running.
EnOcean gateway application
Smart office
Companies must understand how their buildings are used in terms of usage and environmental behaviour. This can be accomplished by utilizing the EnOcean gateway and sensors. The EnOcean gateway reads and processes sensor data before sending it to the cloud to be displayed on the dashboard. Businesses can easily monitor individual room usage and air quality from the dashboard (based on temperature, CO2, VOC, noise levels, etc.).
This data enables more precise decisions in space management, such as whether a room is being used efficiently or should be divided into two smaller rooms. At the same time, the system sends this information to employees, allowing them to determine whether the room is occupied. A holistic overview of the digital reservation and the physical world can be obtained by connecting sensor data to a room reservation system.
This means that if a room is not booked, but someone is in it, the staff will be notified on their phone rather than wasting time going to the room only to discover it is already occupied. Furthermore, a model can be trained to predict future air quality by combining weather data with historical environmental data from sensors and usage data. With this feature, employees receive recommendations on which room to select for a specific number of people, ensuring optimal air quality.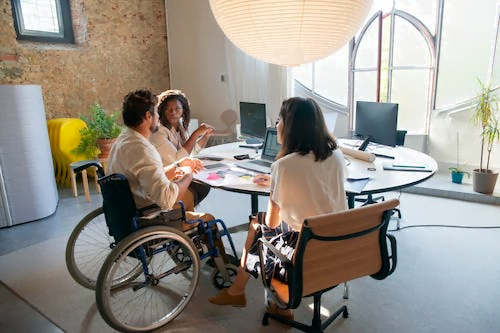 Smart building
Not only the residential building itself but also the processes that are associated with it are digitized with the assistance of the EnOcean gateway. Problems and status messages, such as "The heater in the toilet is defective," can be individually standardized by administrators. If it is necessary, residents can digitally capture them.
Notifications concerning restrictions, such as "Restricted water supply: from 11 am to 2 pm," which can be provided digitally to residents within a matter of seconds, can be made available. The building is accessible to service providers in a timely and uncomplicated manner, and automatic wireless readings are taken from the water and heat meters as well as the cost allocators for the heat.
One comprehensive system incorporates a number of essential features, including smoke detectors and metering information that can be read remotely, intelligent thermal control, lighting, and shading. The management and utilization of these resources are improved as a result, as is the overall efficiency.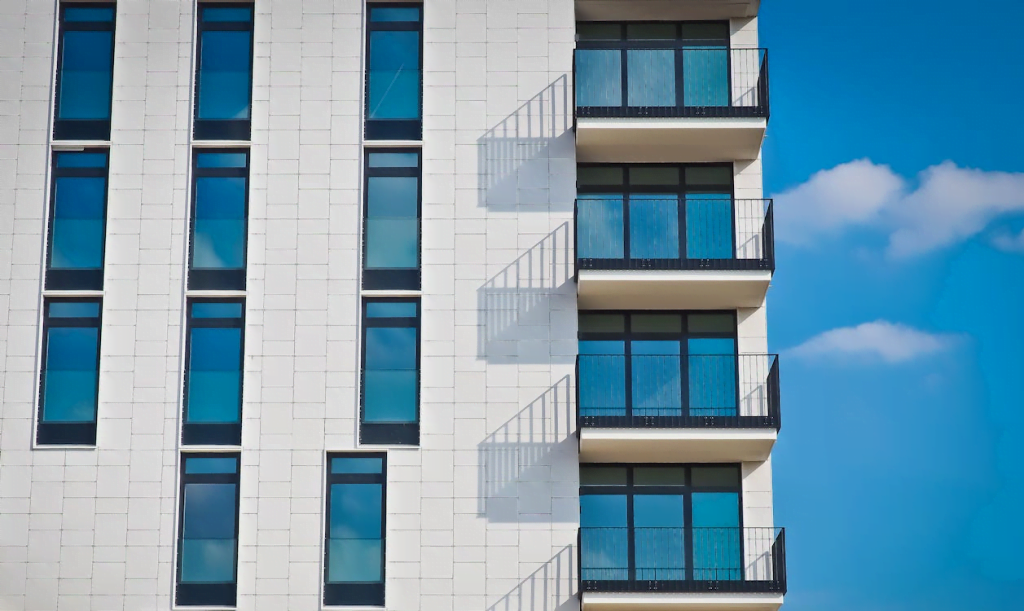 Smart factory
Reducing energy consumption plays a key role in achieving climate protection goals in most companies. This is especially true for manufacturers who want to rely on smarter, more connected factories in the future. An important prerequisite for doing so, however, is knowing how much energy is consumed —information that many businesses currently lack.
EnOcean gateways combined with sensors seamlessly feed precise, real-time data into the cloud, allowing customers to measure, control, and reduce their energy consumption. This enables industrial companies to better control their production process by knowing the status of each machine.
If the machine continues to run after being shut down, or if the old machine is underperforming. Irregularities in a machine's energy pattern are also important indicators of the need for maintenance or repairs—an early warning that can prevent outages and unplanned downtime. With this information, the company can save approximately 10% on energy.
It's worth noting that because these devices use EnOcean's energy harvesting technology, they're low-maintenance and don't require electricity or batteries.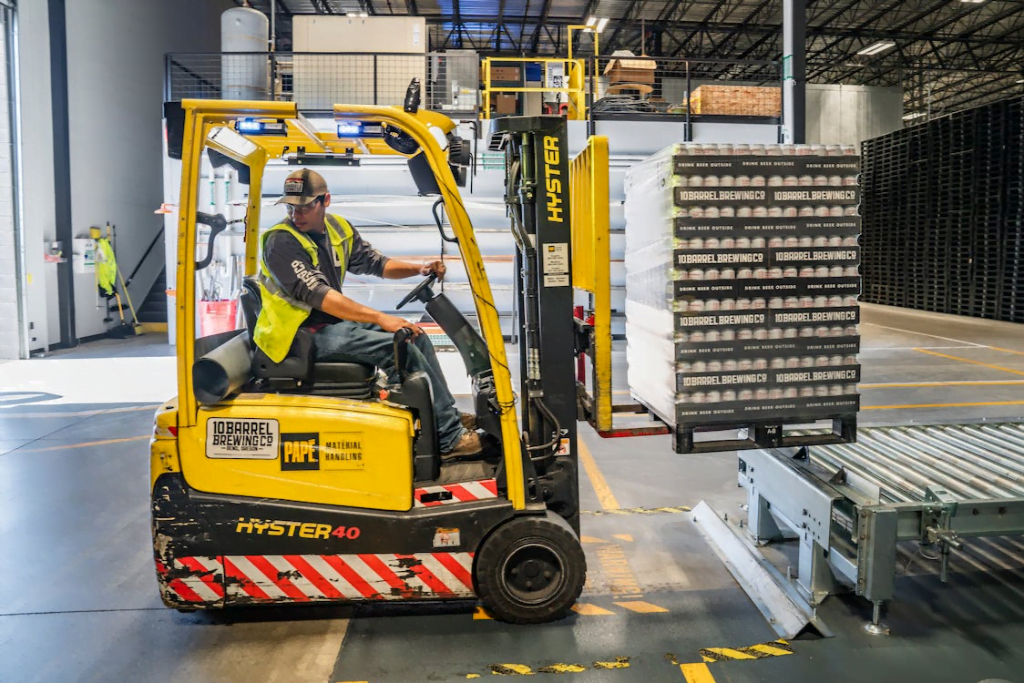 Dusun EnOcean gateway
The Dusun DSGW-210E EnOcean gateway provides dependable connectivity for a variety of EnOcean IoT devices. Meanwhile, it is compatible with Home Assistant. Launching Home Assistant will automatically scan your network for known devices and allow you to configure them easily.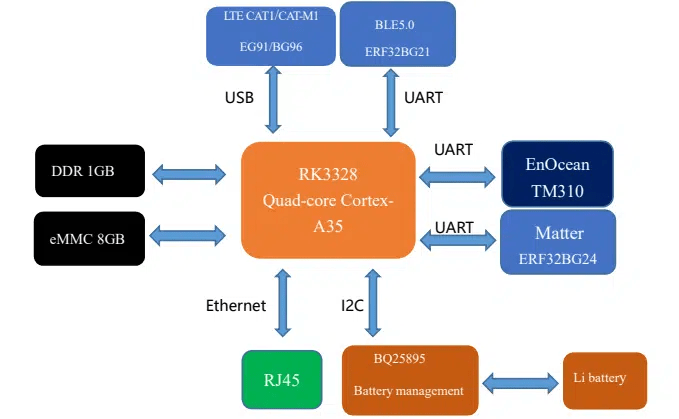 Support 5V USB type-c power supply
Support EnOcean, TM310
One WAN/LAN variable network port
RGBs indicator ring
Support USB2.0
Support backup Li battery, last 12 hours
Support LTE cat1/LTE catM1
Support BLE 5.0
Support Matter
About Dusun IoT
Dusun IoT has spent a lot of time and money on researching and making IoT gateways for a long time. We offer high-quality EnOcean gateways. Dusun IoT will do its best to make an IoT solution fit your needs. Please use the online form or chat feature to talk with us.
Reference:
Building smarter connectivity (no date) EnOcean Alliance. Available at: https://www.enocean-alliance.org/