As a popular and widely-trusted open source operating system, the Debian operating system is renowned for its stability, reliability and openness. These advantages have garnered increasing favor among users. This time, DSGW-210 Home Assistant Zigbee Z-Wave Gateway's update to Debian 12 operating system will enhance developer's Linux IoT experience with fixed bugs and feature improvements, providing a robust IoT gateway platform and a smoother operation to leverage the capabilities that Home Assistant brings to your service.
6 Key Functional Enhancements on Debian 12 OS
Let's delve into the six key functional enhancements brought by the Debian 12 operating system:
Stability improvements: With 89 bugs fixed, Debian 12 operating system becomes a more reliable operating system with enhanced stability.
Security enhancement: Debian 12 operating system introduces some key security improvements, including enhanced kernel isolation, security module enhancements, and the addition of new security functions. These measures significantly boost the system's security and protective capabilities, ensuring robust defense mechanisms and fostering a safer computing environment.
Hardware compatibility: Upgrading to Debian 12 operating system and Kernel 5.10 optimizes hardware support and improves storage capabilities. With numerous driver updates for improved hardware configuration, this will comprehensively contributes to an overall boost in system stability.
Optimized performance: Debian 12 introduces memory optimization and performance enhancements specifically tailored for the EXT4 file system. Bug fixes targeting older version file systems play a pivotal role in elevating the overall performance of Debian 12.
User-Friendly Experience: Debian 12 operating system has already been officially supported by Home Assistant. The latest version of Home Assistant offers enhanced compatibility with Debian 12 operating system, leveraging its expanded software package channels. This allows users to install the software packages they need, contributing to a more user-friendly experience.
Long Lifecycle: Debian 12 operating system 'Bookworm' ensures an extended support period of five years, until June 2028. This commitment provides a stable and secure operating environment, facilitating later maintenance and development cycles with confidence.
You may also be interested in best IoT gateway operating systems
Why Choose DSGW-210 Home Assistant Debian Gateway?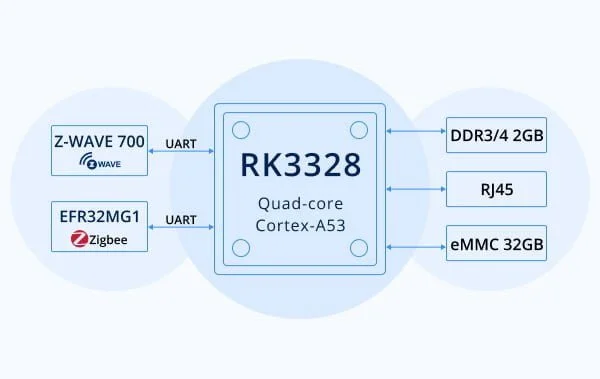 Ready-to-use Home Assistant Debian 12 hardware: Load the Debian 12 OS and running a Supervised Home Assistant installation might be very complicated, which often entails following a stringent set of guidelines. Our DSGW-210 Home Assistant Debian 12 Gateway offers a seamless integration and hassle-free using experience so you do not need to spend a lot of time on Debian 12 OS installation.
Home Assistant Supervised: Home Assistant can be installed on Linux system, giving users more control over the hardware and software environment, customizing setup according to your specific needs.
Zigbee, Z-Wave, BLE Integration with Existing Infrastructure: DSGW-210 Home Assistant Zigbee Z-Wave Gateway, as its name shows, supports popular wireless protocols like Zigbee, Z-Wave, BLE, MQTT, and more, enabling you to bring together different devices and services into a cohesive home automation ecosystem.
Robust and Customizable IoT Gateway Platform: DSGW-210 Home Assistant Debian 12 Gateway is a developer-preferred IoT gateway platform that connect smart devices to the cloud. Boasting dual-band Wi-Fi (2.4G/5G) connectivity, 4G LTE CatM1 card slot, and an Ethernet RJ45 port, it ensures versatile Internet access options. The inclusion of a Li battery serves as a reliable power backup, alleviating concerns over power disruptions. Fueling its performance is the RK3328 CPU, a power-efficient yet high-performance Quad-core 64-bit SoC running at clock speeds of up to 1.5GHz. With so many features, you can use it as a central control hub of designated spaces.
Home Assistant Benefits: By running Home Assistant on the DSGW-210 HA gateway, users gain access to a multitude of features and benefits. These include an intuitive user interface, seamless integration with over 1000 brands, system extension capabilities through add-ons, compatibility with the Home Assistant App, and real-time tracking of energy consumption, among other valuable functionalities.
How to Use DSGW-210 Home Assistant Zigbee Z-Wave Gateway?
Upon receiving your DSGW-210 Home Assistant Debian 12 Gateway, we recommend initiating the setup process by carefully checking its package contents. Typically, the package includes the following items:
a gateway hardware: the central component that powers your smart home/office/shop/growing lighting factory ecosystem.
network cable: for network connectivity and data transmission.
USB power cable: facilitating power supply for the gateway.
compatible power adapter (EU or US): ensuring functionality in different regions
mounting bracket: Essential for convenient installation.
3 expansion screws: Supporting the mounting process.
This comprehensive package aims to provide you with everything you need for a smooth and successful setup of your DSGW-210 gateway.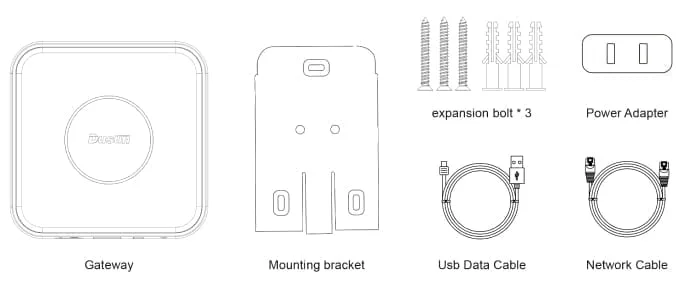 Physical Design
With the package contents confirmed and no missing items, the next step is to familiarize yourself with the DSGW-210 Home Assistant Debian 12 Gateway's appearance and understand the meaning of each feature. Here's a breakdown of the gateway's features:
USB Type-C Port: used for power supply, ensuring a reliable and efficient energy source.
USB Peripheral Interface: facilitating connections with additional peripherals for expanded functionality.
RGB LED: an indicator providing visual cues to convey the working status of the gateway, allowing for quick and easy diagnostics.
Ethernet Port: enabling seamless connectivity to the LAN port of your router for network integration.
SIM/TF Card Slot: allowing for the insertion of a SIM card for 4G connectivity and a TF card for additional storage capacity.
Reset Hole: a designated reset point to restart the gateway when needed.
Li battery Power Switch: ensuring continuous operation even in the event of a power disruption.
Taking the time to understand these features enhances your overall experience with the DSGW-210 gateway, empowering you to make the most of its capabilities.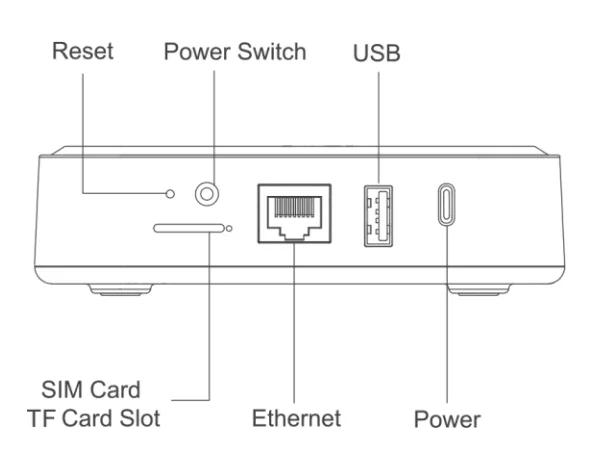 Install the Gateway
Install Brackets: Use the provided expansion screws to affix the mounting brackets to the desired wall or roof location.
Insert Gateway: Carefully insert the gateway into the mounted brackets, ensuring a snug and stable fit.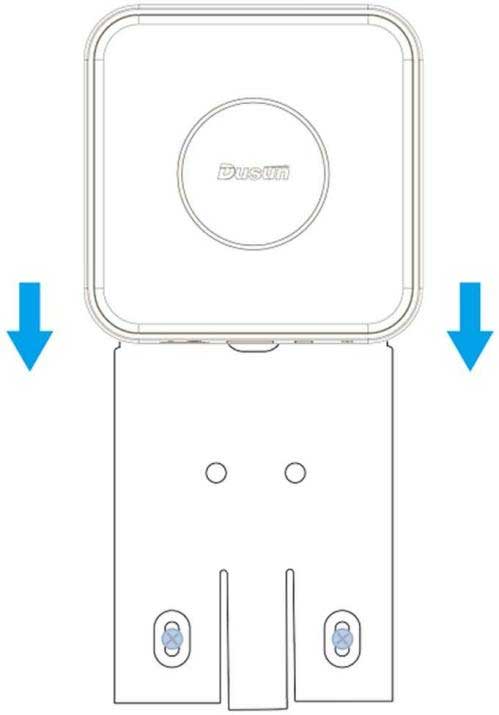 Home Assistant Supervisor& Core Version Updates
Users have the flexibility to manually update the Home Assistant Supervisor and Core versions at their convenience. For the gateway, the default version is listed as 2.0.19, providing users with the latest features and improvements for an enhanced Home Assistant experience.
Core-2023.10.0
Supervisor-2023.10.1

Operate Home Assistant
Access the Gateway by establishing a connection to your home router. Locate the IP address of the Gateway through your router settings.
Access the Home Assistant dashboard by entering this URL in your web browser: http:// Gateway ip:8123
Locate a Wi-Fi Access Point (AP) using your PC with the SSID: dusunha and Password: 12345678. Once connected, access the Home Assistant dashboard by following the URL: http://192.168.10.1:8123.
Register for a Home Assistant account by entering the user's details and clicking the 'CREATE ACCOUNT' button.
Add integrations by clicking on 'Configuration on the dashboard. If you can't find a specific device or integration, you have the option to click on '+Add integration' in the lower right corner of the screen. This action opens a search menu, enabling you to add various integrations through the Home Assistant software.
Here we show an easy instruction on how to add ZHA for zigbee management. Click on "+ ADD INTEGRATION", type ZHA in the search box, select the Zigbee Home Automation, choose /dev/ttyUSB1 for serial port of Zigbee module, and then click SUBMIT. Wait for approximately 2 minutes for the initial initialization, then click FINISH. Your integration is now successfully added.
Adding devices to the Zigbee Coordinator is simple as well and we use a Zigbee temperature and humidity sensor for testing. Click on the added Zigbee gateway to access an overview of the Zigbee coordinator. From there, you can add Zigbee devices by selecting 'ADD DEVICES TO THIS DEVICE.' Once the gateway is in pairing mode, set the Zigbee temperature and humidity sensor to pairing mode as well. In this example, we see the sensor device is successfully added.
Here we have a video instructon on how to configure DSGW-210 Home Assistant Debian 12 Gateway:
Final Words
The upgraded DSGW-210 Home Assistant gateway hardware featuring Debian 12 OS shows our commitment to providing cutting-edge solutions for developers. We once used DSGW-210 Home Assistant gateway to help customer build a LED grow lighting controller solution based on BLE mesh technology. The gateway hardware integrates features like lighting ON/OFF, brightness adjustment, CCT adjustment, etc., to meet the plant growth requirements. As the growing conditions continuously change (e.g. temperature, humidity, brightness…), the lights can be adjusted automatically to ensure optimal conditions for plant growth. If you are interested, Dusun IoT invites you to explore the possibilities of creating more smart scenarios. Our versatile gateway hardware is designed to meet your evolving needs.
Meanwhile, As we move forward, we are committed to continually improving and expanding the capabilities of our gateway hardware. Welcome to stay tuned for exciting updates and features on Dusun IoT.
You May Be Interested in These Home Assistant Debian Related Things:
How to Install and Set up Home Assistant in DSGW-210
How to add and configure BLE mesh AddOn on DSGW-210 Home Assistant Debian Gateway