Welcome to Applied Intelligence Live in the vibrant city of Austin, where innovation and technology converge! During September 20 – 21, 2023, Dusun IoT is set to embark on an extraordinary journey through the realms of Artificial Intelligence and the Internet of Things. And it is our pleasure to introduce you to the cutting-edge marvel that is revolutionizing the industry – the DSGW-380 RK3588 Industrial Edge Computing Gateway. As we delve into the limitless possibilities of AI and IoT, we invite you to join us in exploring the transformative power of this groundbreaking gateway, as it paves the way for machine learning on edge devices.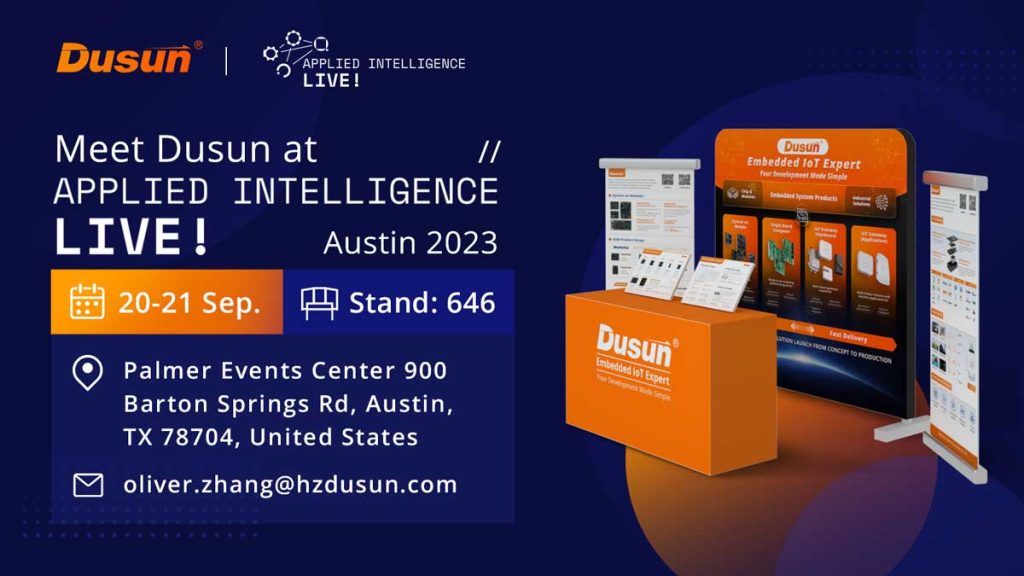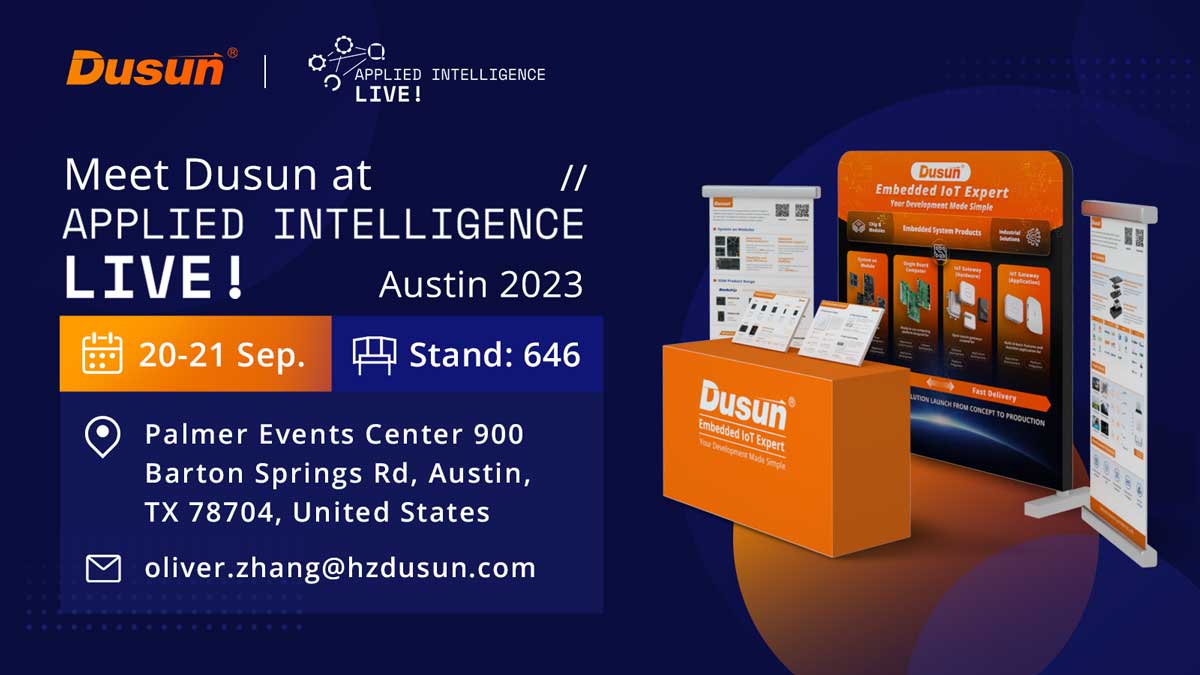 Visit booth 646 to explore our best-in-class embedded hardware solutions for IoT Connectivity and IoT Edge Computing gateways! Our representatives will be available to answer any questions you may have and provide personalized demonstrations of our products.
Dusun IoT's Edge AI Gateway Recommendation
DSGW-380 is an AI gateway developed by Dusun IoT. It aims to serve IoT gateway developers who wants to find a powerful industrial AI edge computing gateway.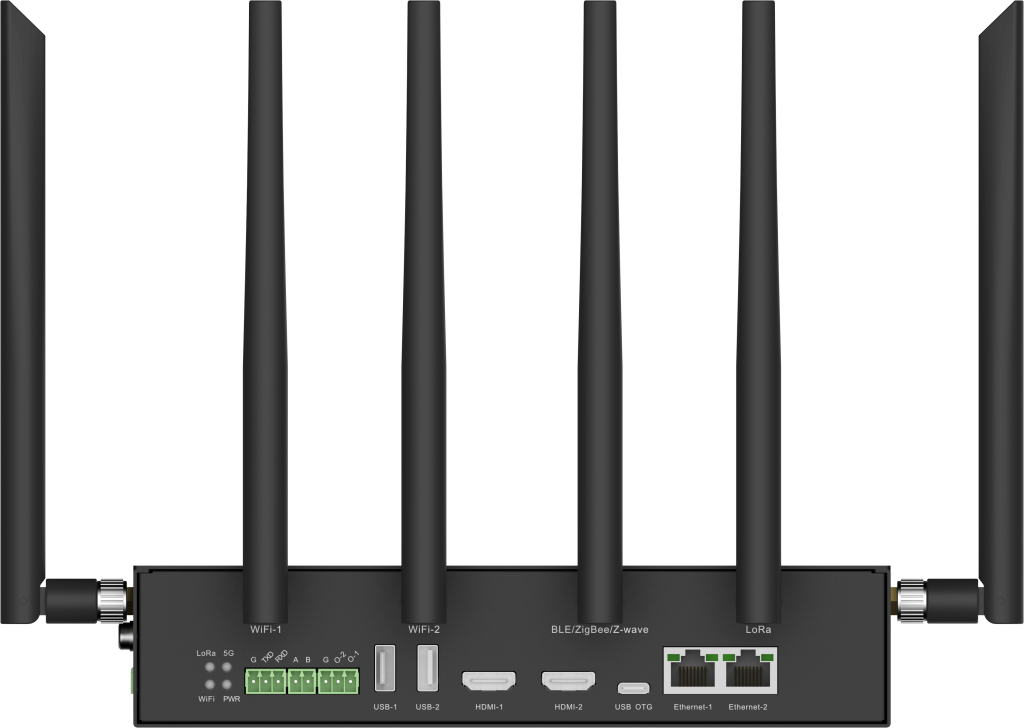 High Performance and Edge Computing Capability
Powered by Rockchip RK3588, one of the most popular IoT SoCs in the AIoT field, DSGW-380 offers excellent edge computing capability. Rockchip RK3588 SoC is a high-range SoC made in 8nm process technology, integrated 8-core 64-bit ARM architecture, with 4 Cortex-A76 plus 4 Cortex-A55 and Mali G610 MC4 graphics processor, supporting 8K decoding. Most importantly, it has a built-in independent NPU (Neural Processing Unit) capable of hybrid operations with INT4, INT8, INT16, and FP16 and offers a computing capacity of up to 6 TOPS. Therefore, it can be used for indsutrial AI applications in building automation, industrial control, and predictive maintenance of IoT elevator, etc.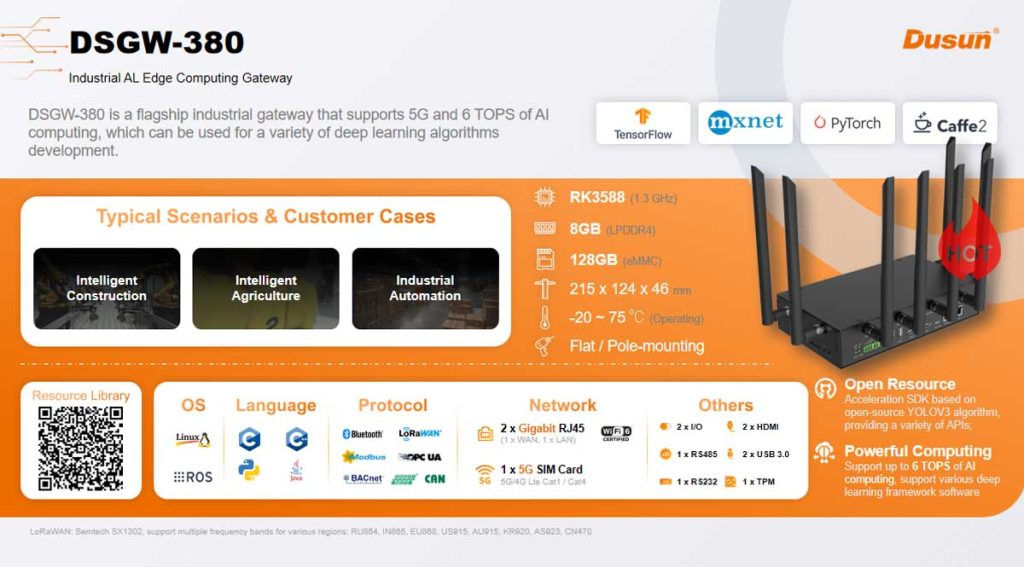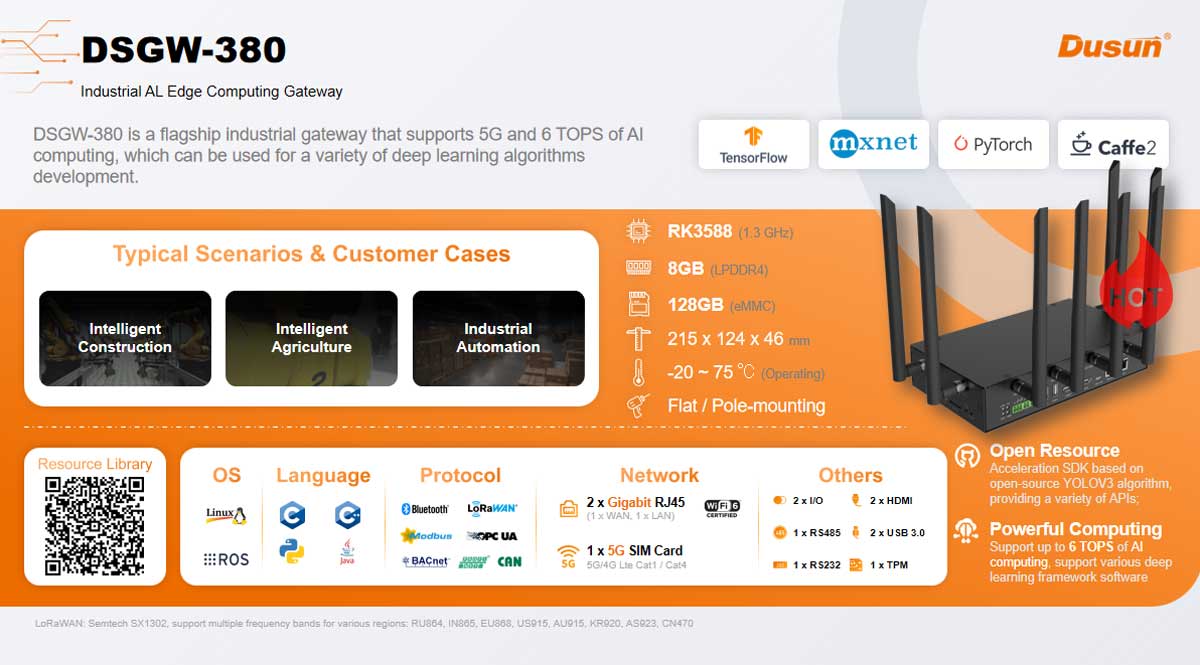 Rich Interfaces and High Programmability
DSGW-380 RK3588 AI gateway has abundant ports and interfaces ready for a variety AIoT applications in Industrial field, including RS485/232 serial port, CAN, USB 2.0, HDMI, Type-C, RJ45 port, etc. Meanwhile, it can run ROS and Debian operating system, and support full-stack embedded software development. By utilizing SDK and wireless module driver provided by Dusun IoT, developers can easily build custom application. Multiple programming language supported.
Robust IoT Connectivity and Industrial-grade Design
DSGW-380 RK3588 AI gateway offer 5G LTE, Ethernet, and Wi-Fi6 (IEEE 802.11ax) backhaul options, facilitating consistent and stable Internet connectivity with automatic switching between several backhauls. Additionally, It offers comprehensive APIs that can easily connect with the largest IIoT clouds and streamline your IT application development. MQTT, TCP, HTTP protocols supported. Besides, DSGW-380 is tailored for harsh environment with Aluminum alloy enclosure and wide operating temperature range (-25℃~75℃).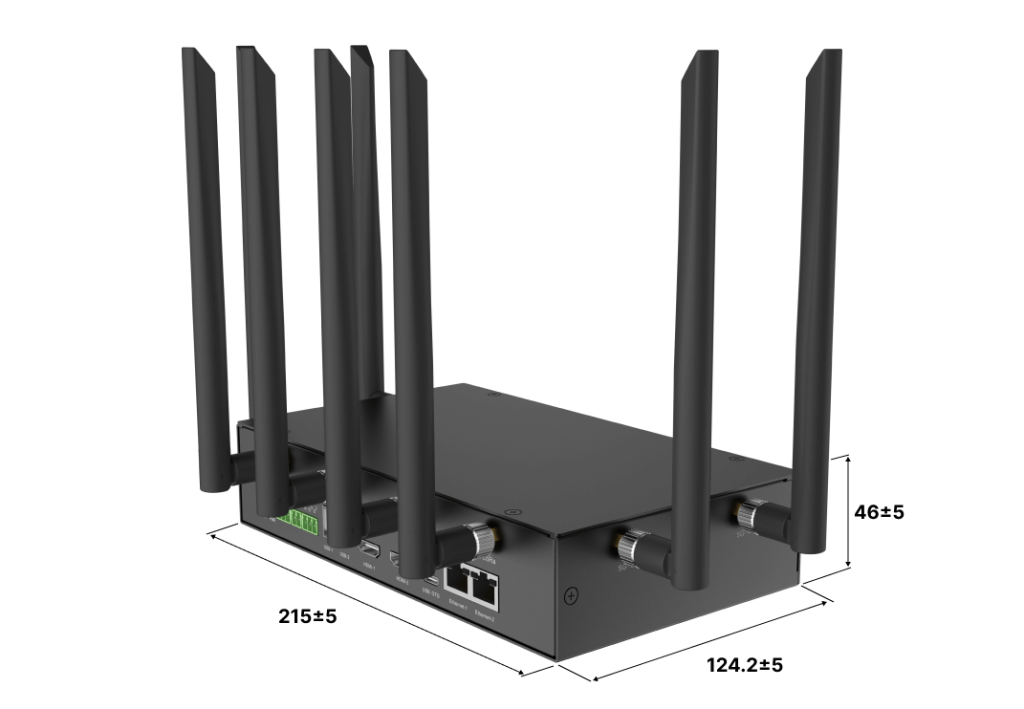 What is AIoT?
The term "AIoT" refers to the convergence of artificial intelligence (AI) with the Internet of Things (IoT), which allows linked objects (IoT) the autonomy to independently assess conditions and make decisions (through AI).
The term "Internet of Things" describes a huge ecosystem made up of networked physical objects, embedded sensors, software, and various networks that link the physical and digital worlds. By connecting to each other to form a network, these devices gather data, exchange information, and interoperate to create intelligent scenarios.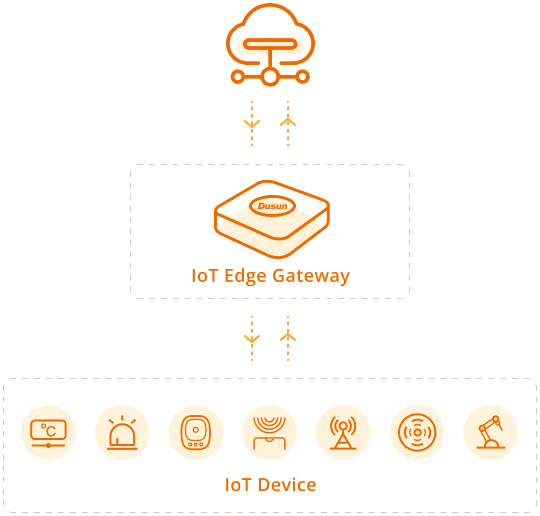 Read further: What is IoT edge computing gateway?
The term "Artificial intelligence" refers to the process of simulating human cognition in machines so that they can be programmed to think, learn, make decisions, and behave in autonomous ways similar to humans. By incorporating cutting-edge AI algorithms and machine learning technologies into IoT infrastructure, IoT devices can analyze and interpret data in real time, adapt to changing environments, optimize their operations, and provide users with personalized experiences.
AIoT can be used by businesses to develop higher-level intelligent applications, which optimizes the work efficiency and response speed of IoT devices, improves data processing and analysis capabilities, and enhances human-computer interaction.
Read further: what is AIoT?
Future Trends of AIoT
The convergence of artificial intelligence (AI) with the Internet of Things (IoT)pushes the capability of IoT devices to higher heights. Let's continue to explore some of the key areas that hold great potential in AIoT.
Decentralized IoT Architecture and Edge AI
AI at the edge brings AI capabilities to the edge of the network. This is expected to play a vital role in the future of IoT edge computing. By processing data locally on edge devices, AI algorithms can deliver real-time insights and intelligent decisions without relying heavily on cloud infrastructure. This enables accelerated response times, decreased latency, and enhanced privacy. IoT systems will be more effective and smarter thanks to a decentralized IoT architecture powered by edge AI, which will enable increased autonomy and intelligence at the edge of the network.
Integration of AI and Blockchain in IoT Systems
The fusion of artificial intelligence and blockchain brings great potential for IoT applications. Due to its decentralized and immutable nature, blockchain can address key challenges in IoT such as data security, privacy, and trust. When AI and blockchain work together, they are able to enable secure and reliable data sharing, support autonomous decision-making in distributed IoT networks, and maintain data integrity and transparency. For decentralized AI-driven IoT systems, this convergence opens up new possibilities, particularly in fields like supply chain management, smart contracts, and safe data exchange.
Autonomous IoT System Powered by AI
The future of AI in IoT lies in the development of autonomous systems that can make intelligent decisions and operate independently. AI-driven autonomous IoT systems can use sensor fusion, reinforcement learning, and advanced machine learning algorithms to detect their environment, learn from interactions, and make decisions in real time. This paves the way for self-optimizing and adaptive IoT networks where devices may intelligently collaborate without human involvement, dynamically adjust their behavior, and maximize resource allocation. Intelligent cities, self-driving cars, and industrial automation are a few domains where autonomous IoT systems have the potential to make a significant impact.
Potential Impact of 5G on the AI-powered IoT
The emergence of 5G technology completely transforms the landscape of AI-driven IoT systems. With ultra-low latency, fast connectivity and massive device capacity, 5G networks will open up new possibilities for AI uses in the IoT. The high bandwidth and low latency of 5G will enable real-time data processing, facilitate seamless device-to-device connectivity, and support the proliferation of AI-driven applications. This will lead to advancements in telemedicine, connected driverless vehicles, smart infrastructure, augmented reality, and other fields, altering how we interact with IoT devices and creating new use cases.
The convergence of IoT and AI has a bright future. We can open up new horizons in intelligence, connectivity, and creativity by utilizing edge AI, integrating autonomous systems, and utilizing the potential of 5G. As we embrace these future trends, it is also critical to continue to address the challenges of ensuring ethical AI practices and maintaining a focus on human-centered design.
Final Words
The intersection of AI and IoT is indeed the frontier of innovation, and our DSGW-380 Industrial Edge Computing Gateway stands as a testament to what's possible when visionary technology meets real-world applications. We hope you will attend this event with the enthusiasm for the potential of AI and IoT and are excited to start the dialogue with all of you as we collectively shape the future.