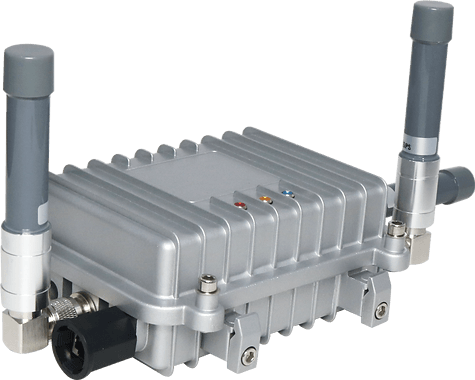 Dusun Pi3 Model C is a full 8-channel outdoor Gateway, based on the LoRaWAN protocol, with built-in Ethernet connectivity for a straightforward setup. Additionally, there is an onboard Wi-Fi setup (supporting 2.4 GHz/5GHz Wi-Fi) that allows it to be easily configured via the default Wi-Fi AP mode. With its industrial-grade components, it achieves a high standard of reliability.
1.2 Product Feature Summary
– Support the POE switch power supply
– Support IEEE802.3-2012 Type 1, the IEEE802.3-2012 Type 1 requires a power supply device (PSE) to provide 44 to 57V, and the power of the powered device (PD) must not exceed 12.95 W and the current does not exceed 350 mA.
– CPU: Quad-core Cortex A35
– 2GB on-board RAM
– 32GB eMMC
– Base on the LoRa Concentrator Engine: Semtech SX1302
– TX power up to 27dBm, RX sensitivity down to -139dBm @SF12, BW125kHz
– LoRa Frequency band support: RU864, IN865, EU868, US915, AU915, KR920, AS923.
– Support Wi-Fi 2.4G/5G IEEE 802.11b/g/n/ac
– Support BLE5.0
– Support GPS,GLONASS,Galileo and QZSS
– Support IP66 waterproof housing
– Support OTA
– One WAN/LAN variable network port
– RoHS/WEEE compliance(Lead-free)
– FCC, CE, IC compliance
1.3 Hardware block diagram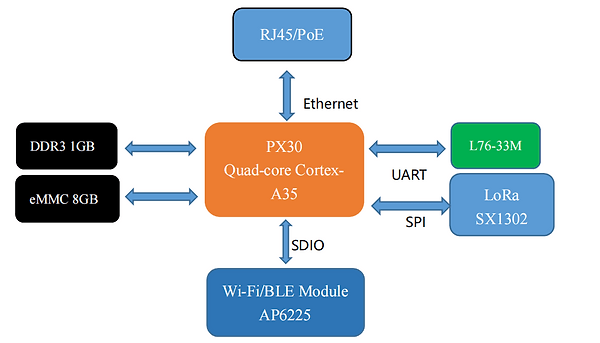 3 Electrical Requirements
Category
Specifications
CPU
Quad-core Cortex-A35
RAM
1GB
ROM
eMMC 8GB
System
Linux
Security module
ATECC608
Power Supply Port
Support DC input , input Voltage range is 4.5V to 5V. Power seat
aperture is 3.5mm. The needle diameter is1.35 mm and is positive.
Power adapter:100-240V 50/60HZ, Output is 5V/2A
Reset button
The reset button inside gateway, After pressing the reset button for more than 5 seconds, the Wi-Fi unit will be restored to the factory settings.
Network Interface
The network interface supports CAT-5/CAT-5E to transmit data and POE Power Supply (voltage range is 44~ 57V). It is WAN/LAN variable.
Indicator LEDs
1).Power LED normally on when powered on
2).Network LED normally on when connected
3). Card indicator
TF card
Up to 128GB
Operating Temperature
0℃~65℃
waterproof level
IP66
3.2 Performance Requirement
Wi-Fi Performance
• IEEE wireless LAN standard:
IEEE802.11n; IEEE802.11g; IEEE 802.11b
Data Rate:
IEEE 802.11b Standard Mode:1,2,5.5,11Mbps
IEEE 802.11g Standard Mode:6,9,12,18,24,36,48,54 Mbps
IEEE 802.11n: MCS0~MCS7 @ HT20/ 2.4GHz band
MCS0~MCS7 @ HT40/ 2.4GHz band
• Sensitivity:
HT40 MCS7 : -70dBm@10% PER(MCS7) /2.4GHz band
HT20 MCS7 : -71dBm@10% PER(MCS7) /2.4GHz band
• Transmit Power:
IEEE 802.11n: 16dBm @HT20/40 MCS7 /2.4GHz band
IEEE 802.11g: 16dBm @54MHz
IEEE 802.11b: 18dBm @11MHz
• Wireless Security: WPA/WPA2, WEP, TKIP, and AES
• Working mode : Bridge、Gateway、AP Client
• Range: 50 meters minimum, open field
• Transmit Power:17dBm
• Highest Transmission Rate: 300Mbps
• Frequency offset: +/- 50KHZ
• Frequency Range (MHz): 2412.0~2483.5
• Low Frequency (MHz):2400
• High Frequency (MHz):2483.5
• E.i.r.p (Equivalent Isotopically Radiated power) (mW)<100mW
• Bandwidth (MHz):20MHz/40MHz
• Modulation: BPSK/QPSK, FHSSCCK/DSSS, 64QAM/OFDM
BLE Performance
• TX Power: 10dBm
• Range: 150 meters minimum, open filed
• Receiving Sensibility: [email protected]%BER
• Frequency offset: +/-20KHZ
• Frequency Range (MHz):2401.0~2483.5
• Low Frequency (MHz):2400
• High Frequency (MHz):2483.5
• E.i.r.p (Equivalent Isotopically Radiated power) (mW)<10mW
• Bandwidth (MHz):2MHz
• Modulation: GFSK
LoRa Performance
• Supports class A, C
• Frequency band support: RU864, IN865, EU868, US915, AU915,
KR920, AS923
• TX power up to 27dBm, RX sensitivity down to -139dBm @SF12,
BW125kHz
GPS
GPS,GLONASS, Galileo and QZSS
Ethernet
WAN/LAN port:10M/100Mbps