NXP i.MX 8M Mini is a high-performance, energy-efficient application processor featuring 14 FinFET technology. It can be used for media-rich consumer products and medical devices like medical endoscopes that need graphics transmission and processing since it has outstanding media features, supports video decoding, and enables graphics acceleration. Additionally, it can function steadily for a long time in harsh environments thanks to its wide operating temperature range of -40 °C to 85 °C, making it suited for embedded industrial applications.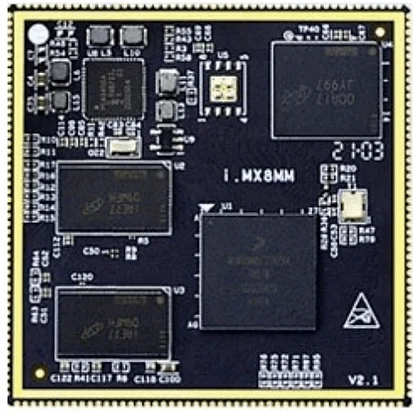 Furthermore, it has strong system connectivity capabilities (PCIe®, Gigabit Ethernet, SDIO/eMMC, USB 2.0, MIPI-CSI, MIPI-DSI), as well as flexibility in memory interfaces (LPDDR4, DDR4, DDR3L). The NXP i.MX 8M Mini SoM has expert PCB layout to certify its reliability and has undergone high and low temperature tests. It is stable and reliable, and can work in a variety of extremely challenging scenarios. Let's explore its possibilities together!
What is NXP i.MX 8M Mini?
The i.MX 8M Mini is NXP's first embedded multi-core application processor built with 14nm LPC FinFET advanced process technology. At its heart is a scalable heterogeneous core, including four Cortex-A53 core platforms up to 1.8GHz per core as well as a real-time processor based on Cortex-M4 with a main frequency of 400+MHz.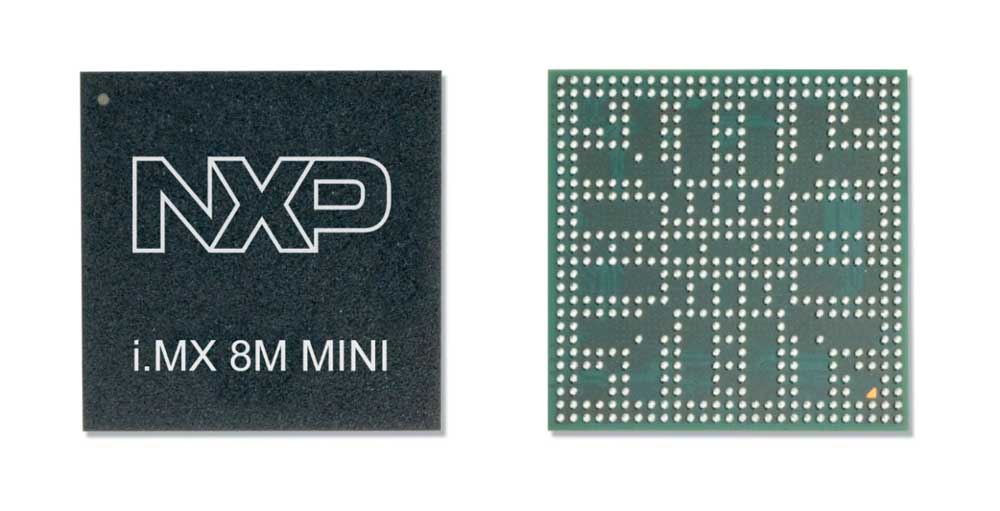 The core design of i.MX 8M is not only optimized for ultra-low power consumption (even less than 1 watt in certain applications), but also provides powerful processing capabilities required for applications like consumer electrics, industrial IoT predictive maintenance, audio display, AI machine learning, and various cloud-based services.
NXP i.MX 8M Mini also integrates features like 1080p video acceleration for bi-directional video applications, 2D and 3D graphics accelerators for visual HMI experience, and advanced audio capabilities for applications with rich audios. The i.MX 8M Mini also provides a variety of high-speed interface options to enable a wider range of connections and to meet industrial-grade requirements.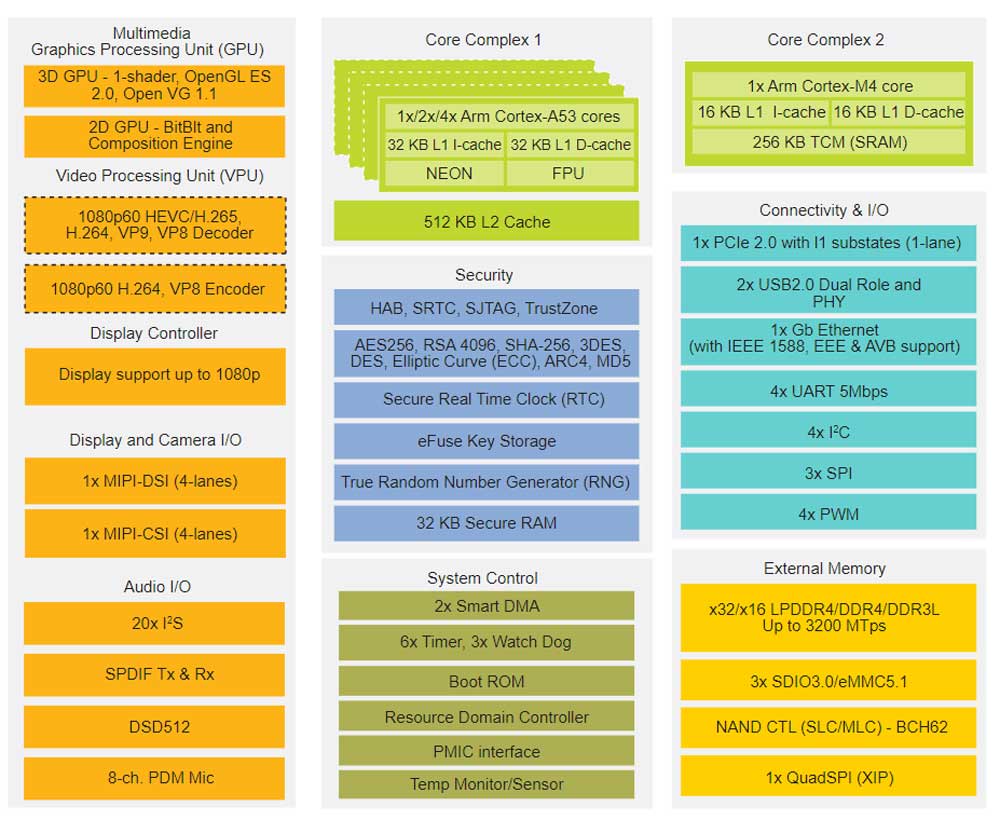 Integrating so much features like high-performance computing, high power efficiency, embedded security, advanced multimedia processing capability, and rich interfaces, there is no doubt that the i.MX 8M Mini an be used in a lot of general-purpose embedded industrial and consumer applications. So, what specific applications does it have then?
Industrial Real-time Control
Industrial real-time control generally refers to the technologies that use industrial controllers as the core device to implement industrial automation tasks. Industrial controllers, according to the attributes and application fields, can be categorized into PLC (Programmable logic controller) which is widely used in single electromechanical equipment and automated production lines, and CNC (Numerical Control System), which primarily used to complete machine processing and other related control tasks. In addition, there are also some specialized controllers for industrial robots and distributed control systems (DCS) that are commonly seen in the process control field.
Read further: IoT gateway for PLC
Types of Industrial Controller Hardware
Industrial controllers can be also categorized into special-purpose computer (embedded-system-based) and general-purpose computer-based (PC-based), according to hardware architecture. Embedded controller primarily refer to the hardware installed in the controlled equipment. It is a core component of equipment with the dedicated software to achieve the goal of controlling the equipment or the system, including data gathering, transmission, and monitoring, etc. Embedded controller are characterized by compact size, simple structure, particular functions, limited scalability and flexibility, and ready-to-use performance, and Yes, the cost is reasonably low.
Read further: what is industrial gateway?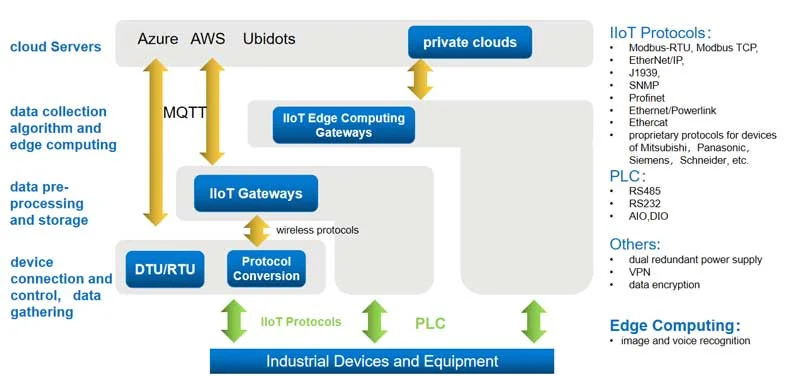 Industrial control often needs to deal with complex needs of some demanding industrial scenarios and real-time control. The Cortex-M4 real-time processor of NXP i.MX 8M Mini can take advantage of its MCU capability to handle such challenging requirements, which is undoubtedly an ideal choice for developing special-purpose industrial controllers.
NXP i.MX 8M Mini Solution for Industrial Controllers
On the whole, the NXP i.MX 8M Mini has a Cortex-A53 processor with a maximum frequency of 1.8GHz and runs the Linux operating system, which can handle complicated human-computer interaction, high-speed calculation, and other application needs. While, for real-time control and communication tasks, such as real-time motor control, real-time IO control, serial port communication, real-time communication with FPGA, etc., the Cortex-M4 core runs FreeRTOS systems to finish them.
Read further: Linux for IoT
Industrial DAQ (Data Acquisition)
Data collection is a prerequisite for industrial 4.0 no matter how far industrial automation advances. For every industrial manufacturing company, it is crucial to acquire industrial data effectively to improve the production efficiency and increase market competitiveness. What exactly is industrial data acquisition then?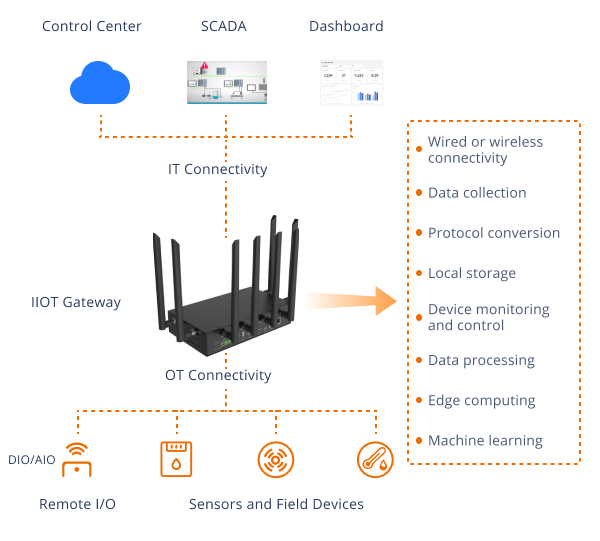 Industrial data acquisition is the bridge between the physical world and the digital world in the Industrial Internet of Things. It uses ubiquitous sensing technology to gathers data on all components, including multi-source heterogeneous equipment and systems, environments, and people, and then analyzes the information through certain interfaces and protocols. These data will eventually be sent to the host computer or cloud for analysis and processing.
Types of Industrial DAQ data
There are various types of data according to different industries, and the obtained data varies for many different situations, applications, and industries. The data gathered can be divided into several categories:
Sensor data: Due to the widespread usage of industrial sensors, including photoelectric, temperature, gas, pressure, magnetic induction, current, and humidity sensors, a lot of information about industrial sites is gathered. The characteristic of these sensing data is that it has a very limited amount of information, yet it is collected with a very high frequency.
PLC data: The equipment status collection is made possible by the built-in communication interface and communication protocol.
Video or image processing data: If an industrial site is installed with video surveillance equipment (for example, an inspector uses a handheld camera to take pictures of the industrial environment and personnel information), a large amount of video data will be generated.
Other data: For quality control and traceability, there are other data sources available, including RFID data, remote sensing telemetry information, three-dimensional elevation information, etc.
NXP I.MX8M Mini Solutions for Industrial DAQ
As we mentioned above, industrial data acquisition may require to process a large amount of video data, including: monitoring images, image recognition, etc. The NXP IMX8M Mini processor supports 1080P60 H.265 and VP9 decoding as well as MIPI high-definition display, which is a good option for industrial data acquisition system. Meanwhile, its decoding capability is able to transfer the load of video processing from the CPU to a dedicated hardware module, in order to improve the stability and response speed of the system.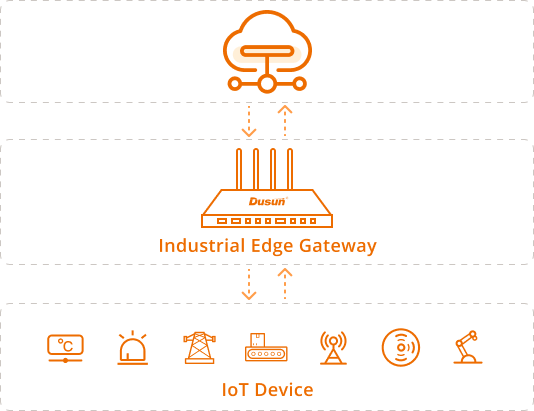 The NXP I.MX8M Mini can also be connected to a high-resolution display to provide good human-computer interaction experience. It's wealth of interfaces can be developed to connect a wide range of sensors, actuators, motor drive modules, mouse, keyboard equipment, etc., to finish industrial data acquisition and signal processing.
The NXP I.MX8M Mini supports Gigabit Ethernet, provides fast data transmission capabilities, satisfying the industrial requirements for high bandwidth and low latency of data acquisition. At the mean time, the system's stability and dependability are guaranteed by its broad temperature design (-40°C to 105°C Tj). This is crucial for industrial-grade equipment.
Data Transmission and Control for Medical Equipment
Embedded systems have the benefits of small size, high reliability, strong performance, and low power consumption. They are gradually occupying a major position in current medical equipment industry, mostly with ARM processors predominating, especially when the demands on processors by the medical equipment industry are evolving along with the increasing needs for reliable operation and performance of medical equipment.
Read further: what is IoT embedded system?
NXP i.MX 8M Mini System on Module can be widely used in many medical equipment such as blood analyzers, genetic analyzers, monitors, and medical endoscopes. When developing these medical equipment such as blood analyzers, genetic analyzers, and monitors, FPGA can be utilized for front-end data acquisition, and then the data is transmitted to i.MX 8M Mini through the PCIe high-speed interface. The ARM Cortex-M4 core of i.MX 8M Mini can also be used for specific tasks that demand real-time operation such as data handling, motor control, and key algorithm processing.
When developing medical endoscopes, FPGA can be used for front-end medical image acquisition, and then the data can be transmitted to i.MX 8M Mini through MIPI CSI/PCIe high-speed interface. MIPI CSI is an ideal interface for medical image transmission. Of course, the PCIe interface can also be chosen when the volume of data is limited. High-definition (1980*1080 or greater) MIPI displays are supported by the i.MX 8M Mini, which also supports either a horizontal or vertical screen. Additionally, the H.264 codec capability of the i.MX 8M Mini makes image recording, playback, and transfer more easier.
Final Words
NXP i.MX 8M Mini is a high-performance, high-quality embedded multicore applications processor. It combines industry-leading audio and video capabilities with high performance, low power consumption, flexible memory options, and fast interfaces to enable developers to unleash their creativity to realize various industrial and IoT applications. Meanwhile, its high cost performance can aid developers in lowering IoT device development costs and improving their budget flexibility.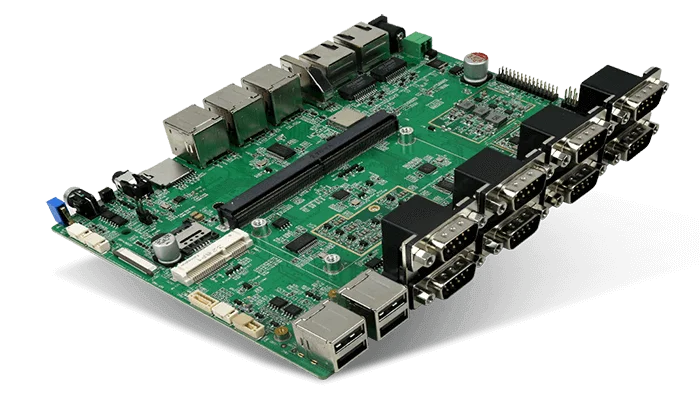 Dusun IoT's System on Module has higher design flexibility and is perfect for IoT applications based on embedded computing and edge intelligence since it has increased design flexibility. A multitude of resources for developing hardware and software provided to ease the process. When using it for secondary development, users only need to concentrate on application development, which lowers the difficulty and expensess, and can help developers quickly conduct product evaluation and technical pre-research.
The i.MX 8M Mini SoM, which can be produced at any time. Dusun IoT offers software and hardware design, manufacturing, expert technology and knowledge, and strong technical support. It is intended to assist developers in resolving the issues that IoT solution builders frequently encounter throughout the prototyping and deployment phases and to speed up the IoT's transition from concept to implementation.