While transforming your place into an AI arena, choosing the best IoT gateway is always a concern. This article mentions some of the leading IoT gateways available from multiple companies.
AAEON – Top industrial IoT gateway
Dusun Pi – Overall best IoT gateway
Matrix – Robust IoT gateway
Eurotech – Best edge IoT gateway
Advantech – Best value gateway
This reading will help you to identify the best IoT gateway for your desired application by investigating their benefits, drawbacks, features, specifications, and functional requirements.
Top IoT Gateways Available Today
Every available IoT gateway device from multiple vendors comes with its own set of IoT gateway examples, features, characteristics and resources. Here we will examine the top-of-the-line IoT gateway products of five companies available in the global market.
AAEON
It offers a range of Industrial gateways and AIoT solutions. Its top-of-the-list product SRG-IMX8P comes with ARM i.MX8M Plus Quad-Core Cortex-A53 1.6GHz Processor. Other specifications include an onboard DDR4L of 2GB and eMMC of 16GB (optional 4GB RAM/ eMMC 32GB), two ports of USB 3.0 and gigabit ethernet port, dual channel CAN-FD, two mini PCIe connectors (for RF Module), and a micro SD card slot.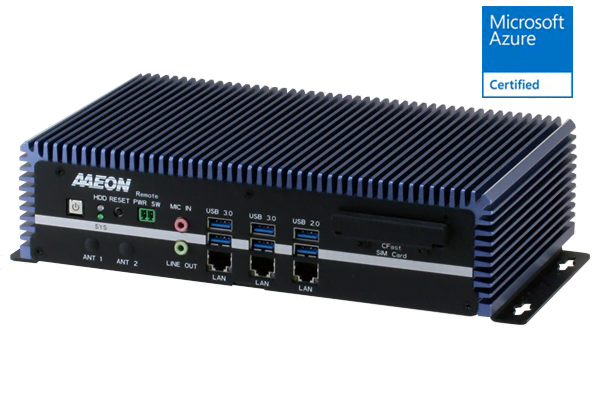 Dusun Pi
Dusun Pi, developed by Dusun IoT, is a versatile open-source IoT gateway solution. The IoT developers can access its details to modify it according to the user and project requirements. You can deploy it in indoor and outdoor applications of smart homes, industrial automation, health monitoring, modern transportation, smart farming, and precision agriculture. Being an open-source solution, the IoT developers can access each stage of the development process ranging from prototype to mass production.
Dusun Pi IoT gateways offer a cost-efficient modular design that is configurable for a vast range of IoT applications and projects. It has support for various operating systems, including Linux and Android. It has robust performance with an ARM IoT gateway architecture CPU and up to RK3568, LPDDR4 8G and 128GB eMMC, and up to 512GB storage with SSD support.
It supports multiple wireless connectivity protocols such as Zigbee 3.0, Z-Wave, BLE 5.0, Wi-Fi 2.4/5G, and Matter, Thread. You will get a variety of ports and interfaces such as Ethernet, USB3.0, HDMI, MIPI-DSI, DP, SPDIF, SDMMC, SPI, UART, I2S/PCM(2ch)/TDM(8ch), PWM, ADC, CAN, and GPIO. The device also delivers reliable security through MQTT 3.1.1, Trust Zone, tamper detection, and hardware security via ATECC608. Dusun Pi series is a good choices as a Raspberry Pi 4 Zigbee gateway alternative in IoT projects with multiple interfaces and connectivity options.

Matrix MXE-210 series
ADLINK's IoT gateway platforms enable a seamless edge-to-cloud connection. The Matrix MXE-210 series by ADLINK is an embedded IoT gateway featuring the Intel Atom® x5-E3930/x7-E3950 Processor, offering a well-designed I/O for maximum connectivity.
It includes two GbE LAN ports, two COM ports, two USB 2.0 and two USB 3.0 host ports, dual mPCIe slots and USIM socket support for communication connections via Wi-Fi, BT, 3G, LoRa(SX1276), and 4G LTE. The MXE-210 series is ruggedly constructed to ensure operation in harsh environments with operating shock tolerance up to 100 G and extended operating temperatures of -40°C to 85°C.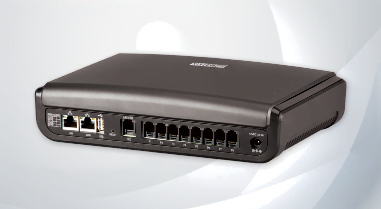 Eurotech
Eurotech provides IoT edge gateways for multiple services. It supports various connectivity standards. The ReliaGATE 10-14 is an industrial edge gateway with low power consumption and easy programming. It features cybersecurity measures, including hardware-level protection with TPM 2.0, Secure Boot, and an always-on physical antitampering monitor/logger.
Its microprocessor is quad-core NXP i.MX 8M Mini Cortex-A53. It has up to 4GB of RAM and 32GB of eMMC, along with the support for a microSD slot. It has multiple connectivity capabilities, including LTE Cat 1 cellular modem, Wi-Fi, Bluetooth 5/BLE, and two Gigabit Ethernet ports. It also has expansion options for extra features with side modules, such as the ReliaWAN 10-12 and the ReliaIO 10-12.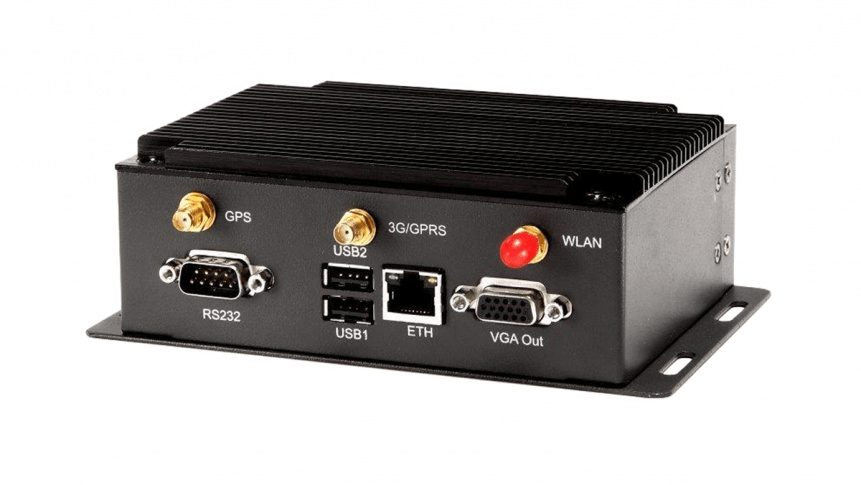 Advantech
Advantech's UNO-2000 is a series of embedded automation computers. The UNO-2271G has an upgraded I/O design and offers three distinct configurations, supporting Advantech's iDoor technology through a second expansion stack. Its processing capability lies in Intel® Atom™ E3815/E3825 processor and 4GB DDR3L onboard memory.
It has 3G/GPS/GPRS/Wi-Fi communication by iDoor technology and supports 30+ iDoor combinations with four main categories of intelligent factory applications. It comes with 32GB eMMC storage onboard.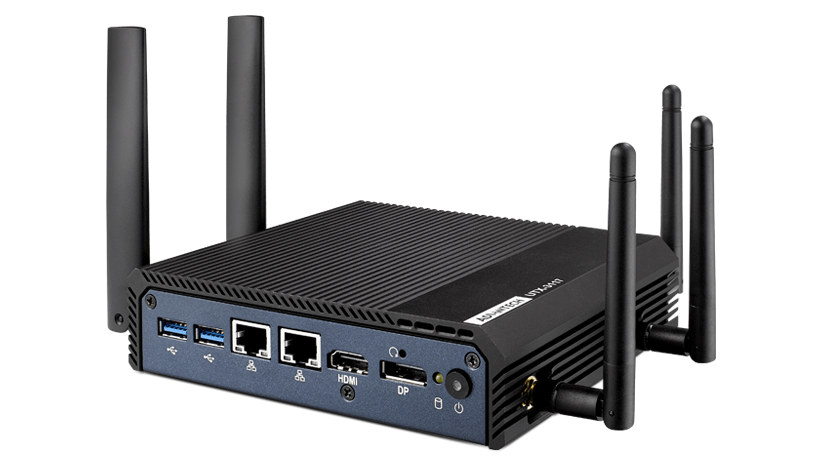 Best IoT Gateway Comparative Analysis
To get a brief overview of the salient features, here is the comparison table of the top 5 IoT gateways.
| | | | | |
| --- | --- | --- | --- | --- |
| IoT Gateway | Processor | Memory | Connectivity | Security Features |
| AAEON SRG-IMX8P | ARM i.MX8M Plus Quad-Core Cortex-A53 1.6GHz | 2GB DDR4L, 16GB eMMC (optional 4GB RAM/ eMMC 32GB) | 2x USB 3.0, Gigabit Ethernet, Dual Channel CAN-FD, 2x Mini PCIe connectors, micro SD card slot | N/A |
| Dusun Pi | ARM CPU up to RK3568, | LPDDR4 8G, 128GB eMMC, up to 512GB SSD support | Ethernet, USB3.0, HDMI, MIPI-DSI, DP, SPDIF, SDMMC, SPI, UART, I2S/PCM(2ch)/TDM(8ch), PWM, ADC, CAN, GPIO | MQTT 3.1.1, Trust Zone, Tamper Detection, ATECC608 Hardware Security |
| Matrix MXE-210 series | Intel Atom® x5-E3930/x7-E3950 | N/A | 2x GbE LAN ports, 2x COM ports, 2x USB 2.0, 2x USB 3.0, Dual mPCIe slots, USIM socket | N/A |
| Eurotech ReliaGATE 10-14 | NXP i.MX 8M Mini Cortex-A53 | Up to 4GB RAM, 32GB eMMC | LTE Cat 1 cellular modem, Wi-Fi, Bluetooth 5/BLE, 2x Gigabit Ethernet ports | TPM 2.0, Secure Boot, Physical Antitampering Monitor/Logger |
| Advantech UNO-2271G | Intel® Atom™ E3815/E3825 | 4GB DDR3L onboard memory, 32GB eMMC storage onboard | 3G/GPS/GPRS/Wi-Fi | N/A |
Factors to Consider When Choosing an IoT Gateway
Choosing the best IoT gateway is always a difficult ask. That's why I have briefly abridged some of the crucial performance parameters. The following brief list will help you identify the best IoT gateway device.
The best IoT gateway shall possess several connectivity features, such as Wi-Fi/ Bluetooth, to link with various IoT devices. Other IoT gateway protocols include Z-wave, Zigbee, LoRa, etc.
Execution of complex and intensive operations needs high processing capabilities. An ideal IoT gateway must equip with state-of-the-art processing powers to support artificial intelligence models and complex deep learning algorithms.
The security feature is vital, as the user never compromises on the data breach. The best IoT gateway device prevents unauthentic access with the help of device authentication and data encryption features.
The gateway must ensure its connectivity to an extensive range of IoT devices, gateways, and sensors designed by numerous vendors.
The gateway shall support a growing number of devices and data volumes without compromising its performance to ensure that it can meet the current and future needs of the system.
The ideal gateway must consume low power to ensure minimum energy cost and enhanced battery life making it suitable to deploy even in remote locations.
You may also be interested in Using the Right Gateway for Your Project
Best IoT Gateway Conclusion
After a thorough comparison, Dusun Pi is the best IoT gateway solution. Being an open-source and modular IoT gateway, it is applicable in multiple IoT applications. It offers robust performance with a state-of-the-art processor, high-speed memory chips with large capacity, extensive storage capacity and SSD support. Dusun Pi comes with vast wireless connectivity options and advanced protection features.
Eurotech's ReliaGATE 10-14 could be the second choice with similar features and capabilities, including multiple connectivity options and robust security measures. The ReliaGATE 10-14 also features an ARM processor. It has up to 4GB of RAM and 32GB of eMMC storage.
The comparative analysis of AAEON, Dusun Pi, ADLink, Eurotech and Advantech was presented in this article. Conclusively, Dusun Pi is the best IoT gateway solution because of many factors including its open-source nature, cost-efficiency, versatility, robust performance, extensible wireless connectivity, rich interfaces, and reliable security features.
Best IoT Gateway FAQs
What is the difference between an IoT device and an IoT gateway?
IoT device is directly connected, integrated or embedded into your application or intelligent device. On the other hand, the IoT gateway acts as a bridge between your IoT devices and an internet cloud.
What are the basic requirements to build my own IoT gateway?
A single-board computer like a Raspberry Pi or Nvidia Jetson Xavier NX is required to develop your custom IoT gateway. You must have prior technical knowledge for design, development and installation.
Differentiate cloud-based gateway and edge gateway?
Cloud-based gateways link IoT devices to the internet for data processing and decision-making. An edge gateway performs such functions on board closer to the devices, thus reducing the amount of data transfer to the cloud.
Can I integrate IoT devices and gateways designed by multiple vendors?
Most IoT devices and gateways developed by multiple vendors are compatible with similar other devices. Nevertheless, you should consult the documentation and follow the instructions for integration.
Other articles you may interest: