Helium mining is becoming an increasingly hot topic, and more and more people are participating in mining activities. This article discusses the competition of the leading players of the helium miners, hoping to give readers some references for purchasing that.
Bobcat miner 300
The Bobcat Miner 300 is one of the most productive high-efficiency HNT miners. It is compatible with the Helium LongFi architecture, which combines the industry-standard wireless LoRaWAN protocol with the Helium Blockchain technology. Members of the Helium community chose it as their go-to hangout spot in 2021, and it received the Helium Noble Awards.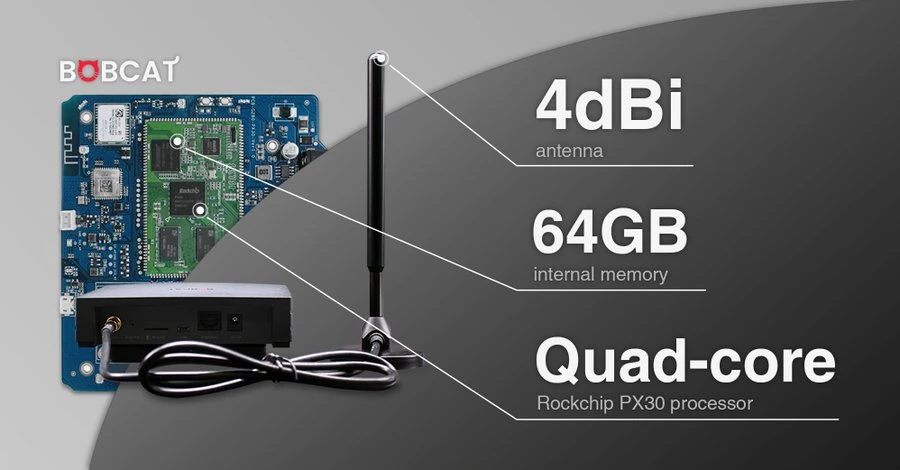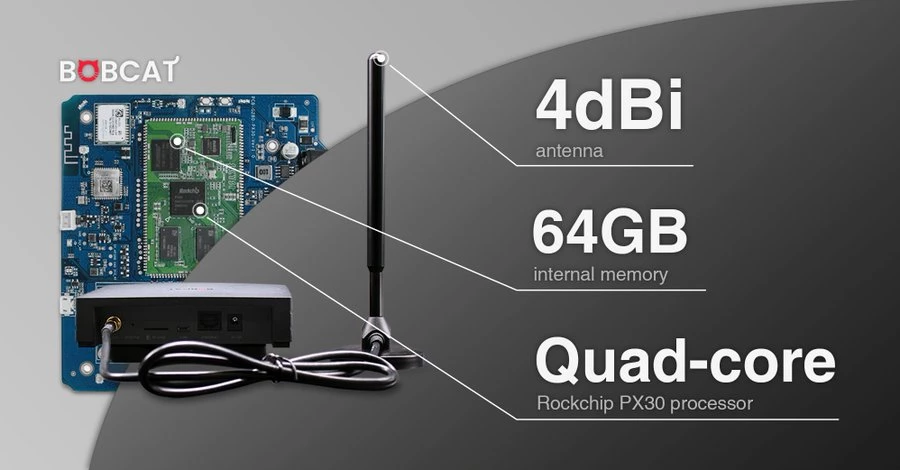 The built-in 64GB eMMC flash is one of the Bobcat miner's main technical advantages. This provides better data security and more extensive memory storage than other miners on the market, which use 32GB flashes or external SD cards. The increased memory capacity enables the miner to perform faster computation. Furthermore, this built-in memory allows for 3000 write cycles, compared to 500 write cycles for an SD card. As a result, its device's life expectancy is up to ten years.
Another advantage of the Bobcat miner 300 is its 4dBi antenna on the cable. It is not fixed to the actual device, which gives you more customization in how you can set it up. The standard antenna that comes with a miner has a strength of 2-4 dBi. This is larger than the stock antenna that ships with other miners. A nice touch of the miner is that Bobcat comes with a wall-mount and mounting hardware. The Bobcat Miner 300 is the only hotspot to feature a wall mount.
However, according to buyer feedback, Bobcat's delivery cycle is very long, often reaching 20-40 weeks. This is a significant disadvantage for miners and prolongs the return time.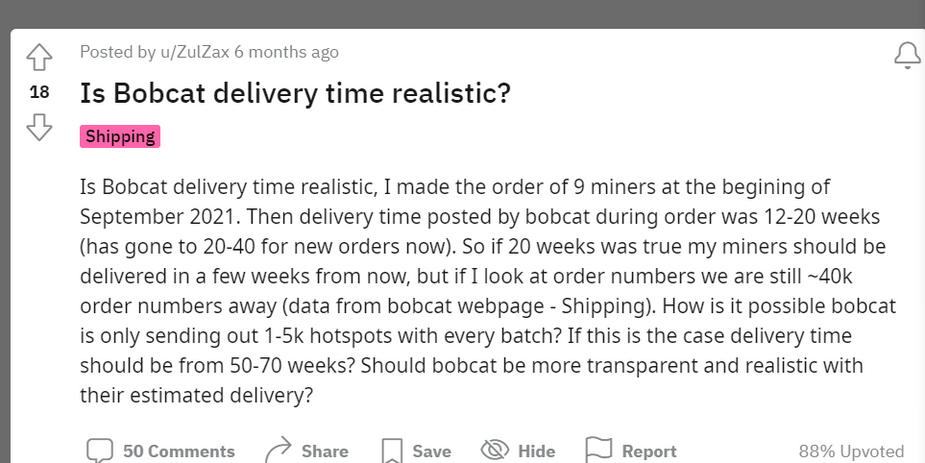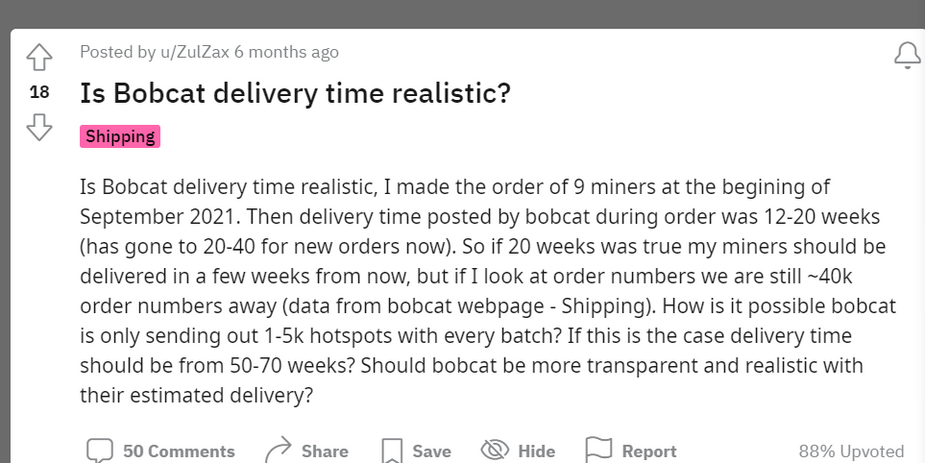 SenseCAP M1
The SenseCAP miner joined the ecosystem of miners only recently. In the summer of 2021, they made their initial shipment. However, they quickly rose to the top after figuring out production and availability. Antennas on board the miner are 2.8 dBi in the EU868 band and 2.6 dBi in the US915 band. One of its benefits is that the aluminum enclosure of the SenseCAP houses a cooling system with a heatsink and a cooling fan. This makes automatic temperature control possible even in challenging conditions. Additionally, it guarantees stable, long-term operation.
Compared to the previously mentioned Bobcat Miner 300, SenseCAP supports both 2.4 GHz and 5 GHz WiFiWiFi in addition to the more recent and faster 802.11ac standard. Bobcat only supports 2.4 GHz WiFiWiFi. In condo apartment buildings with a lot of 2.4 GHz RF interference, supporting 5 GHz can be advantageous.
Besides, the SenseCAP has a USB-C power connector. This is a distinct advantage over other miners. Since losing power is a common occurrence, the difficulty of a replacement should be considered when choosing a miner. However, SenseCAP adopts an easily replaceable standard interface such as USB-C, which significantly reduces users' trouble when replacing the power supply.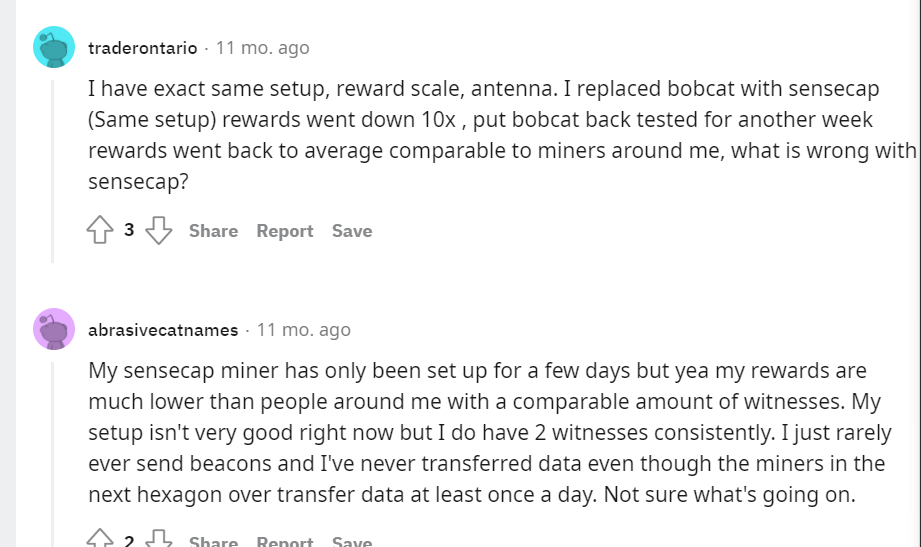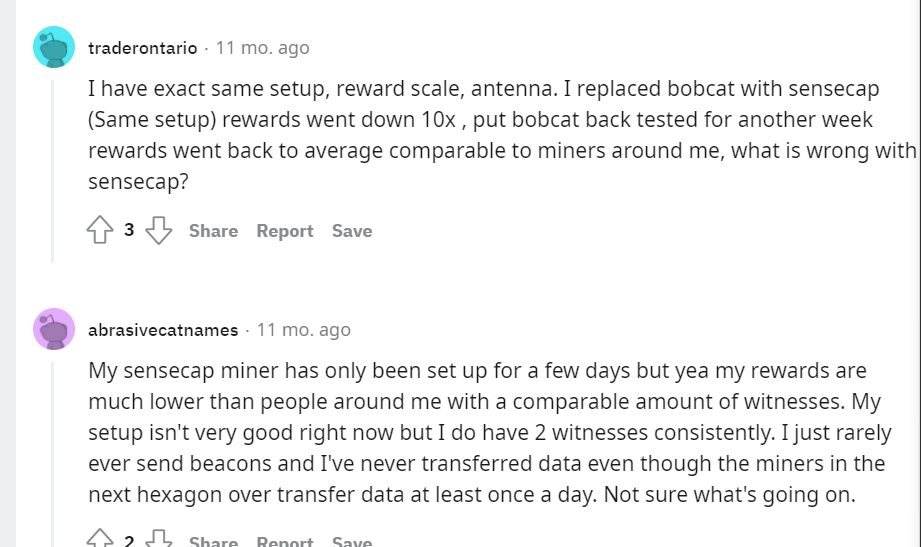 However, according to user feedback, the SenseCAP M1's yield is lower compared to other brands of miners. A veteran miner said on Reddit: SenseCAP has a poorly tuned antenna according to numerous tests. The only solution is to try to position the antenna at 45 degrees, which appears to be the best tuned for instead of the typical directly up position.
Nebra Miner
The PiSupply team created the Nebra miner. The top of the plastic Nebra indoor miner can be removed relatively easily without using any tools. Customers could make repairs without sending the miner back to the factory in the early shipments when some internal hardware came loose. On the front panel, some LEDs offer additional diagnostic data, which can be very helpful.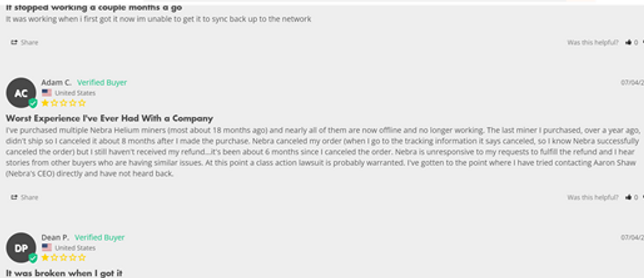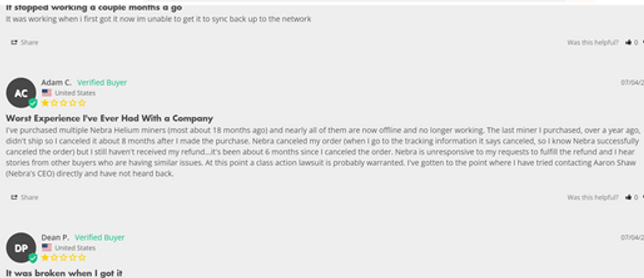 Notably, Nebra is in the midst of a scam company scandal. Even on the official IoThotspot website, Nebra was named and could not be delivered on time, and users were advised not to buy any Nebra products. There have always been instances of Helium miners not being delivered on time. More than half of the brands cannot ship on schedule, claiming they have sufficient inventory but are not fulfilling their shipments.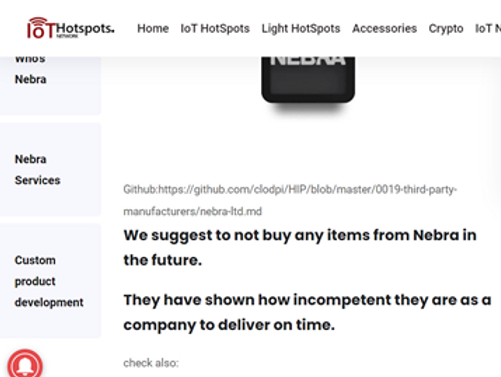 RAK V2 Miner
RAKwireless created the RAK V2 miner. Over 150,000 miners have been built and shipped by RAK. They were, in fact, the designers of the first generation Helium miner sold by Helium. RAK has a clear advantage over other manufacturers, having shipped the most miners to date. They produce reliable hardware and have recently used user feedback to improve their product. The RAK v2 is exceptionally well-made. It is, in fact, the only miner with a rugged aluminum enclosure.
The antenna is a standard 1/2 wave antenna with a gain of 2.8dBi at 868MHz in Europe and 2.33dBi at 902MHz (USA). Essentially, the Miner produces 14dBm (what the regulation authorizes). With 2.3dBi, the antenna is very close to a simple half-wave dipole antenna (2.15dBi). As a result, you get a system with an EIRP of around 16dBm at 868MHz, as required by the regulation. The RAK miner is fully functional in radio signal generation for Beacon execution. Its performance in transmit power is also remarkable, reaching a maximum of 27dBm, exceeding Bobcat's 25dBm and SenseCAP's 26dBm.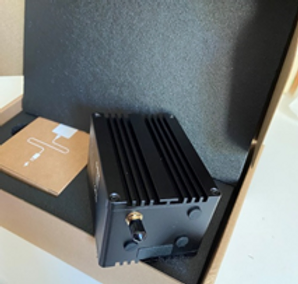 RAK 2 Miner accepts 5V/3V power supplies and consumes roughly the same amount of power as an LED bulb. Furthermore, it has a built-in heat sink for heat dissipation, which keeps the temperature of the HNT miner stable. Another advantage is the adorable RPI4 cooler case. The bottom of the case has some thermal foam that touches the bottom of the PI, just below the CPU. The MCU and the metal case have good thermal contact. The RPI4 can thus be kept at the proper temperature. The RAK does not require an additional fan because it uses the case as a heatsink. Furthermore, the miner is about the size of a Raspberry Pi (about 57mm x 68mm x 92mm), making it very small and easy to store in a small space.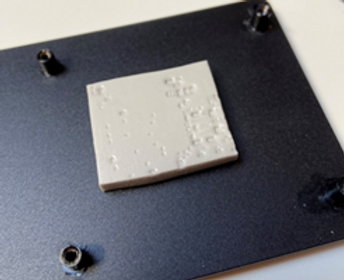 The most disturbing thing about the RAK helium miner is the WiFiWiFi connectivity. While having a metallic enclosure is excellent for the heatsink, it means weaker radio waves.
Linxdot Miner
Linxdot is a newcomer to the Helium mining device community. The first batch of miners arrived in September 2021. The Linxdot miner is a small device with a plastic case. It has a small footprint and uses only 12W of power.
One of the Linxdot miner's advantages is its instant sync feature. The miner takes a fully-synchronized snapshot every time the hotspot falls 50 blocks behind the blockchain. This is a fully automated process that requires no human intervention. The array of LEDs on the top of the miner is a bonus, as is clear documentation that explains the status based on their color and how they blink.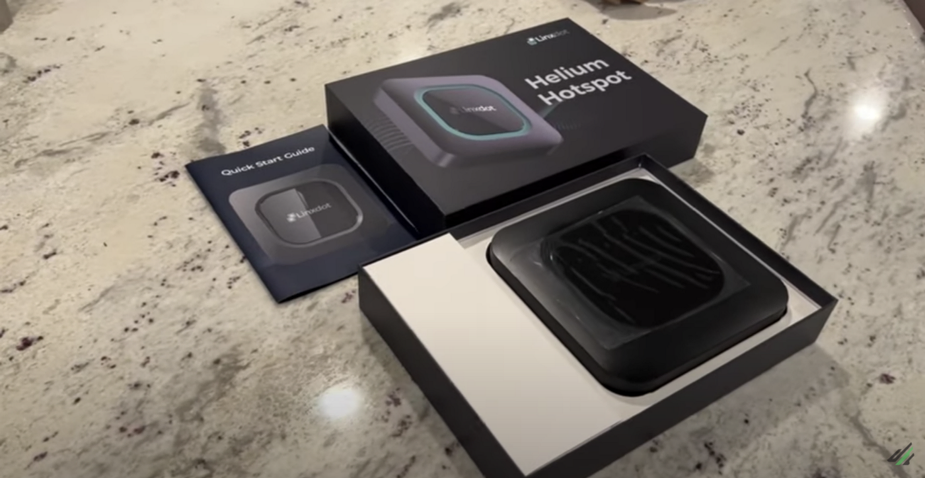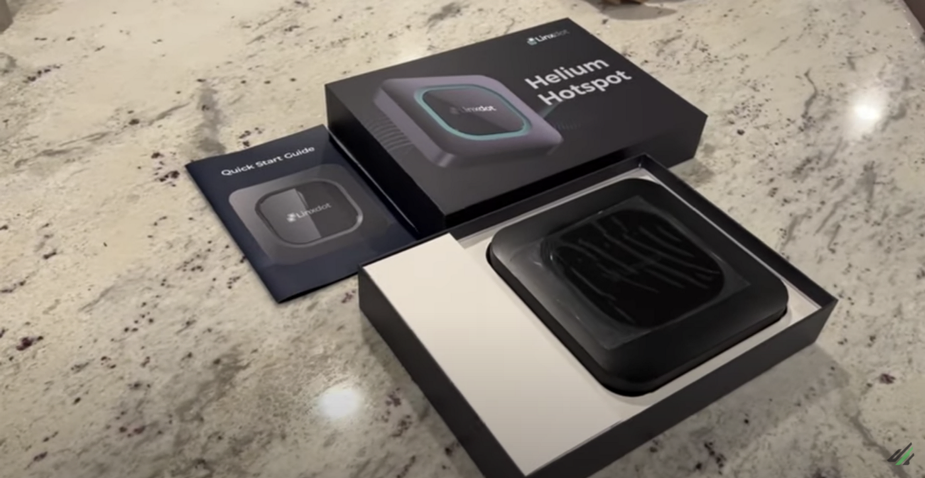 It can connect to the Helium network within 30 minutes of activation, much faster than other miners. Furthermore, the Linxdot Hotspot includes a 3dBi antenna, which allows the hotspot to cover much greater distances. Its antenna also has a max transmit power of 27dBm. A quad-core 1.8GHz CPU powers the Linxdot Hotspot. Compared to traditional MicroSD cards used in other miners, its solid-state eMMC storage extends the device's lifespan.
MNTD. Miner
MNTD. Miners are made by Rakwireless, the company behind the original Helium miner and the very popular Rak v2 miners. The lack of transparency and miner availability has been one of the most frustrating aspects of helium mining. Vendors for miners have routinely altered delivery schedules, frequently without prior notice. Some miner vendors have accepted pre-orders with backlogs of up to a year or more.
With the MNTD. miner, MNTD. Intends to change all of that. As ThePeoplesNetwork, it's time to get back to the fundamentals by emphasizing people. To achieve this, RAKwireless does not accept pre-orders and provides excellent customer service. What matters most is that they honor their commitments to the mining industry.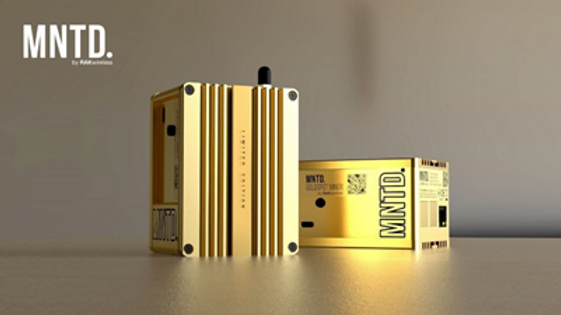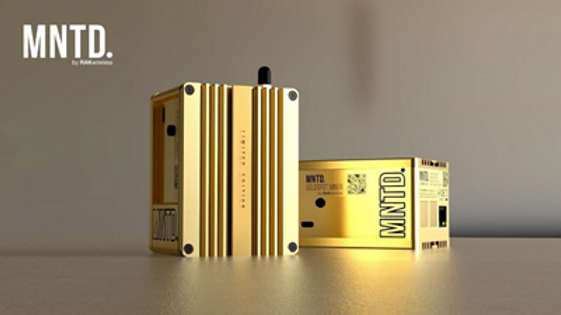 It is compatible with Rak antennas and uses Semtech's more recent SX1302 chip in the RF concentrator for improved radio performance. Additionally, as was already mentioned, MNTD. Miner provides first-rate customer service, quick hardware replacement, and assistance with customer service via remote tools.
DUSUN Helium LoRaWAN Gateway
Dusun IoT focuses on the R&D, design, and manufacture of intelligent human-computer interaction technology and wireless communication network equipment, providing smart remote control solutions, AIoT intelligent hardware solutions, and IoT industry kit solutions. As an emerging force in the industry, Dusun IoT provides high-quality LoRaWAN gateways with high-cost performance.
DUSUN Helium LoRaWAN gateway has a transmit power of up to 27dBm, which can bring greater coverage. This means that the PoC will also be more extensive, and users will thus receive more tokens to be credited. Secondly, the advantage of Dusun IoT is reflected in the relatively aggressive pricing, which shortens the return period, thereby reducing users' risk.
Dusun IoT's hardware performance is not bad; it has 2G of RAM and 32GB of eMMC. In terms of chip selection, Dusun IoT also uses Semtech SX1302. DUSUN's other advantage lies in its relatively aggressive pricing. The price of Dusun IoT's Helium miner is only 299 US dollars, while the price of similar products basically fluctuates between 400 and 600 US dollars. This can shorten the payback period, significantly reducing users' risk.
Explore:
Bobcat 300 miner
SenseCAP M1
Nebra miner
RAK V2 Miner
Linxdot Miner
MNTD. Miner
DUSUN indoor hotspot
Processor
Quad-core Cortex-A35
Raspberry Pi 4
Raspberry Pi 3
Raspberry Pi4
Raspberry Pi5
Quad-core Cortex-A35
RAM
1G/2G
2G/4G/8G
1G
2G/4G/8G
2G
4G/8G
2G
Storage
63GB
64GB
32GB
32GB
32GB
32GB
32GB
Max TX power
26dBm
17.5dBm
27dBm
27dBm
27dBm
Bluetooth
YES
YES
YES
YES
YES
4G Module
YES
YES
PoE support
YES
YES
YES
YES
IP grade
30
20
40
30
N/A
30
66
Certification
FCC,CQC,CE,IC,CB,
UKCA,SRRC.RoHS,
FCC,CE
FCC,CE
FCC,CE,IC,UKCA,NBTC.RoHS,
IMDA,KCC,NCC,NTC.RCM,REACH
FCC,CE
FCC,CE
FCC,CE, IC, FAC, WPC,
KC, NTC, RCM, SRRC
Price
$429
$519
$450
$470
$339
$573/650
$399
Based on the parameters of the main players, this paper summarizes a table in order to bring the reader a more intuitive comparison. Users can choose the Helium gateway according to the required features.