The number of IoT application scenarios is becoming more and more extensive along with the industry's fast expansion. Almost all products need to be connected to the Internet to upload data to the cloud platform for unified management, control and analysis, and build a digital analysis platform. The wireless gateway may streamline the design of end nodes and lower the deployment costs of IoT systems by enabling the connection of a wide range of non-IP-based devices using a number of wireless communication protocols (BLE, Zigbee, Z-Wave, LoRaWAN) and ultimately accessing the cloud.
Types of Wireless Gateways
BLE Gateway
The BLE gateway, which is the main component for establishing a connection between Bluetooth devices and the Internet, can be thought of as a wireless concentrator. It functions by scanning nearby BLE devices, Bluetooth beacons, etc., and sending the information it gathers to the server in the form of WiFi, LTE 4G, or Ethernet according to regulation of UDP or TCP/IP. The Bluetooth gateway may also establish connections with nearby BLE devices for data transmission (receive the data sent by the BLE device and send it to the server and transmit the server's data to the corresponding BLE device) , remote management, and control.
Read further: What is a Bluetooth gateway?
A basic Bluetooth gateway is composed of a central processing unit, a Bluetooth module, a network communication module and a power supply module. Among them, the Bluetooth module is used to scan and connect to Bluetooth devices, the network communication module is used to transmit data to the Internet, and the power supply module is responsible for providing power for the entire device. Bluetooth gateways have been widely used in smart home, smart medical care, indoor positioning and other fields.
Zigbee Gateway
A Zigbee gateway is a device that connects Zigbee devices to the internet. It serves as a bridge between Zigbee devices and the Internet, transmitting information from the Zigbee network, including sensor data and device status, to the Internet. It can also send commands and control instructions from the Internet to the Zigbee network, enabling remote device monitoring, management, and control.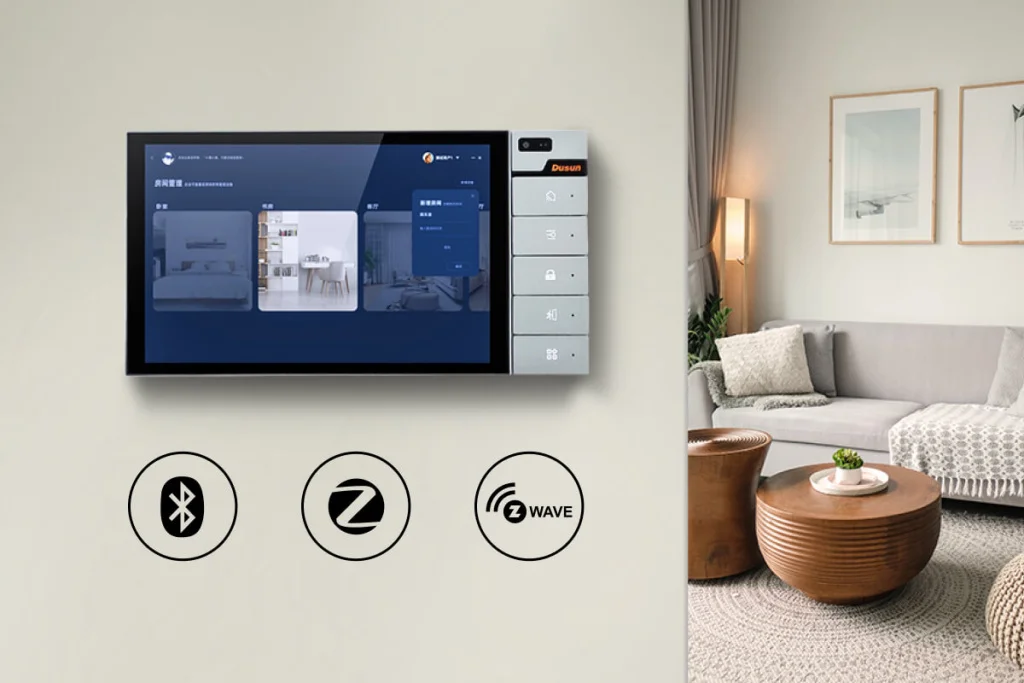 Universal Zigbee gateways are used in a variety of smart home, smart city, industrial automation, and other applications. Zigbee gateways can link different sensors and smart devices to the Internet in smart homes, and users may manage and check on such devices via web-based or mobile applications; Zigbee gateways may link a variety of urban equipment and services to the Internet in smart cities to enable features like smart transportation and municipal administration; Zigbee gateways can link numerous industrial devices and sensors to the Internet in industrial automation to provide remote monitoring, remote control, and other features. Users of smart lighting may monitor and control the lights using mobile phone applications or online interfaces by connecting the system to the Internet via a Zigbee gateway.
Read further: Best Zigbee gateway hubs
Z-Wave Gateway
Wave and Zigbee are two big names in smart home communication protocols. Both employ mesh networking technology, short-range, low-power radio communications, and AES encryption for security. Zigbee, however, shares the same 2.4GHz wireless band as Bluetooth and Wi-Fi networks, which may result in signal interference problems. Contrarily, Z-Wave operates at far lower frequencies than Zigbee, 868.42 MHz in Europe and 908.4 MHz in the Americas, which enables Z-Wave tolerate greater distances between devices than Zigbee. Furthermore, whilst Z-Wave chips are solely offered by Silicon Labs, Zigbee chips are accessible from a variety of suppliers as an open standard run by the Zigbee Alliance.
Read further: Zigbee vs Z-Wave for Home Automation
A Z-Wave network consists of Z-Wave IoT devices and a Z-Wave gateway (master controller, which is the only device that connects Z-Wave to the Internet). Z-Wave is primarily utilized in smart home networks, enabling communication between smart devices and the transmission of control information and data.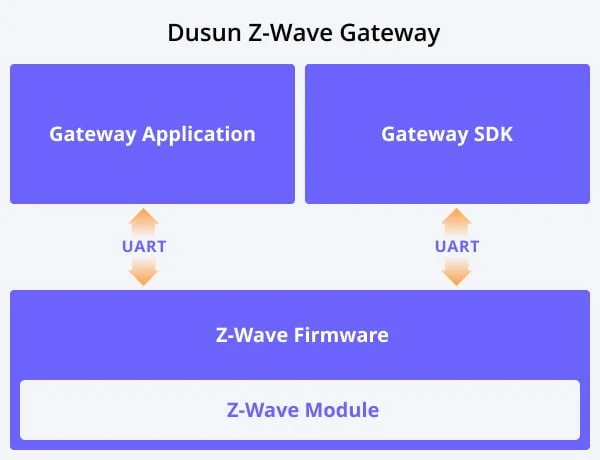 LoRaWAN Gateway
Long Range is the full name of LoRa. As the name implies, its key advantage is that it can spread more widely than other wireless technologies while using the same amount of power, combining low power consumption with long range.
The two main benefits of LoRaWAN are its extremely low power consumption (battery life of up to 10 years) and complete wave coverage (up to 50 kilometers in open regions and 10 kilometers in urban settings). The establishment of the LoRaWAN network is fairly straightforward, essentially "plug and play," especially when coupled with the straightforward network design (star topology, where the gateway serves as the network center and core to transport messages between the terminal device and the Roland network server).
Read further: What is LoRaWAN gateway?
The LoRaWAN gateway is connected downward to terminal devices or sensors, and upward to the cloud server. The cloud enables the provision of visual data information for decision-making, whereas the terminal merges LoRa and the terminal to achieve the quantitative collection and transmission of "things" and to offer network connection capabilities.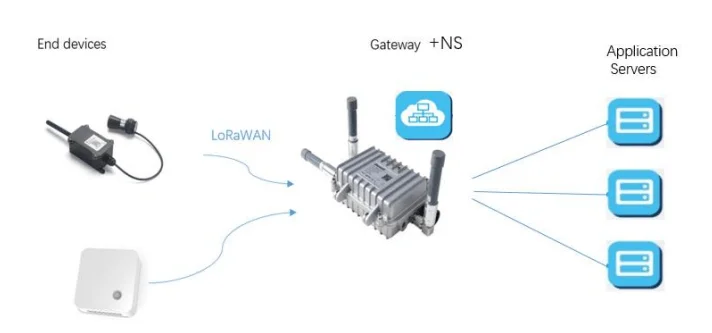 EnOcean Gateway
EnOcean is an ultra-low-power short-range wireless communication technology based on energy harvesting. Compared with wireless technologies such as ZigBee, Z-Wave, Bluetooth, and WiFi, EnOcean can collect mechanical energy (such as replacing mechanical switches), light energy/solar energy (such as door/window magnetic applications), thermal energy (such as motor temperature control valves, installed on heating equipment, and control heating transmission according to temperature), and other types of energy, realizing self-generation by converting the micro energy found in nature into electricity.

EnOcean technology was initially deployed in commercial buildings as well as other major buildings and projects, to address the demands of control automation and energy savings. It is currently being transferred and expanded to smart homes, where it is mostly utilized for tiny data transmission devices like light switches, sensors, and wearable technology. The EnOcean gateway enables users to get EnOcean signals, gather signals from EnOcean devices, and operate EnOcean actuators via well-known IP protocols.
Wired vs Wireless Gateways
Wireless gateways are often utilized in a variety of settings, including workplaces, residences, and public spaces. It offers wireless connectivity for the convenience of connecting several devices to one another and sharing resources across a wireless network. The majority of popular smart home platforms are built on wireless technologies, which not only lower the cost of end users' smart home solutions when deployed, but also offer more scalability, allowing customers to adjust gadgets to their tastes.
However, in terms of network reliability, wired gateways are unquestionably superior to wireless ones. In general, there won't be any network instability as long as the complete smart home system is trouble-free, when between gateways and smart devices, wired connections are employed. Additionally, more devices may be linked to wired gateways because of this. The drawbacks of wired gateways, however, are also extremely clear. For smart houses, each item must be individually connected and incorporated via cables, which is costly and unneeded.
However, there is no need to choose between wired or wireless, The use of a combination of wired and wireless solutions has been around for a while.
Final Words
Wireless smart gateways are capable of combining data from many wireless sources and connecting them to the Internet. As a result, it is possible to link individual nodes to the cloud without the hassle or expense of a wired Internet access. The benefits of using wireless gateways to implement your smart home, smart office, and other solutions include simple operation and maintenance, low cost, and easy installation. Wireless gateways are also typically small and attractive in design, making them appropriate for use in both commercial and residential settings.