Quick View of DSGW-030-2 BLE WiFi Hub Controller
DSGW-030-2 is a Bluetooth WiFi bridge that frees users from Bluetooth limited-range restrictions, allowing them to access the BLE device through the Internet and from anywhere in the place where WiFi exists.
DSGW-030-2 is a BLE WiFi gateway as well. It consists of MTK7688 WiFi-capable processor, and integrates Bluetooth 5.2 module (ERF32BG21) together, converting BLE data into the format understandable by WiFi network, bridging the gap between BLE and the Internet.
As a wireless WiFi Bluetooth hub, DSGW-030-2 reduces the need for costly or maintenance-intensive cabling, and allows users to control Bluetooth devices over WiFi from wherever they are, through mobile APPs or their own user consoles.
Hardware Overview of DSGW-030-2 BLE 5.2 to Ethernet/Wi-Fi Gateway
Dimension and Package of Programmable BLE 5.2 to Wi-Fi / Ethernet Gateway
Specification of DSGW-030-2 Bluetooth WiFi Bridge Gateways
CPU
MT7688
System
OpenWRT
RAM
64MB
Flash
16MB
Programming Language
ava, Python, Node.js, C, C++
Downlink Network Connectivity
Ble 5.2
Uplink Network Connectivity
Wi-Fi 2.4G, Ethernet
Interface
1 x RJ45, 10/100 Mbps WAN/LAN variable
Access Devices
Up to 100
Wireless Distance
Wi-Fi<100m; Zigbee<200m; Bluetooth<20m; Z-Wave<100m
Power Adapter
Input:100V~240V/50-60HZ ouput:5V/2A
Indicator LED
Three ( Green ;Yellow; Red )
Installation
Flat, Ceiling
Weight
TBD
Operating Temperature
0℃~40℃
Operating humidity
10%~90%
IP Rating
IP 22
Bluetooth Performance
Bluetooth Protocol: Bluetooth 5.2
TX Power: 19.5 dBm
Range: 150 meters minimum, open filed
Receiving Sensibility: -80dBm @0.1%BER
Frequency offset: +/-20 KHZ
Wi-Fi Performance
●IEEE wireless LAN standard: IEEE802.11n; IEEE802.11g; IEEE 802.11b
●Data Rate:
IEEE 802.11b Standard Mode: 1, 2, 5.5, 11Mbps
IEEE 802.11g Standard Mode: 6, 9, 12, 18, 24, 36, 48, 54 Mbps
IEEE 802.11n: MCS0~MCS7 @ HT20/ 2.4GHz band
●Sensitivity: HT40 MCS7: -70dBm@10% PER (MCS7) /2.4GHz band HT20 MCS7: -71dBm@10% PER (MCS7) /2.4GHz band
●Transmit Power:
IEEE 802.11n: 16dBm @HT20/40 MCS7 /2.4GHz band
IEEE 802.11g: 16dBm @54MHz
IEEE 802.11b: 18dBm @11MHz
●Wireless Security: WPA/WPA2, WEP, TKIP, and AES
●Working mode: Bridge, Gateway, AP Client
●Range: 50 meters minimum, open field
●Transmit Power: 17dBm
●Highest Transmission Rate: 300Mbps
●Frequency offset: +/- 50KHZ
●Frequency Range (MHz): 2412.0~2483.5
●Low Frequency (MHz): 2400
●High Frequency (MHz): 2483.5
●E.i.r.p (Equivalent Isotopically Radiated power) (mW) < 100mW
●Bandwidth (MHz): 20MHz/40MHz
●Modulation: BPSK/QPSK, FHSSCCK/DSSS, 64QAM/OFDM
Applications of DSGW-030-2 Bluetooth WiFi Bridges
Developer Documents of DSGW-030-2 BLE WiFi Bridge
| Feature | RAM | Flash | Wi-Fi 2.4G | Bluetooth 5.2 | Zigbee3.0 | Z-Wave |
| --- | --- | --- | --- | --- | --- | --- |
| DSGW-030-2 | 64MB | 16MB | ● | ● | | |
TCP/IP protocols are the foundation of many IoT systems in use today, however Bluetooth LE and TCP/IP cannot communicate with one another directly. While WiFi can connect the devices to the Internet.
If you want to access real-time BLE device data anywhere with Internet, you need a Bluetooth WiFi gateway with an API, translating WiFi-conveyed requests using a TCP/IP-based protocol, into Bluetooth requests and sent to connected Bluetooth devices.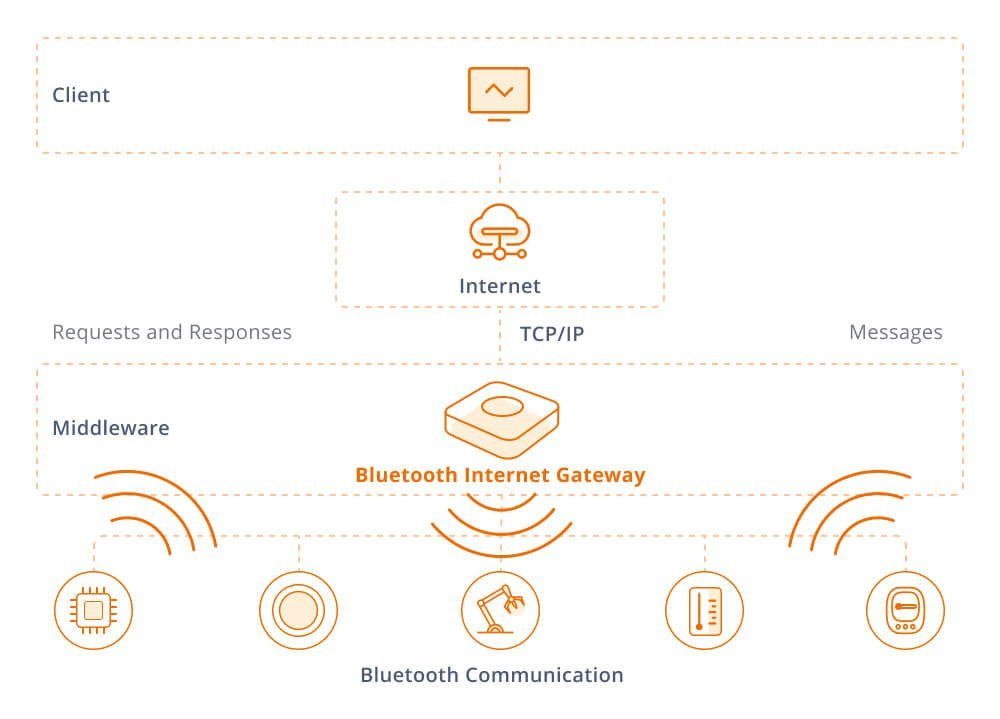 Many industrial and enterprise solutions, such as asset tracking, indoor positioning, industrial automation sensors, smart home automation, etc., use Bluetooth IoT soluitions, which lower overall deployment and maintenance costs because BLE-enabled smart devices can run for years on just a small cell battery thanks to BLE's incredibly low power consumption.
Other BLE advantages over other wireless protocols including:
cross-platform interoperability;
reduce time and cost for both development and deployment by standardized application development architecture;
128-bit AES data encryption, some government-grade security is possible;
proven and ubiquitous Bluetooth ecosystem for quickly developing innovative business modes.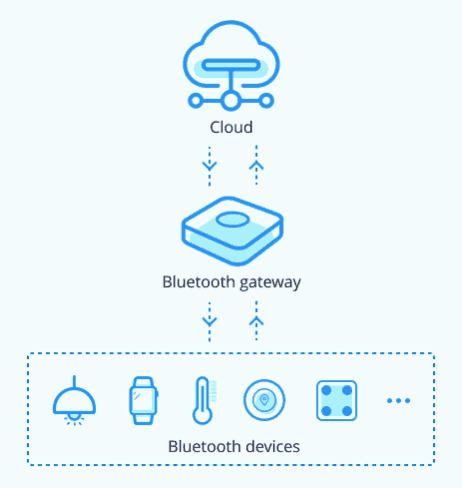 In a typical Bluetooth IoT solution, there are three layers always stayed consistent: perception layer, network layer and appplication layer.
The above mentioned BLE sensors and beacons are on perception layer to gather data; the network layer uses Bluetooth gateways to link the numerous BLE smart gadgets, transfer the large volumes of data to the back-end clouds or data center via high bandwidth WiFi or Ethernet; in application layer, data transmitted to and saved in the cloud may be visualized on dashboards or user consoles for further decision making.
IoT architecture will vary amongst various IoT projects, but you will always need to be able to manage a lot of data. In order to facilitate communication with sensors via low power networks and transfer the data to the internet, a BLE WiFi hub will serve as an intermediary between the Internet of Things and the business data center.
How to Use DSGW-030-2 BLE to WiFi Hub to Manage BLE Devices?
1.DSGW-030-2 gateway Bluetooth WiFi supports iBeacon, Eddystone, BLE sensor, and SIG mesh function. Users are allowed to choose BLE devices types they want to connect inDSGW-030-2 configuration page.

2.Users can use Bluetooth scan mode (both Generic and Long Range) to start scanning process, all nearby BLE beacon data (MAC address, deviec type, RSSI and major, minor value) can be viewed and filtered for further configuration.

3.The lightweight MQTT is preset in our LuCi page, BLE beacon message can be uploaded to the MQTT Broker automatically, and you can set intervals. You can know more details about BLE2MQTT knowledge here, and get a demo using Paho MQTT client example here.