Bluetooth, WiFi, and ZigBee protocols are the most commonly seen smart home protocols. Usually, people who have a basic understanding of smart homes will all pay great attention to home automation protocols. This article is going to make a comparison between WiFi vs Bluetooth vs Zigbee, to help you choose appropriate wireless technology and build wireless smart home solutions.
Smart home protocols can be divided into wired and wireless. Wireless communication technologies modulate data into electromagnetic wave signals and transmit them, and demodulate received electromagnetic waves at the other end. Because of the inevitable pain points of wireless signal interference and attenuation, the usage scenarios of wireless smart homes are limited within small building areas. This is also the reason why Bluetooth, WiFi, and ZigBee protocols are mainstream smart home protocols. The transmission range them are approximately 100m. Wireless smart home protocols reduce the cumbersome wiring, saving a lot of trouble, and allowing people to remotely control their homes.
When it comes to controlling a smart home, some may feel confused about which smart home protocols should be used. one size definitely does not fit all. Before making decisions, Dusun suggests you'd better know the basic knowledge of each protocol.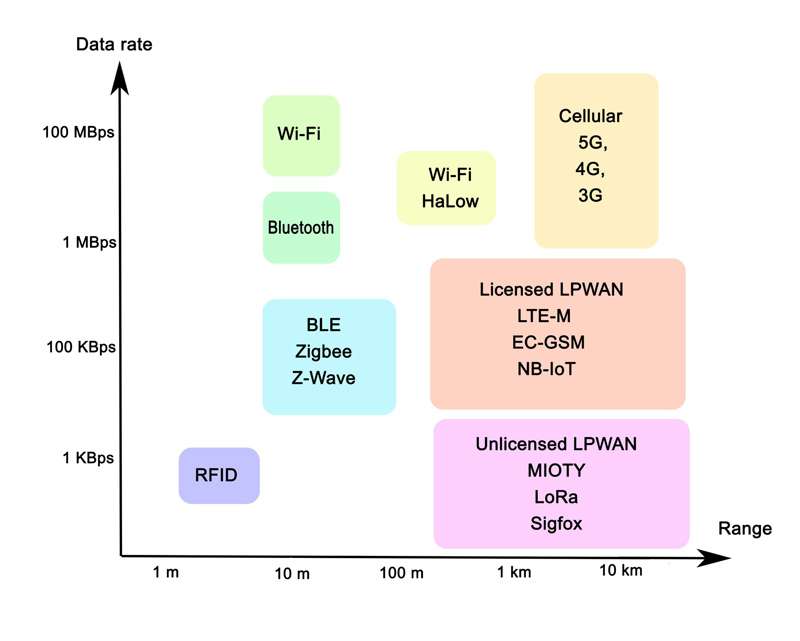 An Overview of Zigbee, Bluetooth And Wi-Fi
Zigbee
What is Zigbee?
Zigbee is an IEEE 802.15.4-based specification for a suite of high-level communication protocols. Its frequency is 2.4 GHz, transmission range is 10~100 meters, and data range is 250kbps. Zigbee-base network has characteristics of low power consumption, low throughput, and connectivity ranges of 100 meters between nodes. In 2003, its original specification became an IEEE standard, and at the start of 2006, the first OEM modules that complied with it began to be sold in large quantities. As a self-configuring, short-range radio network standard, ZigBee was created to be used in telemetry systems, for wireless reading of measurement results from energy and heat meters, etc., and communication between various types of sensors and monitoring devices.
The ZigBee standard is a packet data exchange protocol that is relatively easy to use, resilient to communication errors and unauthorized readings, and frequently used in gadgets with minimal system requirements, like microcontrollers and sensors. ZigBee is based on a self-assembling and self-healing grid topology, making it simple to install and maintain. These days, there are many suppliers offering devices that support this open standard, and it can scale easily to thousands of nodes.
Zigbee Application
ZigBee is mainly used in devices that use batteries, focusing on low-transmission applications, such as home appliance control switches, human body sensors, temperature and humidity sensors, and smart home ZigBee gateways.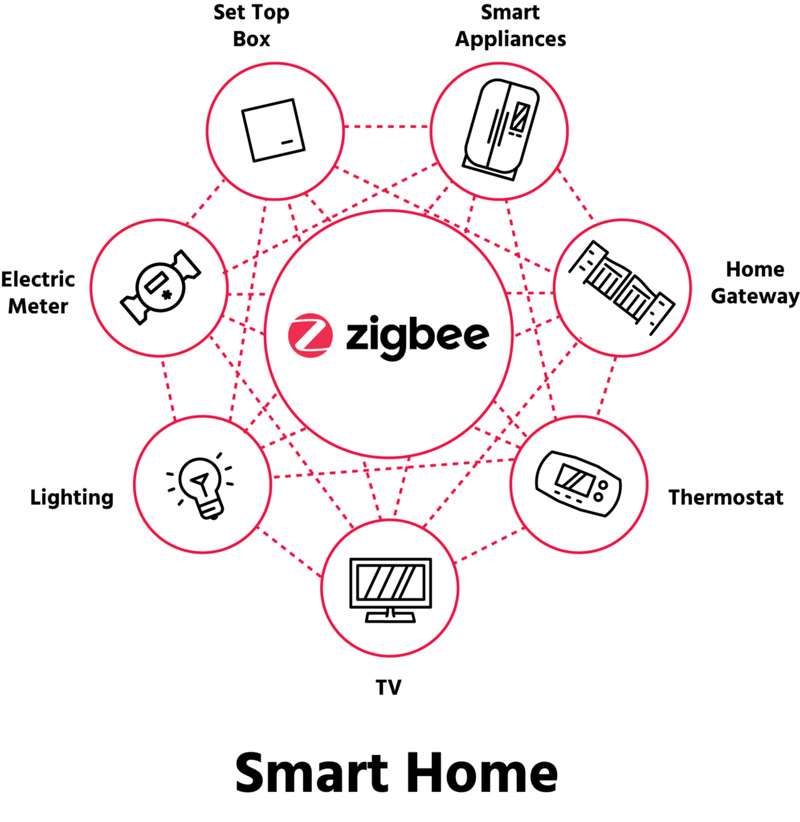 Bluetooth
What is Bluetooth?
Bluetooth is a short-range wireless technology standard that is used for exchanging data between fixed and mobile devices over short distances and building personal area networks. Its frequency is 2.4 GHz, transmission range is 50~150 meters. Bluetooth 5 offers four different data rates to accommodate a variety of transmission ranges: 2Mbps, 1Mbps, 500kbps, and 125kbps. The technical specification of Bluetooth includes three classes of ERP 1-3 transmission power, and ranges of 100, 10, and 1 meter in open space. The second (10m) class, which enables you to connect devices in various rooms and even on different floors, is the most popular.
In Bluetooth technology, data is transmitted as packets to one of 79 channels with a bandwidth of 1 Mhz (in the case of the oldest Bluetooth 1.0 standard), ensuring a maximum transfer speed of 721 kbit/s. A maximum data transfer rate of up to 3 Mb/s is ensured by the 40 channels and 2 Mhz bandwidth of the most recent Bluetooth 4.0 standard. It is important to be aware that older Bluetooth versions are compatible with newer standards, which ensure faster data transfer and greater security.
Bluetooth Uses
Bluetooth is widely used in smart home appliances such as smart home gateways, smartphones, smart bracelets, wireless audio, and smart air conditioners. Various electronic devices, including a phone, keyboard, computer, laptop, mouse, palmtop, printer, headset or speakerphone, and more, can be connected thanks to wireless Bluetooth technology.
Learn more about What is a Bluetooth Gateway?
Wi-Fi
What is Wi-Fi?
Wi-Fi is a family of wireless network protocols, based on the IEEE 802.11 family of standards, which are commonly used for local area networking of devices and Internet access, allowing nearby digital devices to exchange data by radio waves. WiFi makes use of radio waves that transmit data on predetermined frequencies, like the 2.4 GHz or 5 GHz channels①. Different wireless devices can operate on a variety of channels in both frequency ranges, which helps spread out the load and prevents interruptions to the connections of the individual devices. This largely prevents wireless networks from becoming overloaded. Wi-Fi 6 is the most recent iteration of the Wi-Fi network protocol, and 9.6 Gbps is the maximum throughput of Wi-Fi 6 across multiple channels.
The typical range of a standard WiFi connection is 100 meters. However, the most typical range is only 10 to 35 meters. The strength of the antenna or the transmission frequency has a significant impact on effective network coverage. Depending on the surroundings and whether it offers internal or external coverage, a WiFi Internet connection's range and speed will vary. As a result, as a computer gets closer to the main source of the WiFi signal, its speed increases, and as it gets farther from the source, its speed decreases.
Wi-Fi Application
Electronic doorbells, cameras, and other smart devices that need to transmit big data have a strong demand for Wifi technology.
Devices that can transmit wireless signals, such as telephones, computers, or routers, to name a few, are necessary to set up a Wi-Fi network. You can use a router to make an internet connection from a public network to a private home or office. Within a specific range, WiFi connects nearby devices to the Internet. Also, computers or phones can share a wired or wireless internet connection with other devices by broadcasting a signal, which is another way to use WiFi.
Comparison between Bluetooth, ZigBee, and Wi-Fi
| | | | |
| --- | --- | --- | --- |
| Parameter | Zigbee | Bluetooth | Wi-Fi |
| Standard | 802.15.4 | 802.15.1 | 802.11ah |
| Range | 10-100 meters | 10-100 meters | 50-100 meters |
| Operating Frequency | 868 MHz (Europe)900-928 MHz (NA)2.4 GHz(Worldwide) | 2.4 GHz | 2.4 and 5 GHz |
| Networking Topology | Ad-hoc, peer-to-peer, star, or mesh | Ad-hoc, very small networks | Point to hub |
| Complexity (Device and Application Impact) | Low | High | High |
| Power Consumption (Battery Option and Life) | Very low (low power is a design goal) | Medium | High |
| Security | 128 AES plus application layer security | 64 and 128-bit encryption | WPA2-PSK (AES) |
| Typical Use Cases | Industrial control and monitoring, Smart sensor networks, Building automation, Home control and automationToysGames | Wireless connectivity between BLE devices | Wireless LAN connectivityBroadband internet access |
The original figure is from: https://www.researchgate.net/figure/Main-comparison-Bluetooth-ZigBee-and-WiFi-Source-9_fig4_273141651
So Who Wins? Zigbee, Bluetooth, or WiFi?
As we mentioned before, when you want to make your smart home upgrade, it's hard to say which one is the best. As you can see from the above figure, each smart home protocol has its own advantages and disadvantages. In this article, Dusun would like to give some tips:
Choose Zigbee for Its High Security, Low Power Consumption, and Strong Zigbee Mesh Network
Zigbee features highly secure communications because of its 128-bit cryptographic keys. So if you set it up correctly, Zigbee can be a very secure communication way. Besides, Zigbee technology adopts an extremely low power consumption design, which makes it widely used in smart home applications such as smart door locks, infrared transponders, and temperature and humidity sensors. What's more, You can use a ZigBee hub gateway to connect more than 65,000 devices theoretically, far exceeding Wi-Fi and Bluetooth. It is believed that it will also be able to bear more smart home needs in the future. The biggest disadvantage of ZigBee is the disconnection from the Internet. To resolve this problem, the Zigbee gateway has been developed.
Dusun Zigbee gateway can bridge your wireless device to Wi-Fi and other wireless protocols. No more coding is required. Open API interface and multiple backhauls to help you quickly connect to your private cloud platform. Dusun Zigbee gateway has equipped with standard SDK, and support open source platform like Openwrt, Linux, Debian, and so on, you can make your own second development. Also, ODM/OEM service is supported. Welcome to contact us!
Choose Bluetooth for Cheaper Cost, Wide Device Application, and Easy Use
Zigbee module is much more expensive than Bluetooth module, which is a well-known truth in the IoT industry. After a long-time of development and updates, Bluetooth becomes cheaper and cheaper. Additionally, almost all smartphones support Bluetooth technology, so you can easily use your phones to control smart home appliances. In smart home scenarios, Bluetooth can be used in smart locks, smart lighting, environmental monitoring, smart curtain, and so on. As for usability, Bluetooth can be used by even the most inexperienced users. The BLE device pairing process is pretty simple.
Since the Bluetooth device itself does not have the ability to directly connect to the network, a Bluetooth gateway is needed to help end BLE devices connect to the Internet, so as to remotely control your smart home gadgets. Just like a Bluetooth smart door lock wants to be remotely controlled, a Bluetooth gateway can help this happen. Dusun Bluetooth Gateway offers six different Bluetooth wireless technologies including BLE Beacon Gateway(iBeacon/Eddystone/AltBeacon), GATT(data transfer), BLE Mesh network, Bluetooth Roaming, BLE Long Range, and AoA locators for customers to choose from.
The disadvantage of Bluetooth lies in that it is a new entrant into the smart home arena, not many manufacturers have flocked to the standard. There are many manufacturers' of Zigbee devices that can be compatible with IoT gateways. However, unlike Zigbee, Bluetooth establishes a personal network, and it is a little picky in compatibility.
Choose Wi-Fi for Wide Compatibility, High Bandwidth, and Direct Connection to the Internet
Wi-Fi is everywhere. Almost every home has it, and each Wi-Fi smart device has its own built-in ability to communicate over Wi-Fi. The transmission bandwidth of WiFi is the largest, and it has reached hundreds of Mbps. As long as you have a wireless router, you can access it to transmit high-definition video, lossless audio, and high-precision pictures. Wi-Fi is connected to the internet so it will be possible to control and monitor a range of smart devices in your home from anywhere in the world via your smartphone, tablet, or laptop.
However, Wi-Fi is power-hungry. Wi-Fi has strong transmission capability and wall penetration ability. It has the most powerful performance, but the power consumption of WiFi is so high that it is not suitable for battery-powered devices and is more suitable for plug-in devices.
Zigbee vs Bluetooth vs Wi-Fi Comparison Conclusion
What's the answer to this comparison? Zigbee, Bluetooth, and Wi-Fi, all of them have their own positive qualities and negative aspects. You have to make tradeoffs.
Getting Wi-Fi is obviously the widest choice for most people. WiFi is so powerful, but all network transmissions comply with the barrel effect, which means that every device from terminal devices to routers must be powerful as well. If there are many Wi-Fi-based devices used, the performance of routers is extremely important. As we mentioned before, the Zigbee mesh network is so strong, you can also buy a Zigbee hub to take the load off your routers. With Respect to Bluetooth, it requires close physical proximity to the device, so you can use it on some smart home gadgets like smart door locks.
New Smart Home Protocol Introduction – Matter
It is believed that every smart home expert has heard of Matter protocol. What Matter protocol wants to do, is to make "mutual understanding" between different smart devices, enabling smart devices of different brands and different ecosystems to break down barriers and achieve interconnection. Matter protocol simplifies the smart home operating experience, making it easier for consumers to add smart home devices to their homes. Smart home manufacturers will also consider how to use Matter protocol in their products and make competition in smart home product functions, quality, and services. How to stand out among many companies will be a new challenge.
Explore: Matter gateway
How Does Dusun Help Smart Home Solution Providers?
Dusun offers smart home gateway hardware solutions. We can offer ODM smart home gateway hardware and solutions. For example, smart home sockets and sensors to help you control your heating devices, lighting system, audio/visual entertainment products, security kits, door locks, smoke and carbon monoxide detectors, and so on. Cooperation with Dusun Follows These Steps:
Smart Home Solution Evaluation
Tell us your smart home solution requirement, and Dusun IoT experts will make evaluations and assist in preliminary planning and designing including components selection, cost evaluation, and manufacturing plan. We will try our best to satisfy your needs whether you want to upgrade your existing smart home solutions or develop new smart home products. So feel free to talk about your idea.
Gateway Hardware and Firmware Design and Development
Dusun IoT experts will help in developing printed circuit boards (PCB) and embedded firmware. Depending on your requirements, we will discuss the electronics architecture and choose the most suitable electronics architecture. Leveraging the latest in CAD technology, we can refine assemblies to optimize your mechanical design for functionality, and manufacturability. We provide the best devices for you.
Software Developing
All Dusun IoT gateway products have been equipped with rich API interfaces and SDK documents. Welcome to visit Dusun developer center. With the help of experienced Dusun IoT experts, we are sure to build a simpler and safer smart home gateway hardware solution for you.
Testing and Debugging
Every IoT gateway hardware device of Dusun will undergo strict quality control testing to ensure that the device is safer to use and the link is more stable. We implement a scan chain and make testing and debugging for the assembled prototype. Quality is always the best business plan!
Certification
Dusun provides professional certification/compliance tests for customers. We work closely with SGS and UL laboratories to provide fast UL, ETL, CE, FCC, RoHS, or other certifications according to customers' specific requirements.
Manufacturing
Dusun has 18 years of experience in custom manufacturing solutions. We are dedicated to saving time from prototype to production, to make your product put into markets much more quickly. Most importantly, we have already developed smart home gateway hardware solutions for some world-leading brands. That means the time from evaluating and manufacturing will be shorter!
You May Also Be Interested in These Smart Home Topics