The 20th International Internet of Things Exhibition (IOTE 2023) will be held at the Shenzhen International Convention and Exhibition Center (Baoan) from September 20 to 22, 2023. As one of the largest Internet of Things exhibitions in China, it attracts professionals of many companies and industry in IoT's sensing layer, transmission layer, platform layer and application layer, to discuss subjects such as sensors, IoT connectivity and communications, industrial IoT, and smart cities, etc.
Dusun IoT has been invited to participate at the expo as a provider of IoT hardware devices and solutions, especially for IoT connectivity and communication, and we look forward to your arrival at booth 10A8-1 in Hall 10.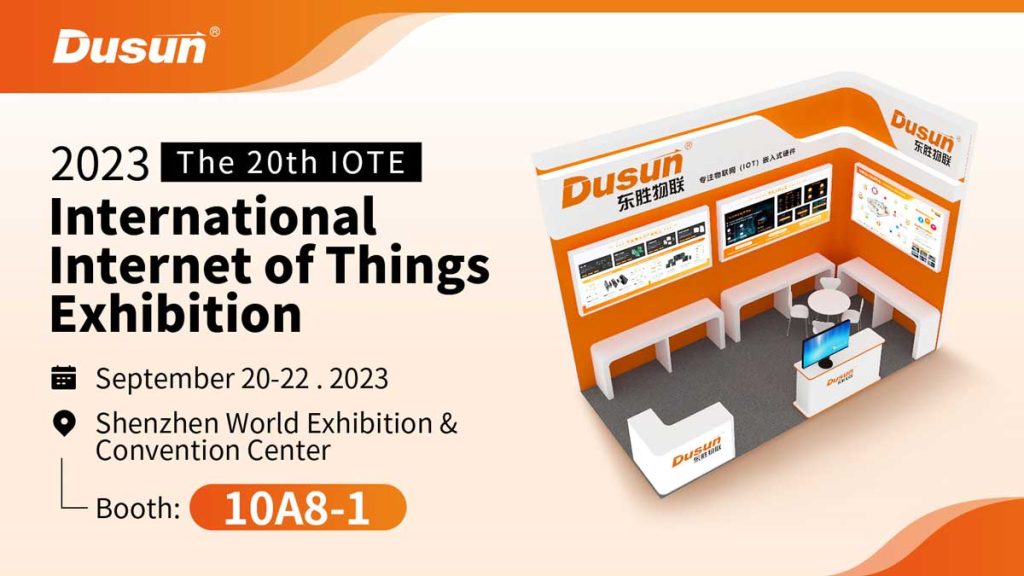 What IoT Porducts Will be Displayed by Dusun IoT?
Dusun IoT has long been dedicated to embedded IoT hardware development and boasts a professional team encompassing research, development, design, and manufacturing. We apply IoT gateway solutions to various fields such as smart apartment solutions, remote patient monitoring RPM devices, factory automation, smart building automation solutions, home energy management, and more, empowering embedded IoT hardware developers and IoT solution providers.
At this exhibition, Dusun IoT will display a variety of embedded hardware products, including human-machine interaction series products (smart sensors, far-field voice control modules, solar-powered remote controllers, and Bluetooth-enabled remote controllers for TV, etc.), and a wide range of embedded IoT gateways (programmable gateways and system on modules for IoT developers). Meanwhile, we will also demonstrate groundbreaking products DSGW-290, a powerful Raspberry Pi edge computing gateway alternative based on RK3568 (built-in NPU 1TOPs) on-site, presenting our professionalism in embedded technology, products, and services.
It is worth mentioning that our IoT apartment solution will be renewed and our smart alarm solution is the first time Dusun IoT introducing it to the public. What surprising discoveries will there be? You are welcome to experience it at the exhibition.
Featured IoT Gateways
DSGW-210 Edge Computing IoT Gateway
Developed based on Rockchip's RK3328 Quad-Core ARM Cortex-A53 SoC, featuring a Mali-450MP2 GPU and strong multi-Media processing capability (video decoding), and rich interfaces including HDMI, audio, USB, etc. Optional RAM and eMMC, Dusun DSGW-210 multi-protocol IoT gateway is Dusun IoT's flagship products. It supports fullest IoT connectivity options including Bluetooth 5.2, Zigbee 3.0, Z-Wave, LoRaWAN, Matter & Thread, M-bus, Sub-GHz, Wi-Fi 2.4G/5G, 4G LTE CatM1/Cat 1, Ethernet, has li-battery backup and GPS option, as well as ECC hardware encryption. In a word, it comes with practically every piece of hardware you could possibly need for an IoT gateway.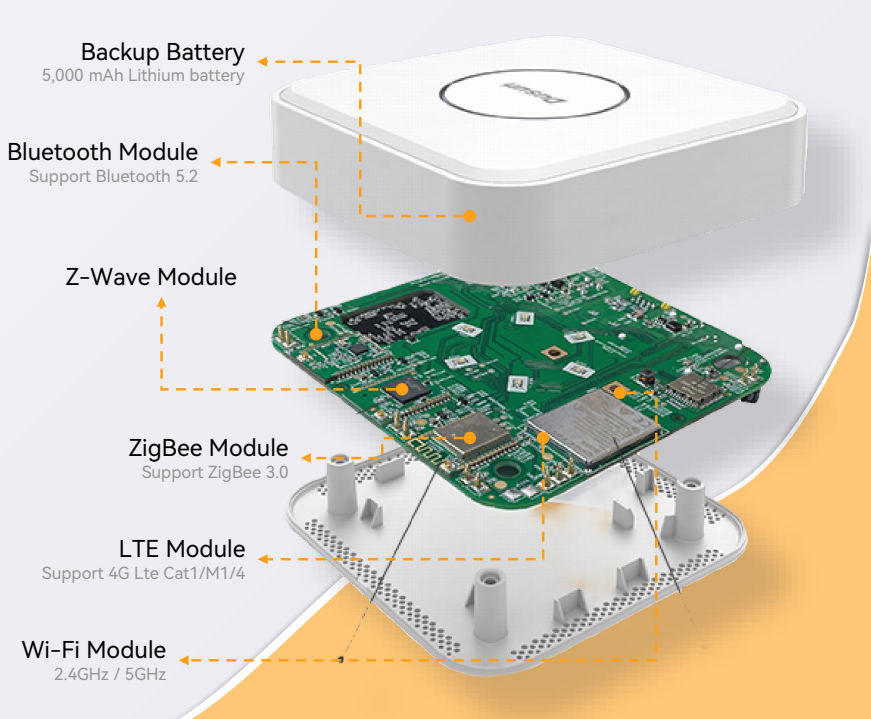 With strong CPU for various data processing, especially in commercial and residential multi-media scenarios, DSGW-210 is definitely your best partner of IoT data transmission devices.
Read RK3328 SoM Spec here
DSGW-030 MediaTek MTK7688 Wi-Fi-enabled IoT Gateway for Smart Home
DSGW-030 MTK7688 IoT gateway has compact design (70mm x 70mm x 25mm) and sleek enclosure, can blend into smart living scenarios seamlessly.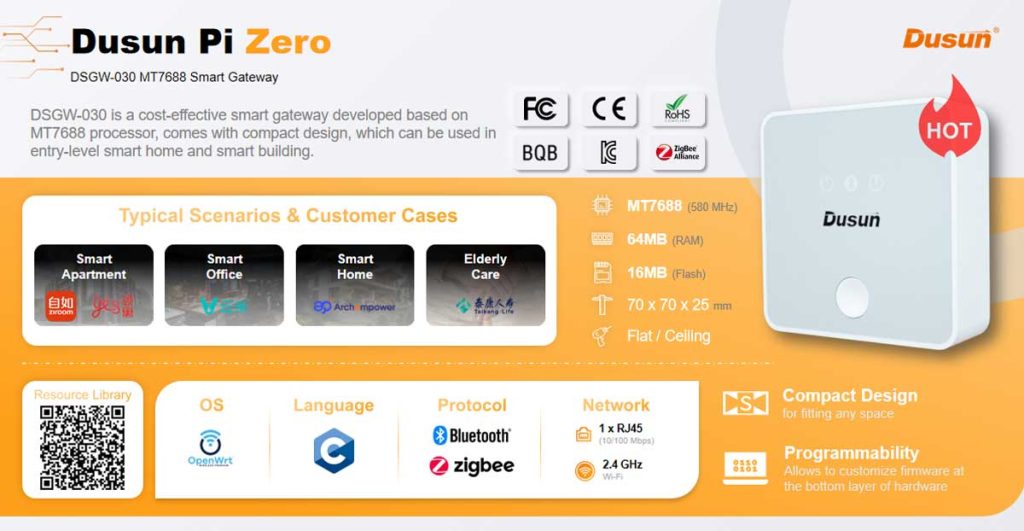 Developed based on MediaTek MTK7688 802.11n Wi-Fi platform, it features a 580MHz CPU frequency that is able to provide high data processing performance and support complex applications in smart home, such as real-time IoT remote monitoring, IoT smart meter, data exchange with network server, etc. MediaTek MTK7688 SoC is highly-integrated and cost-effective, it has built-in WiFi, a USB transceiver, and a PMU, lowering the overall cost of the DSGW-030 IoT gateway while also reducing the complexity of the circuit board design.
DSGW-030 runs Linux operating system and allows IoT developers to implement the secondary development on this smart hub by themselves. Rich interfaces including I2C, I2S, PWM, UART, USB, etc., can be utilized to connecting extensive peripherals and IoT devices.
Read DSGW-030 home automation hub spec here
DSGW-380 Industrial Edge AI Gateway
A groundbreaking industrial IoT gateway – DSGW-380 is going to makes its grand debut at the upcoming IoTE Exhibition. Why it worth such a high anticipation?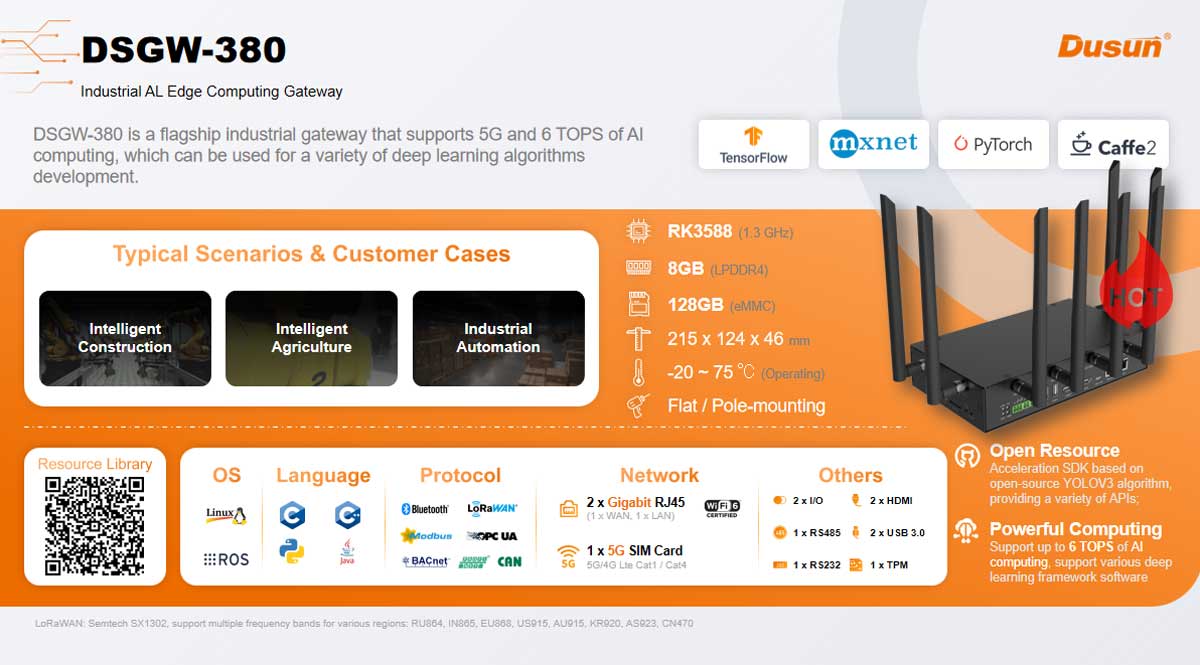 Developed based on Rockchip's RK3588, an eight-core SoC (quad-core ARM Cortex-A76 processor and quad-core Cortex-A55 processor), with a built-in NPU (6TOPs), it is capable of AI-based machine learning for edge computing. DSGW-380 AI gateway can be used for various IIoT edge computing scenarios. Meanwhile, it makes a perfect balance between the high performance and low power consumption.
Besides, due to RK3588's outstanding multi-media processing capability (support 8K video decoding; ARM Mali-G610 to deal with graphics-intensive applications with ease; etc.), DSGW-380 industrial gateway can be used for data transmission of smart displays and cameras in industrial settings.
Read further: what is an industrial gateway?
In the era of Industrial 4.0, where unwavering networking capability is paramount, the DSGW-380 rises to the challenge. It's armed with not just one, but two Gigabit RJ 45 Ethernet ports, along with the cutting-edge Wi-Fi 6 (IEEE 802.11ax) and lightning-fast 5G LTE connectivity options, ensuring your connectivity needs are met with unparalleled reliability.
If you are in U.S., welcome to visit our booth at Applied Intelligence Live 2023!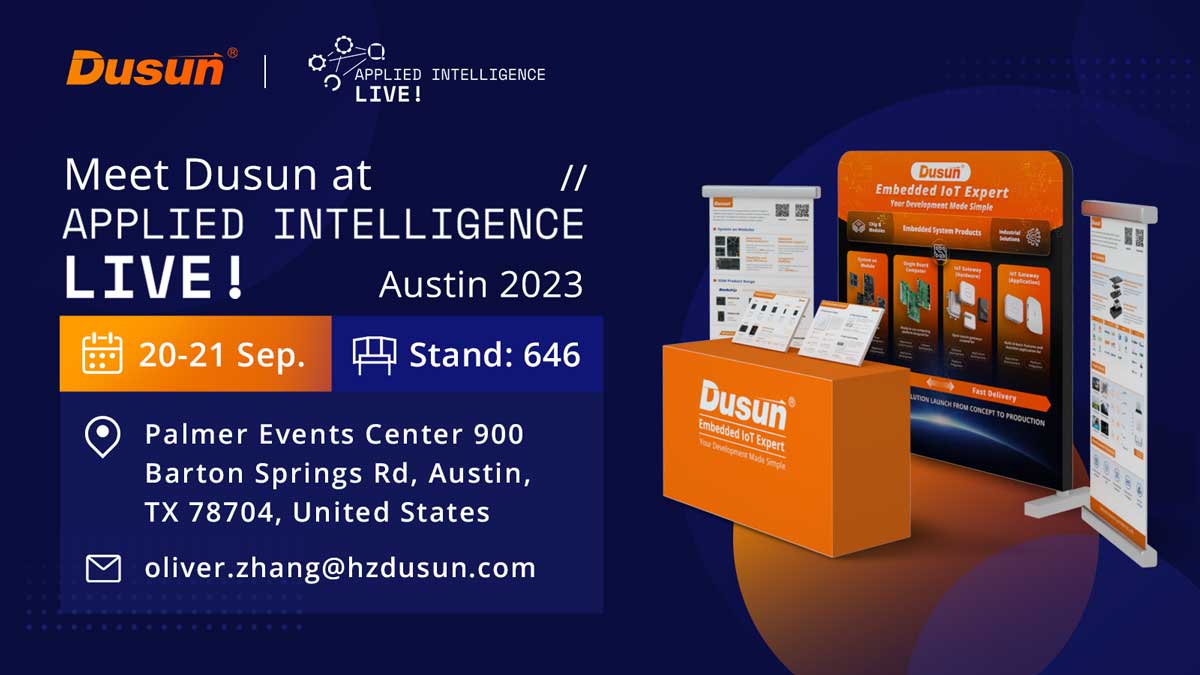 Final Words
There will be more intelligent gateways to meet with you at the exhibition site. We have also prepared lovely gifts to welcome you at the same time. We look forward to your visit!
Dusun IoT Booth Info:
https://www.iotexpo.com.cn/sz/FamousCoView-3665